« First-World Problems...
|
Main
|
Gun Thread: October 2nd Edition! »
October 02, 2022
Food Thread: Lox All Your Doors To Keep Out The Tartares!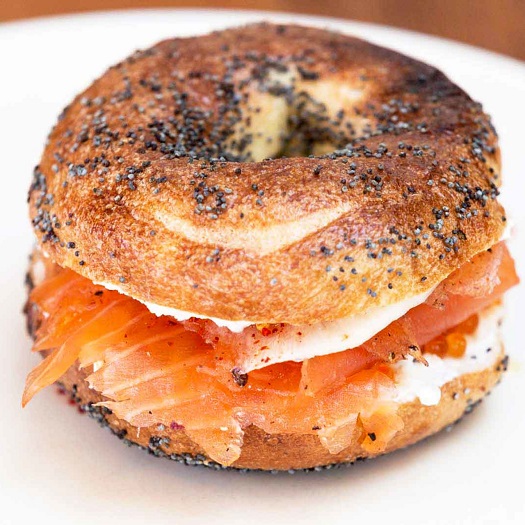 Sure, it's a semi-regular topic around here, but a good bagel with some good smoked salmon, cream cheese, and a few thin slices of red onion is a rare pleasure! Yom Kippur is in a few days and one of the many traditional foods with which to break the fast is...you guessed it!
I'll toss in some chicken salad and tuna salad, but the star of the meal is the salmon and the bagels, both of which are easy to find, but hard to find excellent examples. Bagels are ubiquitous around here, but most bakeries make them too underdone with insufficient chew and not nearly enough of a crust. And too big, but that's a discussion for another day. Luckily I have a guy in a neighboring town who does an excellent bagel and is really friendly to boot.
The salmon is tougher, but I have moved away from the fancy and ridiculously delicate stuff from the specialty stores. My preference is the slightly stronger-flavored stuff that is almost commodity salmon around here. I think it stands up to the cream cheese and the onion better.
But do not neglect the cream cheese! I am routinely overruled and whipped is the default at Chez Dildo, but sometimes for old time's sake I will sneak in a block of good old Philadelphia Cream Cheese. You know...the stuff that is impossible to spread that rips up the bagel? But it is a memory from my youth and I refuse to let go!
******
This nonsense exposes a few things about the current state of affairs in America's blue areas, in particular the leftist cesspool that is the NYC city council.
Food police determined to remove fun from the menu at still-struggling NYC restaurants

The latest strike against sanity? An outlandish proposal by City Council Majority Leader Keith Powers (D-Manhattan), egged on by so-called "health advocates," to make places like McDonald's and Burger King "warn" customers about sugar content.

Did the city council magically solve the rest of New York's problems and not tell us?

Also, did Powers and pals ever stop to think that people go to these places because they like sugar? Maybe it's a bad choice, but it's their choice.
That's just the latest lunacy. They have also gone after local foie gras, which is made in NY and employs lots of people! And lobster, because Maine fishermen are mean to whales.
This is the worst excesses of the nanny state coupled with the absence of an opposition party, so pretty much whatever the NYC council wants to do -- no matter how fvcking nuts -- they can get away with.
This doesn't affect me much because I am rarely in NYC, and actively trying to make it even rarer. Why should I go into NYC when my favorite foods are under attack and the elites in government think that they know better than I about what is good for me? Couple that with an impending congestion toll for cars in much of Manhattan, and a quick trip to Charleston for excellent food will become an attractive alternative!

******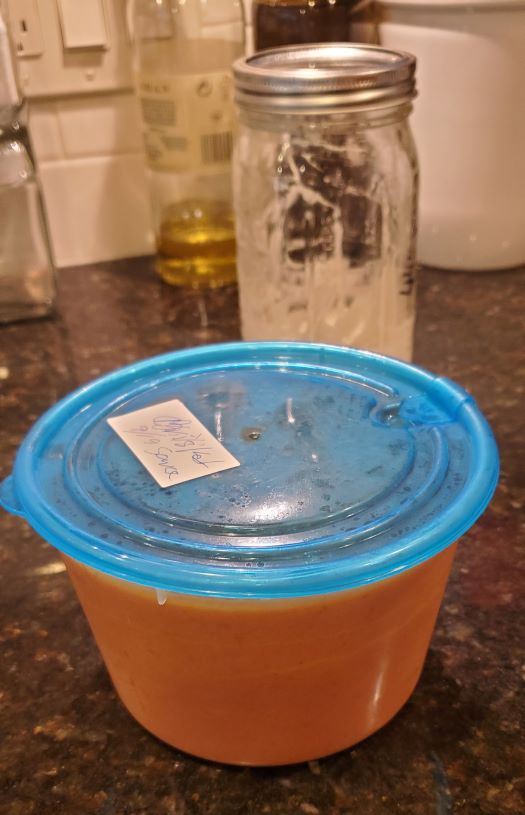 That brisket I made last weekend for Rosh Hashanah dinner? Yup...it was every bit as good as I thought it would be, and to top it off there is a ton of the gravy (sauce?) left over, so I think I am going to sear some large chunk of beef and braise it with the rest of the sauce. Unfortunately my go-to Chunk-O-Beef, chuck, is stupidly expensive around here, and I am not going to use something that is so lean it is boring. Because fat is flavor, and you can quote me!
[What's that in the background you ask? Some of you will know!]

******
Here's a fun post from
Hunter Angler Gardener Cook
with a bunch of
Homemade Sausage Recipes
. Sausage is one of the basic food groups, so anything to do with them is a good thing. And I think we are incredibly lucky here in America, because we have wonderful sausage making from all over the world. Within 20 minutes of my house I have access to an amazing variety of fine sausage, from German to Belgian to North African to good old American hot dogs to Mexican Chorizo to Spanish Chorizo (different...and glorious) and a bunch more.
******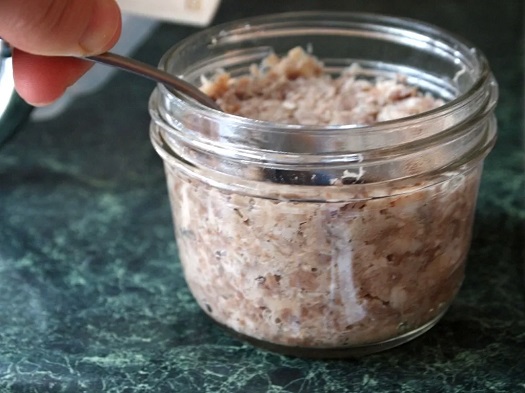 Rillettes:cooked shredded meat (such as pork or duck) or fish preserved in fat.
And it's stupidly easy to make, and ridiculously delicious. Start with a pork shoulder or similarly cheap cut and go to town! You can make a ton of it for very little money, and it lasts for a long time since it is preserved in luscious, delicious fat.
Here's a good recipe to start with, although I think it is a bit too heavy-handed with the spices...Pork Rillettes

******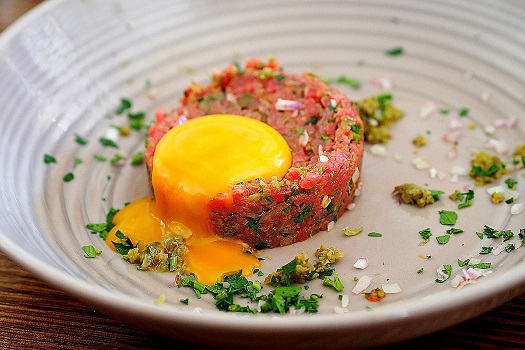 How do you feel about Steak Tartare? I love the stuff, and when I see it on a menu I will usually order it. But I know there are people who actually don't like it! So sad!
Make it yourself with beef that you know isn't going to get you sick. It is a revelation. And easy.

******
There is no sincerer love than the love of food.
-- George Bernard Shaw
Poets have been mysteriously silent on the subject of cheese.
-- G. K. Chesterton
******
Just send me steamers. Lots of steamers, and I will provide special dispensation for those without taste who insist upon maple syrup with their French Toast. And pork rib roasts from the front end of the pig where all the good and fatty meat lives, carrots that don't taste like stalky chalk, spare bottles of Van Winkle Special Reserve 12 Year Old Bourbon, an herb garden that actually produces herbs (but no basil!), well-marbled NY strip steaks and elk backstrap to:
cbd dot aoshq at gmail dot com.
And don't think that the rest of you are off the hook with maple syrup and French Toast: I'm still watching you! And I am watching you perverts who shake Manhattans and keeping a list for the Burning Times.

posted by CBD at
04:00 PM
|
Access Comments