« THE MORNING RANT: The Science™ Regarding Climate Change and Hurricane Frequency Has Changed Again; More EV Towing Follies
|
Main
|
"100% Mobilization:" Russia is Drafting 300,000 It Admits -- Or Possibly 1,000,000 It Won't Admit -- To Rescue Its Failing Position in Ukraine »
September 23, 2022
Democrat Officials Abuse Offices, Hitting Trump, DeSantis With Political Lawfare
"Tish" James fulfilled a campaign promise she made to abuse her office to persecute Donald Trump and his family.
New York Attorney General Letitia James has filed suit against former President Donald Trump, three of his adult children and his business empire, accusing them of large-scale fraudulent financial practices and seeking to bar them from real estate transactions for the next five years.

The attorney general's civil suit alleges more than a decade of deception, including billions of dollars in falsified net worth, as part of an effort by Trump to minimize his companies' tax bills while winning favorable terms from banks and insurance companies.

...

Trump has repeatedly asserted that James, a Democrat running for a second term in November, is on a political vendetta, noting that during her 2018 campaign for AG she repeatedly vowed to pursue legal action against Trump and said he should be "scared" if she was elected. During her campaign, James promised to target Trump for investigation and told voters her election would bring pressure on him similar to that posed by Special Counsel Robert Mueller.
This is Politico, so:
Trump had fought efforts to force his deposition in the NY AG's case, but lost a series of court challenges on the issue. When he finally appeared for questioning last month, he invoked his Fifth Amendment right against self-incrimination more than 440 times, an aide to James said.

"When your family, your company, and all the people in your orbit have become the targets of an unfounded, politically motivated Witch Hunt supported by lawyers, prosecutors, and the Fake News Media, you have no choice," Trump said in a statement explaining why he took the Fifth despite numerous past comments he'd made about such a move signaling guilt.
Yeah, why would Trump imagine that he's been targeted by abusive prosecutors who are just out to get him? I mean, they're just on videotape literally telling people to vote for them so they can sue Trump.
Literally:

Is that allowed? Making a political campaign promise to abuse your office to persecute a political foe?
Why no, it's not. At NeoNeo, Alan Derschowitz says it's a cause for recusal. She can't be involved in the case, give that she's announced a conflict of evidence -- she promised to sue Trump whether there was evidence against him or not, as a political plank of her candidacy.
The first move former President Donald Trump's attorneys should do to fight back against New York Attorney General Letitia James' civil lawsuit against him and his family members is to push that she be recused and disqualified from the case, Harvard Law professor emeritus Alan Dershowitz said on Newsmax Wednesday after her announcement.

"I like Letitia James," Dershowitz said on Newsmax's "American Agenda." "She's a very nice person, but she campaigned on the promise to get Trump before seeing any evidence, and so she is just fulfilling a campaign promise. You can't have prosecutors even civilly prosecute a defendant if they made a campaign promise."
And it can't be a sham recusal either, as Kim Foxx executed, where she "recused" herself while having her subordinate, who continued reporting to her, arrange to let Jussie Smollett off the hook.
I've been wondering: How can the state sue for Trump allegedly "defrauding" banks? The banks do not allege fraud -- the "victims" do not allege they've been victimized.
What the hell kind of rogue prosecution is it where the prosecution claims that a non-complaining non-victim is a victim but they just don't know it, and then sues on "the victim's" behalf?
Viva Frei is wondering about that, too.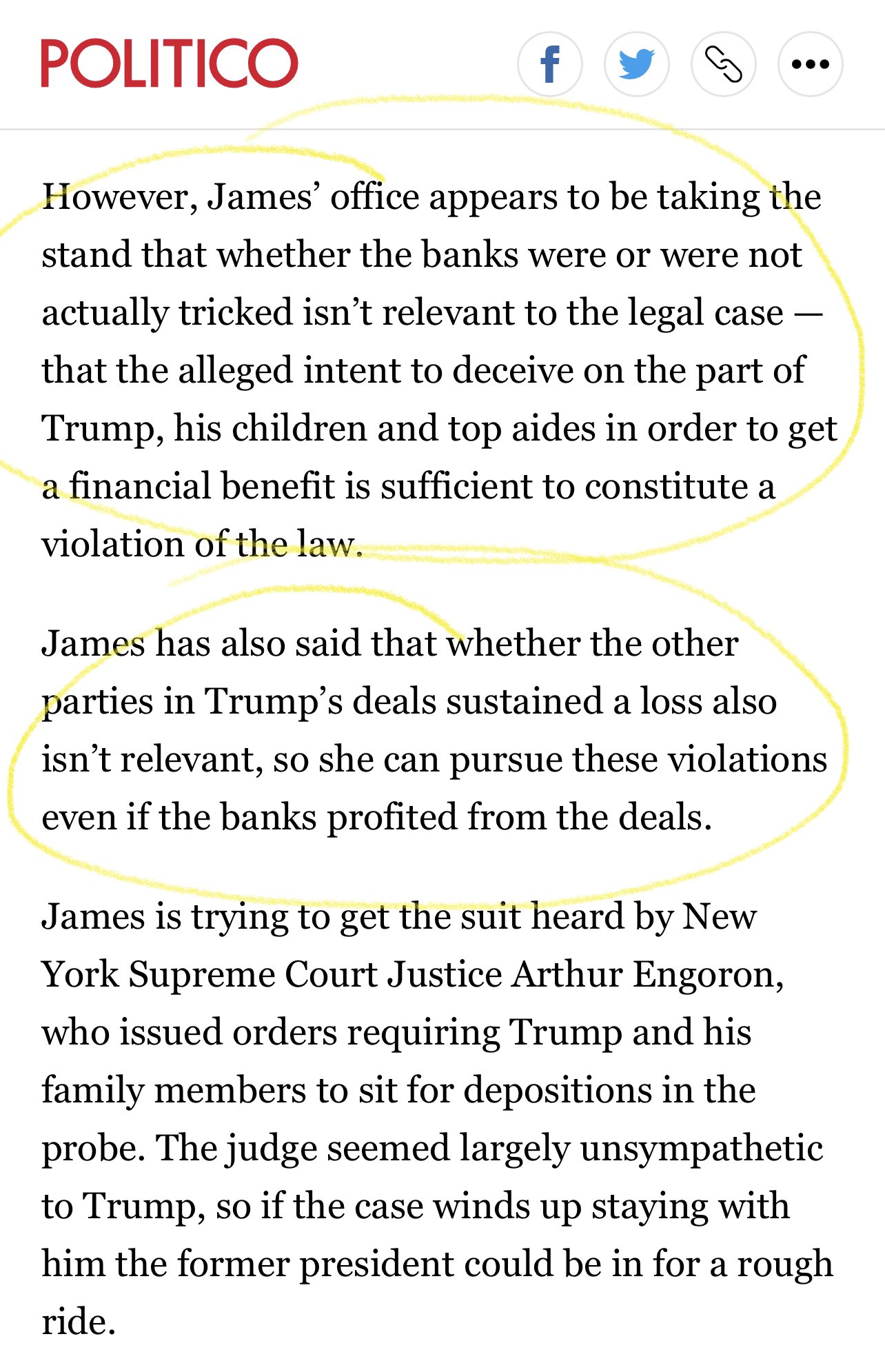 The banks do not complain they were defrauded, and also profited from the deals. They were not "defrauded" of any money. They were not defrauded of anything. Nothing was taken from them by trickery.
But Tish James is going to sue to "make them whole" anyway.
Kurt Schlichter thinks she filed this suit just in time for her own reelection bid -- and that it won't survive long past that.
Kurt Schlichter @KurtSchlichter

Here's how the NY AG civil lawsuit will go....


Once Trump is served, he takes a few weeks to respond. He probably cannot remove the case since there are NY defendants, so no diversity. Now we're in mid-October. He moves to dismiss.
He means remove the case to federal court, but that requires "maximum diversity" of all parties in a suit, who must all be from different states. That's not the case, so he can't do that.
I have only skimmed this dog's breakfast of a complaint, but what popped out at me for the parts I looked are were the lack of damages allegations, much less ones against NY, the plaintiff. You cannot sue if you did not suffer a loss. None are pleaded in the parts I looked at.

Other causes of action may have damages allegations - we'll see. But there are plenty of other grounds to move to dismiss that just leap off the page.


Let's get real - if they thought they had Trump they would have filed a criminal case, but they have to prove that beyond a reasonable doubt. A civil suit is a preponderance of the evidence. They had no criminal case. They chose civil "fraud" to impress dumb people.


So, the initial motion to dismiss will not be heard before the midterm - the real mission was accomplished by filing suit in time to influence the election, but not so early that this garbage case could be tossed out before the election.

I expect the case will be dropped or tossed after a couple motion to dismiss rounds. Maybe there will be a small, piddling settlement the AG will claim is a victory. It's not a real lawsuit. It's lawfare. And I hope red AGs are taking note of the new rules.
Don't worry -- they're not, by and large. They're just punching the clock until they can get appointed to a corporate board somewhere. They don't want to upset the Marxist-Corporate Oligarchy.
Clay Travis
@ClayTravis

So New York's Democrat AG spent years investigating Trump and was only able to charge him with civil violations -- not criminal -- 48 days before her own election? This is an embarrassingly political prosecution, even for Democrats.

Democrats are desperate to put Trump on the ballot in the midterm because otherwise they have to defend Biden's failures on inflation/economy, the border and crime.
Meanwhile, a sheriff in Bexar County, Texas is investigating DeSantis for "crimes" in transporting illegals to Martha's Vineyards.
What crimes? He doesn't know.
Some crimes, though.
DeSantis' team wrote back to that sheriff noting that 53 illegals died in the back of a truck in his jurisdiction just months ago. And that the 50 illegals sent to Martha's Vineyard are all alive and healthy.
This sheriff, Salazar, went on to recommend that Texas restaurants hire the illegals to wait tables -- illegally, because, you know, they're not allowed to work.
But what is "the law" to a sheriff anyway?
As to the illegal aliens who are suing DeSantis -- put up to it by Marxist lawyers -- claiming that their rights as citizens under the 14th Amendment were violated (what?), here's one of the complaints:
Judd Legum @JuddLegum

"Upon arrival in Martha's Vineyard, Plaintiff Yanet Doe felt helpless, defrauded, and desperate. She started crying. She felt anxious and confused. As a result, she suffered from lack of sleep and vertigo."
Oh, she felt defrauded?
Your honor, I'd like to enter into evidence my client's Feels.
You know, fraud requires that you're actually defrauded of some tangible thing. What was swindled from them? They got a free trip to a destination hot-spot that they wanted to go to. In what way have they been made materially poorer?
If they say "We don't like being here," well, you can get on another plane. Are you saying you want to be compensated for four hours of time in the air?
Seems to be a pattern here of claims of "fraud," where the alleged victims were not actually defrauded of anything.
Oh, and you'll never guess who's funding the activists filing this ludicrous stunt lawsuit.
Go ahead, guess.
Yeah that's right, I thought you'd guess it.
The activist group at the center of a class-action lawsuit against Florida Gov. Ron DeSantis and other Florida officials for migrant flights to Martha's Vineyard has received nearly $1.4 million from George Soros' Open Society network.
The good news is, you're well-informed and capable of inductive reasoning.
The bad news is, you're antisemitic.
By the way, via Brett T. at Twitchy, we're now officially in the "DeSantis is so evil that he makes us miss the reasonable, considered moderation of Donald Trump phase" of Democrat media operations.
Yes, when viewed from the perspective of partisan media, DeSantis looks almost unstoppable. But to a typical person -- someone who may have heard about these stunts but doesn't know much about DeSantis otherwise -- he looks a lot like a bully, someone willing to play high-stakes games with people's lives for the sake of his own ego and advancement.

Well, you might say, Donald Trump is a bully, too. Yes, he is. But Donald Trump is also a lifelong celebrity with a public persona that is as much about "The Apprentice" and even "Home Alone 2" as it is about his political career. What's more, Trump has the skills of a celebrity. He's funny, he has stage presence, and he has a kind of natural charisma. He can be a bully in part because he can temper his cruelty and egoism with the performance of a clown or a showman. He can persuade an audience that he's just kidding -- that he doesn't actually mean it.
So Trump is MAGA for the showmanship of it, but Redrum DeathSanguination is a True Believer Cultist of MAGA and thus much more evil and dangerous?
You sold me.

posted by Ace at
12:00 PM
|
Access Comments