« Mid-Morning Art Thread
|
Main
|
Democrat Officials Abuse Offices, Hitting Trump, DeSantis With Political Lawfare »
September 23, 2022
THE MORNING RANT: The Science™ Regarding Climate Change and Hurricane Frequency Has Changed Again; More EV Towing Follies
It's been a historically quiet hurricane season so far, but it may finally be picking up. For several decades, one of the apocalyptic predictions of the Sustainable Organic Church of the Carbon Apocalypse has been that there will be more hurricanes.
Here are a few blasts from the past:
Study Blames Climate Change for Hurricane Rise [Reuters – 7/29/2007]
The number of Atlantic hurricanes in an average season has doubled in the last century due in part to warmer seas and changing wind patterns caused by global warming, according to a study released on Sunday.
And here is your tax dollars at work, this is from The National Climate Change Assessment ("NCCA") of 2014
The intensity, frequency, and duration of North Atlantic hurricanes, as well as the frequency of the strongest hurricanes, have all increased since the early 1980s.

There has been a substantial increase in most measures of Atlantic hurricane activity since the early 1980s, the period during which high-quality satellite data are available. These include measures of intensity, frequency, and duration as well as the number of strongest (Category 4 and 5) storms.
The folks over at The Heartland Institute have put a lot of resources into debunking the climate hysteria. The chart below is from Heartland's Climate At A Glance site. It tracks the total number of tropical storms every year since 1970, and also the subset of that total that were hurricanes. A few things stand out.
• The NCCA only referenced Atlantic hurricanes, not the global number of hurricanes. Perhaps their data was legitimate for that small section of the globe, but as shown in this chart, the lower line is the number of global hurricanes (or cyclones, or typhoons, or whatever you want to call them.) It has not trended upward in the past 50 years.
• The number of named tropical storms (top line) is increasing while the number of hurricanes is trending downward. I presume this is because of how aggressive the climatistas have been in slapping a name on every 39-mph gust of wind. It's harder to fake the number of hurricanes though, because those require sustained winds of 74 mph.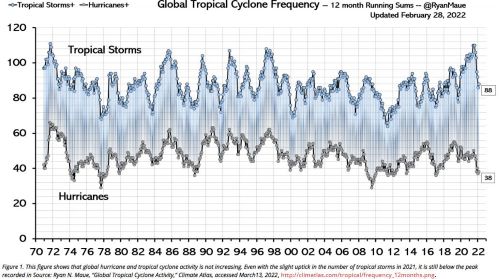 With the frequency of hurricanes not behaving as The Science™ foretold, and now that we're in a year in which there was an almost no tropical activity during the Atlantic's peak hurricane season, The Science™ has changed!
This is from a New York Times article earlier this week about Hurricane Fiona.
A warming planet can expect stronger hurricanes over time and a higher incidence of the most powerful storms — though the overall number of storms may drop, because factors like stronger wind shear could keep some weaker storms from forming.
If the climatistas weren't trying to destroy western civilization with their phony science, this evolving science to fit the current weather would be funny.
And ponder this, since global warning now results in fewer hurricanes according to the latest iteration of The Science™, taking the prescribed actions to reverse global warming would thus cause an increase in hurricanes.
Hey New Orleans, the Church of Greta Thunberg wants to save the world by inflicting more hurricanes on you.
Of course, this could still end up being a very busy hurricane season. If October has a steady parade of hurricanes, you can rest assured that The Science™ will have changed again, and that all those October hurricanes are also proof of global warming.
*****
Stories about the futility of using EV trucks to do long distance towing just never get old.
I don't really want to laugh at the misfortune of a family getting stranded on the western plains because they made the foolish decision to tow a camper behind an electric pickup, but it's important for these stories to get out, so that the reality (futility) of EVs is understood, especially as it relates to trucks that are engaged in heavy hauling.
A couple with three children known as "The Electric Family" decided to document their 500-mile journey from Lincoln, Nebraska to Denver on You Tube. They had an electric Ford F-150 Lightning towing an Airstream camper.
Family Towed Camper with EV Truck - It Died and Had to Be Towed to New Charger by Fuel-Powered Tow Truck [Western Journal – 9/12/2022]
When the Krivolavek family pulled up to the Electrify America charging station in Ogallala, Katie said all the chargers read "unavailable."

Steve called EA, who attempted to reboot the charger. Even after the reboot, it did not work. In addition, Katie said neither Kampgrounds of America sites in the area had car charging available. She and her children decided to walk to a nearby restaurant, and Steve planned to drive 30 miles down the road to find a charger.

The family had to leave their camper unhooked in Ogallala because the truck did not have enough charge to pull it 30 more miles.

"When Steve got to Julesberg, he had 0 percent," Katie said. "Eventually, we had to call a tow truck and have the truck towed back to Ogallalla…"

"And it was also 100 degrees, so we could not stay in the trailer in the Walmart parking lot. We had to go across the street and get a room in a hotel."

Katie said the truck had enough charge to get to Julesburg in the morning, and the family was ultimately able to continue on their way. But she had a warning for fellow EV owners.

"In the end we made it, but beware of EA's chargers and have a backup plan," she said.
Being able to have a gasoline-powered tow truck rescue you is an OK backup plan, I suppose, but it's scary to think about what might happen when gas-powered tow trucks are illegal, and there is no way to rescue a stranded family in the middle of nowhere.
*****
Songs of the Season
After several delightfully dry, cool weeks to start September, it got hot again around these parts. I guess that means we're in an Indian Summer.
Speaking of which, here are Roy Orbison, Barry Gibb of the Bee Gees, and the Gatlin Brothers singing "Indian Summer." They all have great voices, and it's a great song, you have to wonder how it happened that those guys came together to sing this song.
Have a great weekend.
(buck.throckmorton at protonmail dot com)


posted by Buck Throckmorton at
11:00 AM
|
Access Comments