« We Just Want to Get Married: The Continuing Journeys
|
Main
|
Olde Time Cafe »
September 22, 2022
Quick Hits
All it would have taken was a single Republican "no" vote to defeat a series of Democrat anti-police bills in the House. The measure passed 216-215. One more "no" would have resulted in a tie, and a tie does not pass the measure.
Liz Cheney was the missing vote. She simply refused to vote out of spite. She could have voted -- Nancy Pelosi continues (illegally) permitting proxy voting because the pandemic "emergency" that Biden says is over -- but she chose not to, to deliver her actual party allies the win.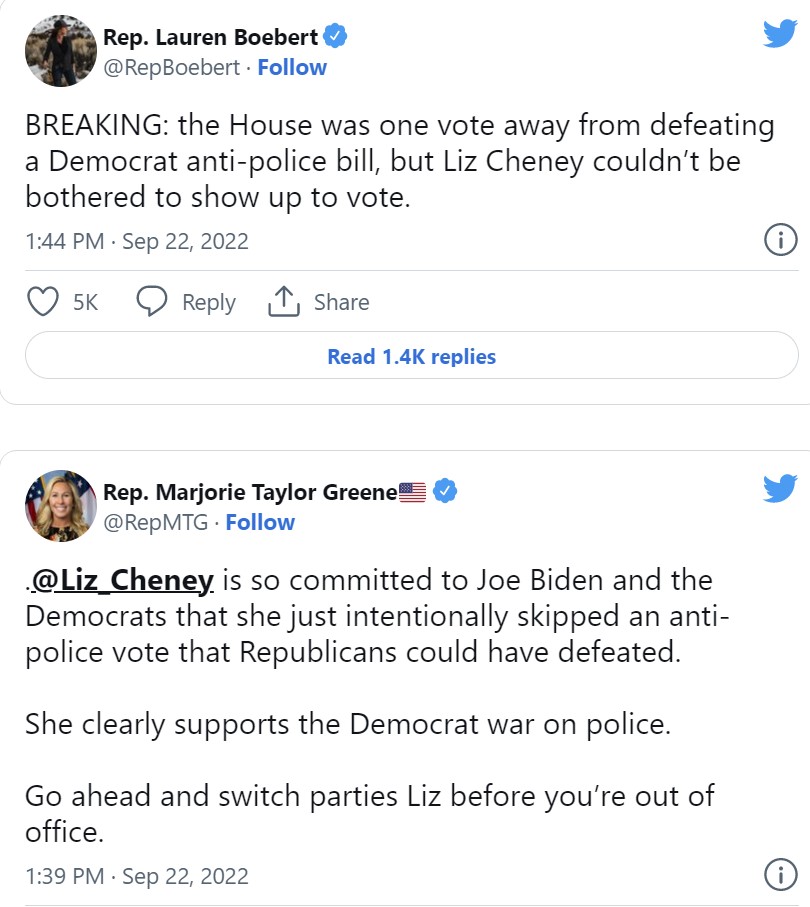 Can't wait for her Democrat-paid simps at The Dispatch and The Bulwark praise her for this latest show of Heroism, Principle, and Grace Under Fire.

Hillary Clinton and Chloe Grace Moretz (Hit Girl from Kick-Ass):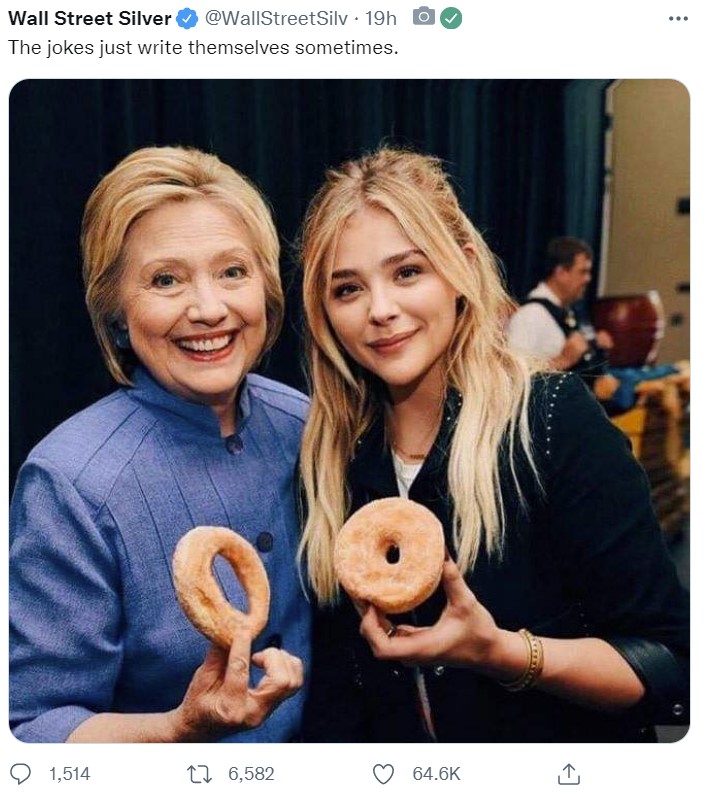 Yesterday, Black Orchid pointed out that inflation would be naturally eased if we just drilled more oil. That works, because if we create more actual wealth, by just uncorking it and pulling it out of the earth, we match more real value to the excess number of dollars in the economy. Inflation is driven by having too many dollars chasing too few units of value, so if we increase units of value, we dampen inflation. We better match the number of dollars to units of value, and the value of the dollar stops falling in comparison to goods. (That is, prices stop going up.)
Serendipitously, it was pointed out on Twitter yesterday that Reagan didn't just rely on Paul Volcker raising interest rates to soul-crushing levels to wring Jimmy Carter's inflation out of the economy.
He also had help from a huge boom in oil production -- which, again, matched real value to those dollars floating around in the economy and thus reduced inflation naturally.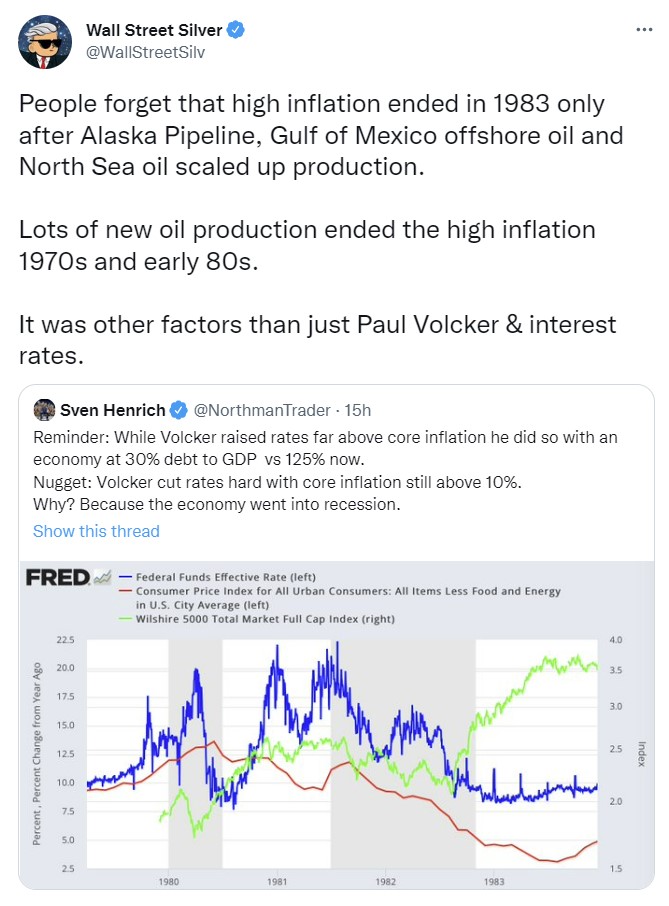 But of course Wrong-Way Brandon is doing the opposite. He's reducing oil production. He's slowed the granting of federal oil leases to an "unprecedented trickle."
The Biden administration has leased fewer acres for oil-and-gas drilling offshore and on federal land than any other administration in its early stages dating back to the end of World War II, according to a Wall Street Journal analysis.
But his tweets. But he's "honorable" as he calls upon his partisans to treat his political opponents as enemies and maybe beat them and maybe even kill them.
Giancarlo Sopo @GiancarloSopo


According to a brand new POLITICO / Morning Consult poll, a plurality of Hispanics say it's appropriate for Republican governors to relocate migrants to liberal areas -- by nearly the same margin as whites.

Hispanic: +6
Whites: +7
Link to that tweet here, with a screencap of the poll's findings.
Kevin McCarthy staged a "Commitment to America" event.
Look what was printed on the bottom of the commemorative water bottles he handed out, highlighted in yellow.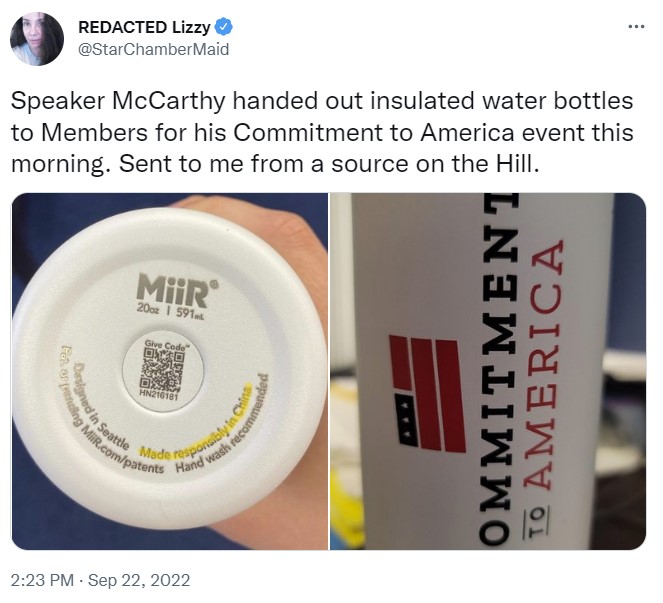 If you can't make it out, it says: "MADE RESPONSIBLY IN CHINA."
The White House has once again issued a statement: "President Biden is not authorized to make statements on our behalf."
Now they claim he had no authority to declare the covid pandemic "over."
One of "The Geniuses," as Steve Bannon calls Ivana and Jared Kushner, attacks DeSantis for using illegal aliens as "pawns:"
These two are leftwing Democrats who filled up the Trump administration with their leftwing pals. During the initial staffing period in 2016, good conservatives were blocked from getting jobs so that Ivana could get her socialite pals into the administration.
Trump was just grumbling that he proposed shipping illegals to Democrat cities during his presidency, which was true. But was blocked from doing so, or dissuaded from doing so. I bet you any amount of money that Jared Kushner was leading #TheInternalResistance.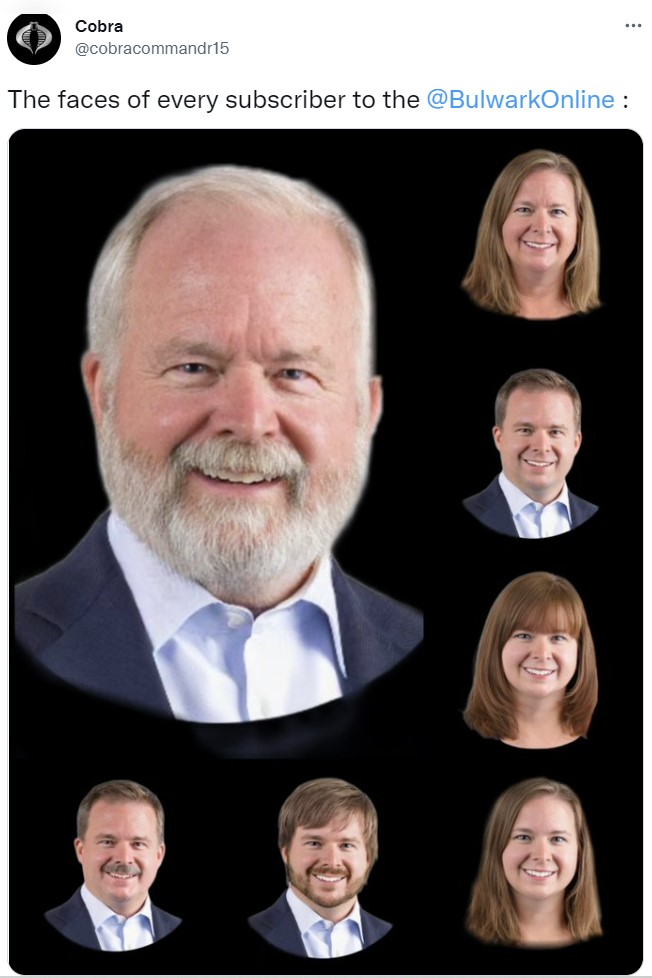 posted by Ace at
06:47 PM
|
Access Comments