« Is This Something?
|
Main
|
Quick Hits »
September 22, 2022
We Just Want to Get Married: The Continuing Journeys
Christopher F. Rufo @realchrisrufo

EXCLUSIVE: The national teachers union's "LGBTQ+ Caucus" has created a website and badge for public school employees that promotes a how-to guide for "anal sex," "bondage," "rimming," "domination," "sadomasochism," "muffing," and "fisting."

Let's review the documents.
Before getting into those documents, which are suitably disgusting and borderline criminal, let's take a look at a gay man that Steven Crowder interviewed -- a gay man who's also disgusted by this Groomer shit.
And a gay man who unfortunately had to have his face blurred and his voice distorted, because apparently, his position is unpopular in the We Just Want To Get Married community.
Gays Against Groomers also understands how repulsive this is -- and also, how dangerous it is for gays to push the sexualization of children. Gays can't insist that it's a "slur" to accuse them of having an interest in sexualizing children while they continue insisting on sexualizing children.
People would like to stop accusing gays of that. But first they're going to need to... stop pushing to sexualize children.
It's not just gays and the Drag Queens they're determined to foist on children, of course: It's their lunatic AWFL Suburban White Karen "allies," who are determined to be More Pro-Gay Than Actual Gays, who are mainstreaming this more than the actual drag queens are.
This is a sickness of gays on the sexual left -- which isn't just leftwing gays, but gays of all nominal political leanings who are convinced they're being Oppressed if they aren't permitted to freely share their "culture" with other people's children. Hey, Gays of the Sexual Left, straights aren't allowed to share their sexual culture with the kinder either.
It's kind of a big rule. The biggest, in fact. Sorry if this crimps your style.
The Sexual Left Gays, drunk on phantasmal oppression despite being among the most socially and politically privileged people who have ever lived, and their AWFL Karen Pervert "allies" keep attempting to generate the Reality Suppression Field, telling you that fat-assed, half-naked gay men twerking in the street at an "all-ages, family-friendly" drag queen show isn't sexual at all, because Gays Said So and to dispute them makes you a homophobe.
Is it also "not at all sexual" when Tiara Mack shakes her fat ass?
No one has ever thought that a woman twerking was anything but sexual. The entire point of the movement is to simulate sexual grinding.
So why is it not sexual when drag queens do it in front of children? Because Gays claim they have some Magical Cone of Sexual Innocence that descends upon their otherwise-sexual actions when they choose?
Is it non-innocent when they do it at night in naughty bar shows, but innocent when they do it in the daylight in the street in front of children?
Word of warning to gays: You'd better watch this claim that "it's not sexual when gays do it." People will start to wonder what else gays think is not sexual to do with children, just because it's a gay person doing it.
And you can't blame them, if gays keep insisting that some of the sexual activity they insist on engaging in around children "isn't sexual" just because they're gay and They Said So.
But back to Christopher Rufo's scoop. Professional gay teachers -- three words that are dangerous when put together -- are absolutely determined to have Private Little Chats with other people's children about anal sex, blow jobs, and rimming.
And it's "homophobic" for you to object to this.

Christopher F. Rufo
@realchrisrufo

According to local news reporting, the National Education Association and its local affiliate in Hilliard, Ohio, have been providing staff in the Hilliard City School District with the QR code-enabled badges, which point to the "NEA LGBTQ+ Caucus" website.
Christopher F. Rufo @realchrisrufo

The NEA is the largest teachers union in the country, representing more than 3 million public school teachers in all 14,000 local school districts. And they're actively promoting resources for "putting a fist or whole hand into a person's vagina or bum." Disgraceful.
Via David Strom at Hot Air, their website has a special feature -- an emergency "Hide This From Your Parents" escape button, in case mom and dad walk in while you're researching rimjobs and fisting.
You know, when the debate about gay marriage raged, it wasn't primarily gay marriage people were worried about. Oh, they were bothered by that, don't get me wrong. But they were even more worried about what would follow gay marriage -- the Main Streeting of the Folsom Street Fair.
That will never happen, the gay lobby reassured them. We would never do that. We just want to get married.
Gay marriage advocates like Andrew Sullivan told people who were worried about this that gay marriage would not result in gay fetish culture becoming normalized in straight society, but instead, straight normie bourgeois culture becoming the norm in gay culture.
And no one, ever, thought that gays would dare attempting bringing gay hypersexuality into schools or libraries to expose other people's children to fetish culture. That wasn't even something many people realized they needed to be worried about.
But here we are. And the same people who said "We just want to be married" are now saying "We just want to have frank discussions with your children about anal sex and bondage and anal fisting. Only then can we be free."
Meanwhile: Coming to a school near you.
This is a man, forcing his fetish on other people's children.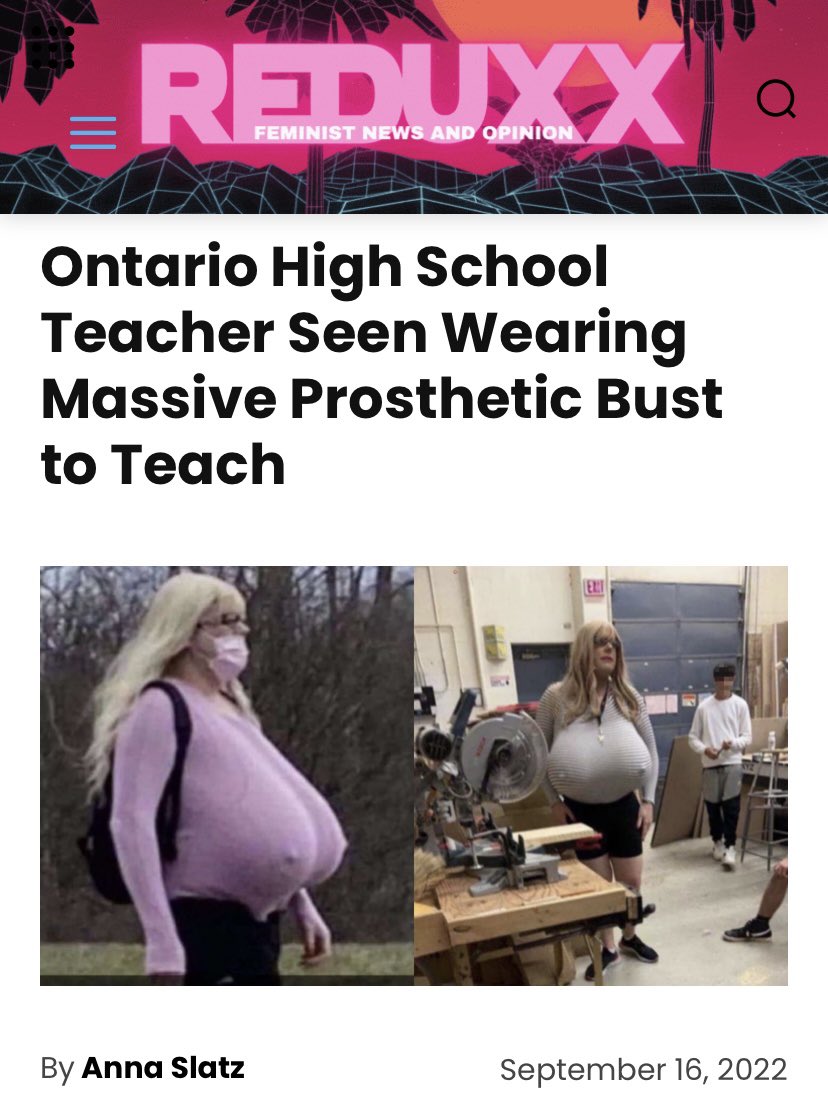 It's his culture.
Do you have a contradictory culture? Well shut up bigot, his culture wins. His culture is better. His culture has the might of the US legal system behind it and the full faith and credit of the US government forcing it down your children's throats.
Yes he's in Canada -- but this is coming to the US. What would stop it? As in Canada, you're not allowed to object to this in the United States.
It's "bigoted."
And his gigantic fake breasts with protruding nipples are "not sexual at all," I'm sure we'll all be reassured.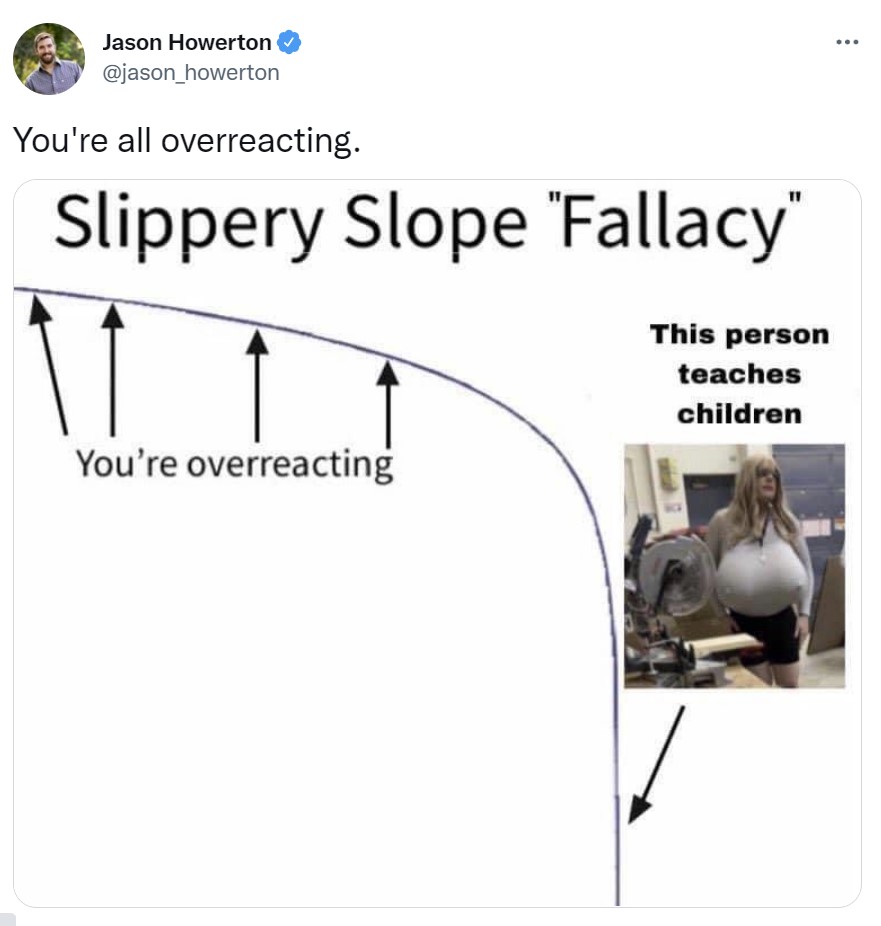 posted by Ace at
05:49 PM
|
Access Comments