« EMT 07/3/22
|
Main
|
The Boot-Licking Lackeys In The Media Are Finally Realizing That They Are Pawns! »
July 03, 2022
Sunday Morning Book Thread - 07-03-2022 ["Perfessor" Squirrel]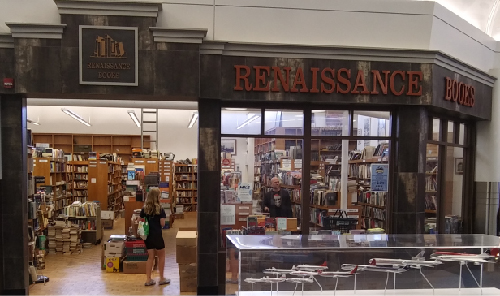 (click on the image above to see more of the inside - ht: Nemo)
Welcome to the prestigious, internationally acclaimed, stately, and illustrious Sunday Morning Book Thread! The place where all readers are welcome, regardless of whatever guilty pleasure we feel like reading (don't blame me if your results transcend the fourth dimension--ht: All Hail Eris). Here is where we can discuss, argue, bicker, quibble, consider, debate, confabulate, converse, and jaw about our latest fancy in reading material, even if it's nothing more than the economic predictions of Paul Ehrlich. As always, pants are required, unless you are wearing these pants (ht: Weird Dave)...
So relax, find yourself a warm kitty (or warm puppy--I won't judge) to curl up in your lap, fire up the grill for morning brats (with bacon), and crack open a new book. What are YOU reading this fine morning?
PIC NOTE
Moron Nemo sent me today's pic.
Dear Perfessor,

Something that may interest you and our fellow bibliophiles: Renaissance Books is a classic used-book store that's located in Milwaukee's Mitchell International Airport. To my knowledge, it's the only used-book store in an airport, anywhere. Anyone who's looking for a good read to take on a flight will finds lots of good used books, not just the usual bestsellers. The sci-fi/fantasy section is especially well stocked (I found a copy of Heinlein's "Magic, Inc." there, which I'd been seeking for quite a while).

BTW, my nom-de-ace is "Nemo".

Regards ...

I think a used bookstore at an airport is a fine idea. Or maybe a "library" of sorts where travelers can swap out books for different reading materials. Not sure how that would work in practice, though. It's been a while since I've been in an airport, but from what I can remember, airport bookstores are very similar to the one depicted below:
THE DEATH OF LITERATURE (ht: Captain Hate)
Is literature a dying form? If so, what will replace it, if anything? Captain Hate sent me this article: The deracination of literature by Mary Gaitskill.
It's a very long-winded article, but the author makes several interesting points along the way. She compares stories to the human body. We see the exterior plainly enough, but we do not really see the underlying mechanisms that make us live and breathe. However, we know they are there. Encountering a dead body triggers a very different emotional response than interacting with a living person because we know that the animating force is missing. Stories, as well, have an "inner" force that triggers our emotional responses, even if we are not fully conscious of the reasons *why* we respond to stories in a particular way. Authors are often ignorant of the "inner" force within their own stories. They may not fully realize just how much impact their stories have on readers until they become major bestsellers. Who could have predicted Harry Potter would become the billion-dollar franchise it is today?
Gaitskill also talks about teaching literature to students today. Her students struggled with reading John Updike for a couple of different reasons. First, "he was sexist and backward in his racial attitudes." We tend to see this a lot these days in literature with authors being "cancelled" for having the wrong views. There was a major campaign against science fiction author Orson Scott Card several years ago because he dared espouse traditional views about homosexuality. Now, I've read quite a few of his books and I don't recall homosexuality being any sort of major plot point where he inserts his own views about the subject. It just isn't relevant to his stories. His personal opinions were just that--his own opinions.
Secondly, her students didn't like Updike because his descriptions of the worlds were very, very dense. The prose interfered with students' understanding of the story. I've never read Updike, so I can't speak to that, but it's possible that the students were woefully unprepared for dense prose because they had never encountered it before. We know a sizable fraction of students are graduating high school with subpar reading abilities. A huge number of minority students in particular are functionally illiterate. Worse, the are culturally illiterate because they do not know all of the great stories that came before them.
The last point Gaitskill makes is that people are being trained to be ignorant of their surroundings. They simply do not see or hear the amazing world around them, nor the people that inhabit it. When was the last time you went outside at night and just looked up at the stars? Think about how small our planet really is in the grand scope of the cosmos. Each one of those stars is vast in comparison to our tiny blue planet. Most of them have planets of their own, with weird and bizarre configurations that we are still struggling to understand with our rudimentary knowledge of physics. Who knows? Maybe an alien is looking up at the stars on its planet, contemplating the same ideas...
Is literature dead? No, probably not. As Books by Morons proves, we as a species have an infinite capacity to generate stories. Good stories with captivating characters, intriguing plots, and underlying themes exploring all aspects of the human condition. As long as there is one human being on Earth who can read, literature will remain alive and well.
Put the book you are reading right now up to your ear. Still your mind and listen...Can you hear its heartbeat?
++++++++++

(Who won? SPOILER: Not George R.R. Martin!)
++++++++++
BOOKS BY MORONS
Comment: No Books by Morons this week... However, about 250 years ago a group of men came together and drafted a superb document that is always worth reading this time of year. You may have heard of it...
The Declaration of Independence
This is more relevant today than ever before.
How many of us could sign our name to such a document, knowing that we really are risking our freedom, our fortune, and our very lives?
MORON RECOMMENDATIONS
Thanks to everyone who recommended short stories or author of short stories last week! Lots of great recommendations. As usual, there's not enough space to list them all below, but I have captured your short story recommendations in another document HERE
I know the Horde tends more to SF and fantasy, which are not my genres, but I will put PG Wodehouse forward as a master of short stories - not just the Bertie Woosters, but the Psmiths, as well. IMO, the longer-form novels, with rare exceptions, just don't work as well.

Posted by: Mary Poppins' Practically Perfect Piercing at June 26, 2022 09:26 AM (2JVJo)

Comment: Hmmm. I don't actually know if the Horde tends towards science fiction and fantasy literature. Sure, a lot of us read it, including myself. But one of the things I enjoy most about the Sunday Morning Book Thread is all of the great literature you have read that's outside my comfort zone. I've heard of the P.G. Wodehouse stories, of course, but have never bothered to read them. I shall have to put them on my TBR list... MP4 makes an interesting point about the difference between the short stories and longer novels. Not all short story authors are well-suited to writing novels. Asimov, for instance, writes fantastic short stories, but his novels just don't have the same impact. Very few authors are able to maintain the same quality in both short stories and novels.
+++++
I like Larry Niven's Flatlander (The Collected Tales of Gil "The Arm" Hamilton). It's a collection of S/F detective stories based on an idea that as he says is "is terrifyingly and uncomfortably real." That idea being: There is a shortage of transplantable organs; people disappear, capital crimes are increased to solve that problem. His term for that is "organlegging."

The stories have all the pleasures of the detective story combined with a psychokinetic element thrown in for fun, all in a future with too many people and asteroid mining.

I liked this book enough that when my paperback version disappeared (or fell into my french drain; can't remember which) and I switched over to the Kindle, I bought a copy.

Posted by: yara at June 26, 2022 09:42 AM (hBsVD)

Comment: Another group of short stories that are foreign to me, though I've read a few of Niven's novels. Last week, Wolfus Aurelius mentioned one of Niven's short stories published in a pulp magazine in the '60s. Thanks to the power of the internet, I was able to find it and read it. Not bad at all. Niven is able to take an interesting idea and then "game it out" to see what the potential ramifications might be. I suspect that's what he does in this collection as well. And of course, thanks to the power of the internet, if we lose a book or it becomes too damaged to read anymore, we can find an electronic copy on demand for a modest fee.
+++++
I read Summer of Night and A Winter Haunting both by Dan Simmons. Summer of Night is about a group of kids in Illinois in 1960. It's like a Stephen King story (but way better). I would recommend it just for the descriptions of what it's like to be an 11 year old boy in summer. A Winter Haunting takes place in the same town in Illinois but 30 years later. It was okay, but Summer of Night was way better.

Posted by: prophet of the group W bench at June 26, 2022 10:48 AM (s37kI)

Comment: The only book I've read by Dan Simmons is Hyperion, which is essentially The Canterbury Tales in space. But I do enjoy stories about life as a kid in rural areas where there may be a supernatural or science fiction element that takes a group of kids on a grand adventure. Ray Bradbury was an absolute master of this, as was Clifford D. Simak.
+++++
Just finished Christopher DiGrazia's second Theda Bara book, The Stuff That Dreams Are Made Of. Enjoyed the first book a lot and this one as well, she's filming Cleopatra and a deadly mystery follows Theda and her sidekick Toby. Very well written dialogue and characters, enjoy traveling back in time to the filming of silent movies. There is a hint at the end the series might continue, which I would welcome.

Posted by: waelse1 at June 26, 2022 10:35 AM (pNeon)

Comment: As I mentioned last week, I always like to see Moron Recommendations of Books by Morons. Your feedback and encouragement is much appreciated, I'm sure! I'm also sure he'd appreciate an Amazon review, if possible! I just ordered me a copy of this book...
More Moron-recommended reading material can be found HERE! (255 Moron-recommended books so far!)
+-----+-----+-----+-----+
WHAT I'VE BEEN READING THIS PAST WEEK:
The Evolutionary Void by Peter F. Hamilton -- Book 3 in The Void Trilogy. Finally finished it! It took me a while to get through it (650+ pages). Life gets in the way of good reading, sometimes.
Star Wars: The Hutt Gambit (Han Solo Trilogy Book 2) by A.C. Crispin -- I'm going to start working my way through my unread pile of Star Wars novels...PRE-DISNEY, of course (most of them). They are good fluff material and generally entertaining.
The Stuff that Dreams are Made of by Christopher DiGrazia -- A very interesting look at Hollywood during the Silent Era of movie-making.
Dragonlance: The Legend of Huma by Richard A. Knaak -- A classic tale of chivalry and adventure. This is one of the most important histories in the entire Dragonlance Saga. It's also very good.
Ungrading: Why Rating Students Undermines Learning (and What to Do Instead) edited by Susan D. Blum -- This is for my day job. We're hosting a summer book reading program with several of our faculty. We will be discussing this book, which looks at alternative forms of assessing students instead of assigning them a grade.
That's about all I have for this week. Thank you for all of your kind words regarding my Sunday Morning Book Thread. This is a very special place. You are very special people (in all the best ways!). The kindness, generosity, and wisdom of the Moron Horde knows no bounds. Let's keep reading!
If you have any suggestions for improvement, reading recommendations, or writing projects that you'd like to see on the Sunday Morning Book Thread, you can send them to perfessor dot squirrel at-sign gmail dot com. Your feedback is always appreciated! You can also take a virtual tour of OUR library at libib.com/u/perfessorsquirrel. Since I added sections for AoSHQ, I now consider it OUR library, rather than my own personal fiefdom...
PREVIOUS SUNDAY MORNING BOOK THREAD - 06-26-22 (hat tip: vmom stabby stabby stabamillion) (NOTE: Do NOT comment on old threads!)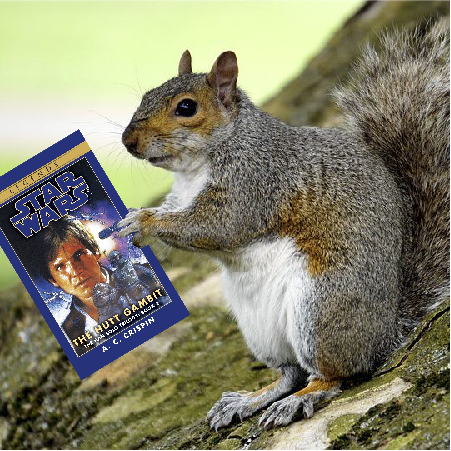 (HAN SHOT FIRST!)


posted by Open Blogger at
09:00 AM
|
Access Comments