« Quinnipiac, Reuters Polls Show Biden Tying His All-Time Lows
|
Main
|
Gestapo: Weaponized DOJ Raids Home of Former DOJ Official For Crime of Investigating Possible Voter Fraud Under Trump »
June 23, 2022
Quick Hits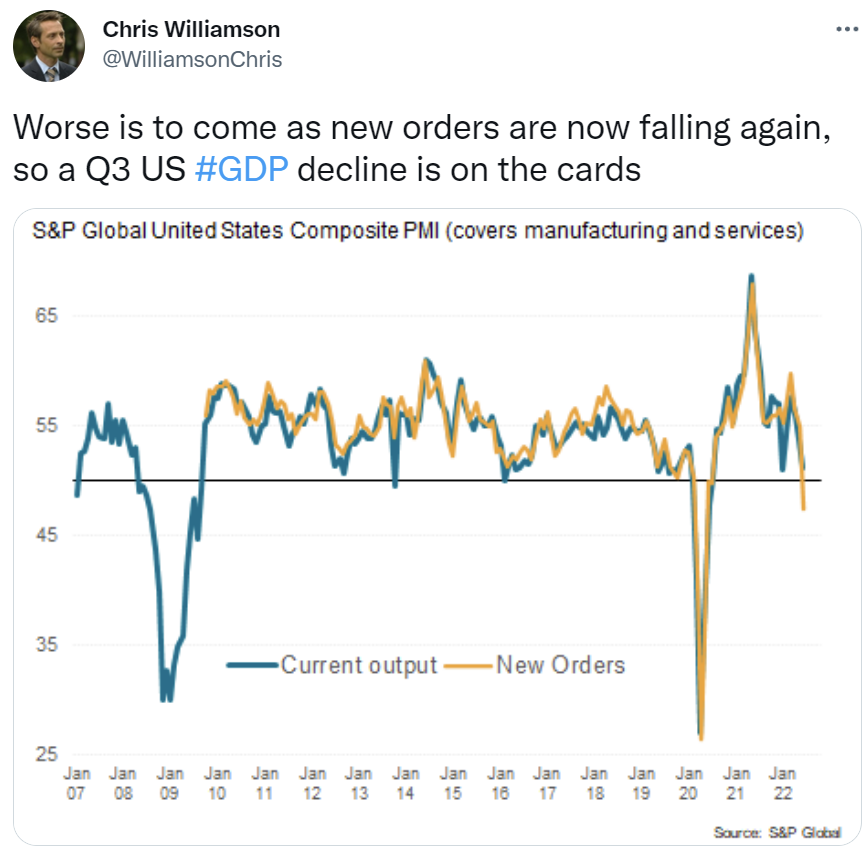 Womanly misogynist Keith Olbermann, who transitioned into a schlubby, tubby Meryl Streep right before our eyes, doesn't think much of women: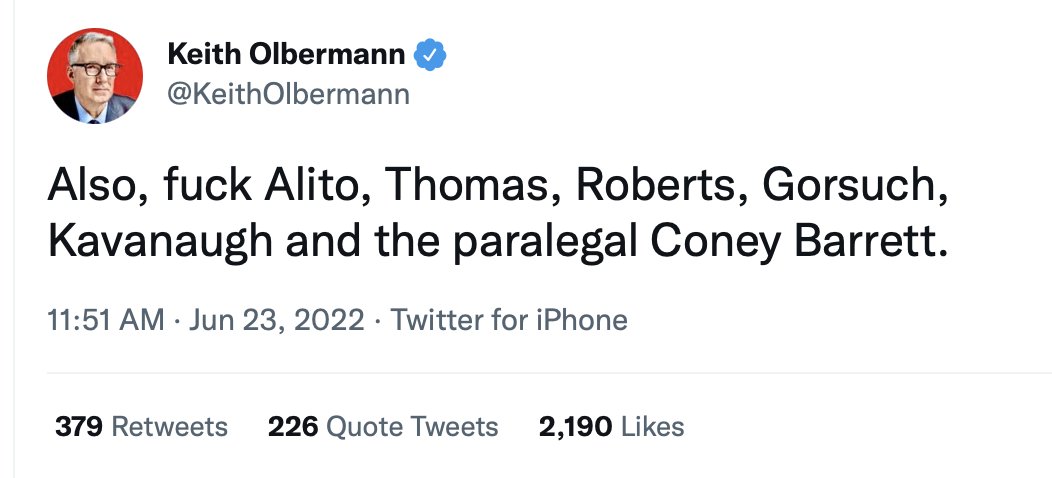 He also incited insurrection:
I really can't wait until this mentally ill shut-in self-cancels.
Auron Macintyre gathered up some more reactions from the extremist left.
"Dem strategist" and part of the Democrat grifter group MeidasTouch:
Adam Parkhomenko @AdamParkhomenko

Sometimes mass shooters wear robes and don't have a gun.
Leftwing Democrats who refuse to prosecute gun crimes (committed almost exclusively by their voting cohort) are very angry they can't take gun away from law-abiding citizens (comprising almost exclusively the voting cohort that votes against them):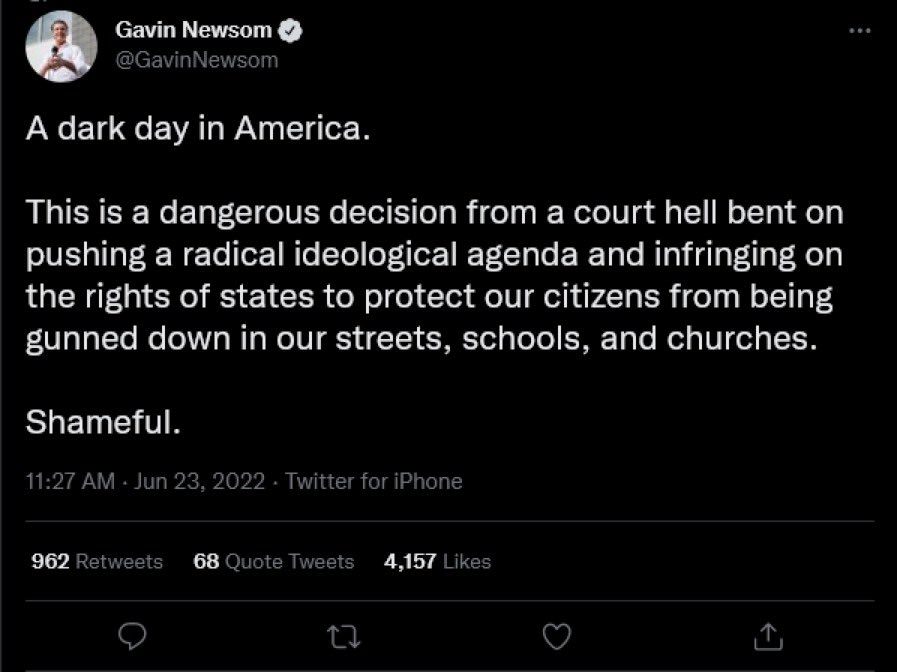 Dingbat sub-paralegal: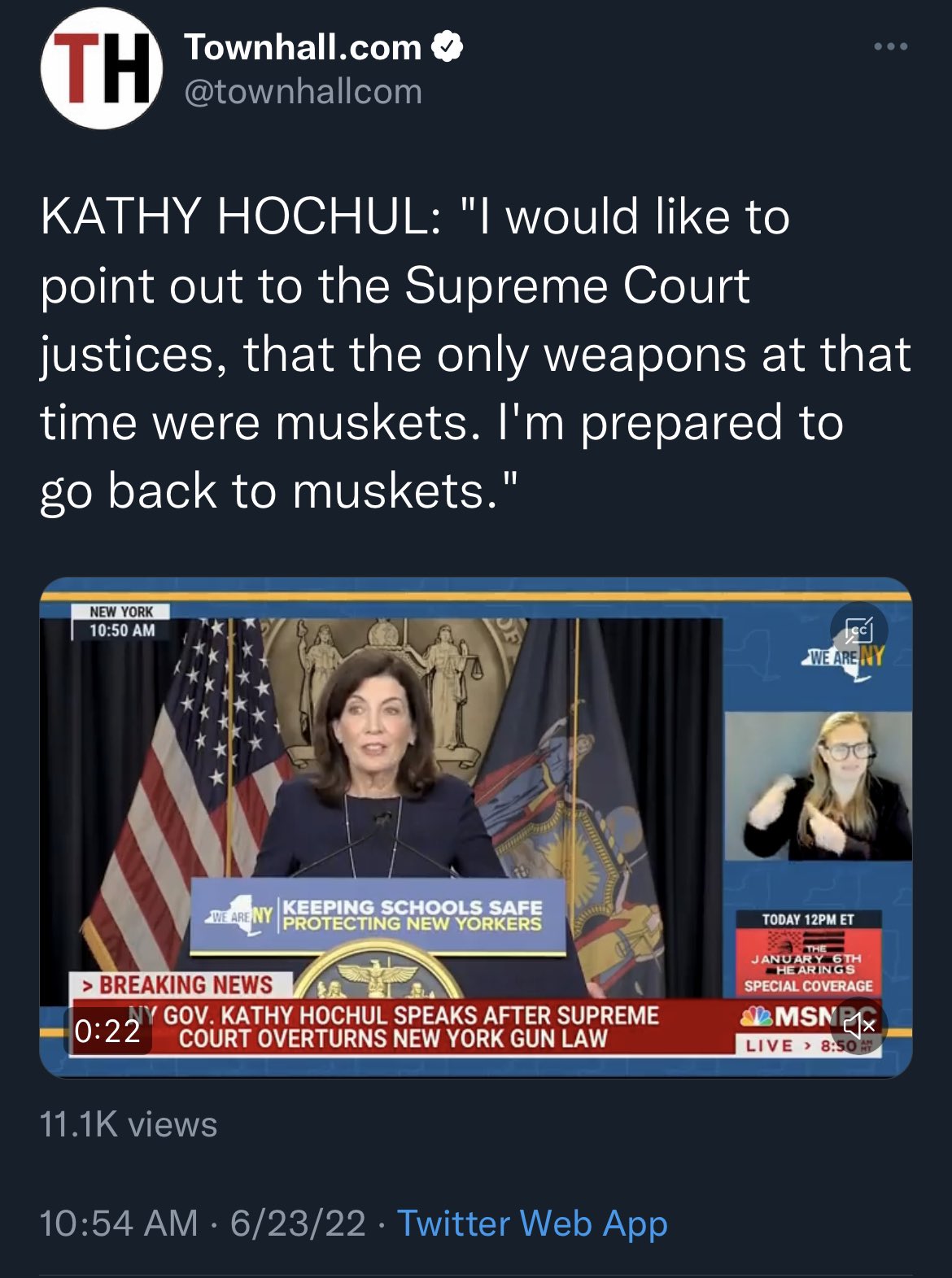 Justice Alito actually responded to Hochul in advance, because the dissenters cited the Buffalo shooting as a reason why New York needed this law.
What good, Alito asked in his concurrence/reply to the dissenters, did this law do to stop the Buffalo shooting?
In light of what we have actually held, it is hard to see what legitimate purpose can possibly be served by most of the dissent's lengthy introductory section.

Why, for example, does the dissent think it is relevant to recount the mass shootings that have occurred in recent years? Does the dissent think that laws like New York's prevent or deter such atrocities? Will a person bent on carrying out a mass shooting be stopped if he knows that it is illegal to carry a handgun outside the home?

And how does the dissent account for the fact that one of the mass shootings near the top of its list took place in Buffalo? The New York law at issue in this case obviously did not stop that perpetrator.

What is the relevance of statistics about the use of guns to commit suicide? Does the dissent think that a lot of people who possess guns in their homes will be stopped or deterred from shooting themselves if they cannot lawfully take them outside?

The dissent cites statistics about the use of guns in domestic disputes,but it does not explain why these statistics are relevant to the question presented in this case. How many of the cases involving the use of a gun in a domestic dispute occur outside the home, and how many are prevented by laws like New York's?

The dissent cites statistics on children and adolescents killed by guns, but what does this have to do with the question whether an adult who is licensed to possess a handgun may be prohibited from carrying it outside the home? Our decision, as noted, does not expand the categories of people who may lawfully possess a gun, and federal law generally forbids the possession of a handgun by a person who is under the age of 18, 18 U. S. C. s.s.922(x)(2)--(5), and bars the sale of a handgun to anyone under the age of 21, ss.922(b)(1), (c)(1).1

Alito also says this:
Like that dissent in Heller, the real thrust of today's dissent is that guns are bad and that States and local jurisdictions should be free to restrict them essentially as they see fit. That argument was rejected in Heller, and while the dissent protests that it is not rearguing Heller, it proceeds to do just that.
I think that's less snarky than simply accurate: lefties think guns are bad and so don't care if any anti-gun law is actually effective in reducing crime. They think that any burden on gun ownership is a positive boon, whether it helps the crime rate or not, because guns are bad and gun ownership should be discouraged by any penalty or harassment the state can dream up.
The left is forever caught unprepared to answer the basic question, "But how does your proposed gun control law affect the crime that just happened, that you say you're proposing this gun law to prevent?"
It's because none of this is about stopping gun crime; it's just about stopping guns.


Noted NeverTrump True Conservative: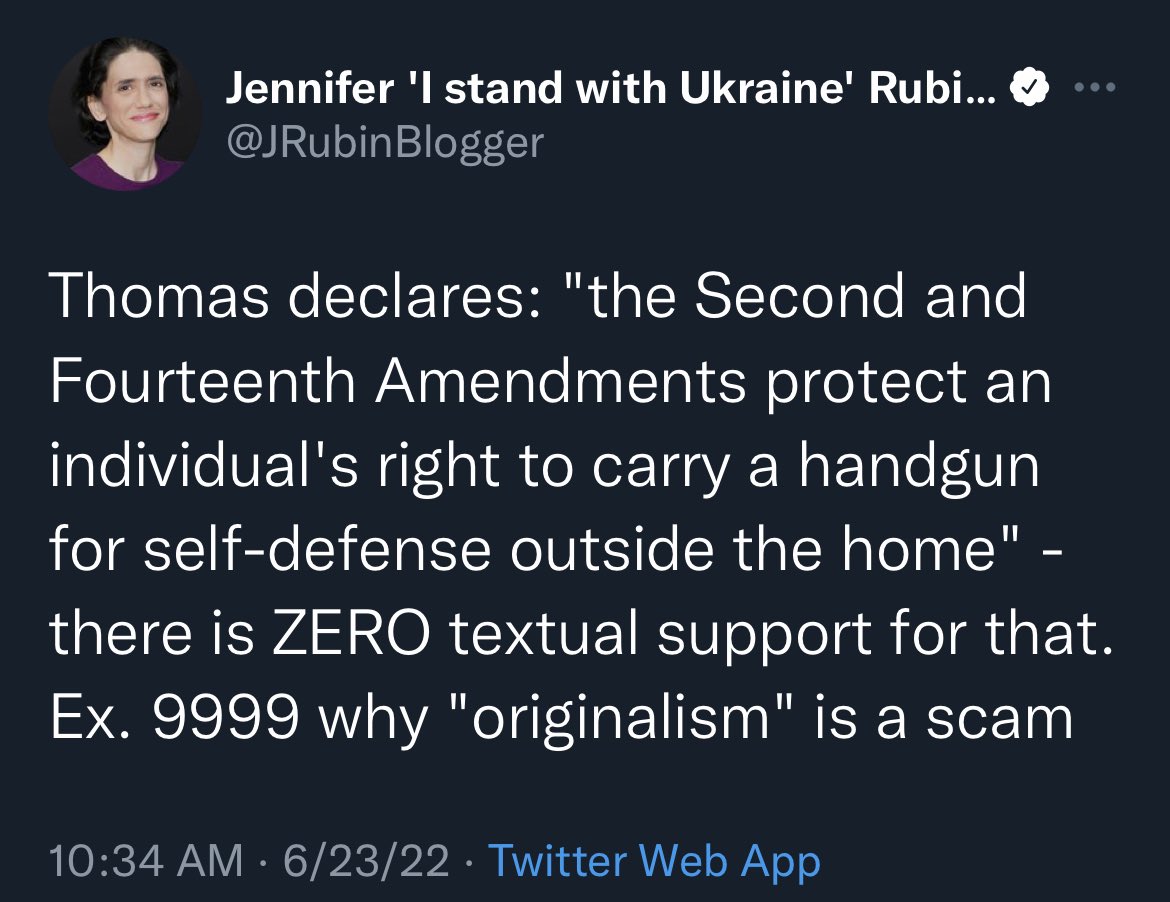 A statement was put out under the name of the desiccated, partly-braindead puppet: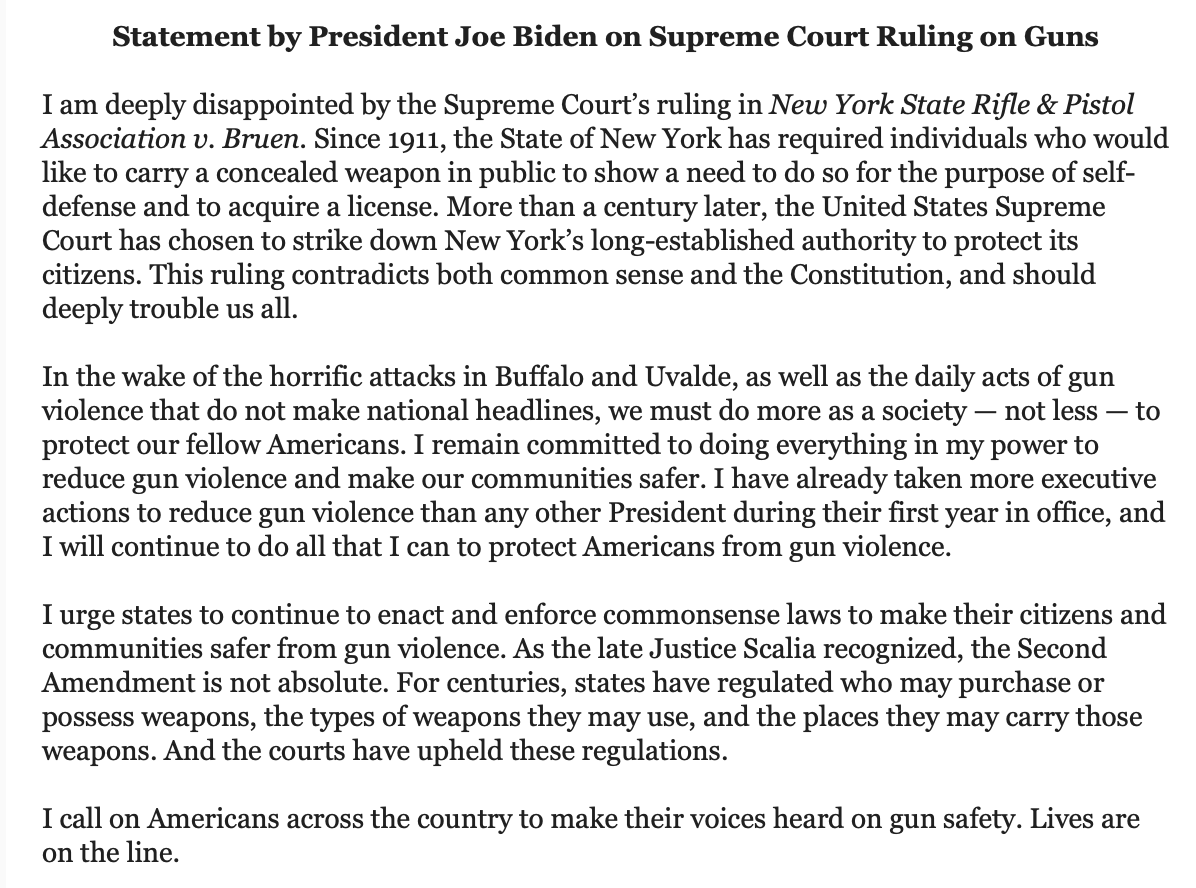 Tucker's been having fun with another male-to-female transgender insurrectionist.
Brother Seamus @WaynePelota

Amazing! Tax dollars paid for the virus that taxpayers will now be required to take shots for ad infinitum lest they wish to be excommunicated from society!

On bended knee:
Now I've played the "I've got a present for you" game a lot, but that takes it to different level.

posted by Ace at
05:05 PM
|
Access Comments