« White House Refuses to Issue a Prominent Condemnation of The Explicitly Terroristic Communique Sent By Their Leftwing Feminist Terrorist Allies, "Jane's Revenge"
|
Main
|
Farewell, My Tater »
June 16, 2022
Centrist, Moderate, Honorable and Law-Abiding Biden Absolutely Determined to Punish the Border Patrol Agents Who Were Already Found Innocent of the False Claims They "Whipped" Illegal Alien Border-Runners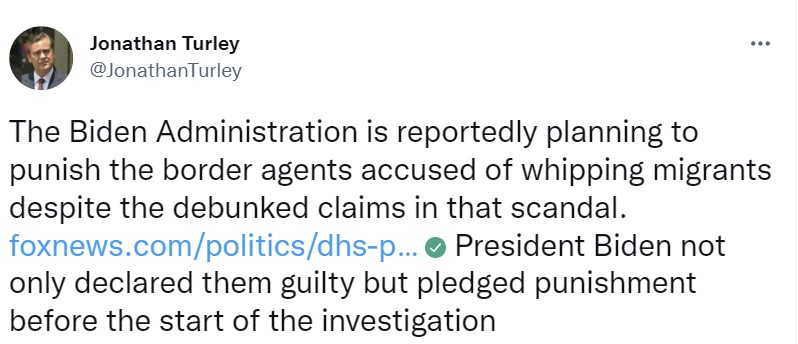 So why punish them?
For the same reason the left insists on punishment over the word "niggardly," even after it's proven to be non-racial word which has absolutely no etymological linkage to "negro" or any other word connected to the slur:
Because some nasty, stupid leftists got Wrong Ideas in their heads and when they found out they were wrong, they got even angrier that someone dared to tell them they were Wrong, and now demanded to be doubly vindicated, once for the original Wrong That Did Not Exist and now again for Being Told They Were Wrong.
The Stupid and Evil are defensive about being so stupid and evil, and react violently and bestially when they're reminded they're stupid.
The Border Agents whipped no one-- an investigation already found that.
So Biden is searching for "administrative violations" they may have committed.
Bill Melugin
@BillFOXLA

BREAKING: Per federal source, DHS is preparing to discipline multiple horseback Border Patrol agents who were accused of "whipping" Haitian migrants in Del Rio last summer. I'm told DHS will imminently allege "administrative violations", agents will be able to respond


Per federal source, this announcement is expected to come down any day now. It's unclear what "administrative violations" the BP agents will be accused of, but they are not being accused of any criminal conduct. The horseback unit involved is based out of Carrizo Springs, TX.

·
It has been nearly 9 months since this incident took place. The agents have been taken off their normal duties and have not been allowed to have contact w/ migrants since.

President Biden assured the public at the time "there will be consequences" for the agents involved.
There will be consequences for Upsetting the Left. It doesn't matter that you committed no crime; Upsetting the Left is the ultimate crime.
The Department of Homeland Security is preparing to discipline "multiple" horseback Border Patrol agents involved in the infamous "whipping" incident of Haitian migrants at the U.S.-Mexico border back in September.

A federal source told Fox News an announcement on the matter is expected within the coming days.

The source said that DHS will be putting forth proposals to discipline the agents who will have a chance to respond to the charges. The charges, Fox News is told, are "administrative violations," and do not amount to criminal conduct -- of which the agents were previously cleared.
"Proposals" for fake violations -- how do these proposed fake violations sound?
Some context: Marya Flores was part of the #WalkAway movement, leaving the Democrat Party. Her husband is a Border Patrol agent.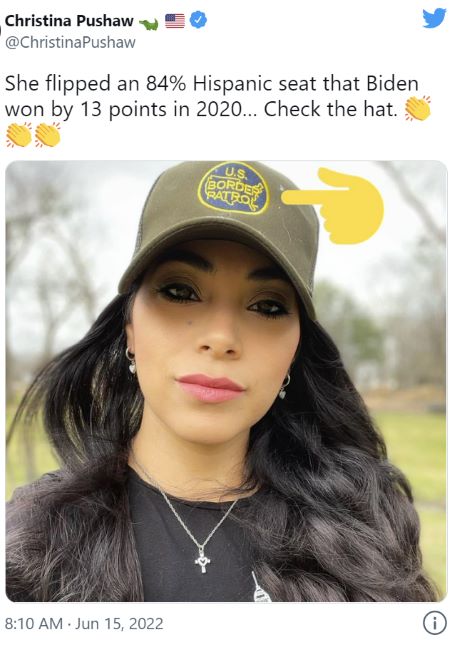 Christina Pushaw
@ChristinaPushaw


Mayra Flores' husband is serving our country as a Border Patrol officer. Border patrol is a major employer in South Texas. Most US Border Patrol agents are Hispanic. Democrats & the Biden Admin have attacked these brave men & women relentlessly. Time's up.
Via Instapundit, We Are Being Governed by Twitter:
[Fox reporter Bill Miselugin] went on to state that despite the investigation clearing them, the agents will be charged with 'administrative violations.' Could there be a more crystalline example of the Biden administration setting federal policy according to the whims of Twitter? Perhaps this might partially explain why the person in charge currently sits at a 38.7 approval rating -- given that a good majority of the population are not equipped with Twitter accounts.
Also via Instapundit: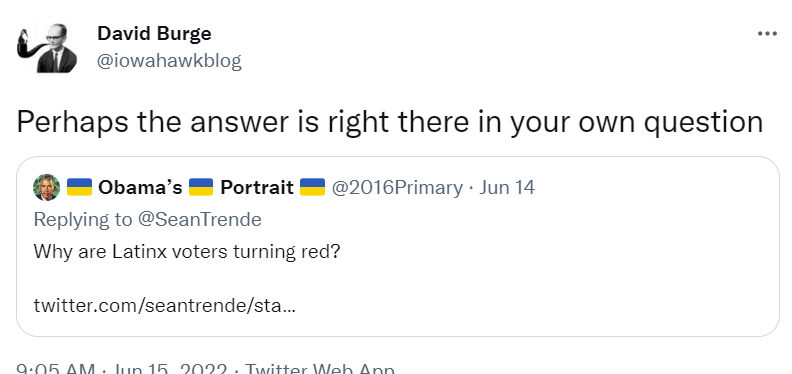 Via Doug P. at Twitchy, Geraldo Riviera defends the Biden Administration's racist bloodlust on the ground that you can "understand" how the left got this story wrong and, therefore, why they must now be appeased emotionally with some fabricated "administrative violations" charges against the men the left wrongly slurred.
Even Dana Perino has had it with him -- she yells at him at 3:50.

posted by Ace at
01:12 PM
|
Access Comments