« The Morning Rant: Minimalist Edition
|
Main
|
Centrist, Moderate, Honorable and Law-Abiding Biden Absolutely Determined to Punish the Border Patrol Agents Who Were Already Found Innocent of the False Claims They "Whipped" Illegal Alien Border-Runners »
June 16, 2022
White House Refuses to Issue a Prominent Condemnation of The Explicitly Terroristic Communique Sent By Their Leftwing Feminist Terrorist Allies, "Jane's Revenge"
Abortion activists firebombed another pro-life pregnancy center last week, the third such firebombing in the past several weeks.
Radical abortion activists who firebombed the office of a pro-life groups in Wisconsin and Oregon and who have vandalized over a dozen churches and pregnancy centers have struck again.

Early this morning police and fire departments in Buffalo, New York responded to smoke and fire at CompassCare, a pro-life medical office and pregnancy center that helps women and children. The building was firebombed and the windows in the reception room and nurses' office were broken and fires lit.

Graffiti on the building left by the arsonists refers to the abortion terrorist group Jane's Revenge reading, "Jane Was Here." The group took responsibility for a firebombing of a pro-life organization in Madison, Wisconsin in May, and it could have been responsible for bombing the offices of Oregon Right to Life during the same month. It has also vandalized and destroyed multiple churches and pregnancy centers.
More from Deb Heine at American Greatness.
The vicious, civil-war-cheerleading leftist media and their Democrat minions of course refuse to say anything at all -- there's no such thing as "terrorism" from the left. For if there is terrorism from the left, it's just The Voice of the Unheard.
The group which has admitted guilt for these firebombings -- a radical pro-abortion feminist terrorist group calling itself "Jane's Revenge" -- has issued a terrorist communique which now threatens there will be killings in addition to property damage.
Caroline Downey @carolinedowney_ Full statement from Jane's Revenge, announcing that it's "open season" on pro-life pregnancy centers.

Future measures "may not come in the form of something so easily cleaned up as fire and graffiti," the terrorist group threatens.

Merrick Garland?????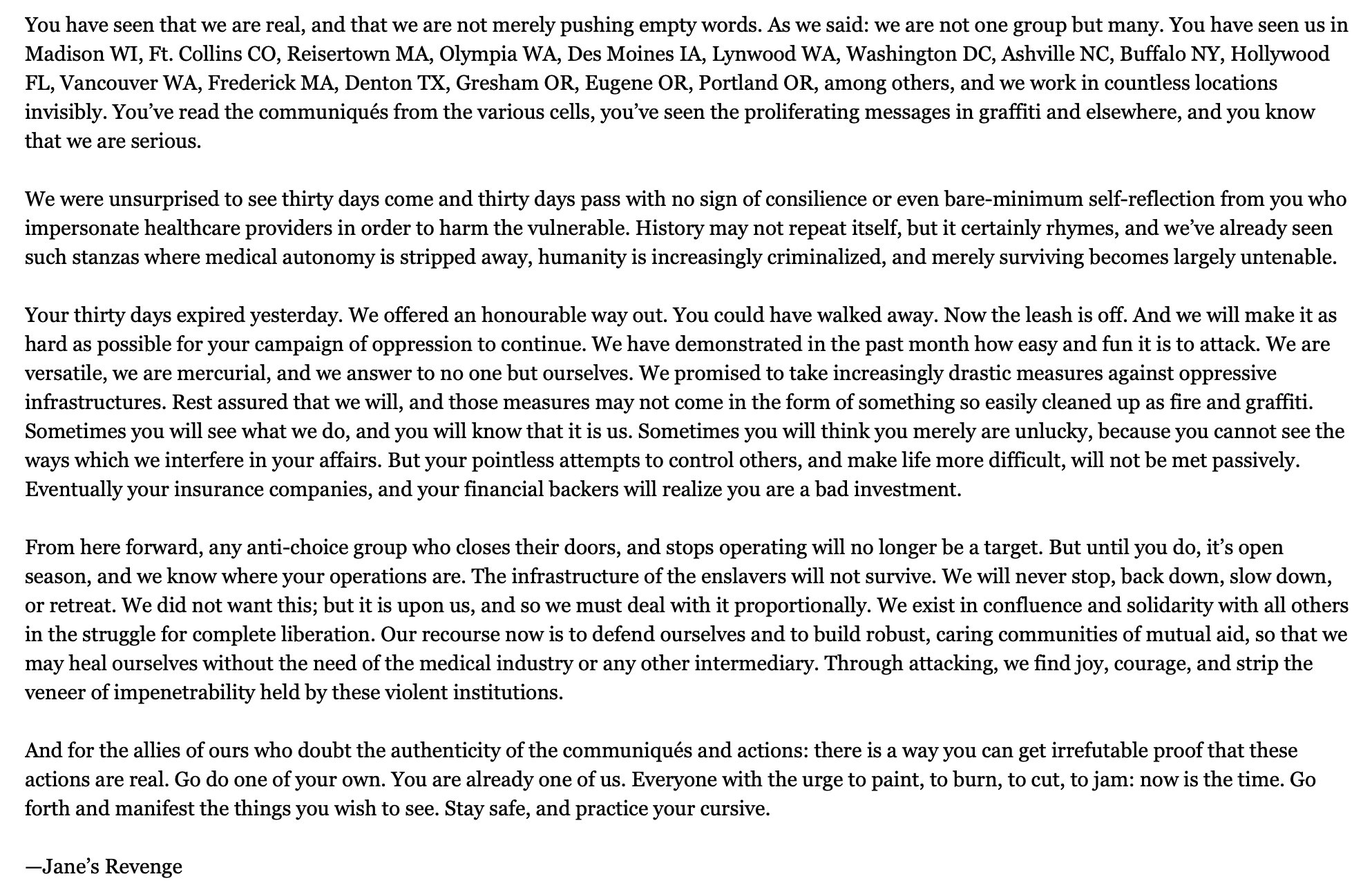 Catholic News Agency quotes from the terrorist communique:
"You have seen that we are real, and that we are not merely pushing empty words. As we said: we are not one group but many," the alleged Jane's Revenge post says.

The post says the group exists in "countless locations invisibly" and adds that "You've read the communiqués from the various cells, you've seen the proliferating messages in graffiti and elsewhere, and you know that we are serious."

The post says it is "easy and fun" to attack pro-life centers and vows "to take increasingly drastic measures against oppressive infrastructures. Pro-life centers were warned to stop operating as pregnancy centers, the post says, referring to this option an "honourable way out."

"You could have walked away. Now the leash is off. And we will make it as hard as possible for your campaign of oppression to continue," the post says.

"Rest assured that we will, and those measures may not come in the form of something so easily cleaned up as fire and graffiti," the post says. "Sometimes you will see what we do, and you will know that it is us."

The post threatened harassment to the point when "Eventually your insurance companies, and your financial backers will realize you are a bad investment."

The post says that any "anti-choice group" that ceases operations will not be targeted.

"But until you do, it's open season, and we know where your operations are. The infrastructure of the enslavers will not survive. We will never stop, back down, slow down, or retreat. We did not want this; but it is upon us, and so we must deal with it proportionally," the post says.

"Through attacking, we find joy, courage, and strip the veneer of impenetrability held by these violent institutions," it says.

Addressing allies of the group, the post says, "Go do one of your own. You are already one of us. Everyone with the urge to paint, to burn, to cut, to jam: now is the time. Go forth and manifest the things you wish to see. Stay safe, and practice your cursive."
The Biden Administration-- which was vouched for as centrist, moderate, honorable and law-abiding by the Prophet-Priests of NeverTrump -- has refused to condemn or even discuss the terrorism of its leftwing allies. Biden claimed that antifa itself was "a myth."
The Daily Wire pestered the White House until they finally had the Assistant Press Secretary appease them with a some empty words, which seem to have been delivered via email:
"Violence and destruction of property have no place in our country under any circumstances, and the President denounces this," White House Assistant Press Secretary Alexandra LaManna told The Daily Wire.

"We should all agree that actions like this are completely unacceptable regardless of our politics," she added.
So it's the Assistant Press Secretary, someone you've never heard of, issuing a statement via email and emphatically not on camera, so that there's no actual evidence that the White House condemned its terrorist allies of the left, as far as the Video-Is-King media is concerned.
So you can tell they're really serious about this.
And Daily Wire, please specify the medium by which the message is conveyed. Don't make us guess. The Medium is the Message, you might have read once or twice.

posted by Ace at
12:07 PM
|
Access Comments