« Quick Hits
|
Main
|
Scott Sterling Memorial Cafe »
May 27, 2022
GAINZZZ Thread: Slimming Down From a Mid-Fats to a Small-Fats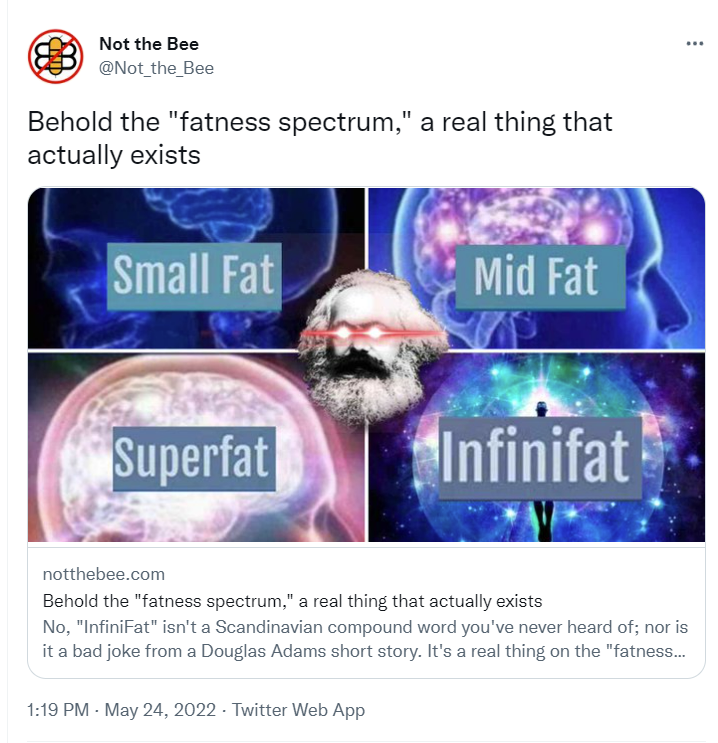 You small-fats need to shut up and defer to the Medium Fats and Large Fats and Super Fats.
And everyone needs to defer to the InfiniFats.
And believe it or not, this is not a parody. This is real.

You might think that this is something that that poor unfortunate girl is just making up to make some sense out of her miserable life.
But in fact, as Not the Bee points out, she's actually basing this on the prior Fat Scholarship.
You can click that link to see the prior Fat Literature.
Not the Bee digests it:
Yes, this is a Marxist attempt to arrange people in hierarchies based on how fat they are. Just like a slightly melanated person can't criticize a very melanated person under Critical Race Theory, in Critical Fat Theory, a moderately obese person can't criticize an "infinifat" person.
The downside of forming likeminded communities is that you can continually purity-test the membership list and screen out anyone who questions the increasingly strident and even demented dogmas the increasingly "pure" group dreams up. Ultimately the morbidly obese reach the point of creating their own favored social hierarchy in which, get this, the morbidly obese sit at the top of the pyramid.
And when the morbidly obese sit at the top of the pyramid, they really sit at the top of the pyramid.
How convenient for them!
And then when they take these ideas "to market," the market outside of their hypercurated extremist single-issue cult group, they find the idea is rejected and ridiculed, and they feel bullied.
But I mean, seriously dudes, you're attempting to create a Quasi-Racial Supremacist Caste System based on obesity. The non-obese (and non-lunatic obese) have a right to not just object strenuously, but to mock you for you even attempting to subjugate other people based on the "virtue" of your obesity.
Honestly, this could have been avoided if these ideas had been market-tested outside the confines of the Fat Acceptance hugbox cult in their early conceptual phases.
So have any of you lost any of your Fat Authority Status? Any of you have any Fat Authority Rank LOSSEZZZ?
Any BOOKZZZ or MOVIEZZZ to recommend? Any PROJECTZZZ or PLANZZZ?
I finally licked my plantar fasciitis. In the end, it took the usual exercises, plus wearing my Asics Gel Nimbus 22s and the new pair of 23s. They have pretty decent arch support.
And putting Easy Feat arch support inserts into more of my shoes. Note on those: They have quite a high arch. You might not be ready for that. It might be uncomfortable and feel like you've got a stone in your shoe. But you get used to it, and it does relax the arches (for me).
And making sure I'm wearing something with arch supports, even when I'm just inside the house.

posted by Ace at
06:32 PM
|
Access Comments