« 14 Elementary School Students and One Teacher Dead in School Shooting Spree In Texas
Shooter Exchanged Gunfire With Border Patrol Agents Before Barricading Himself Inside School, But Was US Citizen
|
Main
|
Secret Goat Cowboy Cafe »
May 24, 2022
Quick Hits
Your moral betters do dine well: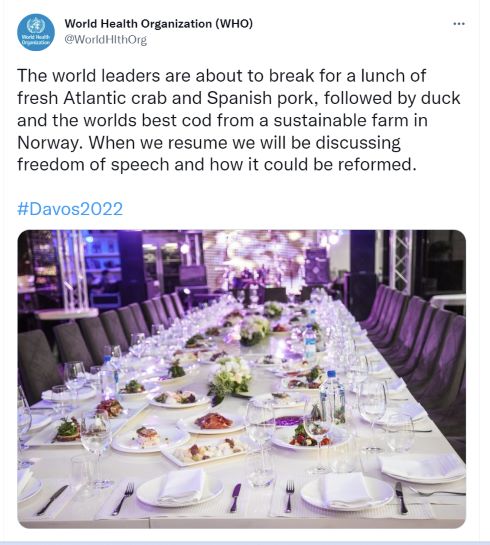 Biden's trotting out Gray Eminences to sell his bid to establish a Ministry of Truth, just as predicted:
[A]mericans should take no comfort in the fact that the Biden administration's efforts to censor information from within DHS and elsewhere will end. In fact, the administration has announced that former Homeland Security Secretary Michael Chertoff and former U.S. Deputy Attorney General Jamie Gorelick will take the baton from Jankowicz and continue down the disinformation track.

This plan is no better than the first one.

Chertoff and Gorelick, leaders of Secretary Alejandro Mayorkas' Homeland Security Advisory Council, have been tasked with giving recommendations on how DHS "can garner public trust surrounding its disinformation efforts." What the left and the Biden administration fail to recognize is that it cannot gain the public's trust regarding misinformation or disinformation.

Americans have suffered through far too much of such labeling and censorship since 2020 related to COVID-19, vaccines, masks, lockdowns, elections, and more. The federal government, politicians, tech companies--separately and in concert--have developed a significant reliance on censoring content that goes against their narrative. They've only recently started admitting this tactic. Americans are right to distrust the administration's future spin regarding disinformation.
Stacy Abrams, the Once and Future Governor of Georgia, announces that Georgia is the worst state in the entire country to live.
Bill Gates is funding the anti-Elon-Musk propaganda campaign, oddly enough.
Research exclusively shared with Breitbart News identifies hundreds of millions of dollars flowing from Bill Gates' foundation to 11 of the 26 organizations that signed an open letter last month urging Twitter advertisers to boycott the company if Elon Musk restores free speech on the platform.

Breitbart News' report, based on research and analysis from the newly-formed Foundation for Freedom Online (FFO), analyzed public filings to trace hundreds of millions of dollars in contributions from the letter signatories back to the Bill & Melinda Gates Foundation.

In total, 11 of the 26 anti-Musk organizations received funding from a Gates-backed entity.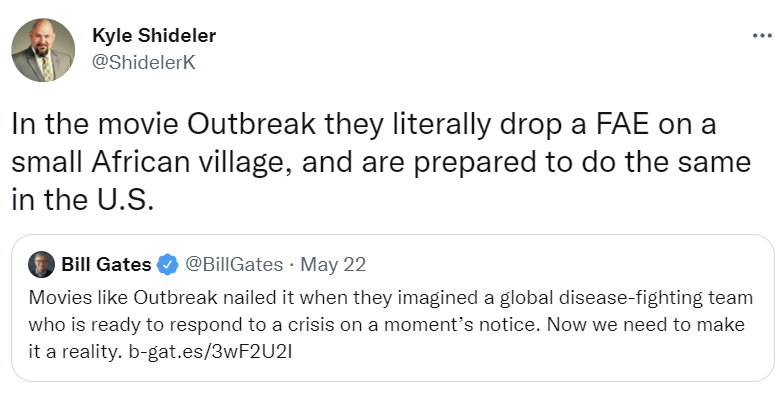 This college drop-out has no medical training but he is having a mid-life crisis and wants to feel important.
And because he's got money and a mid-life crisis, he's in charge of our global pandemic response?
Investigate his Weinstein trips.
The horror movie/SJW Pantomime Morality Play Men has bombed at the box office.
I linked this months ago in a "Is This Something?" I thought it looked visually terrific. I did wonder if it was going to be as gonzo-SJW as the title, "Men," threatened.
I guess it is.
Walmart pandered to BLM types by stocking Juneteenth-branded crap, but it backfired when SJWs went in the other direction. Instead of doing the "YASSS SLAY KWEEEN!" affirmation, they did the "HOW DARE YOU PROFIT BY RECYCLING THE CHAINS OF MY PROUD BLACK SLAVE ANCESTORS!" thing.
It's always a 50/50 gamble, and it's always going to be one or the other. (A reasonable, non-emotional, non-performative eh take is impossible.)
So Walmart is destroying all of its Juneteenth crap.
Walmart is pulling Juneteenth-themed products from its shelves after receiving backlash on social media from users who suggested the company was attempting to profit off of the federal holiday.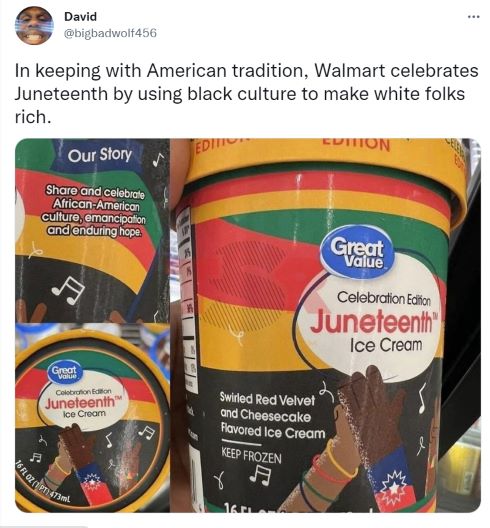 Confucius say: Corporation who panders to SJWs is like stupid hen brooding viper-eggs.
Now I've only got two questions: How do we convince The Gays to "take back" "Pride Month" from the Corporate Exploiters, and how do we get that done in one week?
Dave Reaboi visited Jolly Old England to sit down with Sargon of Akkad and talk about nobody's favorite fool, David French.

Jeet Heer is a very low-level, Who's-Who-of-Who-Cares cartoonist, but he has some thoughts about detraining engineers away from looking for the "one right answer:"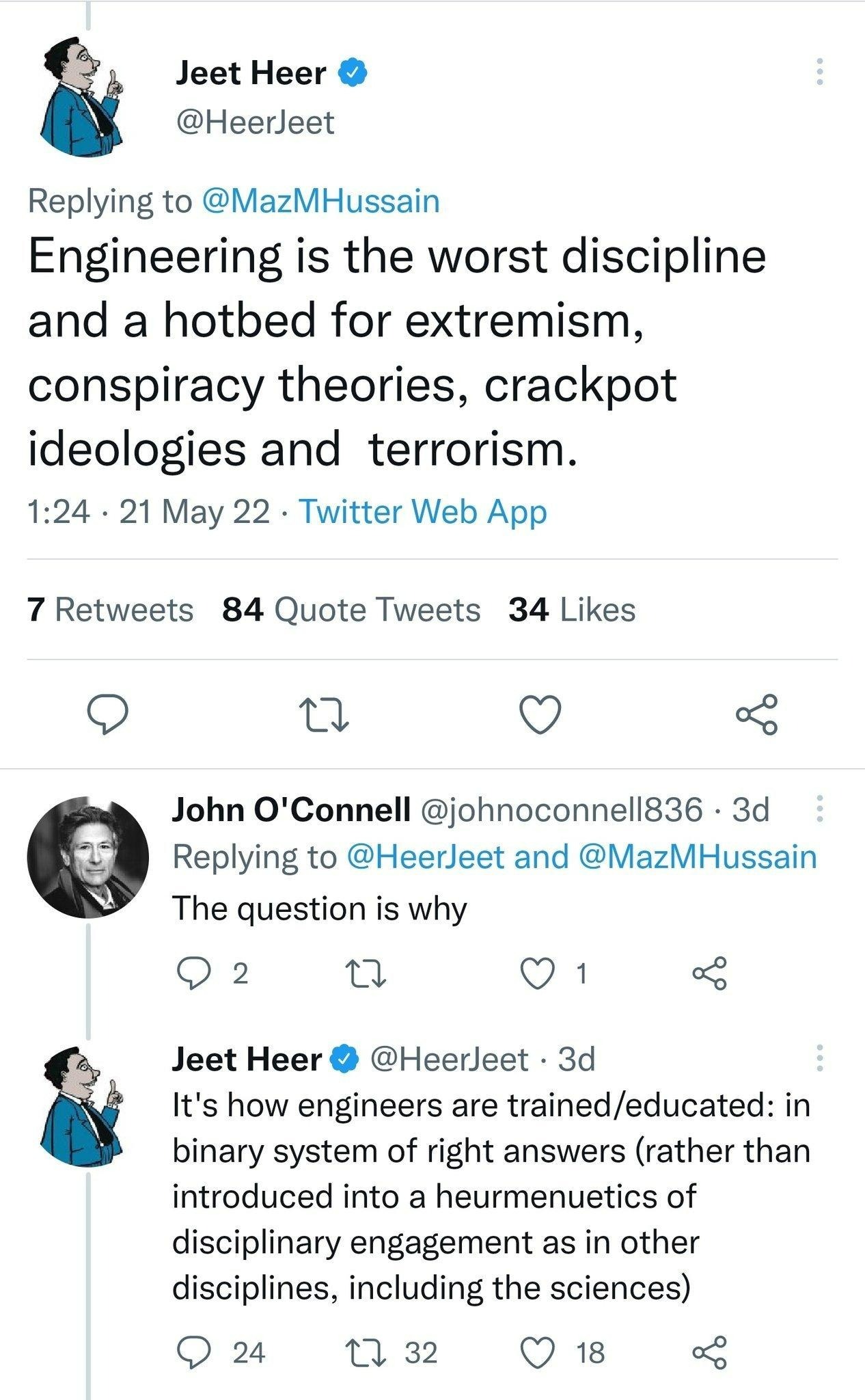 Hey, who wants to drive across a bridge designed by an obese no-account cartoonist? Come on, get those hands up. The bridge will be designed with representation, diversity, and hermeneutics in mind. And no math; the cartoonist isn't... he's not strong in math.
Dana Bash: Abortion is an important budget-trimming tool.

posted by Ace at
06:34 PM
|
Access Comments