« ¡Aye, Dios Mio! FJB Hits 60% Disapproval With Lantinexexexes
|
Main
|
Flock of Seagulls Cafe »
May 23, 2022
Quick Hits
Monkeypox outbreak likely spread by gay sex at two raves in Europe says WHO expert.
So what I hear them saying is that this is Chiefly a Disease of Heterosexuals and that we're all going to have to wear condoms when we have sex with our wives.
Isn't that the standard Faucian diagnosis? The young and fit are equally at risk from a coronavirus that kills the old and unhealthy, and heterosexuals are equally at risk from a virus that is spread by anal sex.
Everyone must suffer equally so that no political constituency feels unfairly burdened. That's Science (TM), you see.
LONDON (AP) -- A leading adviser to the World Health Organization described the unprecedented outbreak of the rare disease monkeypox in developed countries as "a random event" that might be explained by risky sexual behavior at two recent mass events in Europe.

In an interview with The Associated Press, Dr. David Heymann, who formerly headed WHO's emergencies department, said the leading theory to explain the spread of the disease was sexual transmission among gay and bisexual men at two raves held in Spain and Belgium. Monkeypox has not previously triggered widespread outbreaks beyond Africa, where it is endemic in animals.

Stanky Janky offered further defenses of herself on Twitter, in which she explained her plans to rid the United States of domestic political "disinformation." The problem with that? The DHS swore up and down that Stanky Janky's Ministry of Truth would only be tasked with combating foreign "disinformation."
Seems like Stanky Janky was intent on ignoring that and going for the real prize, silencing domestic opponents.
Or, just as likely: DHS, the "Disinformation" enforcement agency, was lying and gaslighting the public.
We can't probe this question further because after quickly dismissing this point by claiming, for the tenth time, that she was being taken out of "context," Stanky Janky turned off responses and will not answer any more questions.
Woke is Falling: Hulu had been considering picking up a series based on an alternate-history telling of Hillary Clinton's life, called Rodham, in which she dates Bill Clinton but doesn't marry him, and then runs for president on her own as a Stronk Empowered Single Woman.
No seriously, they were going to make this. Clare Danes and Dakota Fanning were attached, I guess to play Hillary Rodham and her lesbian lifemate.
But I guess Hulu, which is owned by Disney, noticed that they were losing a lot of money and that Netflix was also losing money on woke content and so they've now passed on the project.
Hulu has passed on "Rodham," the scripted alternate history series about Hillary Clinton that has been in development since 2020, TheWrap has learned.

A source close to the 20th Television project confirmed to TheWrap on Friday that they are still trying to find a home for the series, which now has Claire Danes and Dakota Fanning attached to play Clinton at different points in her life.
If I told you right now I was making all of the above up, you'd probably believe me, and with good reason.
But I'm not. That's real.
This was based on a best-selling "novel," supposedly.
Australia's oldest museum held a children's night-time event, including a "Lego pit" where a bunch of kids could play with blocks together.
So obviously a couple of guys dressed in lingerie fetish gear decided they would get in the Lego pit with the children.
Australia's oldest museum has defended allowing a man dressed in women's fetish gear play with Lego at a children's night time event - after pictures of him outraged parents across Australia.

Horrified parents complained to security staff and event organisers about the disturbing scenes at a popular weekly event at the Australian Museum in Sydney.

The photos from a recent Nights at the Museum event during the Easter school holidays show a man in fetish gear sitting with a group of young children building with blocks in the Lego pit.


The man is pictured in a midriff top and mini skirt outfit accessorised with fishnet stockings and a suspender belt. He's sitting next to a man dressed in similar attire.

The man's scantily clad outfit appears to be inspired by cross-dressing lothario 'Frank-N-Furter', the lead character originally played by Tim Curry in the 1970s cult musical The Rocky Horror Picture Show.

'He's sitting there with his full package out,' one horrified parent said. 'Disgusting.'

But the Museum defended the pervert's right to play with children while in panties and stockings and garters:
The Australian Museum has defended the attendee complained about, claiming the individual was in 'fancy dress'.

"Shameless partisan hack" John Harwood argues that people are actually doing better under Biden's inflation.
John Harwood @JohnJHarwood

in Washington debate, inflation is "crushing" families

in real life, pandemic relief has eased the pain

Moody's economist: "excess saving cushioned the impact, even for lower-income households

"households are for the most part in a good financial place"
Let's see how this simple-minded partisan flatulence-recycler reported on Trump's tax cuts in 2018: Oh, I see.
He reported that people were actually losing money due to Trump's tax cuts, and "at best," were "breaking even."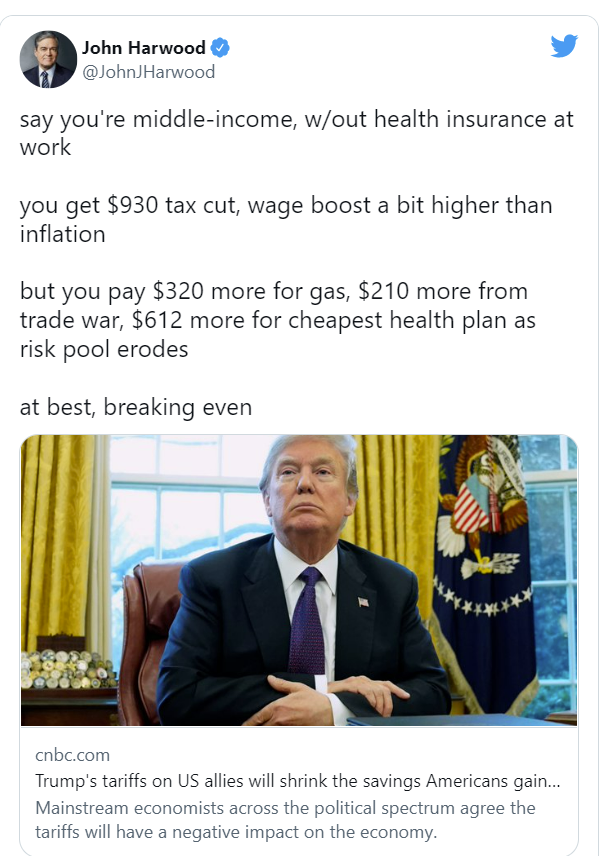 Biden's inflation is good, but Trump's tax cuts were bad!
This guy claims to be a "journalist." Worked at the New York Times and MSNBC. He now works for CNN (of course).
They allowed him to moderate a Republican debate one time.
Never again.

Whoopie Goldberg scolds the Archbishop of San Francisco, telling him, literally -- I am not making this up -- that deciding who is and is not in compliance with the Catholic Church's teachings and therefore is eligible to take communion "is not your job, dude."

1. What is his job, then?
2. Then who else would have that job?
Biden says that a recession is "not inevitable" -- that's reassuring, huh? -- and adds that thanks to his jacking up the price of gasoline, we're going through an incredible "transition" which will force us to be less reliant on fossil fuels when he's done destroying the world economy.
He ends by saying, "This is going to be a haul. This is going to take some time."
So, not "transitory," then?
AOC brags that her engagement ring, which she got from the Ginger Potato Beard she's supposedly marrying, is made from "recycled gold."
All gold is recycled, dummy; it's fucking gold, they don't throw it out.
She also claims the stone is "zero emissions."
francesca fiorentini @franifio

Vamoooooooos.

Your ring gotta be made of tinfoil otherwise the right's gonna flip.
Alexandria Ocasio-Cortez @AOC

Close! It's zero emission and recycled gold
Other experts said AOC's claim of zero emissions suggests the diamond was created in a lab, and not mined from the earth.

Peter Kahan, of Katz Jewelry in New York's Diamond District, said a lab gem would be "significantly cheaper" -- and would have the added benefit of being politically correct, ensuring it did not originate in a conflict zone.
I'm sure that a lab building up a gem atom by atom produced "zero emissions."
Meanwhile, a bit of background on AOC's Ginger Boiled Potato Beard:
Riley Roberts met AOC while they were both undergraduates at Boston University. Roberts hailed from a wealthy neighborhood in Arizona and attended the elite Chaparral High School in Scottsdale. He later built websites for small business before signing up for his girlfriend's long-shot campaign for Congress.
Oh he's rich? Whoa, plot twist.
Jack Posobiec has been Detained at Davos.*
* The Charlie Daniels' Band best album, I'd argue.

posted by Ace at
06:02 PM
|
Access Comments