« Saturday Gardening, Puttering and Adventure Thread, May 28
|
Main
|
Weekend Hobby, Crafting and Bodging Thread »
May 28, 2022
Ace of Spades Pet Thread, May 28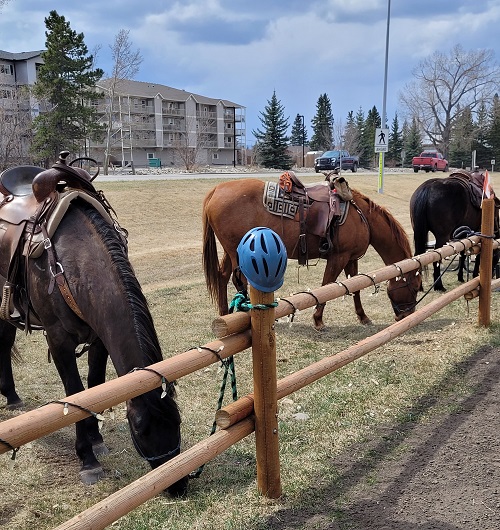 From Tim, via Misanthropic Humanitarian:
One of the advantages of frequenting a pub in rural Alberta is the horse visitors.
Good afternoon and welcome to this weekly respite from most of the outside "civilized" world -- the Ace of Spades Pet Thread.
Thanks for stopping by. Ask someone for a treat, kick back and enjoy the world of animals.
Reminder: For current events and politics, the Thread before the Gardening Thread (a couple of threads below) is almost always an Open Thread.
Here are some additional possibilities for Livestock as Companion Animals, if you don't have room for a horse:
* * *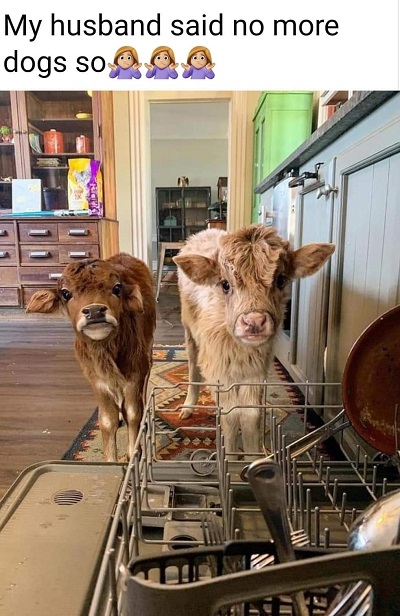 More fluffy little cows: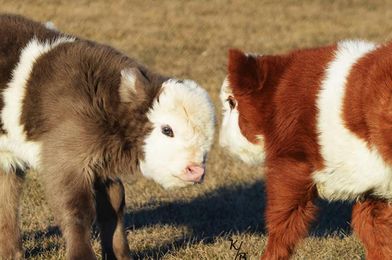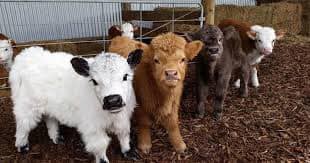 * * *
Wildlife as companion animals:
Hrothgar had a question for The Horde about last week's discussion of Why dogs are very good boys.

One question I had related to the fascinating dog genetics article was to wonder if anyone was looking to track the domestication gene for the cases where someone (Russians I think) had taken wild wolf pups, raised them domestically, and culled them for sociability. IIRC, such pups became much more "dog"-like in only a few generations. Don't think this has been done with coyotes? I should have posted this question on the Pet Thread itself, but . ..
* * *
Meet The PetMorons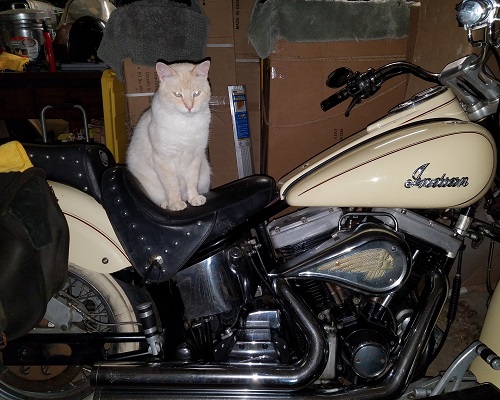 This is Chumley our garage kitty....sitting where he knows he is Not Allowed! He is a stray who adopted Drago. Featured before here on the pet thread. They are buddies, though at times it's hard to tell. Drago will drag him by the scruff of the neck and use him as a chew toy. I will find Drago with deep scratches on his snout. Chumley gives as good as he gets. No one holds a grudge, apparently. Barbara usually throws a rug on my bike to prevent Chumley from putting little holes on my seat. Paladin
* * *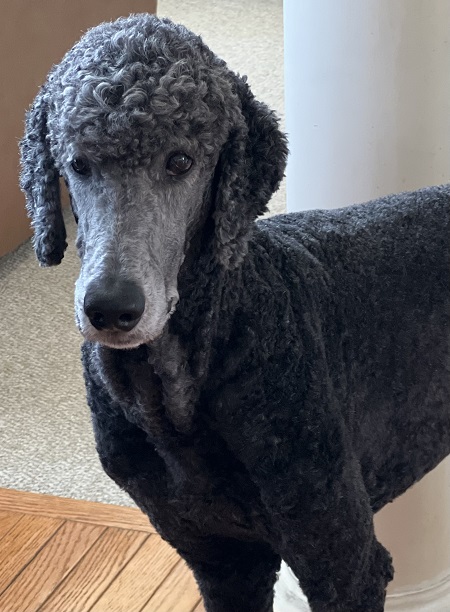 vdoggeh is usually so fluffy but here is a pic of him just after a haircut. Love the pet thread!

Thanks!
vmom
I think he still looks distinguished.
* * *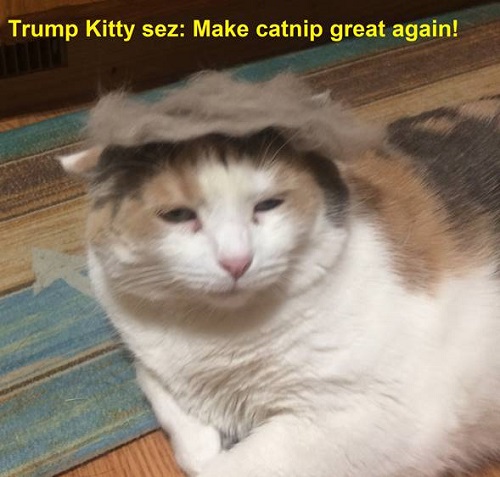 From long time lurker and rare poster Scont.
Even my cat Marilyn B. Plopenpet (For her habit of running up to me, falling over on her side, PLOP, and insisting on being petted). is a Trump fan.

Back story: I was brushing her and had a big pile of fur. I flattened it into a toupee and put it on her head. An absolute miracle that she held still long enough for me to snap a picture
Yes, you were lucky!
* * *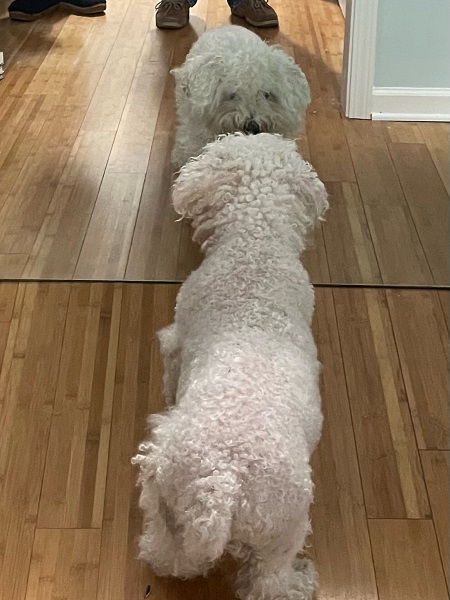 From Cooper:
I had to put our part Bichon/ Bassett Hound, Kobe, down last week. He was 15 years old and suffering from near blindness, doggy dementia, and a few other things. The Kobster was a great little guy who had a mind of his own, he loved to run through the house with a crushed water bottle in his mouth daring anyone to try and take it. He was a good boy and a great companion, it really hurts not having him but he is in a better place. I'm glad my wife and I took him in 5 years ago when my mom could no longer take care of him.
What a sweet photo. So sorry for your loss.
* * *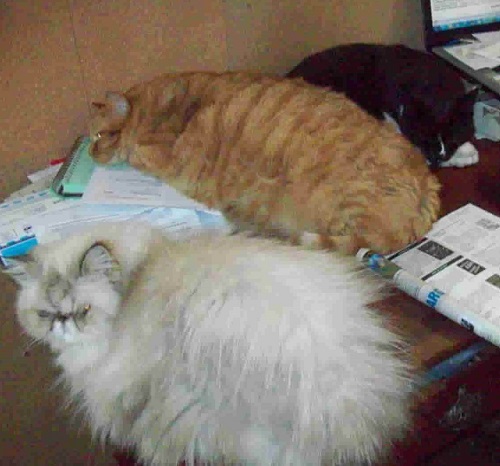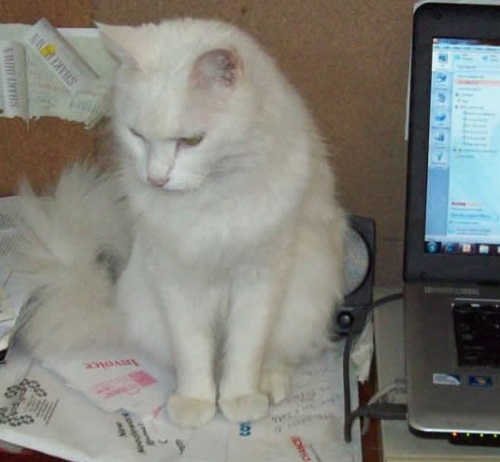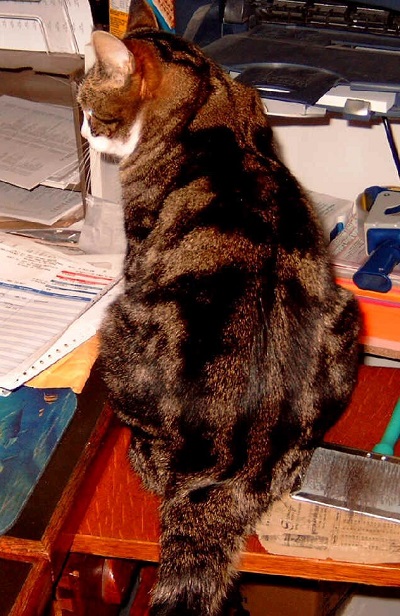 Captain Josepha Sabin sent in some photos for Caturday:
I owned a bookstore for eighteen years, and these were my bookstore cats.

The gray tiger and the white longhair were littermates, Sam and Ella. (Think about it a moment, and you will get the joke. It only took me three days.) I woke up one morning to discover that my oldest son had moved back home in the middle of the night with two half grown cats. When I kicked him out six months later, I kept the cats because I refused to drive halfway across Omaha every morning to feed, water, and clean kitty litter. I already had two cats and two dogs at home, so I took Sammy ad Ella down to the bookstore. The first day, they were terrified and hid. The second day, they marched up to the first customer who came through the door and demanded to be petted. For twelve and a half years, they ran the bookstore, assuming that anyone who stopped by was there to visit them. I got very used to hearing, "Hey, Sam! Hey, Ella! Oh, hi, Sabin, didn't notice you over there." They upstaged every author who came to the bookstore, one sitting in front of the author, the other on the author's books. Thankfully, the authors got as big a kick out of their antics as my customers. Of course, the inevitable happened. I don't know who was more devastated, me or my regulars.

For over a year, the bookstore was cat free. I finally got tired of the kvetching and got the orange tabby (Rosy) and the tuxedo (Tiger), again littermates, from the Humane Society. They happily moved in and took up right where Sammy and Ella left off. About a year later, I inherited the Himalayan, KatyDid. Tiger never had a problem with Katy, but Rosy hated her with the heat of a hundred suns. Poor little Katy was terrified of Rosy. I titled the picture of the three of them on my desk "Why Sabin never gets anything done." It was one of the rare occasions Rosy let Katy get within a country mile of her.

When I closed the bookstore, I brought all three cats home to join another cat and two dogs. Sadly, all of them have gone off to play elsewhere.
Thanks for sharing the photos and memories of your popular kitties!
* * *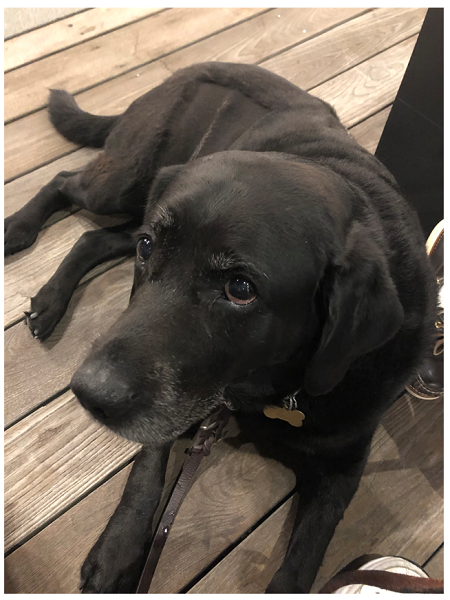 I am very sorry to advise that Nalo, my wife's wonderful seeing-eye dog, passed over the rainbow bridge Saturday evening, May 14th.

She was a lovable Labrador and a good guide dog.

Nalo had many trips with us, including Cape Cod, Colorado, Monterey, Coronado, St. Louis, North Carolina, Maryland and locally. One of her nicknames was the "Flying Labrador".

She always looked forward to her walks. She had many doggie friends in the neighborhood.

We miss her terribly. She was 12.5 years old was a guide-dog for 10.5 years.

Thanks,

Bruce and Laurie
What a terrible loss. What a beautiful dog. No wonder you loved her.
Love those PetMorons! Thank you for sharing your pets with us. We have a couple more left for next week.
If you would like to send pet and/or animal stories, links, etc. for the Ace of Spades Pet Thread, the address is:

petmorons at protonmail dot com


Remember to include the nic or name by which you wish to be known at AoSHQ, or let us know if you want to remain a lurker.
Until next Saturday, have a great week!
* * *
If you start feeling nostalgic, here a link to last week's Pet Thread, May 21. It includes some great pet photos and stories, and some information on doggy genetics. The comments are closed now so you won't accidentally ban yourself by trying to comment on a week-old thread, but don't try it anyway.

posted by K.T. at
03:15 PM
|
Access Comments