« Old words, new words, clear words, warped words
|
Main
|
Ace of Spades Pet Thread, May 28 »
May 28, 2022
Saturday Gardening, Puttering and Adventure Thread, May 28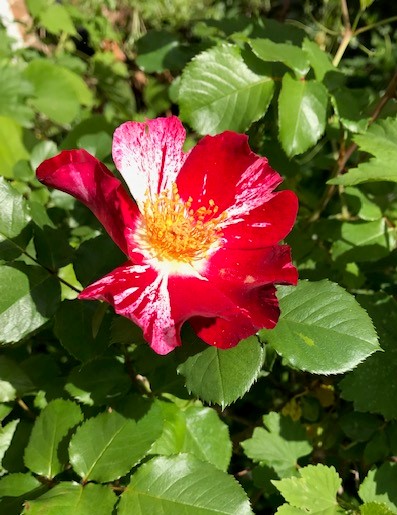 I thought that the photo above was appropriate for the Memorial Day Weekend, even though the rose is named for the Fourth of July:
This is the Fourth of July rose. Here in NoVa it's just started blooming, but will continue on and off all summer. It's a sturdy grower and pretty much trouble free.

Lirio100
It's one of those tough newer roses.
We have some special wildlife photos this week, and even a couple of videos:

Wildlife
From CaliGirl:
Here is a pic of the Golden Eagles that live on the ranch. I came around through a canyon and there were three of them. They are huge!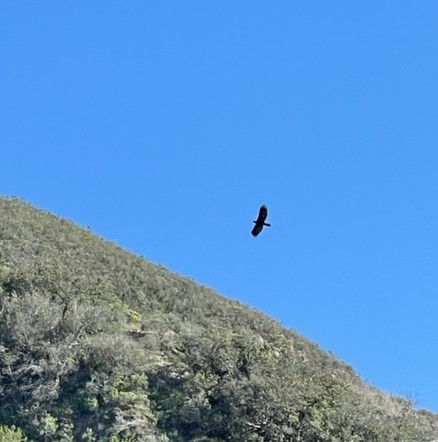 Here is a pic of the eagles on a water trough, they are giant.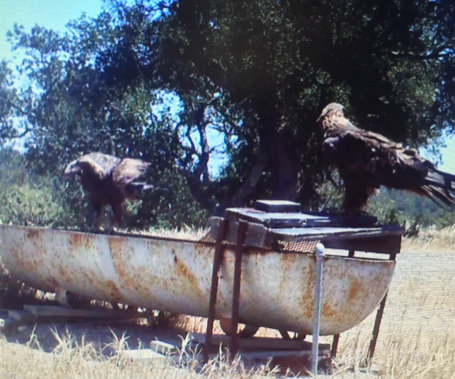 And here are a couple of short videos, also from CaliGirl. Thanks to CBD for the formatting:
This particular trough is close to my house.
We have additional great wildlife photos from The Horde for next week. Not the kind that would maul you or carry your pets off, though.
Edible Gardening
From Black JEM:
You mentioned the weather in today's post. And it has been like that here. Wet and cold and then suddenly summer. It has made it tough to get spring seeds in the ground. I had sent an earlier picture which you posted of my indoor seedlings. Well, they are ready to go into the ground now:

I've got few more trays not pictured to go in as well. Only a few greenhouse plants purchased. It makes all the work of starting all the seeds seem worth it.
They will go in here:

The back garden will take tomatoes that don't need to worry about the rabbits. But the rabbits had wiped out so many plants last year - getting through an old fence - that I moved my fenced garden to the bigger plot. Picked a perfect year to do it - treated 2"x10" these days aren't cheap. But it turned out well. Looks good, and the rabbits have no way in. Some spring plantings in this picture are up - radish, lettuce, carrots, onions, peapods, and beets. Still pretty small. Some of the seedlings I started will join them.

With FJB's economy, what comes out of these gardens - and the fruit trees and berry patches - will be a bit more important than the normal joy in just growing some of your own stuff.

Hopefully I'll remember to send you more pictures when everything is in the ground and getting bigger.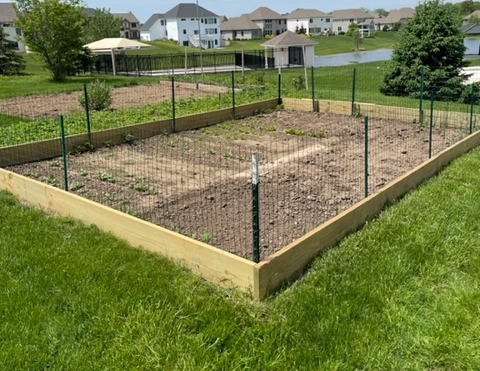 Nice!
More photos would be great!
Gardens of The Horde
Sorry I wasn't on the garden thread last week. I had the coof & spent most of the weekend napping. But now that I've recovered it's time to catch up on those pesky weeds and enjoy all the late spring blooms.

My German (bearded) iris are in full bloom now. I like their fragrance
& it's really cool that each color has a different smell. Come August,
I'll need to divide my patch of yellow iris again & plant some in my
church's garden. I've already given them to all my friends that wanted
some. I don't know why this particular iris grows like a weed in my
yard.

badgerwx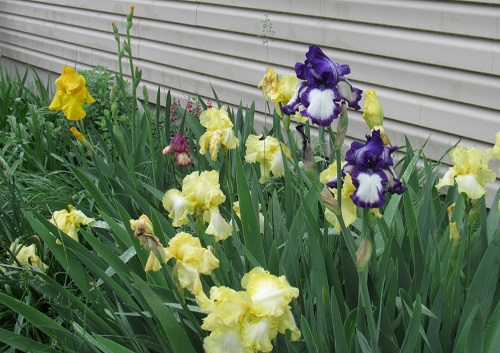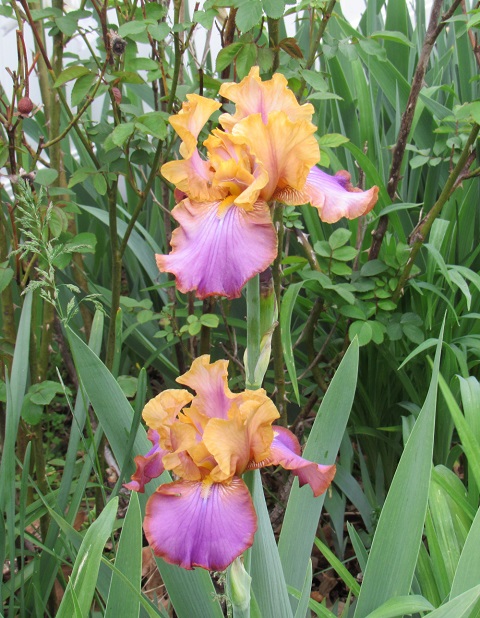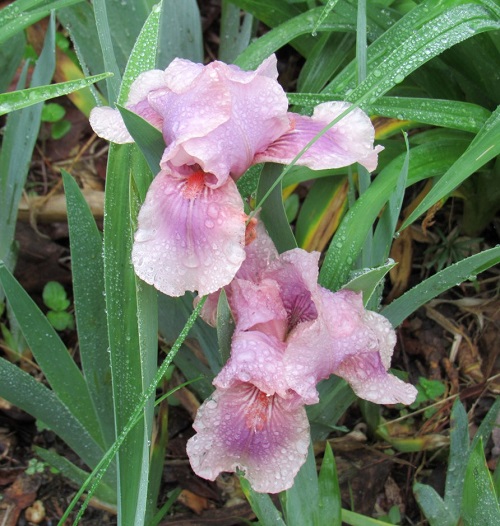 Spectacular!
You can tell that Memorial weekend is almost here when the roses start blooming. Carefree Beauty is on the south side of my house & always blooms first. It makes a nice show with all the columbines that seeded themselves around it. (may14)

And I got a perennial surprise this year. I bought a salvia a couple
years ago & planted it next to my yellow knockout rose by my back
porch. But it disappeared last year & I thought that was that. So I
was surprised when it suddenly popped up next to my porch's downspout.
I guess it wants to be in wetter soil. I'm going to leave it & see if it
comes back again next year. (may14b).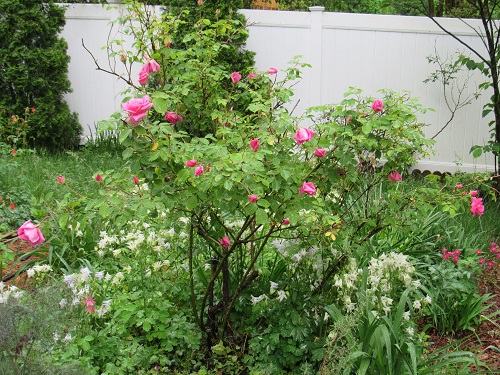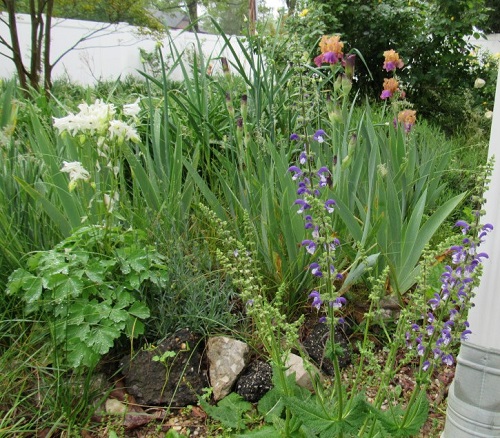 I would love to spend some time wandering around your garden.
Insect Photography
From a longtime lurker in Minnesota. Do you recognize the flowers? The species of insects?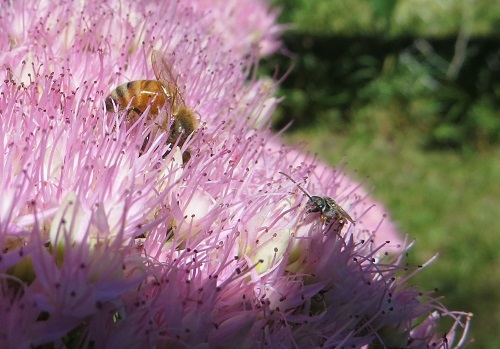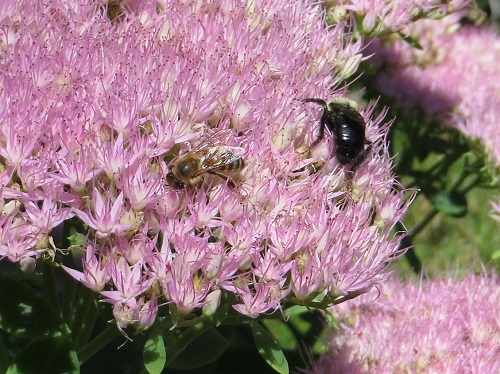 Great photos.

Hope everyone has a nice Memorial Day Weekend.


If you would like to send photos, stories, links, etc. for the Saturday Gardening, Puttering and Adventure Thread, the address is:
ktinthegarden at g mail dot com
Remember to include the nic or name by which you wish to be known at AoSHQ, or let us know if you want to remain a lurker.

Week in Review
What has changed since last week's thread? May 21, featuring Kansas blooms, an award-winning pickle recipe and hiking in the snow.
Any thoughts or questions?
The comments here are closed so you won't get banned for commenting on a week-old post, but don't try it anyway.

posted by K.T. at
01:22 PM
|
Access Comments