« Saturday Morning Coffee Break & Prayer Revival
|
Main
|
Saturday Gardening, Puttering and Adventure Thread, May 28 »
May 28, 2022
Old words, new words, clear words, warped words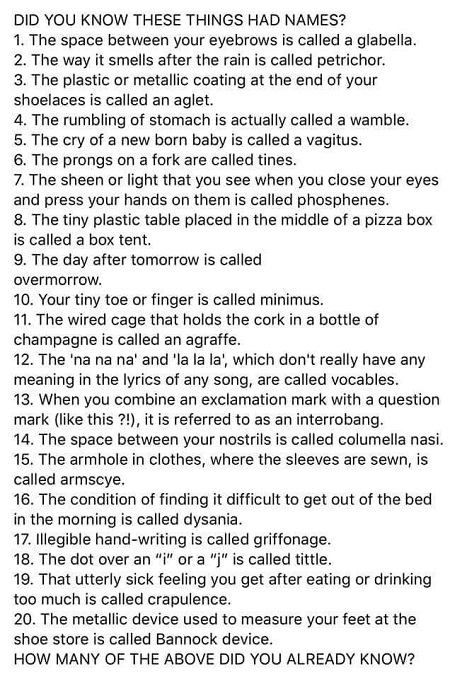 Think people of the WW II generation knew
more of these words than we do?
Yesterday, I had to get some blood work done, and the online form for the lab had everyone choose "male" or "female". No "other", no "prefer not to state".
They have recently updated their website, making it more commercial and difficult to navigate, and I would have expected some wokeness, too. Is this a shocking breach, or does it reflect a difference between "sex" and "gender"? I have a hard time keeping up. But I guess the complex machinery that measures blood chemistry doesn't really care about your feelings.
* * * * *
I also have a hard time keeping up with "neopronouns", as for "fishgenders" and "cakegenders". Some of the pronouns seem to be nouns or verbs . . . Here is a recent entry at Libs of TikTok with a relatively polite person who recognizes that neopronouns are "hard for all of us".
From the comments:
They/them are living their best life. Just leave them alone. They have found happiness.
Like . . . I hear English words . . . but I can't understand anything being said. Fantasy shouldn't be allowed to complicate reality this much.
Genesis 11:7 KJV The Lord said, "Go to, let us go down, and there confound their language, that they may not understand one another's speech."
Paint & King seem nice but when they're in the workforce if you don't do exactly what they say they'll get Crayon and Ruler & the other mob of activists to call your boss and complain that you make them feel unsafe and demand they fire you. It happened at Duke this week.
* * * * *
On a similar note (h/t Small Dead Animals), the knives are coming out for Ricky Gervais. Report from the UK, Patrick Christys, video at the link:
Comedian Ricky Gervais is the latest man, sorry, person to be in the firing line.

Isn't it funny that Ricky Gervais said various things about the Bible, and about God. I didn't find them funny, but I didn't want him cancelled for it. But it appears that these days, insulting an actual religion is not as bad as criticising the latest pseudo-religious cult. The cult of women with a penis.

You used to have to commit a child sex crime or something to get cancelled, although sometimes even that didn't do the job - just look at what went on at the BBC.
Anyway, the point is, you're only ever one wrong word away from never working again.

And it's always the so-called nice people isn't it? They don't just want you to lose your job, they want your wife to leave you, your kids to never talk to you again and I sometimes feel like they won't be satisfied until you're homeless, alone and foraging for cigarette butts outside a hospital smoking shelter, covered in your own urine shouting at pigeons.

And for what? The thing that really gets me is that what people get cancelled for these days are often not controversial views. In fact, it's their response to people who have overtly controversial views.
Like someone says they think we should have total open borders and the English Channel should look like a motorway for illegal immigrants...Then someone says, I don't really think that's a great idea. RACIST!

Someone says they think a 6ft 6in cross dresser with a massive penis should be allowed to be locked in a prison cell with a small woman...sorry, can I just politely suggest that I don't think this is a good idea: YOU MASSIVE TRANSPHOBE!

Can we all just calm down a bit please?
* * * * *
Meanwhile, Carl from The Lotus Eaters discusses language-and-manners perfectionists (for the Right) David French and people like him with David Reaboi. One theme: The Blue Republicans have given up on saving our civilization. Carl had not heard about the Blessings of Liberty.
* * * * *
Memorial Day Weekend
Ronald Reagan, Memorial Day Speech
Hope you have something meaningful planned for this holiday weekend.
This is the Thread before the Gardening Thread.
Serving your mid-day open thread needs
* * * * *
Last week's Thread, May 21, From Pride to Progressive Pride. Why can't these oppressed groups just all get along? And why don't those Progressive dreams pan out the way they describe them in those nice ads?
Bill Maher suggests THINKING about gender identity! (Lefties later spit acid at him for a while, until Ricky Gervais . . . )
Substack piece by an actual intersex person who resents LARPing by gender ideologues.
Glenn Campbell.
Comments are closed so you won't ban yourself by trying to comment on a week-old thread. But don't try it anyway.

posted by K.T. at
11:14 AM
|
Access Comments