« Food Thread: Paella...It's Back, And Better Than Ever!
|
Main
|
Sunday Overnight Open Thread (5/22/23) »
May 22, 2022
Gun Thread: Re-Run Edition!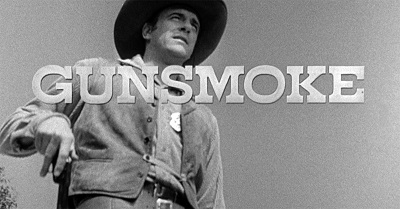 Howdy, Y'all! Welcome to the wondrously fabulous Gun Thread! As always, I want to thank all of our regulars for being here week in and week out, and also offer a bigly Gun Thread welcome to any newcomers who may be joining us tonight. Howdy and thank you for stopping by! I hope you find our wacky conversation on the subject of guns 'n shooting both enjoyable and informative. You are always welcome to lurk in the shadows of shame, but I'd like to invite you to jump into the conversation, say howdy, and tell us what kind of shooting you like to do!
The deadline for NoVaMoMe 2022 is fast approaching, but there is still time for you to register. Please register to attend by midnight May 31, 2022, however, mug sales are now closed.
The 2022 NoVaMoMe is on Saturday, June 11th, and our pal bluebell is busy working her little fingers to the bone for the benefit of you people so at least you can show up and marvel at her extreme niceness! C'mon, man! Do I really have to beat you over the head with this? You know you like the blog because you are reading it, or at least you like looking at the pictures, so why not come out of the shadows and meet some of the faces behind the Nics? I don't care how big of a weirdo you are in real life, just come to the dang thing and meet some really very nice people. See below for details and registration info!
Other Moron gatherings are on the calendar in Colorado, Washington, Alaska and Texas. Holy Shitballs! It's a dang MoMe-palooza! Take a peek at the main page left sidebar, find a MoMe near you, and sign up to attend one. You won't regret it!
With that, step into the dojo and let's get to the gun stuff below, shall we?

******
As I mentioned last week I am off on a secret mission this week, and am writing the Gun Thread much sooner than usual, and am somewhat pressed for time. The clock is ticking, and I have to decide whether to cut the blue wire or the red wire with only seconds to spare! Anyhoo, that means you get a selection of re-run material, but don't think of them as re-runs, think of it as recycling. Thanks for your patience and understanding.
***
Here's a look at the M1 Carbine from February 17, 2019
After having a look at the Enfield "Jungle Carbine" last week I thought it only made sense to see what Americans fielded during WWII; the M1 Carbine. Where the No.5 Mk.1 was considered by most to be unpleasant to shoot, it was nearly universally praised for it's compact size and light weight. Even lighter and smaller, the M1 Carbine is an absolute pleasure to shoot with the most notable difference being the cartridge, as we'll see a little later.
The following example was made by General Motors, Inland Division, in 1944.


As often happens in the world of government contracting, the design and acceptance of the rifle is a complicated story, so I'll try to boil it down to the salient points. Prior to WWII, the Army had decided the M1 Garand primary battle rifle was too big and clunky for support troops and paratroopers and requested a smaller, lighter rifle be developed. The Winchester design eventually prevailed and went into production in 1941. The semi-automatic carbine, a gas operated, rotating bolt design, was approximately 36 inches in length and weighed in at just over 5 pounds. An even more compact version with a folding stock was developed for Airborne units. With production ending in 1945, more than 6 million of the rifles were made and have seen use by armies and civilians around the world, even to this day.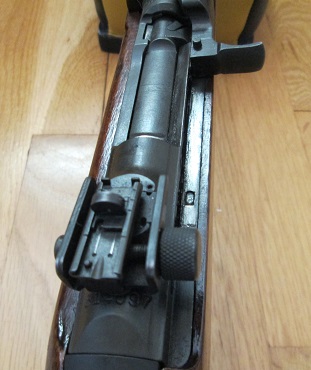 Bolt view - note rear sight adjustable windage
Ammunition
A new cartridge was developed for the rifle based on the .32 Winchester. This new round, known as the .30 Carbine, is a rimless 7.62x33mm cartridge with a 110gr round nose bullet, a muzzle velocity of just under 2,000 fps, and an effective range of about 300 yards. The cartridge performance is remarkably similar in both velocity and energy to the .357 Magnum.
This makes the the rifle considerably less powerful than the M1 Garand, but with greater penetration than the .45 cal Thompson submachine gun. There were reports of marginal effectiveness at the extreme limits of it's range, but inside about 50 yards where most engagements occurred, it was highly effective.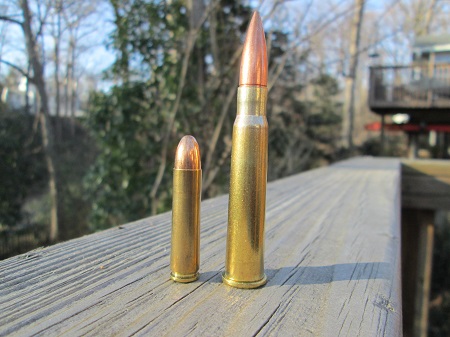 .30 Carbine (l) and .303 British (r)
So now we see the difference in the cartridges. A G.I. could carry considerably more ammunition for the M1 Carbine than they could for the Jungle Carbine, but with a significant corresponding reduction in firepower. The .30 carbine delivers around 970 ft lbs of energy versus about 2,550 ft lbs for the .303 British.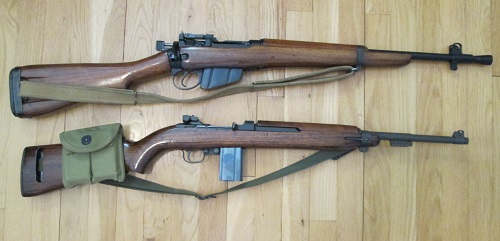 Enfield No.5 Mk 1 (top) and M1 Carbine (bottom)
Side-by-Side Comparison
The M1 Carbine is a semi-automatic rifle with a 15 round magazine where the Jungle Carbine is a bolt rifle with a 10 round magazine capacity. Later the M1 Carbine would be offered in a fully automatic version with a 30 round magazine. We sort of touched on this last week; the Jungle Carbine has significant felt recoil, but would you notice that in combat? I'm not sure that I would. Conversely, would you trade the knock down power of the .303 British for a greater number of .30 Carbine cartridges with excellent penetration, particularly at close range?
Manufacturers
Always of considerable interest to me is the list of companies who produced rifles and other war materiel under wartime contract. Manufacturers of the M1 Carbine included:
- Inland Division, General Motors
- Winchester Repeating Arms
- Irwin-Pedersen
- Saginaw Steering Gear Division, General Motors
- Underwood Elliot Fisher
- National Postal Meter
- Quality Hardware Manufacturing Corp.
- International Business Machines
- Standard Products
- Rock-Ola Manufacturing Corporation
- Commercial Controls Corporation
Does anyone else find the wartime production conversions from automobiles, typewriters, postal meters and juke boxes to rifles interesting? I once had someone suggest a couple of books on the subject, but cannot recall the titles now. Anyone have any recommendations?
2022 Update: I later made this video shooting the M1 Carbine at the farm. You can probably tell the script for the video came from the original GT entry - Weasel
******
Here's a discussion on reading wind and getting ready for a long range shot from December 23, 2018
Last week our pal RI Red posed a very good question in the comments. I thought at the time it would be nice to write a little more thorough response than I could in the comments, so I asked to defer the answer to this week. RI Red asks:
Can you describe the sequence of events you use for setting up a shot, and what of the equations are you doing in your head at the last second?
By the time you're behind the rifle looking through the scope with your finger on the trigger, a lot of things need to have happened to give you a reasonable chance of consistently hitting the target. The "sequence of events" you mentioned begins way before you find yourself on a rifle range, and on game day is as much about the things you don't have to think about, as it is about the things you do.
First off, let's think about the target. It's 1,000 yards away and the 'X' and 10 rings are 5 and 10 inches in diameter, respectively. If you find yourself placing more than a few shots outside the 10 ring during a 20 round match, you get the participation trophy. So the question becomes what is necessary to place say, 17 out of 20 bullets into a 10 inch circle, and perhaps 10 of those 17 inside the 5 inch X ring? The short answer is to do everything in the process as consistently as possible, and eliminate as many of the myriad factors as possible that can lead to an errant shot. If the bullet doesn't go where I expect it to, then I really don't want to start working on a list of 20 different factors which could be the problem.
So allow me to take a few steps back, and for the sake of the argument lets assume for whatever reason the shots you're taking are really important and you want to make them count.
Ammunition
A significant amount of time is spent reloading match ammo. By the time I get to the firing line with 20 rounds for a match, I've probably already invested an hour or two in preparing just those 20 rounds. That includes case preparation (trimming, cleaning, annealing and sizing), sorting match grade bullets by ogive measurement, trickling powder to a precise weight by the fraction of a grain, or literally by the speck, and then finally seating the bullet. Absolute consistency in match ammunition, both in sourcing and preparing components, and assembly of the finished product, is essential. All that consistency pays off, though. The extreme spread in muzzle velocity for three rounds of my match ammo is not more than 6 fps indicating a standard deviation of around 3 fps, or less. This consistency eliminates the unforced error of elevation on target due to velocity excursions. I am absolutely confident in my ammunition when I get to the line.
Mental Preparation
This is something you don't hear much about, so I will include it here. A day of competitive shooting is stressful and I'm usually exhausted when it's over. By the time I get back to the hotel in the late afternoon, I have enough time to clean the rifle, check my gear, grab a sammich and relax for a while before it's time for bed. The next day I get up around 5am, get something to eat, check the weather, load the car and it's off to the range. Do this every day for a week and you're pretty pooped! If you're out late having a good ol' time, then chances are you will not perform at your peak capability early the next morning. Have confidence in your equipment and your abilities. I've seen timid or otherwise non-confident shooters lose matches based on this aspect alone, I think.
Equipment and Setting up our Gear
Keep it Simple. I take exactly everything I need to the firing line, and little else. I pack my range bag exactly the same way every time, and set up my gear on the firing point in exactly the same way, every single time. I don't know how many matches I've shot but it's a lot, and I know where everything is by touch without getting up from the rifle or spotting scope to look for it. I don't want anything to disturb my position behind the rifle once I get settled in, if at all possible. You should be relaxed and comfortable, not scrunching yourself up or straining your neck to get the proper eye relief behind the scope.
FREE TIP: For those of you shooting longer distances, please pay attention to the rear bag in your setup. After goofy ammo, it's generally the biggest culprit in errant shots, particularly elevation, and the thing most new shooters overlook. You need a very solid platform and after the recoil of a shot you want the rifle to return to exactly same position as it was before the shot. If your shit is all wobbly and unstable, then chances are you're wasting ammo.
Data and Cold Bore
The first few shots of a clean, cold barrel do not behave the same once they leave the rifle as the next 80 or so will. I know that my long range match gun shoots a cold bore shot high/right about 1 MOA, and I expect it. It pays to know this if you cannot take fouling shots and a first round hit is important. Most matches allow a blow-off period at the start of the day to allow shooters to foul barrels. Some law enforcement and military shooters will foul their rifles after cleaning them and before putting them away.
So these were some of the things I have taken care of and checked off my mental list so I do not have to worry about them once the shots begin to count.
The Shot
So now I have all my gear and rifle set up and there are only a couple of things left to do, namely dial in the elevation and windage and wait for the match to begin. First, we'll look at elevation adjustments. If you have been shooting for a while you'll probably have an approximate idea how much elevation is required to place a shot on a 6' x 6' target frame at this distance, and you may know this from your general experience shooting at 1000 yards, or from actual experience on that specific range, or by use of any one of a number of ballistic computers. However, to make the shot with less than 5 inches of vertical dispersion (10 ring) above or below the intended point of impact requires a little more precision.
Let's say you took notes the last time you were on the same range and recorded an elevation of 37.5 MOA. You take your first shot and it is one full MOA, or about 10.5", low. Welcome to the 8 ring, and congratulations on losing the match. So what happened? Well 37.5 MOA may have been the correct elevation a month earlier, but clearly it's not correct today. Is it your ammo? Or is something loose on the rifle? Is it the rear bag thing that Weasel told you about? Did you record the wrong value last month? Maybe you just suck. Are you going to shoot again and risk another low shot? All those factors can contribute, and are all entirely avoidable.
How about the weather?
If you know the weight of the projectile and it's velocity leaving the barrel, and certain atmospheric conditions affecting air density then you can compute a firing solution. Most generic range cards use a "standard" atmosphere, from which there are several to choose. I use the ICAO atmospheric model, which is; air temp 59 F, air pressure 29.92 Hg, 78% RH and an elevation of 0' or sea level. But what if you're not shooting in precisely these conditions? What if you take a trip from your home range near the beach and go hunting in the Colorado mountains? Since it's cumbersome to record and use all of that data, it can be combined into the single reference value Density Altitude or (DA) which is simply expressed as a variation in altitude to the standard column of air at sea level. If you have been faithfully recording data in a little notebook in your range bag, you should have been including the DA, range to target, and the necessary elevation in MOA or mils for future reference.
Density Altitude is published for local airports, and many online calculation tools exist, but you need data in real time as the DA changes throughout the day. If you're interested in this level of precision, I strongly recommend investing in a Kestrel Meter a compact weather station with an anemometer and which calculates DA based on your current conditions at the range. CAUTION: DO NOT take your Kestrel to the firing point in a match!
So all you need to do is look in your data and find the last time you shot at the same distance with the same rifle and ammo, and dial the same elevation based on DA. See why recording your data is important? In this case you check your Kestrel and see that your current DA is 1047 feet above sea level (do this before the match, not after it begins!) and your data shows an entry from the previous year with DA of 1000 feet ASL and elevation of 38.5 MOA. In this example, you dial the 38.5 MOA, take a shot, and are in the 5" X ring. You are onebad ass mo-fo, and the ladies are swooning at all your bad-assery!
Wind
OK. So we're finally getting to the answer to RI Red's question. What am I thinking of during a match and right before I take the shot? What calculations am I making in my withered and atrophied little brain? The answer is wind. I am almost entirely focused on changes in wind conditions across the range. Literally from the time I step onto the range to the time I'm packing the car to head home, I am looking down range and observing the wind conditions. This has become such an ingrained habit, that I find myself estimating wind when I am not on the rifle range.
An entire book could be written on wind estimation for shooters, and many have. Here's a great one: Prone and Long Range Rifle Shooting covering a variety of topics written by my friend Nancy Tompkins. Nancy is a delightful person and a great competitor, and while I bigly recommend her book, there are many others available, as well. I was extremely fortunate to have had one of the best rifle instructors in the country teach me how to shoot and read wind, and I have spent countless days and weeks over a period of years on a 600 acre hay farm estimating wind and shooting at long range. It's a little bit science and a LOT of art, and while unfortunately not something I can cover here in exhaustive detail, I can however give you an overview of my process.
Point 1: A bullet in flight is stabilized by spinning, and for very complicated reasons, this spinning causes the bullet to drift right during flight when fired from a rifle with clockwise rifling. This is 'spin drift' and with a .308 will add between 3/4 and 1 MOA of right drift at 1000 yards.
Point 2: All wind is not equal. A 3 mph wind blowing from 9 o'clock directly perpendicular to the bullet's line of flight has a greater effect, or a "full value", than a 3 mph wind blowing from an angle, which is between 50% and 70% of full value. Buy an anemometer and practice, practice, practice estimating wind values and detecting changes in wind direction.
Point 3: Headwind and tailwind: These are the worst kind of wind, and very difficult to read accurately. It can also affect elevation; headwind slightly low, tailwind slightly high. Be vigilant for changes that introduce a wind value.
Point 4: Different bullets at different velocities respond to wind, well, differently. You should know the ballistic coefficient for the bullet you're using, and plug it into a ballistic calculator to determine the 1 mph full value wind value effect for your particular setup. Ballistic AE is the iOS app I use.
Point 5: Learn to read and use different wind indicators, mirage, flags, dust from bullet impact in the berm, grass, leaves... whatever. Continually try and determine which of these indicators is reflecting the conditions your bullet is encountering. When you are not looking through the riflescope you should be looking through your spotting scope if one is available.
Point 6: Look at the entire range for indicators of changes with wind. Preference should be given to indicators on the UPWIND side of the range whenever possible. Do not become fixated on only one indicator. Do not become so focused on wind speed that you fail to pickup changes in wind direction.
Point 7: There is often more than one wind vector on a rifle range. Look at the entire range and be prepared to net the effects together. Be aware of gaps in a tree line or other natural terrain features which might affect the wind along the course.

So, An Example
You are setup at 1000 yds, and have your elevation dialed in based on you rifle data and current DA. You have been watching the wind all morning which is light and slightly variable. You estimate wind speed at about 4 mph and wind direction from around the 10 o'clock position. You multiply 4 mph times 70% and get an effective wind value of 2.8 mph. You know at this distance the influence on a bullet for each 1 mph wind effect is .52 MOA. In your head you multiply 2.8 x .52 and get 1.46 MOA (or 3 x .5) and get 1.5 MOA rounded. Either dial the 1.5 MOA left wind or hold off from the target center and take the shot. Shit! The elevation is good but you're out to the right in the 9 ring. WTF? Well Dumbo, you forgot the effect of one full minute of spin drift to the right. You have to add the effect of 1.5 MOA of wind blowing the bullet right with the 1.0 MOA of spin to the right. The correct firing solution for that condition is 2.5 MOA left hold. Or you can begin the string at 1.0 MOA left wind on the windage knob, and adjust from there.
FREE TIP: You can either add 1 MOA (or whatever) of left spin correction to your rifle zero, or just include it in your corrections. Either way, you have to remember it's there.
ANOTHER FREE TIP: Learn to hold off (aiming right or left of center) for wind. You can easily get lost in making scope adjustments and really screw things up. Badly.
AND ANOTHER FREE TIP: It's OK to use a little "Kentucky Windage" as long as the conditions are generally consistent. If there are large directional or velocity changes you may need to stop shooting and start doing the math again. If you get lost in wind changes, just relax, reset everything to zero, and re-compute the solution.
STILL ANOTHER FREE TIP: If things start going to shit, stop shooting and figure out what is going on. If there is a significant change, don't be afraid to wait it out until a preferred condition returns.
Hopefully this will give you some things to think about over the long weekend. Each one of the topics above could be a long article by itself, but this should give you a high-level overview of the general process. I hope you can take away one or two things to help in your particular situation, especially if you're interested in long range shooting.
******
Here is something I wrote April 5, 2020 on general recommendations for a first time gun purchase. The discussion spanned two weeks, although some will contend it continues to this very day!
A question that comes up from time to time in the comments and in email I receive is:
What Kind of Gun Should I Buy?
It seems like a simple question, but the answer is a little more complicated, and anyone who simply says "buy X" isn't doing you any favors. In order to make an informed recommendation a little more information is needed; primarily the intended use, and to a lesser degree some information about the shooter. A big strapping guy with large hands who plans to shoot a lot is going to have a different range of options than, say, a petit gal who is looking for something for self-defense only after an initial familiarization. Before we dig in, one fact needs to be emphasized and that's not all guns do everything well. Shotguns, rifles and handguns, depending on the configuration, all have strengths and weaknesses. For example, you don't see a lot of duck hunters outfitting themselves with .22 cal target pistols. Can you kill a duck with a .22 cal target pistol? Sure. Is it the best tool for the job? Nope.
The threat of social disorder and mayhem is always a great motivator when it comes to people thinking about protecting themselves, their loved ones, and their stuff.
So let's assume that what everyone has on their mind is self-defense and protecting their property which narrows the field down a bit.
Long Guns
So named because they're longer than short guns, this group covers rifles and shotguns. While obviously not practical for concealed carry, a shotgun in 12 ga or 20 ga can make a fine general purpose home defense weapon. Look for something with a barrel length in the 18 inch range, which, when loaded with buckshot, will make a formidable weapon. Although rifles will work in a pinch, they are better left to shooting at longer distances. Because of the high velocity of the rounds, over-penetration can be a concern as the bullets can easily penetrate a person and then the walls of your house, before heading outside to meet your neighbors.
Handguns
I suspect handguns are what most people are thinking of when they decide they need to arm themselves. Depending on where you live, a handgun can be concealed when you go out (a permit is generally required) or kept handy inside your home, for example, in a bedside drawer. Use common sense in securing any weapon if there are youngsters around.
Modern handguns are made in two basic types, revolvers and semi-automatic pistols. On the plus side for revolvers is they are extremely simple to use. Once loaded, it is simply a matter of pointing and pulling the trigger. The downside, if you want to call it that, is they are usually limited to six and sometimes seven rounds. Pistols, on the other hand, generally have a higher ammunition capacity, some with as many as 15 rounds, but their operation is more complicated. Making them ready to fire requires inserting the magazine and loading a round into the chamber and there are often external safeties to deal with. These operations can complicate their use in a high-stress situation, especially if a shooter hasn't trained for such.
Please Just Shut Up and Give Us a Recommendation
Don't get snippy! For a first time gun owner, someone who has little or no experience with firearms who decides one day to arm themselves, I'd recommend a revolver in .38 Special. For decades this cartridge was the standard for police sidearms, and with self-defense ammunition it has plenty of stopping power. As I mentioned above, revolvers are completely safe until you start pulling the trigger. You can tell instantly if it's loaded, they are utterly reliable, there is nothing to jam, and cleaning and maintenance is simple. If you are going to buy one gun and stick it in a drawer and forget about it, you want a revolver.
It pains me somewhat to write that last sentence, but I'm enough of a realist to know that happens a lot. I firmly believe every gun owner should become familiar with the operation of every weapon they own, and then periodically take it to the range to maintain at least some basic level of proficiency with it. This doesn't mean you have to go all nutty and spend your life at the gun range, but you owe it to yourself and the rest of the world to know what in the hell you're doing with the deadly weapon in your hands. For those perspective purchasers that fit into this category, please, please, please make the effort to learn basic gun handling safety and marksmanship. If you don't know what you're doing, we're all better off without you owning a gun.
***
Which leads us to... April 12th, 2020
Last week I thought it would be a great idea to cause a shit storm by recommending the .38 Special revolver as a self-defense weapon. There were lots of great counterpoints telling me I was full of crap both in the comments and later by email. What I suppose I didn't adequately do in the thread was to outline the exact premise under which I was making that recommendation. I alluded to it, but didn't really sufficiently spell it out.
Discussing the recent spike in gun sales, I surmised many of the purchasers might be first time gun owners worried about current events who realized things might get spicy and decided they wanted the means to protect themselves and their stuff. These were likely not people who were already shooters deciding to rush out and add another 9mm to the five they already own. Further, these were people who were also not likely to spend a lot of time going to the range and becoming proficient with all sorts of weapons systems, but rather the sort who buys a gun and one box of ammo and stores it in a drawer to keep their socks company. They may carry it, or think about carrying it, and they may not. That was the premise of recommending the revolver over other options; one gun that was simple to operate and maintain for a novice shooter.
I would like to thank you all for the comments and the email. Without exception, everyone was reasonable in their disagreement and offered their basis for suggesting an alternative. This is what makes the ol' Gun Thread a fun place to hang out, and I appreciate it!
Does that make any more sense or am I still full of shit? Come at me, bro!
.38 Special Revolvers
But wait, there's more! Because I don't think we've done nearly enough talking about .38 Special revolvers, let's head to the WeaselAcres and do some shooting!
It's no secret that I like revolvers and the .38 Special cartridge. It's a great round for reloading and recreational shooting, and it's pleasant and generally economical to shoot. I have a bunch of them and will do more videos highlighting these great guns from time to time. Many people prefer the .357 Magnum because it will also fire the .38 Special cartridge, so in essence, you're getting two guns for one. Hard to argue with that logic, even if it sometimes does require a little extra attention when cleaning after firing the slightly shorter .38 Special round.
So does this hold up or am I still full of shit?
******
Gun Basics 101
This week the She Equips Herself gal talks about off-body concealed carry options.
******
Cigar of the Week
This week Cigar Vixen takes us on a tour of the Dona Elba cigar factory in Granada, Nicaragua, which happens to be a very cool little town.
******
ATTENTION NoVaMoMe 2022!!
The social and cultural event of the season, NoVaMoMe 2022 is on the calendar! That's right, you people have a chance to meet many of your online pals on Saturday, June 11th beginning at 1pm until dark, or such time as it gets busted up by the cops. We have an exciting location in the Northern Virginia area which allows extended time for visiting. Admission is $25 which includes food and soft drinks, with a cash bar. This year the menu is BBQ chicken and pork with the usual sides and cookies for dessert. Appetizers begin just after 1pm and dinner is 3pm. Want to be one of the cool kids? Just send an email to novamome at protonmail dot cee oh emm, pass the rigorous screening process to obtain registration details, then sign up to attend! Easy-Peasy!
Each year, I spend a fair amount of time haranguing people to come to a MoMe. Any MoMe! I cannot overemphasize how much fun these things are, and how much we want YOU to come! We plan for the crowd in general but also consider the needs of the introvert lurkers and provide plenty of potted plants for those so inclined to hide behind. All kidding aside, you are completely welcome to slink-in, eat, drink and people-watch, and then slink-out. It is a 100% zero pressure event. If you can handle a backyard picnic, you can definitely handle this.
Win a Dream Date with Weasel!
Back by tepid demand, a separate raffle for the Gun Thread gift basket will be held. This fabulous prize includes an entire day of shooting and personalized one-on-one handgun & rifle coaching and instruction at Weasel Acres on a mutually agreeable date with yours truly. The lucky winner will be able to not only bring and shoot their own weapons, but also try out a variety of WeaselWeapons using WeaselAmmo!

We will end the day with dinner at a good Mexican place in nearby Appomattox. Pretty much a dream date with Weasel! The winner will be responsible for their travel to and from Central Virginia, hence the separate drawing.
Don't be a pathetic girly-man loser, register today!
******
Link-O-Rama
I'm really very seriously not kidding around anymore. Buy Ammo
AmmoSeek - online ammo search tool
GunBot - online ammo search tool
SG Ammo
Palmetto State Armory
Georgia Arms
AmmoMan
Target Sports USA
Bud's Gun Shop
***Mail Bag***
Nothing in the Mail Bag inbox so it's Weasel's choice. This guy makes some very good product review videos!
******
Please note the new and improved protonmail account gunthread at protonmail dot com. An informal Gun Thread archive can be found HERE. Future expansion plans are in the works for the site Weasel Gun Thread. If you have a question you would like to ask Gun Thread Staff offline, just send us a note and we'll do our best to answer. If you care to share the story of your favorite firearm, send a picture with your nic and tell us what you sadly lost in the tragic canoe accident. If you would like to remain completely anonymous, just say so. Lurkers are always welcome!
That's it for this week - have you been to the range?


posted by Weasel at
07:00 PM
|
Access Comments