« Wednesday Morning Rant [Joe Mannix]
|
Main
|
Mehmet Oz's Flying Monkeys Contrive a Completely False Smear Against Kathy Barnette »
May 11, 2022
April Inflation Continues at Torrid 8.3% Pace, Still the Highest in 40 Years, Which Leftwing Propaganda Media Spin as "Moderate"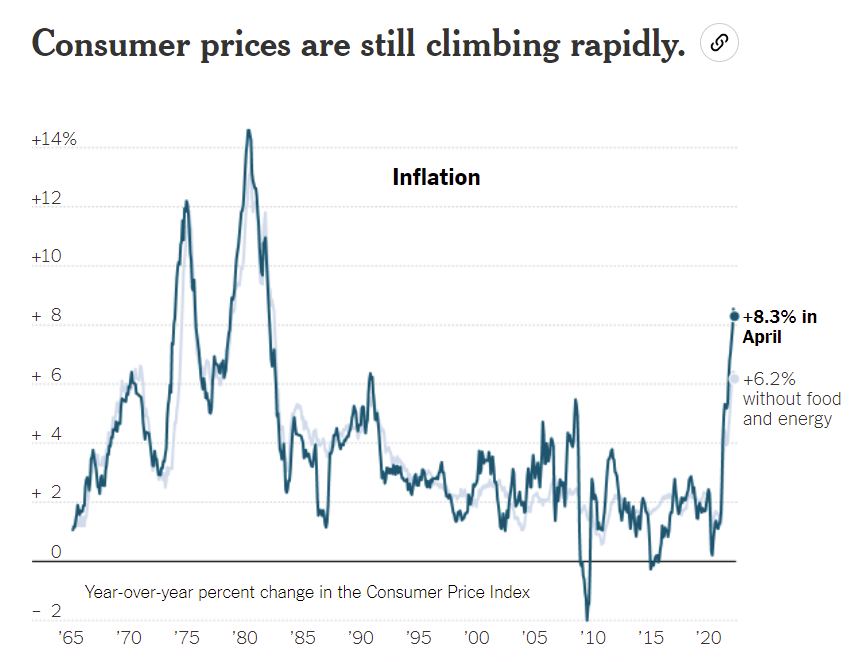 Above: a graph depicting the effects of
Putin and "This Ultra-MAGA crowd" on prices since 1965
"Moderating," because the 40-year-high rate of inflation, which is still the highest in 40 year, fell from an 8.5% 40 year high rate of inflation to an 8.3% 40 year high rate of inflation.
And furthermore, it only fell because of two things:
1, a slight fall in the price of gas in April. And that fall in the price of gas in April was already wiped out in the first week of May, as gas prices climbed to an all-time record.

2, a "statistical quirk." Inflation is measured as a year-over-year phenomenon, so the rate of inflation in April 2022 depends on what prices were in April 2021. It turns out in April 2021 we were coming out of the lockdowns so prices were actually rising; in March 2021, we were still in lockdowns, so prices were depressed.
So the April 2022 measure of inflation appears lower just due to the statistical quirk that the baseline of measurement happens to be April 2021 when prices were a bit elevated as compared the March 2021 to March 2022 measurement.
This does not mean that inflation has "moderated" at all whatsoever, as former Obama official turned CNN anchor Jim Sciutto keeps insisting:
Jim Sciutto @jimsciutto

New: US inflation took a breather last month for first time since August. Prices still increased, but at a slower pace than in previous months. CPI was up 8.3% in 12 mos ending in April - a decrease from the 8.5% recorded in March,


Several factors are expected to keep prices elevated over the summer.
Ukraine war has put pressure on energy & food prices. Renewed Covid-related lockdowns in China may exacerbate supply chain issues. Economists are uncertain how much pace of inflation can slow down further.
All the new figure tells us is what we already knew: April 2021's prices were higher than March 2021's prices.
The escalation in current-day prices continues rising at the same pace.
Former Obama official Jim Sciutto may or may not know that. I don't know if he bothers to actually read the actual news or if he just "reads the news" - actually DNC propaganda -- as it comes over through his earpiece.
Inflation, which had climbed by 8.5 percent in the year through March, is beginning to moderate on an annual basis partly because gas prices cooled last month and partly because of a statistical quirk. Increases are now being measured against high price readings from last spring, when inflation started to take off, instead of depressed 2020 levels. The higher base makes annual increases look less severe. But the so-called core price measure -- the one that takes out grocery and gas costs -- picked up 0.6 percent in April from the prior month, faster than its 0.3 percent increase in March. That rapid pace of increase suggests that underlying inflation pressures remain strong.

The takeaway from the fresh inflation report is a nuanced one: Inflation may be decelerating from its highest annual peak, but it is still running at around the fastest rate in four decades. The reality that price gains are no longer picking up on an annual basis may be a small dose of good news for Federal Reserve officials, but it is likely to be overshadowed by the reality that policymakers have a long way to go to bring price increases down to more normal and stable levels.

By the way, as usual, it has to be noted that when comparing today's inflation to that of 1979-1983, we're comparing apples to oranges, because the government changed the way we calculate inflation -- to make inflation readings appear lower than they really are.
"Real" inflation, as we used to calculate it, would be in the double digits, and comparable to Carter inflation, if we we were figuring inflation honestly.

posted by Ace at
12:18 PM
|
Access Comments