« April Inflation Continues at Torrid 8.3% Pace, Still the Highest in 40 Years, Which Leftwing Propaganda Media Spin as "Moderate"
|
Main
|
NBC "News" Writes Maudlin, Manipulative Piece About One Woman's Quest to Make One Texas School Board Safe for Critical Race Theory »
May 11, 2022
Mehmet Oz's Flying Monkeys Contrive a Completely False Smear Against Kathy Barnette
Think they're worried about Barnette winning?
Ric Grennell torched his credibility and essentially signed his resignation papers from the conservative movement by launching this fake, paid attack on Kathy Barnette: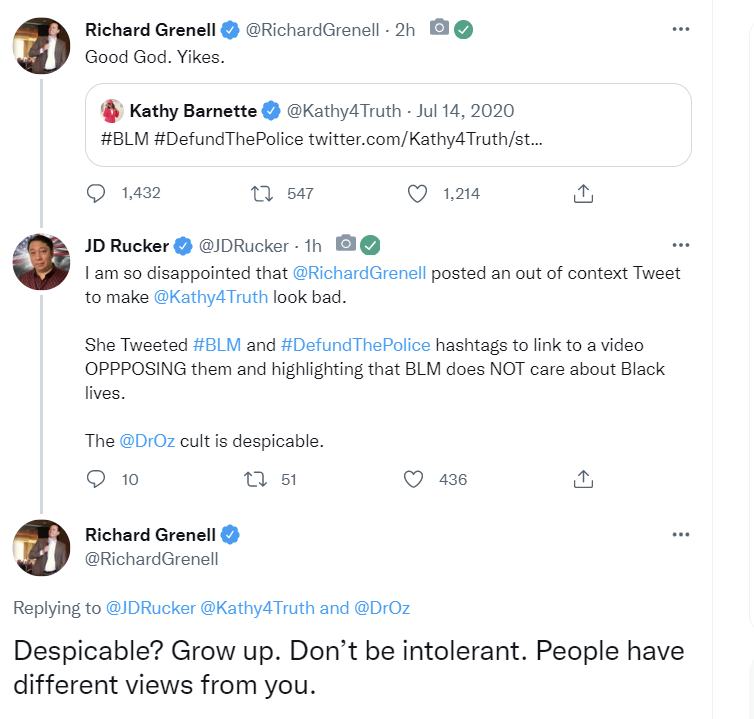 Wow, looks bad, right?
Until you realize that sometimes people use hashtags to get people to click on their post, and then they hit them with a counter-message that the person clicking wasn't expecting.
Is that what happened here?
Um, yes.
Here's the video that is linked by those hashtags: a video in which she says-- yells, actually --
"DEFUNDING THE POLICE IS STUPID, PEOPLE! ABOLISHING THE POLICE IS STUPID, PEOPLE!

BLACK PEOPLE, DO NOT FALL FOR THE OKEY-DOKE! DO NOT FALL FOR THESE WHITE LIBERALS COMING INTO OUR COMMUNITIES AND TELLING YOU TO DEFUND THE POLICE!"

"THEY ARE DESTROYING OUR LIVES!"

("The okey-doke" is slang for the juke, the fake-out, the con, etc.)
And she talks about "law and order falling to the mob," and tells the story of a one-year-old baby being shot and killed by gang-bangers who are out-of-control and empowered due to police having withdrawn from the streets due to BLM and Defund the police.
Don't believe me? Well, don't take my word for it, and don't take Ric Grennell's word for it, either.
Just watch. About two minutes should do it:
People keep telling Ric Grennell to withdraw this ugly and stupid lie, but he won't:
Now why would a man introduce such a stupid and ugly and easily-disproven lie, and then, when the lie is shown to be so ugly and stupid and easily-disproven, stand behind it?
Well, the answer is obvious: When you're being paid cash-money to spread the lie.
Deb Heine, Dissident @NiceDeb

Dumb-- @Kathy4Truth was using popular hashtags to draw attention to a video in which she literally says: "abolishing the police is stupid, people."

Why would a man burn so much of his credibility for such a stupid lie? Easy -- when he's selling his credibility to a client. It's a commodity he's selling like firewood.
Dozens and dozens of people keep saying "Watch the video" but Grennell won't acknowledge them. He makes no arguments that the video really says this or that. He doesn't want to even get into it.
He knows what the video says. He doesn't care. Because he's being paid to lie on behalf of a client.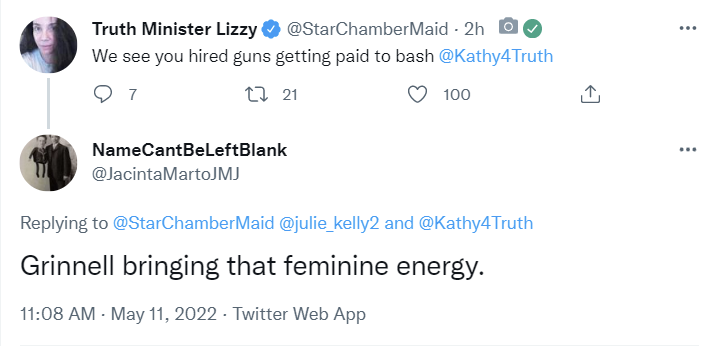 Now, you may say, that was cheap, Ace.
And you may say: You can't prove he's being paid. Maybe he really just (giggle) believes in (snarf) Mehmet Oz. Maybe he just (laugh) has Mehmet Oz Fever.
Okay, then explain the following.
Having watched the first video, you can see this woman is very strongly opposed to the Black Victimhood/Blame Whitey agenda and BLM.
So someone cut up a bunch of her videos in which she mentions "white privilege" and "racism" -- almost surely arguing against the standard Black Victimhood narrative on these topics -- and just edits them together to show her saying these words, to imply she's a black radical.
Is it plausible that she's a black radical, given that she just blasted BLM and said they were effectively killing black people by cowing the police?
No, it's not.
But someone chopped up one-second soundbites and stitched together a Frankenvideo of Kathy Barnette saying words like "white privilege" and "racism" and "I have slave blood in my veins." (The latter, no doubt, to establish that she has authority to speak on these issues and is not an "Uncle (Aunt) Tom.")
And guess who links this?
That's right, Noted Totally-Not-Being-Paid-For-This Completely-Authentic Mehmet Oz SuperFan, Ric Grennell.
This is so embarrassing that I suspect Ben Howe was involved. (Not really.)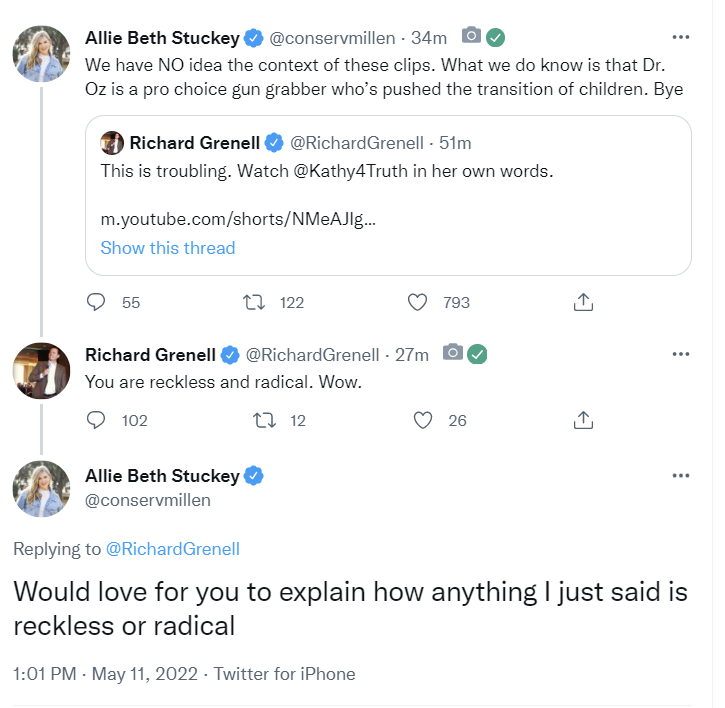 Maybe Ric Grennell really is a Mehmet Oz SuperFan -- maybe he just really loves Oz's support of gender-bending children.
I have to point out that this Salena Zito article about Barnette is actually troubling -- Barnette refuses to supply Zito with any details of her background. Maybe she's just blowing Zito off, but also, maybe she's trying to hide some stuff.
Why can't she supply Zito with her DD-214 form, as every veteran routinely does, to establish her service history?
It sure would be nice to know before the primary vote, huh?
So answer those questions, Kathy4Truth. Or else we might wonder about the "4Truth" part.

posted by Ace at
02:28 PM
|
Access Comments