« Trafalgar: Dark Horse Kathy Barnette Is Suddenly In Position for a Major Upset for the Pennsylvania Republican Senate Primary
|
Main
|
Group Calling Itself "Jane's Revenge" Admits Guilt In Wisconsin Pro-Life Office Firebombing, Declares "War"
Media Alleges Crisis Actors Firebombed Themselves?
JEN PSAKI ENCOURAGES FURTHER "PROTESTS" AT JUSTICES' HOMES »
May 10, 2022
Gas Prices Soar to Fresh Highs;
Biden Blames Republicans For Inflation
Update: Biden Would Rather Talk About Inflation Than Abortion
Wait, I thought it was Putin's Inflation? Now inflation is the fault of the Ultra-MAGA crowd?
I'll let CNN do the honors reporting Biden's record gas prices.
In another blow to the US economy, prices at the pump soared to fresh record highs.

The national average price for regular gasoline climbed more than four cents on Tuesday to $4.37 a gallon, according to AAA. That takes out the prior record of $4.33 set on March 11.

The gas spike -- prices are up 17 cents in the past week alone -- will only add to inflationary pressures that have raised recession fears, rocked financial markets and soured Americans' views on the economy.

The national average dipped to as low as $4.07 a gallon in April after the record-setting release of oil from emergency reserves and as oil prices cooled off. But as industry analysts predicted at the time, that relief proved to be short-lived and minor.
Biden says that Republicans are to blame for not letting him spend more money, which, he claims, would somehow reduce the problem of having excess dollars in the economy chasing a static amount of goods and services.
"They're frustrated," Biden said of Americans paying more for goods and services across the board. "I don't blame them."

With a spike in inflation having pushed annual consumer prices more than 8% higher, the president highlighted his release of oil from strategic petroleum reserves and pressure on companies to return record-high profits to consumers in the form of lower prices.

"I know that families all across America are hurting because of inflation," Biden said in a speech from the White House. "I want every American to know that I am taking inflation very seriously and it is my top domestic priority."

It's such a priority he keeps pushing for his Build Back Brandon bill and more trillion dollar "stimulus."
Biden said the COVID-19 pandemic, coupled with supply chain issues and Russia's war on Ukraine, are to blame for the inflation spike. His administration rushed trillions in COVID aid and infrastructure spending into the economy, which Republicans and some economists blame for higher costs.

"We're in power," said Biden, asked whether he deserves blame for high prices. "We control all three branches of government. Well, we don't really," he added, lamenting Democrats' ability to get other spending bills passed because of its narrow control of Congress.
If only we could have spent more dollars we just printed up out of nothing, he keeps saying, we'd beat this inflation.
That's not a joke. He really keeps claiming he can tamp down inflation by flooding the economy with more heavily-devalued freshly-printed paper.
Biden said the U.S. Federal Reserve should, and will do its job to control it.
They will, by raising interest rates, to reduce the monetary supply.
If you insist on injecting more devalued dollar bills into the economy, they'll have to hike the interest rates still further to undo the damage you're continuing to inflict on the country.
The U.S. central bank raised interest rates by half a percentage point last week and is expected to roll out additional hikes this year.


The president did not announce new policy measures in the speech, which took place a day before new consumer price data is expected to show inflation remained elevated through April.

But he did say he was considering eliminating Trump-era tariffs on China as a way to lower prices for goods in the United States. "No decision has been made on it," he said.

Biden sought to direct blame over inflation to Republicans, with six months before the Nov. 8 congressional elections that will determine whether Democrats can retain control of the Senate and House of Representatives.

Biden repeatedly attacked Republicans loyal to former President Donald Trump for holding up his agenda, lamenting that Democrats' majority in Congress is not sufficient to gain approval of his priorities.


So, the Republicans don't have a plan to fix the inflation caused by the trillions this incompetent recklessly printed and dumped into the economy?
That's like a drunk driver who kills a family complaining that the DA who brings charges against doesn't have a plan to resurrect his victims.
We're now in a five year cycle of despair and misery, "President" Biden, thanks to you. The way to fix inflation is through a long period of high interest rates and low economic growth -- intermittent recessions and low growth.
All thanks to you.
There is no other way to magically get trillions of fake dollars out of the economy, Fake President Biden.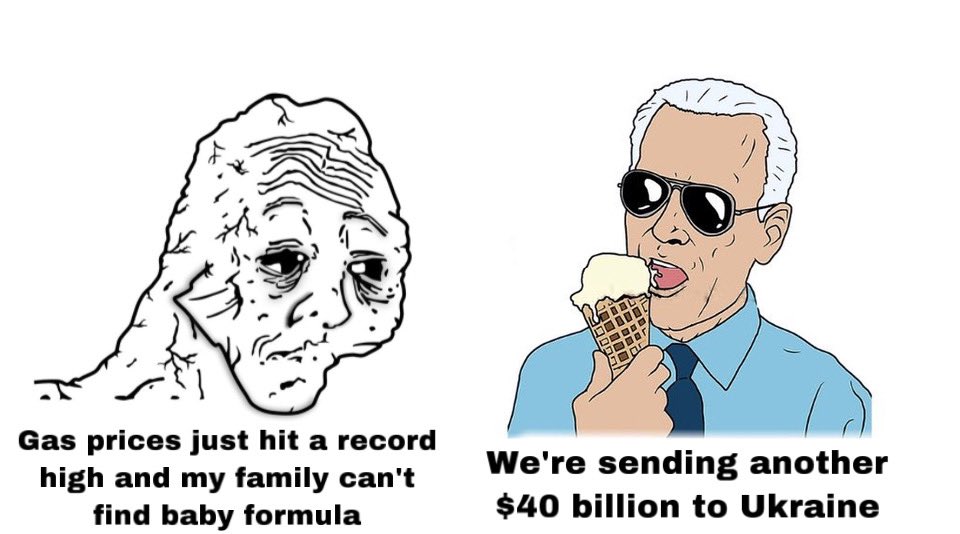 By the way, when I started writing this post, I hadn't read all of his remarks about inflation yet. I wrote the headline claiming he "blamed Republicans" for inflation based on the tenor of remarks I saw, and based on his history of being an inveterate liar.
But I didn't actually see a quote about him blaming Republicans. I was just guessing.
And then, of course, it turned out I was 100% right.
Thanks, NeverTrump!
Say, when do those Norms start getting Restored, I wonder?
Update: Biden used to claim to be pro-life.
He is now so pro-abortion he favors abortion without limits of any kind, including partial birth abortion, including killing babies born during failed abortions.
He doesn't want to admit that, but he can't, of course, be anything less than a pure red-in-tooth-and-scalpel babyhunter for his base.
So when he was asked if he supports any limits on abortion, he said he'd rather... talk about inflation.
Alexandra DeSanctis Marr

Imagine being so extreme on abortion that you'd rather talk about *inflation* right now

Quote Tweet Jennifer Shutt @JenniferShutt

·2h

Biden declines to answer a question about whether he supports any restrictions on abortion, saying he wants to keep the focus on the inflation speech he just gave.

"I want the story to be about inflation."
His position on abortion is so toxic he reckons that inflation is actually a more favorable story for him!
thanks to chique d'afrique

posted by Ace at
02:45 PM
|
Access Comments