« Gas Prices Soar to Fresh Highs;
Biden Blames Republicans For Inflation
Update: Biden Would Rather Talk About Inflation Than Abortion
|
Main
|
Christians Gently Escort "Ruth Sent Us" Church-Disruptor Mutants to the Exits »
May 10, 2022
Group Calling Itself "Jane's Revenge" Admits Guilt In Wisconsin Pro-Life Office Firebombing, Declares "War"
Media Alleges Crisis Actors Firebombed Themselves?
JEN PSAKI ENCOURAGES FURTHER "PROTESTS" AT JUSTICES' HOMES
Karen Townsend at Hot Air reports on the bipartisan agreement to protect Supreme Court justices.
Despite Majority Leader Schumer's previous threats against Gorsuch and Kavanaugh to "make them pay" if they made conservative rulings.
Senators John Cornyn (R-TX) and Chris Coons (D-Del) introduced the bill. It is a technical change that allows law enforcement to provide around-the-clock security to immediate family members. Cornyn's press release explained it's the same type of protection provided to certain Article I and Article II officers and their families.

Both senators released statements after the vote.

"Threats to the physical safety of Supreme Court Justices and their families are disgraceful, and attempts to intimidate and influence the independence of our judiciary cannot be tolerated," said Sen. Cornyn. "I'm glad the Senate quickly approved this measure to extend Supreme Court police protection to family members, and the House must take up and pass it immediately."

"I am glad to see this bipartisan bill unanimously pass the Senate in order to extend security protection to the families of Supreme Court members," Sen. Coons said.

Meanwhile, a group calling itself "Jane's Revenge" declares violent war on America.
First Communique

This is not a declaration of war. War has been upon us for decades. A war which we did not want, and did not provoke. Too long have we been attacked for asking for basic medical care. Too long have we been shot, bombed, and forced into childbirth without consent.

This was only a warning. We demand the disbanding of all anti-choice establishments, fake clinics, and violent anti-choice groups within the next thirty days. This is not a mere "difference of opinion" as some have framed it. We are literally fighting for our lives. We will not sit still while we are killed and forced into servitude. We have run thin on patience and mercy for those who seek to strip us of what little autonomy we have left. As you continue to bomb clinics and assassinate doctors with impunity, so too shall we adopt increasingly extreme tactics to maintain freedom over our own bodies.

We are forced to adopt the minimum military requirement for a political struggle. Again, this was only a warning. Next time the infrastructure of the enslavers will not survive. Medical imperialism will not face a passive enemy. Wisconsin is the first flashpoint, but we are all over the US, and we will issue no further warnings.

And we will not stop, we will not back down, nor win we hesitate to strike until the inalienable right to manage our own health is returned to us.

We are not one group, but many. We are in your city. We are in every city. Your repression only strengthens our accomplice-ship and resolve.
-Jane's Revenge
Kyle Sheideler notes that various antifa and anarchist groups had been claiming that the Wisconsin pro-life office staged a false flag attack on itself, but now seem to accept that gee whiz, maybe it was one of their own who firebombed the office.
And they're pretty psyched about it:
Kyle Shideler @ShidelerK

The Communique by "Jane's Revenge" claiming credit for the firebombing of a Madison pro-life office appears to be extremely well received on Anarchist subreddit.


This user calls it "motivating." Another says "What were the fascists on the Supreme Court expecting?" justifying the violence.

Multiple individuals express a desire for recruitment. "OMG where TF Can I sign up?" asks one. (Somewhat surprisingly no anarchists on the thread give the user a hard time for thinking he/she should wait to be recruited rather than simply acting.)
Correction: I said "Jane's Revenge" was a reference to "Jane Roe" in the abortion cases. A friend says that's wrong; it's a reference to Jane's Collective, a radical underground pro-abortion group which was extant prior to the Roe v. Wade abortion case. Eh, but the "Jane Roe" pseudonym is used in law a lot. It's the female equivalent of John Doe. What I mean is, I think there were a dozen Jane Roe's before the Jane Roe of Roe v. Wade. Well, we'll see. I'll note the correction for now.
It's not just no-account anarchists making the claim that maybe the Madison pro-family outreach center who staged a false flag Crisis Actor firebombing attack on themselves. Tucker Carlson interviewed the director of the office, Julaine Appling, last night, and she said people from the media -- the same media that demanded that Alex Jones be deplatformed for his false flag crisis actor conspiracy theories -- demanded proof that the firebombing wasn't an inside job. They wanted proof that they hadn't firebombed themselves just for attention.
Why is it the left can accuse others of stating false flag attacks, but then demand anyone on the right suggesting that be deplatformed?
That video below. Also below, she's asked about Nancy Pelosi refusing to condemn the violence -- but praising the "righteous anger" and "meaningful action" the abortion "protesters" have taken.
And when the FUCK are we going to put an end to this once and for all?
Explanation? I don't think the Democrats agreed to protect the justices' lives out of nobility of character.
I suspect the fact that two thirds of Democrats object to the picketing of justices' homes had something to do with it.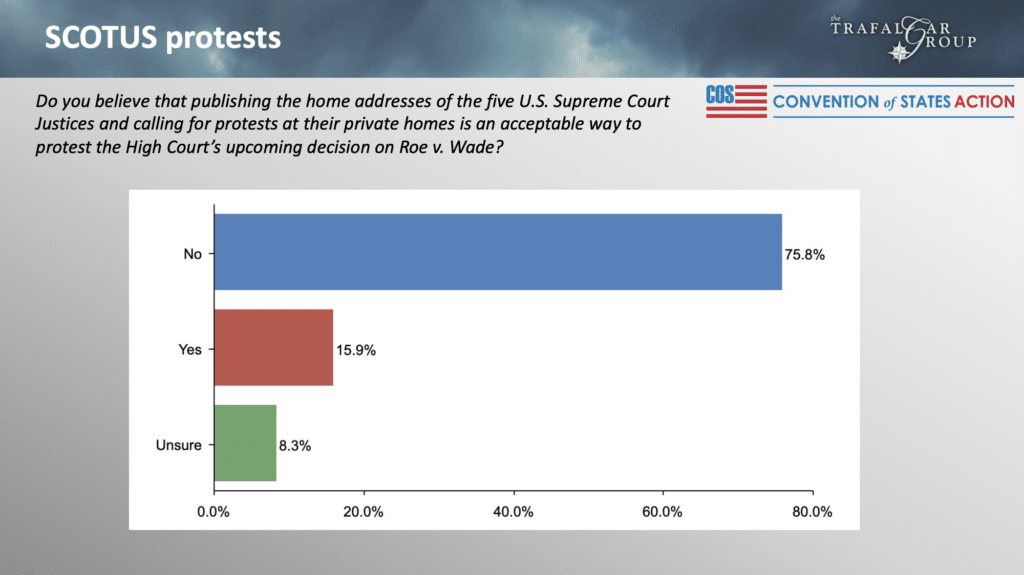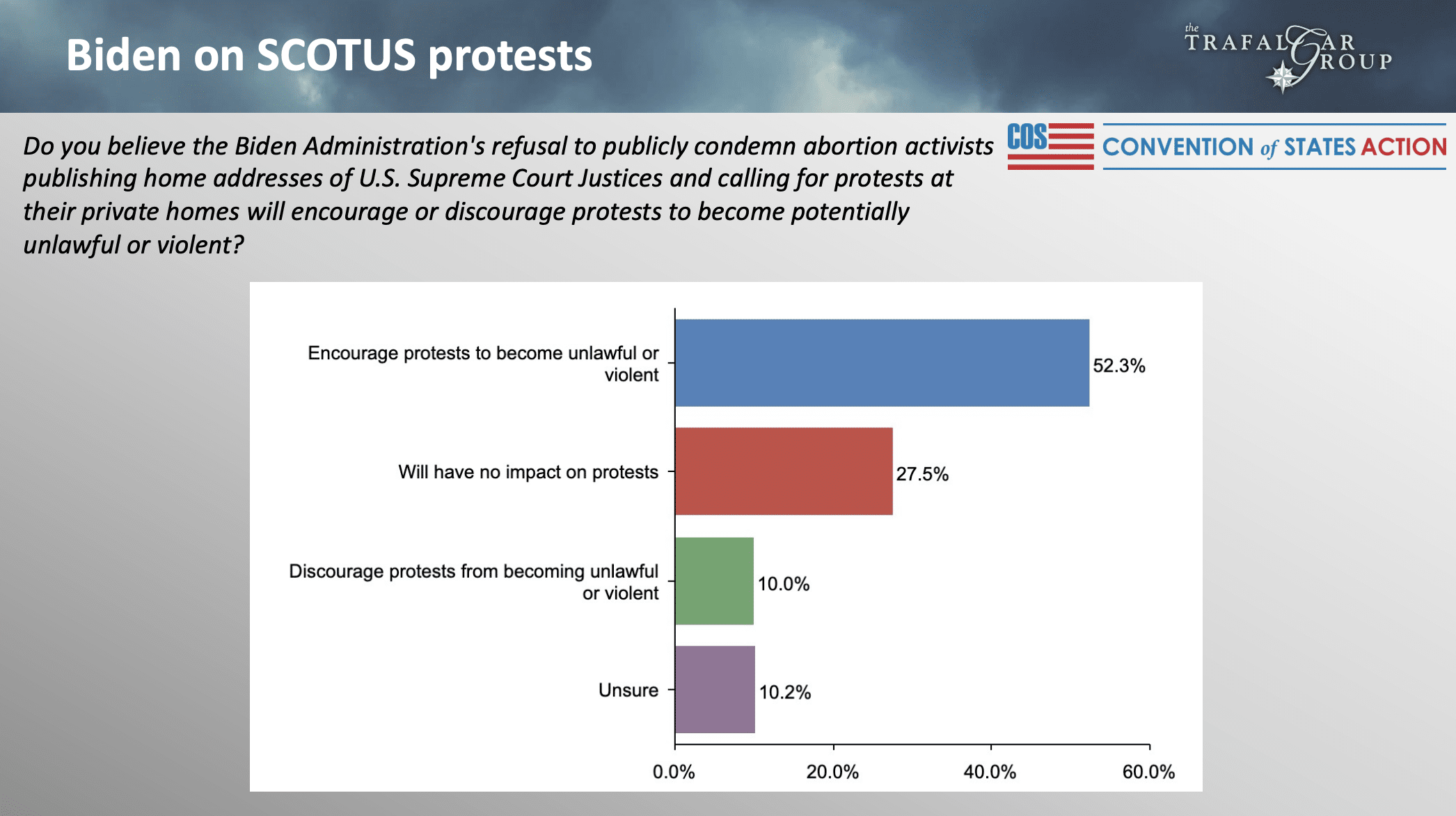 Looks like a majority will blame Biden if one of his paramilitaries takes a shot at a Justice due to his refusal to again refuse to condemn their ever-escalating mob violence.
But, unbelievably: Jen Psaki continues encouraging mobs to gather outside justices' homes:
Speaking of the media's addiction to claiming "false flag" attacks in order to save their leftwing paramilitary allies:

Absolute clown and lying propagandist Nina Totenberg claims that the "leading theory" about the Supreme Court leaker is that a conservative did it. To menace their own lives, I guess.
One of the Supreme Court's longtime reporters said the "leading theory" is that a conservative clerk leaked the majority draft opinion indicating the high court is poised to overturn Roe v. Wade.

Nina Totenberg, a legal affairs correspondent for NPR, said the only theory that makes sense is that the leak came from someone who "was afraid that this majority might not hold."
So you stir up leftist mobs to threaten their lives. Obviously that's the best way to strengthen resolve!
Is Nina Totenberg going to claim that Jane's Revenge is an "inside job" too? And that the anarchists praising the declaration of war are likewise far-right Crisis Actors?