« Hunter Biden's "Sugar Brother" -- A Hollywood Lawyer -- Paid Off His Two Million Dollar Bill for Delinquent Taxes for Him
|
Main
|
Gas Prices Soar to Fresh Highs;
Biden Blames Republicans For Inflation
Update: Biden Would Rather Talk About Inflation Than Abortion »
May 10, 2022
Trafalgar: Dark Horse Kathy Barnette Is Suddenly In Position for a Major Upset for the Pennsylvania Republican Senate Primary
We have two unpalatable options in Pennsylvania: The Bush-backed Establishment jagoff McCormick, or the Oprah liberal Mehmet Oz.
Oz was endorsed by Trump but, who cares, he's a lefty flake.
But what if suddenly there was a third possibility?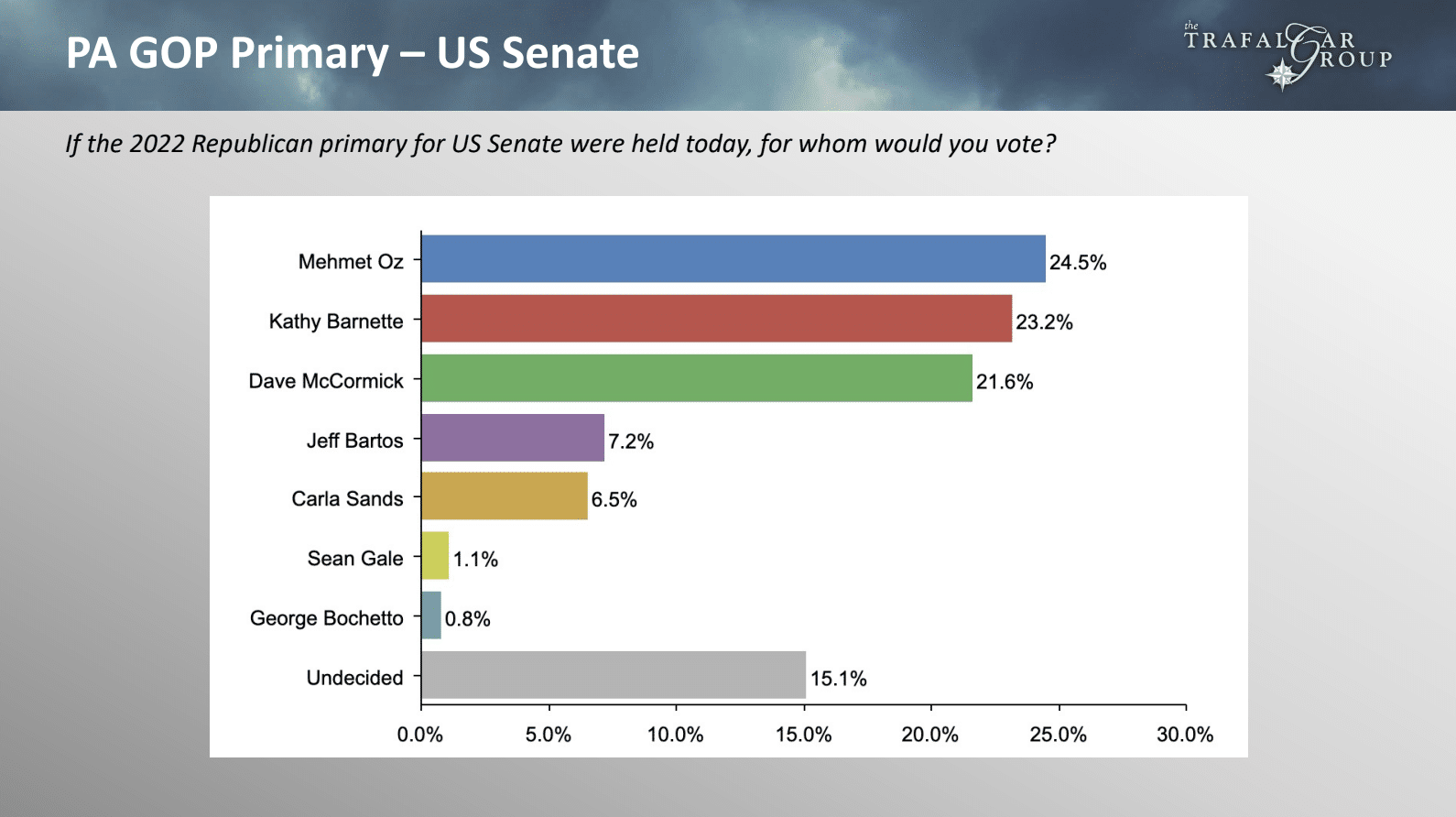 Politico calls her an "Ultra-MAGA commentator."
Kathy Barnette has been outspent 358-to-1 on TV in Pennsylvania's GOP primary for the Senate. She hasn't run for statewide office before. She doesn't have former President Donald Trump's endorsement.

But the ultra-MAGA commentator is surging in the polls anyway in the final weeks of one of the most expensive and closely watched races in the country.


Barnette's unlikely -- and, to some, unbelievable -- rise has turned heads in political circles across the state because it defies political logic. Just two years ago, she lost a House bid in the Philadelphia suburbs by a wide margin. This time around, her opponents Mehmet Oz and David McCormick have spent $12.4 million and $11.4 million on television commercials, respectively, according to the ad-tracking firm AdImpact. Other candidates and outside groups have bankrolled $25 million more in spots. Oz has also won a highly sought-after nod from Trump.


Barnette, on the other hand, has spent a paltry $137,000 on TV.


"Barnette's apparent rise is surprising just because of the lack of notoriety or resources compared to some of the other candidates in that race," said Brian Nutt, a Pennsylvania-based Republican strategist who is not working for a candidate in the contest.

Barnette has a purist's zeal, a compelling life story, and the ability to tell it to Republican grassroots voters. And, according to Republican strategists and officials across the state, Barnette is likely benefiting from a smashmouth primary that features Oz and McCormick going nuclear on each other on TV. GOP voters have been inundated with attack ads slamming Oz as a "RINO" and McCormick as a stooge for China, leading some to look for a third option.

...

"They're spending $50 million on ads. That is their campaign," she said of her opponents. "Unless there's some high-falutin' press conference or debates or events to go to, it's overwhelmingly on television. And it's these plastic, little run-of-the-mill political ads."

...

"I think it's real. I've had grassroots political people tell me for a while that when there's candidate forums, she's the one who has the most enthusiasm. And what was said about her was, 'Boy, I really like her, but she can't win,'" said Chris Mottola, a GOP consultant and Pennsylvania native who is not involved in the race. "With Oz and McCormick just savaging each other, they wind up with high negatives. All of a sudden, you're like, 'Well, why not vote for her? I do really like her.'"

GOP consultants said another factor that helps explain her bump in the polls is her link to state Sen. Doug Mastriano, the frontrunner in the state's GOP primary for governor. Mastriano and Barnette have endorsed each other and campaigned alongside each other.

...

Like Mastriano, Barnette has made false statements about voter fraud in 2020. She said at a debate that it is "absolutely not" time for the GOP to move past the presidential election.

"Her numbers are starting to line up with Mastriano's," said Christopher Nicholas, a longtime Pennsylvania-based GOP consultant. "He endorsed her and she endorsed him, and I said at the time she got the better of that deal."

Politico discusses the polling from various houses. It seems to me that this is real, and now that the word is really out with this Trafalgar poll, I think... well, I think the race is over, in her favor.
I imagine Trump is going to un-endorse Oz.
...


Rob Gleason, former chair of the state's Republican Party, said "it would be the story of the century if she would win."

"I'm not so sure that she is in the mix," said Gleason, who endorsed McCormick. "I can't even believe that she would be in the mix the way these guys have spent money."

If Barnette is surging, it would show that parts of the MAGA movement have outpaced Trump himself.

A former Trump aide described Barnette as running in the "hardcore MAGA lane despite the Trump endorsement of Oz." On his show, Bannon said others call her "pure MAGA -- in fact, Kathy Barnette may be ultra-MAGA."

One example of her purist approach: in an April debate, Barnette said "MAGA does not belong to President Trump."

"Our values never, never shifted to President Trump's values," she said. "It was President Trump who shifted and aligned with our values."
She's discussed the fact that she herself is the "byproduct of rape" -- her mother was raped at age 11.
Pennsylvania Republican Senate primary candidate Kathy Barnette spoke out Monday about her experience as the "byproduct of a rape," and why she is running for the U.S. Senate.

...

She disclosed during a recent debate she is the "byproduct of a rape" -- discussing how her then-11-year-old mother was impregnated by a 21-year-old man.


"Regarding the leak, whether it was truly that -- just a leak -- or whether it was some kind of tactical operation, we will figure that out sooner rather than later," said Barnette, who would be the first Black female Republican in the Senate.


"I am so grateful that our nation is at a point where we're having this discussion: I don't think there's any discussion more important than how we, as a nation, view life," she said.

Barnette told "America's Newsroom" that if the story about how she was born "saves one life" from being aborted, it was worth the sensitive disclosure.

"My life was valuable then. I was a person then. I took no part in how I was conceived. And yet there I was."

She also said President Biden hasn't been clear enough in condemning "violence" related to the leak, as a Wisconsin pro-life organization was targeted with Molotov cocktails and justices' homes were converged upon by angry demonstrators.
There's video of her speaking on Fox at the link.
I'm not sure that an "Ultra-MAGA" type is the right fit for Pennsylvania, but this is probably the right time to gamble, given that the alternatives are poor. The rule that we should vote for "the most conservative candidate who can win" presupposes that we are voting for a conservative in the first place, after all. I don't know that McCormick or Oz satisfy that prerequisite. There is simply no point electing yet another Establishment liberal to the Senate. They are Democrats in all but name. Yes, they will vote for Mitch McConnell's eternal agenda of corporate tax cuts but I'm quite sure I no longer give a shit about Mitch McConnell's eternal agenda of corporate tax cuts.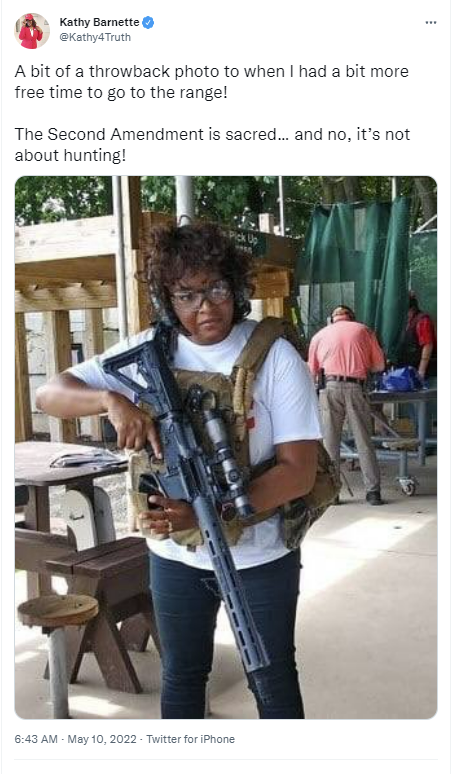 Seems like Wikipedia is afraid of her. So she has that going for her.

posted by Ace at
01:33 PM
|
Access Comments