« Gardening, Puttering and Adventure Thread, May 14
|
Main
|
Weekend Hobby, Crafts and Bodging Thread »
May 14, 2022
Ace of Spades Pet Thread, May 14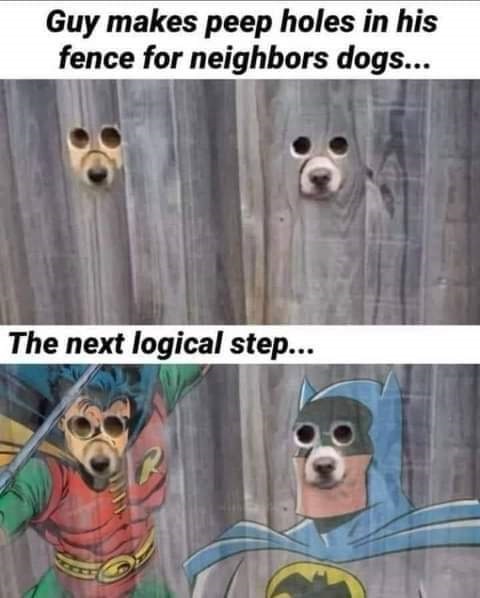 Courtesy Legally Sufficient
Good afternoon and welcome to this weekly respite from most of the outside "civilized" world -- the Ace of Spades Pet Thread.
Thanks for stopping by. Ask someone for a treat, kick back and enjoy the world of animals.
Reminder: For current events and politics, the Thread before the Gardening Thread (a couple of threads below) is almost always an Open Thread.
Though sometimes pets do remind us of history: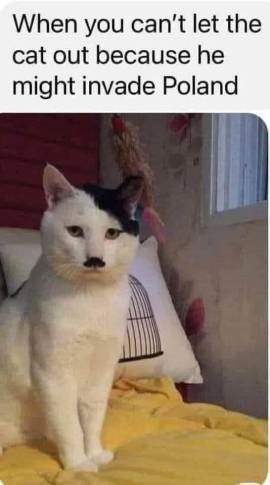 * * *
Pet Poetry
Last week, we discussed pet books. This week, we have some pet poetry!
Wornout here; long time lurker who wrote a few poems which were recorded and set to video by my buddy Frank. A dog, a man, some birds and not much else.
Great poetry. And Frank is a great buddy.
* * *
Meet The PetMorons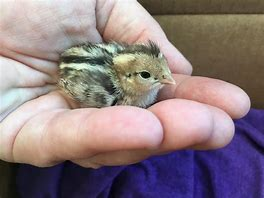 Hi KT,

Welcome to the pet thread. In full disclosure this is a stock photo from the internet as when this drama was unfolding I was sure at every turn that he wouldn't make it. It all started late Monday afternoon, I had forgotten to water something in the front garden, and all of the sudden this teeny tiny baby quail, no bigger than a quarter came running up to me peeping, basically asking "Are you my mother?"

I looked around an no quail were in sight. I realized he had either been born to late, the rest of his family had gone off already or he couldn't keep up when they did. He let me pick him up, off we went to the vets where they had a bird rescue in the past, well no longer we found out. Off to another vets, no they had no bird rescue available but there was a place that was about 40 minutes away. It was getting late and I had an appointment so I couldn't take him then. I tried to put him in the shade in the front garden with a little tee-shirt for a bed and some water. I was checking on him when I saw him hopping away from the bed. I went out and looked and he was being swarmed with ants who were intent on killing him. I couldn't have that so I brought him inside and made a bed for him in a box.

It was then that Mr. WeeKreek christened him Dan, obviously. I had to go to off to a meeting and I fully did not expect him to be alive when I got back. I left Mr. WeeKreek with instructions to look up care for a new born quail. They said they need heat (like to be 95 degrees) food and water. He had put a heat lamp on him and we had water in a shallow lid as well as some crushed bird food and Mr. WeeKreek had gone off to the store for dried meal worms of some sort although they were about as big as Dan's head. Long story short he made it through the night and was chirping at me in the morning, so I took him off to the bird rescue and when he got into the pen with all the other abandoned baby quail he was running around all happy seeming to say "Where did you guys go, I missed you."

We did give the lady a nice donation, she is doing good work keeping them all alive and thriving. So ends our tale of our boy Dan. I was a bird mom for just a day, but we will never forget the plucky little hostaling named Dan.

WeeKreekFarmGirl
A baby quail! Too sweet!
* * *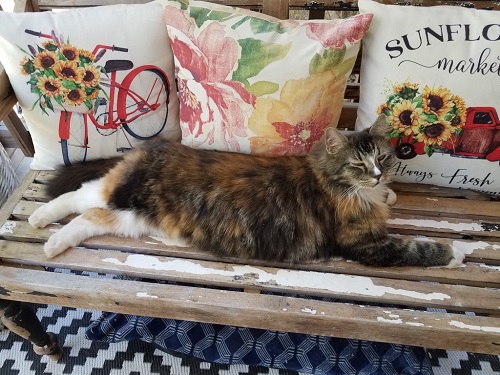 Dear K.T.,

Hi I am BillB. Generally a lurker but I have commented on a very few occasions. I always try to read the Pet Thread as it provides light in the otherwise dismal week.

This is Tory, the most recent addition to our menagerie. We named her Tory because of the tortoise-shell like coloration. She showed up at our 5 acre property in the Texas Hill Country last fall (2021). We don't know much about her but she has adopted us.

At the time she first appeared, if we came towards her she would run away and hide under one of our sheds. Gradually she became more accustomed to us and would lay on a bench out in front of our house and even "talk" to us. Then we started to leave feed for her on our front porch. But she would still run away from us. As winter came on my wife put out a bed our late cat, Bobby, slept on. That was the turning point. She started to come up to us and get petted. However she stayed outside. When it got very cold in early February down here, we put the bed inside a packing box we had to protect her from the wind. Also we set up a warm place in our garage that has a pet door and she would stay there at night.

I really don't remember exactly when she deigned to come in the house despite our 3 dogs (2 Chihuahuas and a Catahoula Leopard mix). Now she is a full fledged indoor/outdoor cat. She knocks on the door to be let in. She gets fed canned food as well as dried; you had better hurry up when she asks with loud meows and feed her. When inside she sleeps on the back of the couch, the foot stool, any of the three beds in the house, and my lap. If my wife and I were a few decades younger, Tory would be birth-control as she often sleeps between us at night. She went from stray to house cat in 6 months.

We made the first veterinary visit just a few days ago to have her examined and get her basic shots. The vet said she is probably between 4 and 5 years old; also, she must be spayed as she has not been in heat. One thing the vet noted was that the lump on Tory's side is a pellet-gun pellet; I felt it and could distinguish that shape also. I don't know who would do such a thing but I would like to kick their tail.

Have a good week!
What a kitty story!
* * *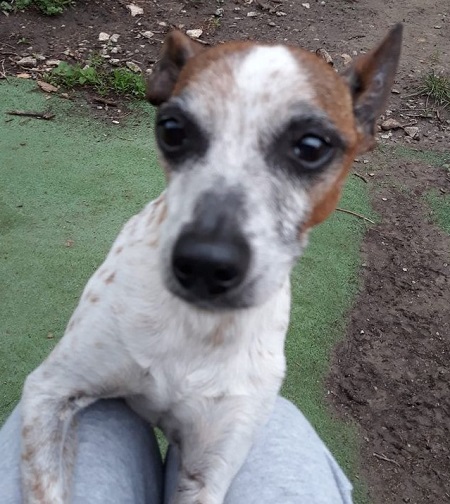 From Jewells, the newest addition at Shep's Place:
This is Buddy a fox terrier mix. Twelve years old. OMG.. he stole my heart from day one!! That's him with his paws on my knees just wanting some loving. He got reported as a stray and when the owners were contacted they said they didn't want him back. So he stayed at the shelter for several months. He was only a few days away from being euthanized. He's very loving, no health problems, full of energy. I'd take him in a New York minute if we didn't have Moose. He will get adopted very quickly.
* * *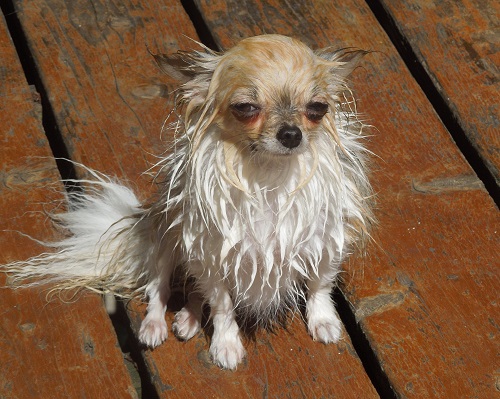 &&&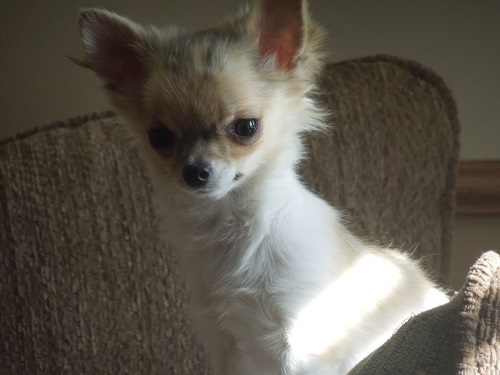 From Tom:
We had to send our little Minette across the rainbow bridge this week. She was a joy in our lives for ten years which is amazing since she wasn't expected to live through the night when she was born. Tiniest doggie I've ever seen. Little Stinkerbelle was a sweet little girl and always made us laugh with her incredibly cute antics. As you can see, she just loved her baths! LOL

My wife, Helen, and I will miss her terribly. Her big brother Jake is searching for her and the English Setters just want another cookie. Insensitive brutes!
Awww. Of course you, your wife and Jake miss her. And pet baths can be a challenge!
* * *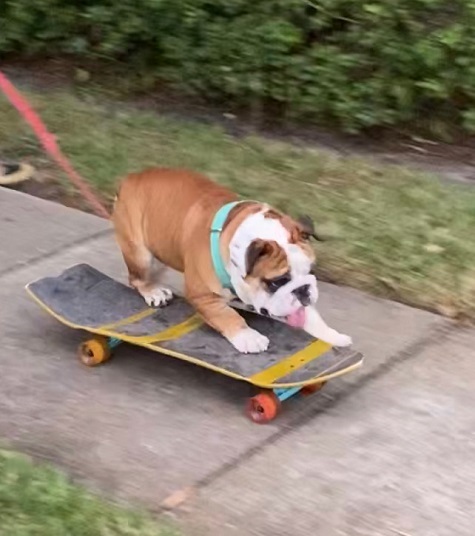 &&&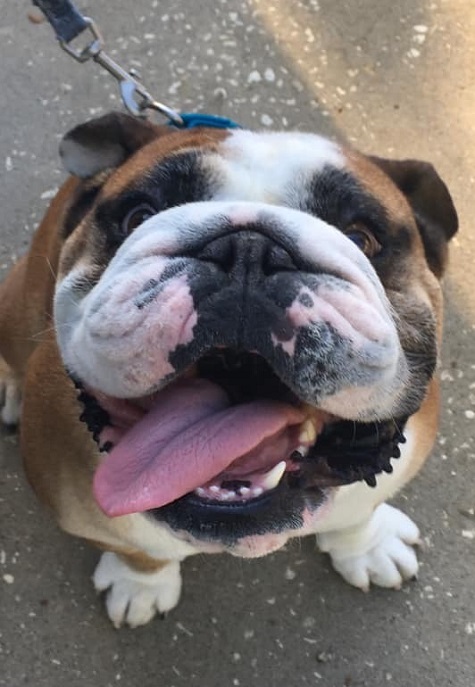 From Anne:
My husband keeps hounding me to post Psmith. Yes it starts with a P (which is silent). See if you can figure out where his name comes from. Hint: My husband is an avid reader.

As you can see I am a bit obsessed with him. Thank you again for making me smile each day which can be tough these days.
A skateboarding bulldog! Had to include that smile when he graduated from doggie training class.
What a face!

* * *
Love those PetMorons! Thank you for sharing your pets with us.
If you would like to send pet and/or animal stories, links, etc. for the Ace of Spades Pet Thread, the address is:

petmorons at protonmail dot com

Remember to include the nic or name by which you wish to be known at AoSHQ, or let us know if you want to remain a lurker.
Until next Saturday, have a great week!
* * *
If you start feeling nostalgic, here a link to last week's Pet Thread, May 7. Check the comments for things you might have missed on pet literature and lobsters as pets. The comments are closed now so you won't accidentally ban yourself by trying to comment on a week-old thread, but don't try it anyway.

posted by K.T. at
03:07 PM
|
Access Comments