« Confucius say watch your language
|
Main
|
Ace of Spades Pet Thread, May 14 »
May 14, 2022
Gardening, Puttering and Adventure Thread, May 14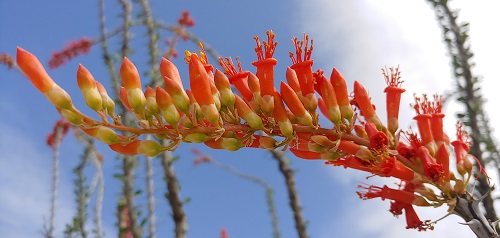 Happy Spring, everybody! Today, we're starting in the desert.
Springtime in the desert is a wonderful spectacle. Beautiful colors emerging from the Ocotillo blossoms. Palo Verde trees are blooming beautiful yellow blossoms. Prickly pear cacti and saguaros also blooming. Bees and hummingbirds are working overtime.

Thanks, jd
Looks inviting, jd!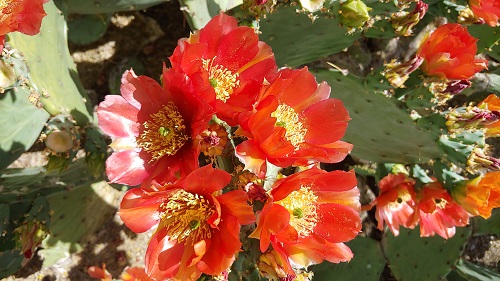 And from Gordon:
Adeniums. Being sold in Mesa. Native to India.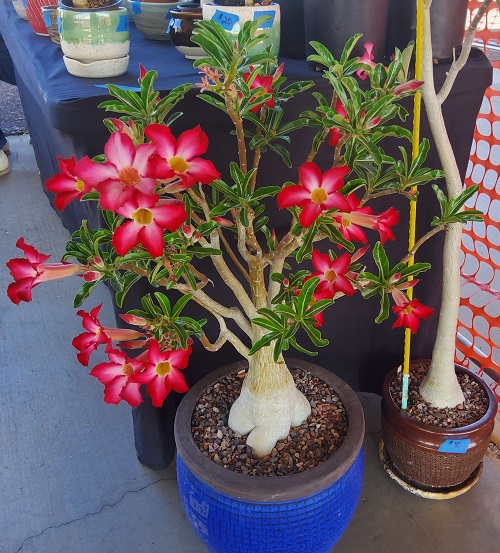 Bushman's Poison, Desert Rose, Dwarf Elephant Foot. Has other names, too!
Edible Gardening
Hey KT,

A little update from my garden. I am getting my first Sapotes! I am very excited as I have had the tree for about 5 years and this is the first full size fruit I have gotten. Last year I had a lot of little baby ones but they all fell off. I have 3 on the tree all this size. They are not ripe yet but I am impatiently waiting. And yes I have covered them all in the organza bags. If a bird gets them before I do I am not going to be a happy gardener. When we bought the tree the seller said they tasted like a mango sort of with the texture of a banana. I will let you know.

Also got the first harvest of peaches off the tree. Not quite ripe yet but if you leave them on too long the birds get them. These should ripen up in a few days. I guess I know what is in my smoothies for the next month.

Hope the horde is enjoying their gardens after the long winter!

WeeKreekFarmGirl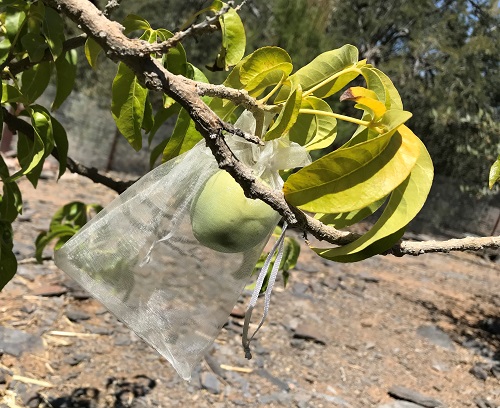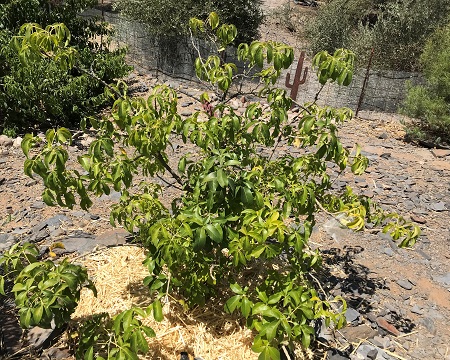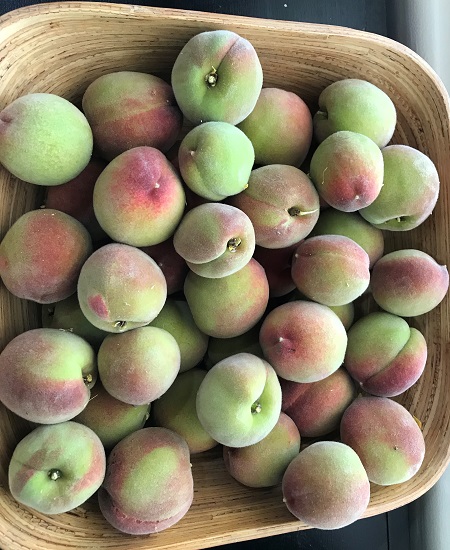 Wow! Most people don't have fruit yet!
Meanwhile,
All About Asparagus: Why You Shouldn't Snap the Ends Off Asparagus and Why You Should Overcook It
Recipes at the link.
And Kindltot sent in this timely video, pertinent in a time of fertilizer shortages:
Putting things by
By-Tor's Pickles won awards! A friend took photos!
The results are in from the Fair.

I got Best in Class for my Bread and Butter pickles and 2nd place for my naturally fermented dill pickles.

Not bad for a first time entrant.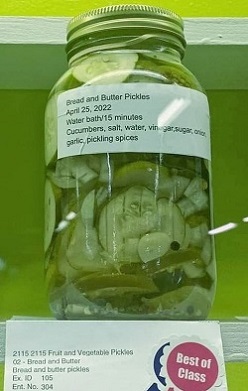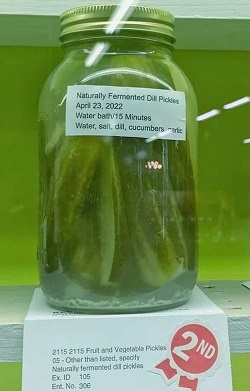 Congratulations, By-Tor!
Critters
From Eromero:

KT, I took this picture 0530 this morning in Smith County Texas. Isn't she beautiful? That's my size 12 1/2 foot for comparison.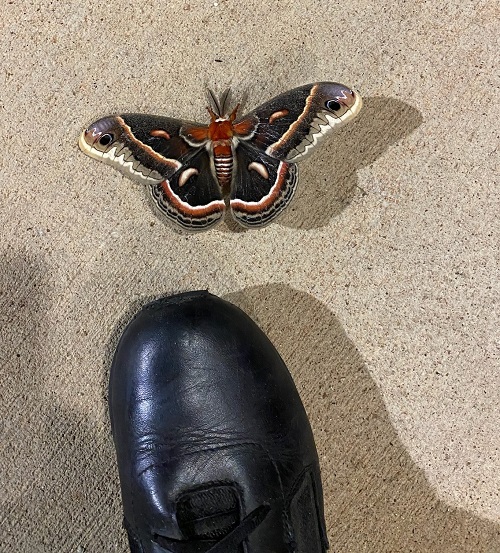 By-Tor has a racoon update:
Well, it appears Mama Racoon has given birth finally, so I'm hoping they move on to greener pastures in the next few days. That's what happened the last time she took up residence.

They're cute, but can be trouble. So far I have counted four in this litter.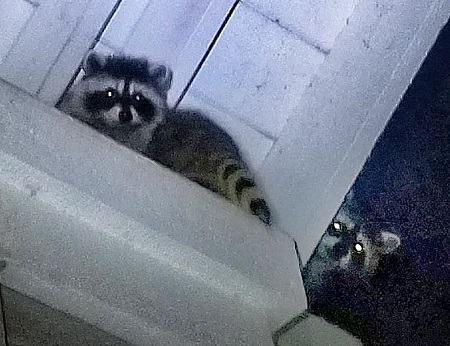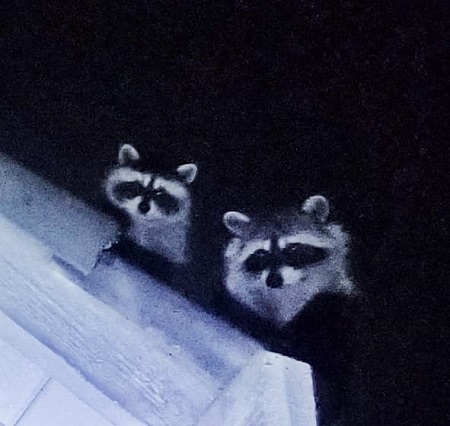 Wildflowers
My two oldest sons started picking wildflowers for their mom 2 years ago during the pandemic. It was a nice way to pass the time in the evenings. Here is a bouquet from last May. All of the flowers came from the field behind our house in northeast Texas. I know one of the flowers is an Indian Paintbrush...not sure about the others.

Best,
Mishdog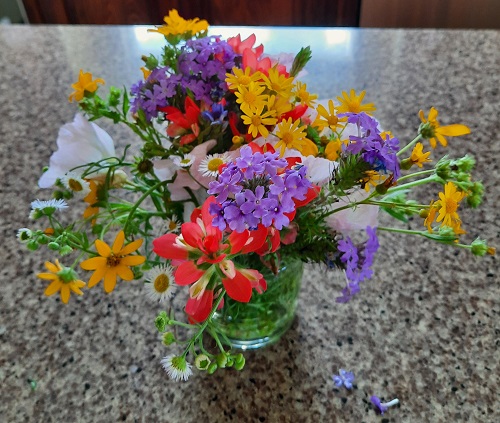 We have a few things left over for next week, but not enough for an entire thread.

If you would like to send photos, stories, links, etc. for the Saturday Gardening, Puttering and Adventure Thread, the address is:
ktinthegarden at g mail dot com
Remember to include the nic or name by which you wish to be known at AoSHQ, or let us know if you want to remain a lurker.

Week in Review
What has changed since last week's thread? May 7, Mother's Day! It included a (now award-winning) fermented pickle recipe, salad dressing recipes, irises, azaleas, violas, a garden revenge video, a very special little rose, lilacs, tulips, indoor cacti, and remarkable deer behavior in a remarkable yard.
I can't believe they held World Naked Gardening Day on Mother's Day Weekend!
And check out the late comments by The Famous Pat*.
Any thoughts or questions?
The comments here are closed so you won't get banned for commenting on a week-old post, but don't try it anyway.

posted by K.T. at
01:24 PM
|
Access Comments