« Saturday Morning Coffee Break & Prayer Revival
|
Main
|
Gardening, Puttering and Adventure Thread, May 14 »
May 14, 2022
Confucius say watch your language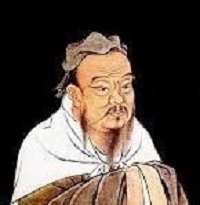 The beginning of wisdom

is to call things by their proper name.

Confucius
Last week in this space, there was some discussion of language in the comments. It was set off by a segment in the thread concerning the leftist effort to erase the meaning of the word "woman". And then there was the introduction of the word "Latine" to maybe supplant "Latinx", which has been wildly unpopular among the Latinxs.
I am also amazed by kids on Tik Tok explaining how to use their "preferred pronouns" who can't remember how to use their "preferred pronouns".
What is your favorite recent language change? Or least favorite? I think mine may be "assigned at birth".
Though "disinformation" is right up there, too.
There were several aspects to our discussion of language, some of which I thought it might be fun to expand upon below. One of them involved Confucius. You wonder why the Communists tried to erase this guy during the Cultural Revolution, but are now promoting his name once again. Interesting.
* * * * *
Confucius and other smart people
This comment from last week was not the only time I ran into the philosophy of Confucius last week. Weird.
Tom Servo in response to Dr. Claw:
everything happening now has happened before.

Confucius on the Rectification of Names:

If language is not correct, then what is said is not what is meant; if what is said is not what is meant, then what must be done remains undone; if this remains undone, morals and art will deteriorate; if justice goes astray, the people will stand about in helpless confusion. Hence there must be no arbitrariness in what is said. This matters above everything.
I also found a piece that mentioned Confucius when in discussion with a lefty talking about multigenerational poverty in the USA (as a result of, you know, the desire to keep certain races down). This piece is not new, so it's worth remembering in today's fevered, contentious, race-obsessed culture. And it's worth reading all the way through, even though it's a bit long.
Back in 2014, Anthony Daniels (Theodore Dalrymple) wrote The Worldview that Makes the Underclass for Hillsdale's Imprimus. It makes some particularly fine points about language. Here are a few:
Certainly the notions of dependence and independence have changed. I remember a population that was terrified of falling into dependence on the state, because such dependence, apart from being unpleasant in itself, signified personal failure and humiliation. But there has been an astonishing gestalt switch in my lifetime. Independence has now come to mean independence of the people to whom one is related and dependence on the state. Mothers would say to me that they were pleased to be independent, by which they meant independent of the fathers of their children--usually more than one--who in general were violent swine. Of course, the mothers knew them to be violent swine before they had children by them, but the question of whether a man would be a suitable father is no longer a question because there are no fathers: At best, though often also at worst, there are only stepfathers. The state would provide. In the new dispensation the state, as well as television, is father to the child.
A small change in locution illustrates a change in the character and conceptions of a people. When I started out as a doctor in the mid-1970s, those who received state benefits would say, "I receive my check on Friday." Now people who receive such benefits say, "I get paid on Friday." This is an important change. To have said that they received their check on Friday was a neutral way of putting it; to say that they get paid on Friday is to imply that they are receiving money in return for something. But what can that something be, since they do not appear to do anything of economic value to anyone else? It can only be existence itself: They are being paid to continue to exist, existence itself being their work. . .

But it is far from the whole story. One of the curious features of England in the recent past is that it has consistently maintained very high levels of state-subsidized idleness while importing almost equivalent numbers of foreigners to do unskilled work.
Let me here interject something about the intellectual and moral corruption wrought by the state in recent years-- and I don't know whether it applies to America. The governments of Britain, of both political parties, managed to lessen the official rate of unemployment by the simple expedient of shifting people from the ranks of the unemployed to the ranks of the sick. This happened on such a huge scale that, by 2006--a year of economic boom, remember--the British welfare state had achieved the remarkable feat of producing more invalids than the First World War. But it is known that the majority of those invalids had no real disease. This feat, then, could have been achieved only by the willing corruption of the unemployed themselves--relieved from the necessity to seek work and relieved to have a slightly higher subvention-- but also of the doctors who provided them with official certificates that they knew to be bogus. And the government was only too happy, for propaganda purposes, to connive at such large-scale fraud. One begins to see what Confucius meant when he said, 2,500 years ago, that the first thing to do to restore a state to health was to rectify the names--in other words, to call things by their right names rather than by euphemisms.
Other Smart People on Language
San FranPsycho in last week's comments:
Both Orwell and Burgess wrote about the intentional Marxist corruption of English language, which must be protected as essential to expression of ideas fundamental to human freedom.

In 1984 Orwell included a treatise on Newspeak (that no one reads.) Burgess wrote a similar one on "Workers' English" in 1985.
* * * * *
Is is possible to protect language?
Also in last weeks comments, there was a spirited discussion of the role of the French Academy in protecting the official French language. It helps that there are still some people who care about French culture in France. Canadian French language may not always reflect the French Academy's positions.
On the French language thing, many years ago, I was in a French class where the teacher brought in some recordings of French people speaking. It was easy for the non-native students to understand most of what the politicians said in their speeches. Knowing they are destined to be politicians, many of them are trained in diction and such as they grow up.
It was almost impossible to understand radio announcers, who talked really fast and used a lot of slang. I'm sure their hip audiences understood them.
Similarly, in the German part of Switzerland, students learn High German in school, though they may speak a number of different regional Swiss dialects at home. Some American educators think a similar approach in the USA is racist.
The utility of keeping old print copies of good dictionaries was also discussed in the comments. I like this idea. It is disheartening when online dictionaries change the meaning of words based on a single usage by a single person in a political setting.
* * * * *
Random things related to language ideology
Guess who said it, or did it:
* * * * *
Black man learns to stop hating Shakespeare
* * * * *
A diversity office explicitly excludes Koreans, Chinese, Japanese, Indians, Pakistanis, etc. from its definition of racial minorities.
Guess where?
* * * * *
One upside to having a government Ministry of Information is that we'll pretty much automatically know what the truth ISN'T.
* * * * *
It's not black pain, it's pain.

It's not black joy, it's joy.

It's not black love, it's love.

It's not black hair, it's hair.

It's not black trauma, it's trauma.

It's not a black life, it's a life.


I think it's time to abandon separatist language and thought.
* * * * *
I cannot understand people who say that minorities should be represented everywhere and yet are upset when there are blacks represented in the conservative movement.
* * * * *
The correct answers to "what are your pronouns?" are "I am a man," "I am a woman," "I am a boy," and "I am a girl." Don't play. Don't indulge.
* * * * *
Light Reading and Music
You Say Potato, a book about accents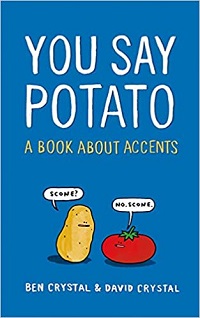 Hope you have something nice planned for this weekend.
This is the Thread before the Gardening Thread.
Serving your mid-day open thread needs
* * * * *
Last week's Thread, May 7: Obsession with the Handmaid's Tale, erasing the definition of "woman" and introducing "Latine", Seattle falls apart, Russia demands the entire arctic, VDH's favorites, solving racism, death of melody in music, Mama Tried
Comments are closed so you won't ban yourself by trying to comment on a week-old thread. But don't try it anyway.

posted by K.T. at
11:16 AM
|
Access Comments