« Ace of Spades Pet Thread, May 14
|
Main
|
Saturday Evening Movie Thread: The Unbearable Weight of Massive Talent [moviegique] »
May 14, 2022
Weekend Hobby, Crafts and Bodging Thread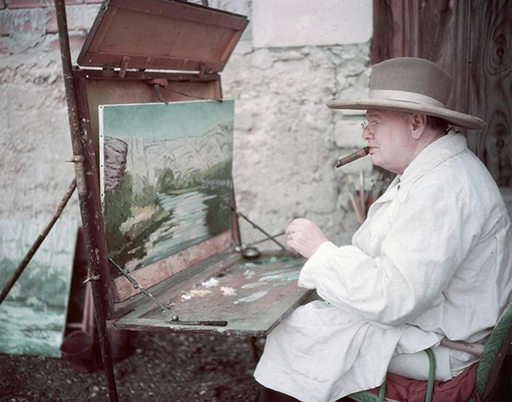 Greetings, gang. Time once again to head for the basement, craft room, studio, shop or wherever you go to get creative or just make a mess and have some fun - just like this old bloke noodling around at the canvas.

First up, the remarkably talented upholsterer Chest'r from Krasnoyarsk in central Siberia is equally adept with wood. Here, he uses an electric chainsaw and a ball cutter in a Dremel/Foredom tool to create a really cool side table out of a tree stump. Has kind of a tribal vibe to it. I like it.
From the very basic we go to the other extreme with what I can only describe as a sculptural luminary/light fixture using an array of machine tools to achieve an elegant, sleek piece. It's also expertly filmed.
Next is an in-depth and excellently filmed tutorial on scratchbuilding an old barn in 1/48th or O scale. Lots of good close ups where you can really see the techniques and materials applied.
Call me weird but there's something curiously compelling about watching a rusty piece of metal getting sandblasted. In any case, here's the guy from Chip Channel working his magic on a rusty old Tonka truck. Nice to have a sandblaster as well as a CNC machine! Still, it takes skills and the results are really nice.
I promised a while back to show some N scale layouts and here is a really fine one up in Canada. This video is a tutorial on making a forest of fir trees, which in N scale can take up a lot of real estate even on a small layout. And this one fills a basement. Check out his channel for more running action and scenery. Really well done.
A British artist potter's process. Some stunning pieces here.
My paintings are representational, in the precisionist category. But I am drawn to some abstract works. I particularly like this woman's techniques and it's inspiring me to take the plunge and try a completely different style.

posted by J.J. Sefton at
05:00 PM
|
Access Comments