« Food Thread: Seafood Stews And People Chow: One Doesn't Belong Here!
|
Main
|
Sunday Overnight Open Thread (5/8/22) »
May 08, 2022
Gun Thread: Happy Mother's Day Edition!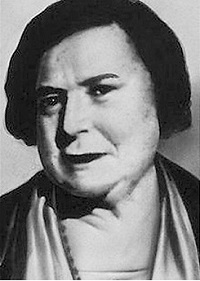 Ma Barker
Howdy, Y'all! Welcome to the wondrously fabulous Gun Thread! As always, I want to thank all of our regulars for being here week in and week out, and also offer a bigly Gun Thread welcome to any newcomers who may be joining us tonight. Howdy and thank you for stopping by! I hope you find our wacky conversation on the subject of guns 'n shooting both enjoyable and informative. You are always welcome to lurk in the shadows of shame, but I'd like to invite you to jump into the conversation, say howdy, and tell us what kind of shooting you like to do!
Happy Mother's Day to all of you Mom's out there! It only seems fitting to pay tribute to the shooting Mom's in our lives. In fact, all the shooting 'ettes deserve a special day of their own, don't you think?! Ma Barker, pictured above, certainly fits the definition of a shooting mom... or did she? While there is some question regarding her level of participation in the "gang" bearing her name, some of her sons were unquestionably familiar with firearms. In any event, it's an interesting story, some of which is chronicled at the Oklahoma Historical Society's website, and Wikipedia even has some interesting things to say on the subject.
Didn't make it to the farm last week as I'd hoped to. I was all set to head down on Thursday morning and made the mistake of checking my work email and didn't finish the little project I found waiting for me until sometime on Saturday. Anyway - I am trying again this Thursday but it'll likely be a quick down & back to check on stuff.
A peek at the calendar tells us it's still May, which means the 2022 NoVaMoMe is still next month and YOU still have a chance to register! I am happy to report we will once again have a well attended event, but there is still room for your procrastinating bad-self to join the fun. Thank you to all who have registered and secured your place in history, and for those of you on the fence, what the hell is your problem? I have begged, and pleaded, and otherwise done everything I can think of to convince you to attend. Wait. I have not yet cajoled you people. Do you need cajoling? Must I cajole you?
I know we have some undecided 'rons and 'ettes, and as I said last week I don't care how big of a weirdo you are in real life just come to the damn party, meet some really very nice people and have a fun time. Must you be a weirdo and difficult at the same time? See below for details and registration info to keep difficult weirdo from appearing in your permanent record.
Anyone East of the Mississippi River is expected to attend. For the rest of you, a number of other Moron gatherings are on the calendar in Colorado, Washington, Alaska and Texas. Holy Shitballs! It's a dang MoMe-palooza! Take a peek at the main page left sidebar, find a MoMe near you, and sign up to attend one. You won't regret it!
With that, step into the dojo and let's get to the gun stuff below, shall we?

******
Smith & Wesson Model 19
This week we have another one of my favorites from The WeaselCollection, a 1972 Smith & Wesson Model 19-3 in .357 Magnum. Those of you who look closely will notice this example has the 3-T's, or Target Hammer, Target Trigger and Target Stocks. What makes these features noteworthy? The trigger is wider with grooves, the hammer is wider with aggressive checkering, and the stocks are checkered Goncalo alves with extractor relief. The rear sight is micrometer click adjustable. The Model 19 was extensively marketed to both law enforcement and in this case, target shooters. It's a very nice gun with some honest wear and one I'm happy to have in the collection!
Does it shoot? Hell yes it shoots!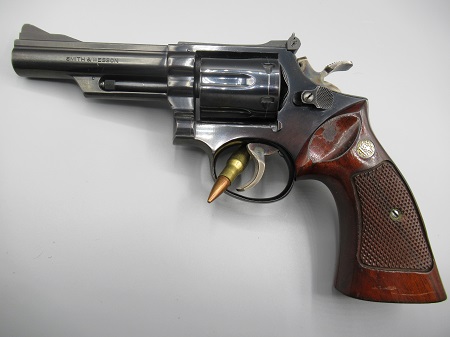 left side of revolver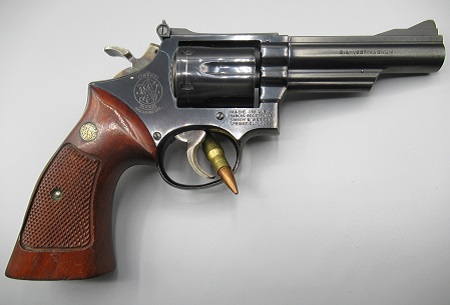 right side of revolver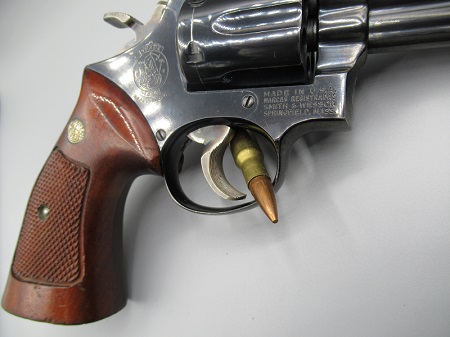 trigger side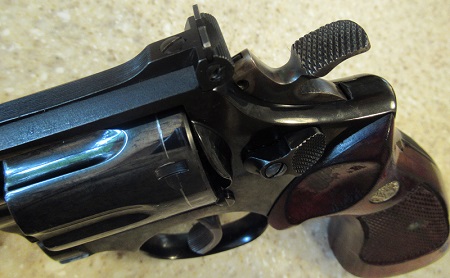 bigly wide thumb part
Here's the story of the Model 19 from the NRA's Magazine The American Rifleman, a somewhat lukewarm review from sThe Truth About Guns, and finally some information on the reintroduction of the Model 19 from Shooting Times.
Anyone else here have a Model 19 they love? What is your opinion of the target features described above; helpful, nice to have, or unnecessary?
******
We start off this week from former lurker and now contributor pal JamesFluffydog who sends in some pics of an amazing shotgun.
Here are a few pics of my favorite shotgun, a Kreighoff model 32 crown grade. German Manufactured in 1962, it's a four barrel set with 12, 20, 28 gauge and 410 bore all with fixed skeet-skeet chokes. As the chokes suggest, it's used for skeet shooting. Haven't seen any like these in the gun thread, thought you might find her interesting.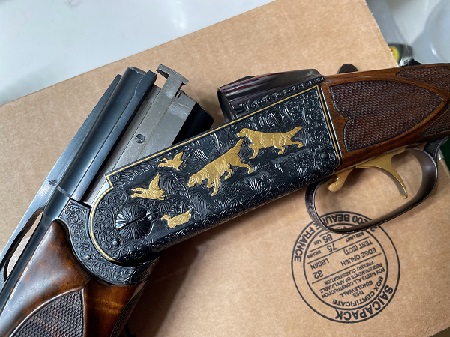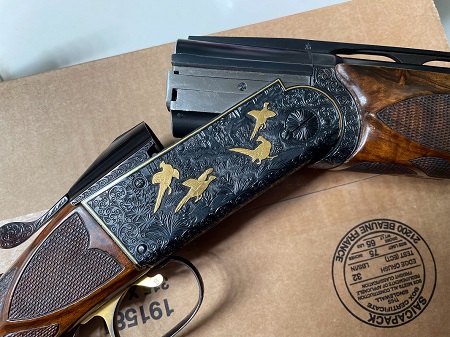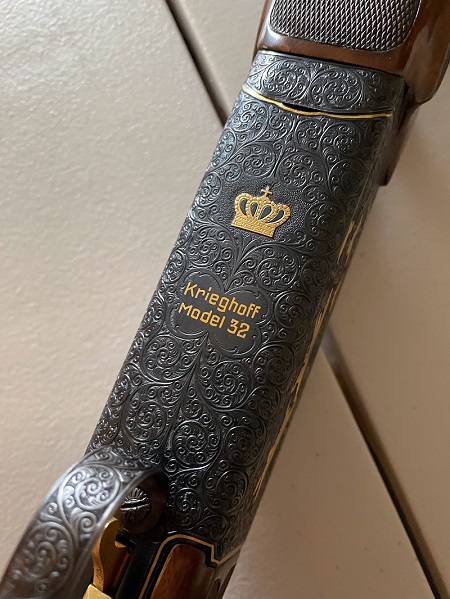 Wow, that is really something, and gets a Holy Shitballs for sure!! Thanks for sending it in!
How does it shoot? Please tell me you haven't scratched it up!
******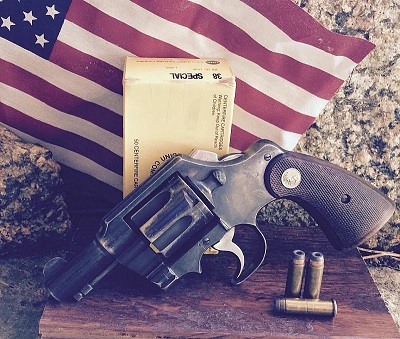 Nextly up our pal GWB shares an article on a unique snubby revolver, The Fitz Special. Ties in nicely with all the snubbys we've seen lately!
Very cool and very interesting, thanks GWB!! I had never heard of these. How about all y'all?
***
GWB also sends a question:
Question for the horde: Why can I not find any speed loaders for shotguns with tube magazines? I can find one from Arredondo Accessories that is outrageously expensive at over $50, and which hasn't been in stock on their website for years. It's made for 3-gun competitors. I found one that I've inquired about that is much cheaper at ~$20, but I don't yet have a reply from the company. And that's it. Two companies, two products. I want to be able to pre-load shotgun rounds without stuffing them in the tube and having to unload them before I go to the range, etc. Or maybe I want different load series (buck-slug-buck-slug vs slug-slug-buck-buck, maybe) available to hand-again, without unloading what's in the tube. It should also help me not waste range time loading shells one at a time, since I could pre-load tubes before going to the range. Anyone know the history of these things? Why aren't they a big deal? Why aren't they cheap and ubiquitous? Pump-action has been around for almost 170 years.
Here's Jerry Miculek using one:


Pretty slick! OK, smart people, any ideas to help our brother out?
******
Next up our pal Javems shares a case cleaner he made some time back.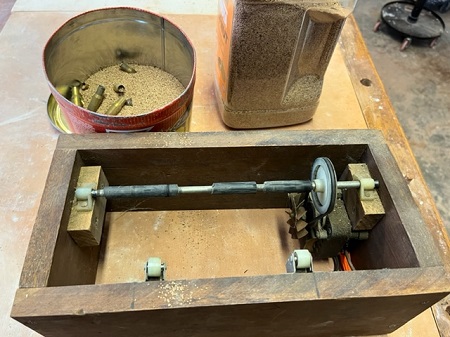 I made this some 40 years ago out of some parts or another. Still works
Very nice and very McGyver-esque! Great job, Javems!
It looks like you're using crushed walnut, correct? Here's a tip for those of you that do; walnut media is relatively expensive to my mind when purchased as a gun cleaning product, but you can get the exact same thing in larger quantities for less dinero packaged as reptile bedding at your pet store.
Q: Weasel, now that I have saved some money, how should I spend it?
A: Buy ammo.
******
Last but no-ways least, our pal RI Red has a new addition to the family!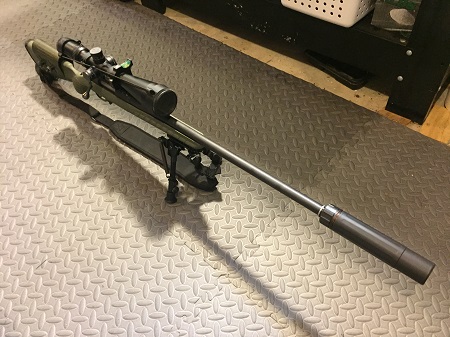 Fourteen months for the ATF stamp, not counting a three-month delay at LGS, but the Sandman S from Dead Air Silencers arrived Thursday for my Ruger Predator in 6.5 and I went to the range today! It's a two piece design. Muzzle brake/quick disconnect. Body that slides on and twist locks. Installation easy. I removed my current brake and threaded on the new one. Shims included so it indexes correctly with the barrel.

Range Report! New brake by itself dropped my POI by 3.5 MOA. Can dropped it another 3.0.

Factory Hornady Match 140 g. see pic below.
1. Cold shot with brake.
2. Break-in group with brake.
3. First shot with can on paper (several others at clays on the berm to find the impacts).
4. Scope adjusted up 6. 1 shot.
5. Up .5, right 1.0. 5 shots in the red, just under 1 MOA.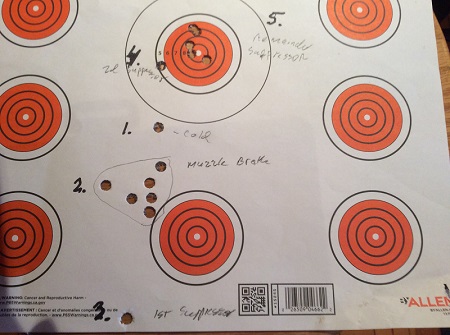 this is the below pic
Next pic was my hand load Hornady ELD-Match 140 g. .75 MOA. Without the two wind gust/shooter pull shots, the three shot group looks about .25. Yes, it was gusty. See the .22 shots in lower left 100 yards, point of aim was the red dot. That's my story and I'm sticking to it. Bad news - my card wouldn't open the upper range gate. Came home with more ammo than I expected.

A happy RI Red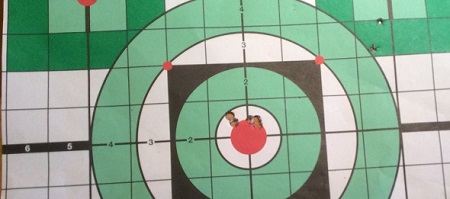 this is the next pic
Nice shooting Amigo! Congratulations! The measured ballistic difference is very interesting. Can we talk you into measuring the velocity change with and without the can?
******
Vintage Gun Scopes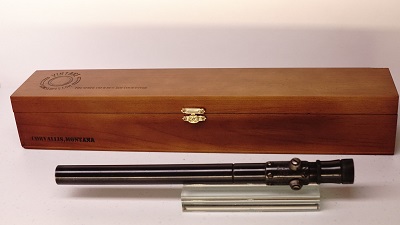 Lately I've had a number of email questions regarding sourcing optics and thought I would again mention a company I have used in the past, Vintage Gun Scopes of Corvalis, MT. I needed a replacement scope for the Colt Colteer you have heard me talk about, and they had just what I needed. As you know, I only recommend products or services I have personally used and liked, and VGS checks the boxes. They have a great selection of products and services, and outstanding customer service. If you have an old gun that needs a new scope, or a new gun that needs an old scope, take a look. WeaselApproved!
******
Gun Basics 101 or Git in the Kitchen and Sous Vide Me Up a Sammich... Holster?
In a wacky alternate universe where the Gun and Food Threads collide, we have the SEH gal sous-vide-ing a holster. No shit! For Reals!
Interesting product, anyone used anything like this?
******
Cigar of the Week
Here are a few tips on selecting a cigar from your local Smoke-a-teria.
***
This week Cigar Vixen takes us on a tour of the Joya de Nicaragua cigar factory in Esteli, the oldest in the country.
Planning a trip? You can get a private tour by contacting Joya here. If you're a not headed south, the virtual tour is pretty cool, too!
******
ATTENTION NoVaMoMe 2022!!
The social and cultural event of the season, NoVaMoMe 2022 is on the calendar! That's right, you people have a chance to meet many of your online pals on Saturday, June 11th beginning at 1pm until dark, or such time as it gets busted up by the cops. We have an exciting location in the Northern Virginia area which allows extended time for visiting. Admission is $25 which includes food and soft drinks, with a cash bar. This year the menu is BBQ chicken and pork with the usual sides and cookies for dessert. Appetizers begin just after 1pm and dinner is 3pm. Want to be one of the cool kids? Just send an email to novamome at protonmail dot cee oh emm, pass the rigorous screening process to obtain registration details, then sign up to attend! Easy-Peasy!
NOTE:You will get an automatic confirmation after registration from our NoVaMoMe ProtonMail account, however, some people are finding that in their spam/junk folders. If you don't get a confirm quickly, check there or complain loudly to Bluebell.
Each year, I spend a fair amount of time haranguing people to come to a MoMe. Any MoMe! I cannot overemphasize how much fun these things are, and how much we want YOU to come! We plan for the crowd in general but also consider the needs of the introvert lurkers and provide plenty of potted plants for those so inclined to hide behind. All kidding aside, you are completely welcome to slink-in, eat, drink and people-watch, and then slink-out. It is a 100% zero pressure event. If you can handle a backyard picnic, you can definitely handle this.
Win a Dream Date with Weasel!
Back by tepid demand, a separate raffle for the Gun Thread gift basket will be held. This fabulous prize includes an entire day of shooting and personalized one-on-one handgun & rifle coaching and instruction at Weasel Acres on a mutually agreeable date with yours truly. The lucky winner will be able to not only bring and shoot their own weapons, but also try out a variety of WeaselWeapons using WeaselAmmo!

We will end the day with dinner at a good Mexican place in nearby Appomattox. Pretty much a dream date with Weasel! The winner will be responsible for their travel to and from Central Virginia, hence the separate drawing.
Don't be a pathetic girly-man loser, register today!
******
Link-O-Rama
I'm really very seriously not kidding around anymore. Buy Ammo
AmmoSeek - online ammo search tool
GunBot - online ammo search tool
SG Ammo
Palmetto State Armory
Georgia Arms
AmmoMan
Target Sports USA
Bud's Gun Shop
***Mail Bag***
The Mail Bag inbox was depressingly bereft of content this week, so it's Weasel's Choice. Enjoy this bad-ass video of the Blue Angels flying in formation.
Look Ma! No hands!!
******
Please note the new and improved protonmail account gunthread at protonmail dot com. An informal Gun Thread archive can be found HERE. Future expansion plans are in the works for the site Weasel Gun Thread. If you have a question you would like to ask Gun Thread Staff offline, just send us a note and we'll do our best to answer. If you care to share the story of your favorite firearm, send a picture with your nic and tell us what you sadly lost in the tragic canoe accident. If you would like to remain completely anonymous, just say so. Lurkers are always welcome!
That's it for this week - have you been to the range?


posted by Weasel at
07:00 PM
|
Access Comments