« First-World Problems...
|
Main
|
Gun Thread: Happy Mother's Day Edition! »
May 08, 2022
Food Thread: Seafood Stews And People Chow: One Doesn't Belong Here!
One of the challenges in cooking seafood is the relative delicacy of its proteins. It overcooks much more quickly than beef or brontosaurus or pork. That's why good seafood stews require more attention than the equivalent terrestrial protein stew. Hell, I make a kick-ass beef stew that cooks for hours, but try that with a seafood stew and you will be left with a mushy, unpleasant, and very expensive failure that maybe even your cats won't eat.
But a well-made seafood stew is a delight. The west coast may be filled with lunatics and bums, but Cioppino is a marvel of cooking, and makes visiting Northern California almost worth it! And even the French get in on the pleasures with Bouillabaisse, which is a pain in the ass to make but is delicious!
The trick is no trick at all. It's is just careful timing of the various seafoods that go into the stew. Shrimp and scallops are quick, dense fish take much longer, and the rest fall somewhere in the middle. It's not complicated...it just takes planning.
By the way, even your modest and unassuming writer has an absolutely delicious lobster stew that is the marvel of the block! But you'll have to wait for my cookbook...Dildo's Delicious Delicacies for the recipe.
******
Virtue signalling is a blight on our society, and food is not immune to its pompous allure. Too many food and cooking writers are blind to the fact that a healthful diet is not a measure of one's worth. Not only that, a healthful diet can be had without having to subscribe to the insanity of our current food fads. Quinoa and açaí and vile looking vegan concoctions and disgusting fermented slop are not a measure of health but rather a talisman to ward off bourgeois sensibilities.
Returning to a pre-industrial diet doesn't signal anything other than a slavish adherence to the latest fad. As income rises, so do the pleasures of the table, and while eating the equivalent of Purina People Chow may extend our lives by a week or two, there is a far more important and human experience that most of us place in the center of our lives: the simple pleasure of good food and good company.
Anyone who turns food and cooking into something other than a pleasure is a bore. And life is too short to be bored.

******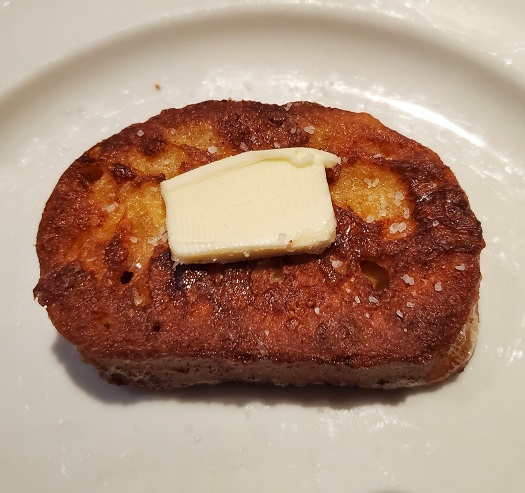 That is how it is made and served. All other concoctions are pale imitations, and an affront to all that is good and pure.

******
Golden Crispy Jalapeño Latkes with avocado sour cream?
Where have you been all of my life? What a great idea, and when made well they are a pleasure, but it is mostly in the crunch and the deliciousness of fried...um...anything. Adding some actual flavor to them sounds like a fine idea, and one that I will act upon as soon as I convince someone else to clean the kitchen after I fry them.
******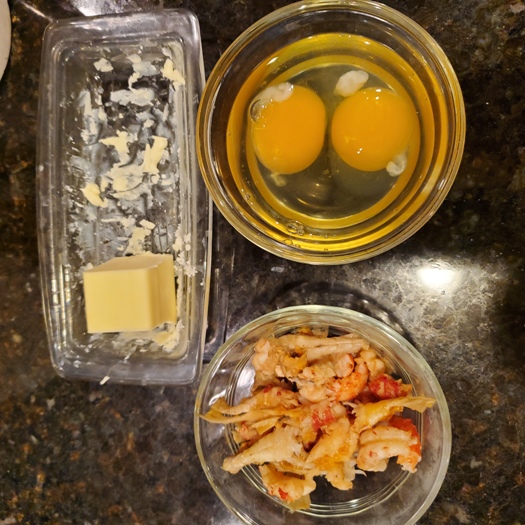 Our gracious crawfish boil hosts were kind enough to send us home with a large bag of the tasty critters, and what better way to eat them than in some scrambled eggs? I warmed the tails in some butter (well...a lot of butter) and then made the eggs in the pan with more butter, a sprinkle of salt and pepper, and that was it!
Delicious.
And yes, it is a crawfish boil. I was gently chastised for having the temerity to call it a "crayfish boil," but really, it is a colloquialism, so I think my spelling was correct.
Longtime reader from Louisiana (Baton Rouge). So glad you loved the crawfish at your neighbor's crawfish boil, but please for the love of God, call them crawfish, not crayfish.
I'll have to double-check though, so I expect many invitations for crayfish/crawfish boils in the future.
******
From commenter "Sharon(willow's apprentice)" comes a clever idea on how to
Revive a Stale Baguette Using the Miraculous Water Trick
. It seems like a lot of work, especially because baguettes are small, and really, you should have bought enough butter to finish the damned thing the first day. Or make French Toast!
But I am going to try this technique, mostly because it really doesn't sound like it would work!

******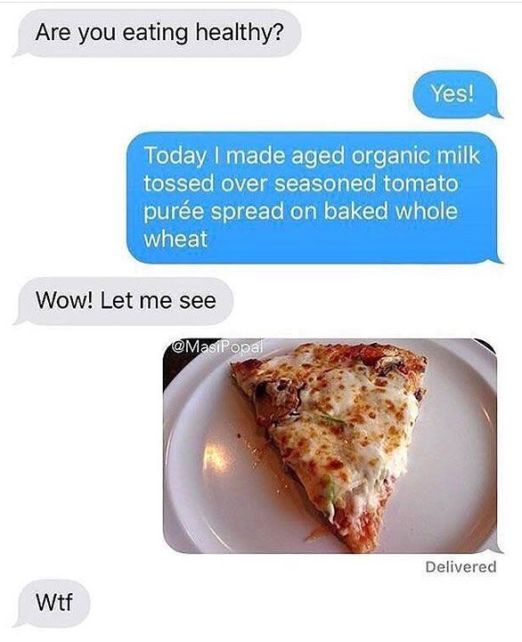 ******
Romaine lettuce that is green, instead of the white crap they sell that has never seen a photon, pork rib roasts from the front end of the pig where all the good and fatty meat lives, carrots that don't taste like stalky chalk, spare bottles of Van Winkle Special Reserve 12 Year Old Bourbon, an herb garden that actually produces herbs (but no basil!), well-marbled NY strip steaks and elk backstrap to:
cbd dot aoshq at gmail dot com.
And don't think that you are off the hook with maple syrup and French Toast: I'm watching you...all of you! And I am watching you perverts who shake Manhattans and keeping a list for the Burning Times.

posted by CBD at
04:00 PM
|
Access Comments