« The Ace of Spades Pet Thread, May 7
|
Main
|
In A Hole? Keep Digging! ("How Can I Get My Boyfriend to Stop Digging His Tunnel?" ) »
May 07, 2022
The Weekend Hobby Thread
Good afternoon. Thanks for stopping by and checking out The Weekend Hobby Thread. We celebrate all hobbies here.
Let's take a look below the fold as to what found its way in the old In-Box.
***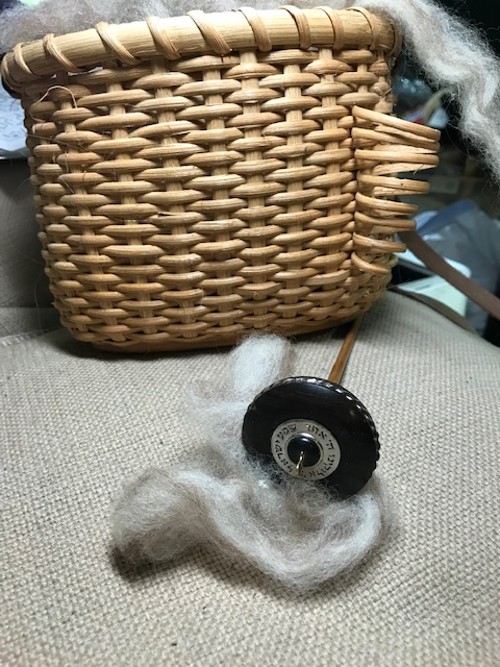 Drop spindles have been the tools used for thousands of years to make twine/rope/yarn. The placement of the whorl defines the type--the whorl at the top makes this a top whorl and so the whorl at the bottom of the shaft is a bottom whorl. Geographically, in very loose terms, northern areas tended to be bottom whorls, and southern areas (for example Egypt) tended to be top whorl.

I have been spinning for a long time and started using a drop spindle, although these days I have a spinning wheel I use if I'm knitting something like a sweater. I do collect spindles; I have a spindle whorl dated to late Iron age/early Roman and one with an actual stone as the whorl. I usually spin wool, I like to try various breeds;' my current favorite is Ryeland. I haven't tried alpaca before and I'm still getting used to the feel of it.
A good book about spindles is Respect The Spindle by Abby Franquemont.

The spindle in the picture is a light weight top whorl made of ebony and silver by the Golding company (I have several others by them). The engraving around the top is the first line of the Shema in Hebrew. - Lirio100

OK, I'll be the first to say WOW! That is impressive. So, I know nothing about your hobby but I found this..............

***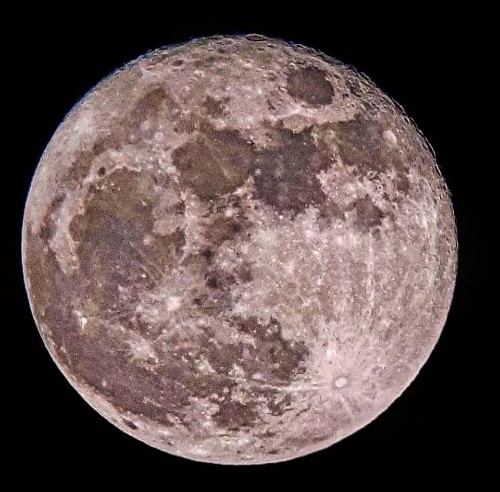 Hey, I go by JohnFNotKerry. I have been a part of the Horde since 2002, although in recent years my commenting has been cut way back. I do read all the posts though. Anyway, my hobby is astronomy, and I would like to share a picture of a full moon I took some time last year through my telescope with my phone's camera. I'm hoping to improve my pictures with a dedicated astrophotography camera, but I'm waiting for the weather to warm up.
Quite the photo even if using your phone's camera. Hopefully you are lurking today and tell us where you are generally in a geographical sense. Do you have issues with light pollution? Are you in a region that is fairly clear or do you battle cloudy evenings.
So many stars, so many things to learn and to know.
***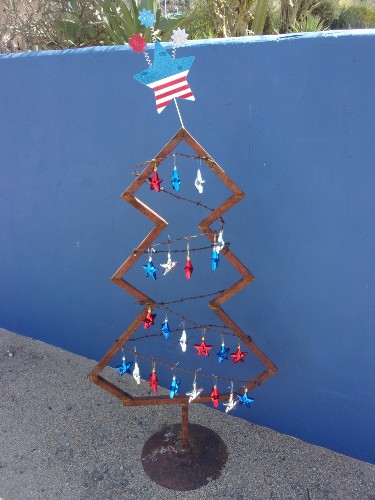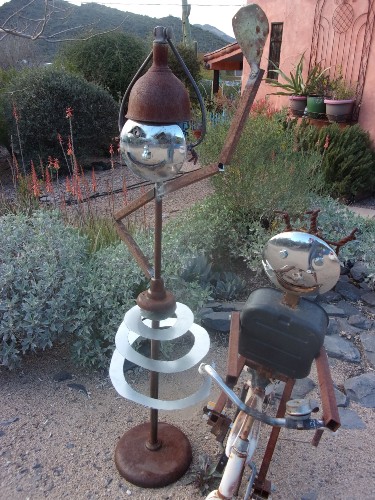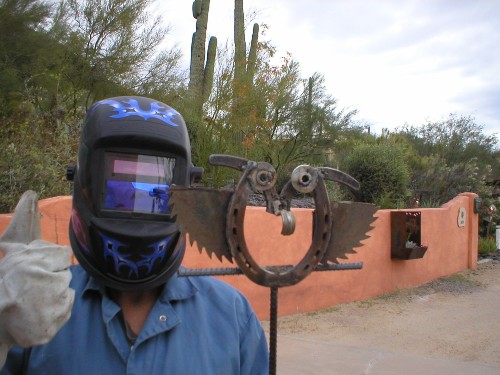 Hi Mis Hum,
My hobby is welding, specifically welding garden art. Making it out of junk metal, putting it together. Mr. WeeKreek and I have been at it about 3 years. We got a wire feed welder, and one of Mr. WeeKreek's friends gave us a 15 minute tutorial and said, the rest is just practice. Mr. WeeKreek knows how much I enjoy welding so he is what I call my Sous Welder. He grinds and cleans the metal, cuts it, we do tend to design it together, and then I get to make all the welds. Sometimes people will see a piece and say you can't weld that to that, and we just say, well we didn't know that so we did. The Christmas tree we did two Christmases ago, but I loved it so much, I have decorated it once a month in a new theme. We just took down Easter and now it is decorated for Memorial Day. We love to do animals, that is Angus the steer, and then an antelope planter, a sculpture, a boy on his bike with his mom (we started with the boy and then added the mom later) and this is me with our very first welding project, Russ T. Owl. We go on day dates to scrap yards sometimes to look for rusty bits to use, most people wouldn't think that is a good day date but it is right up our alley. We have quite the rusty junk collection going. Mr. WeeKreek got me a t-shirt that says "Welding is like sewing with fire", perhaps, all I know is I love it.
WeeKreekFarmGirl
That's quite a HAWT Hobby you have there WeeKreekFarmGirl. No worries about paint drying out on you. I'm a little jealous as I don't know how to weld. For those who are in my camp.............
***

Yes, we have a gardening thread. But KT's thread is just too sophisticated for Charlie.
***

I didn't get around to everything in the In-Box this week. But, I'll get to you who have so graciously shared your hobbies with me. Everybody will get their turn.
Until I see you again, you can share your hobbies, crafts and ideas here at petmorons at gmail dot com.

posted by Misanthropic Humanitarian at
05:01 PM
|
Access Comments