« Saturday Gardening, Puttering and Adventure Thread, May 7
|
Main
|
The Weekend Hobby Thread »
May 07, 2022
The Ace of Spades Pet Thread, May 7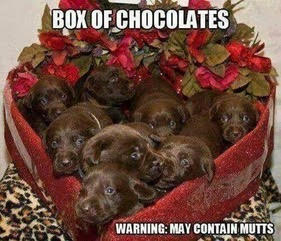 Good afternoon and welcome to this weekly respite from most of the outside "civilized" world -- the Ace of Spades Pet Thread.
Thanks for stopping by. Kick back and enjoy the world of animals.
Reminder: For current events and politics, the Thread before the Gardening Thread (a couple of threads below) is almost always an Open Thread.
It's Mother's Day Weekend! The photo above comes courtesy of CBD. Misanthropic Humanitarian passed this one along.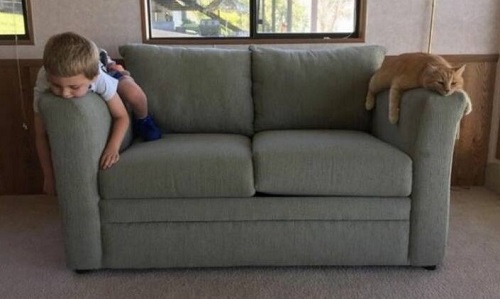 * * *
Pet Literature
Some cross-over information for fans of both the Pet and Book Threads from Hrothgar:
KT,

I just finished reading "The Dog Who Wouldn't Be" by Farley Mowat on Kindle. I am sure you and almost all readers of the Pet Thread would like it. To be fair, I laughed many many times while reading this. I think it is almost the perfect Pet Thread book!

I'll probably be sending this to the Book Thread as well.

Thanks for picking up the Pet Thread, I stand in awe of the august body of COBs that help keep the wheels of the AoS empire turning, even though I know you are probably just in it for the Ace Dental Plan!

Take care, stay safe, and be well!

Regards
Hrothgar

-- This is the day that the Lord hath made,
treat His "present" to you with the respect it deserves!
Thanks, Hrothgar! Our first Pet Book Club book candidate!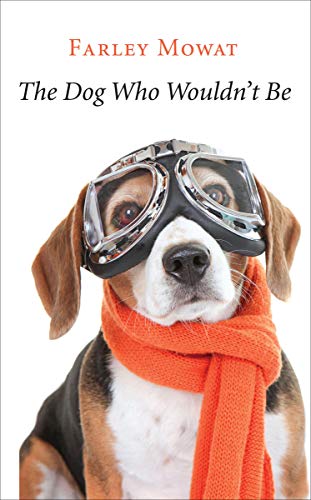 * * *
Meet The PetMorons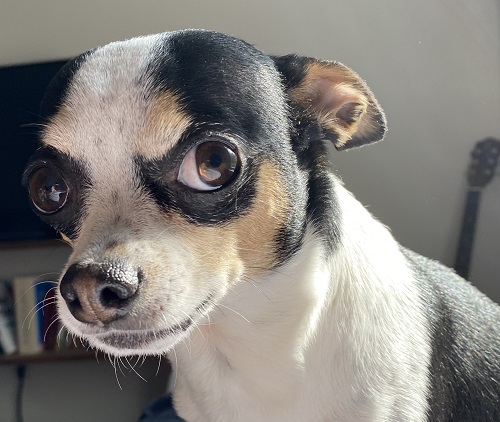 From Kevin:
Attached is a photo of our almost ten year old Angus, a ten pound Home Protection Chihuahua. He's a fearless guardian of our 2.4 acre fortified compound in Northern Virginia.
Looks fearless!
* * *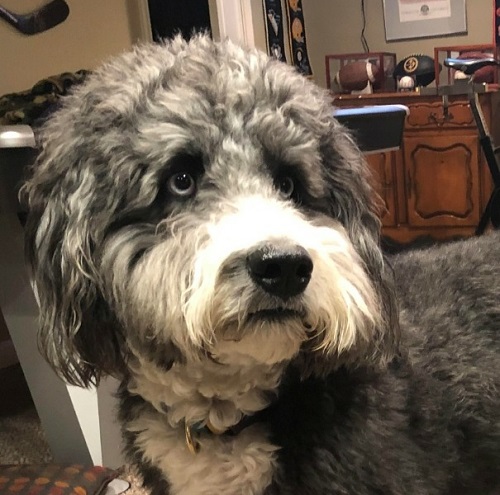 Longtime Lurker and never commentor. Love the weekly Pet Moron posts and everything Ace has built here. Finally decided to introduce my buddy.

I always had dogs growing up. Usually multiple Golden Retrievers, but never thought I would have another dog since my wife, 1) Is allergic, and 2) Hates all dogs after being attacked twice when she was younger. However, a few years ago, one of my sons had two major health issues, and all he wanted was a dog. So I started to look at Doodles due to their hypoallergenic qualities.

Since I always had Goldens, I figured I would end up with a Golden Doodle, however they were/are stupid expensive. So a friend introduced me to Aussie Doodles. I was unfamiliar with the breed, but after talking to someone who adopted one from the breeder we got him from, we pulled the trigger and brought him home.

Buster (Not my name choice.) is awesome and has been a great addition to the family. He has made my dog hating wife his biggest fan; to the point that she is considering adopting a rescue. Aussie Doodles tend to be velcro dogs and Buster is the poster child for this. You will never be alone with an Aussie Doodle in your house, even when you really, really want to be.
What a delightful dog!
* * *
The second photo looks better than the first one here. Whew! Sometimes being a pet parent has its tough moments.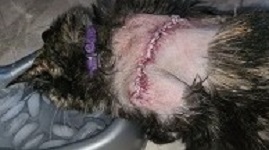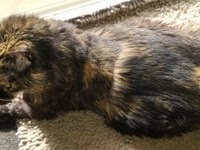 I'll share a moron pet story. You can refer to me as Wilbur.

So whenever I would hang with my cat, a 16 year old torty named Ebichu (after the hamster), we usually would sit in the same spot every time, and I would usually pet her the same way every time.

But one day, I started petting her ruff on the opposite side as normal and found something disconcerting. It was a solid mass where no solid mass should be, with an irregular shape, and didn't appear to be attached to anything firmly. It was mostly in her fat/skin layer.

Now, it's not the first time I felt something tumor-ish on her. A few times I had felt what turned out to be fatty tumors in the same layer of her coat. But fatty tumors are not hard and irregularly shaped, they are soft squidgy round things. No, this tumor was not a fatty one. The only question for me at the time was how bad this could be.

I got a vet visit at the earliest available. The vet examined her and let me know he felt it was a vaccine sarcoma. A type of tumor that can show up in animals at vaccine sites. Fortunately, it's not a malignant tumor. It doesn't shed little baby tumors that, once big daddy tumor goes away, suddenly sprout up everywhere. But, a sarcoma, my vet said, is still bad as it is invasive. It grows through other structures in the body. And this one was high on her shoulder, less than an inch from her spine.
The vet said there were two courses of action we could take. She's 16 and not too much longer for the game. We could let it continue to grow, and eventually it will be the cause of her death. Or, we could do surgery, which would entail cutting out the tumor and a fairly decent amount of tissue surrounding it, as these tumors will grow back if you leave anything behind. My girl is old, but she's pretty damn spry still, so I definitely wanted to take a chance with surgery and get her the most out of the rest of her life.

I fully expected the surgery to be expensive. I had decided to go for the surgery no matter how much it cost, two or three grand, whatever, all while my vet continued to talk about the procedure and what to expect. And then he came to the point where we had to talk cost. He hemmed and hawed and explained there's the labor costs, the full examination prior to surgery, the costs of anesthesia... yeah, it was gonna be top dollar, I knew it. And then my vet busts out the final cost.

Probably around 300 dollars.

I looked him dead in the eyes and said, "Oh, in that case, we should probably put her down now. How much does that cost?"

After the laugh we scheduled the procedure. It would be a couple weeks. At this point the waiting game began.
Now I was paying lots of attention to her. Coincidentally, my work decided that, unlike the last two years, covid was now dangerous and ejected me from the office I had been working at, every day of the pandemic.

For safety.

Depressing to me as it was, at least I could now watch over Ebichu all day. Well, except for the parts of the day where I would hang out at my local pub maskless sitting shoulder to shoulder with other maskless drunks.

And it was a good thing. I noticed she was eating less and less, and I was worried she was deteriorating in a way that was accelerating in front of my eyes.

She eats tuna. From a can, packed in water, in the mornings. Not the whole can, but it better be at least a third. Thats what she does. If you think otherwise, you get the claws. But she had stopped eating more and more of her tuna every day until she barely ate any of it, other than licking up the juice. It was harder to tell but I was pretty sure she was off her kibble as well, due to the level of it rising over the days, and her never finishing it off by the end of the day. Also, the litter box doesn't tell any lies. It was high on liquids and low on solids. She was not feeling well.

I was contemplating calling up the vet and asking for an accelerated surgery, but was afraid if she truly is going downhill fast that the surgery would be rougher on her. I wanted to try to get her eating and thereby as healthy as possible for the procedure.

I figured if she was still licking up the tuna juice, I'd make it all tuna juice. I started adding more water to the tuna and pureeing it before feeding her the all juice tuna in the morning. It worked great. She lapped that stuff up, finishing off her morning food and that rejuvenated appetite held over for the dry food as well. And the litter box started looking normal.

The day of the surgery, I packed her in her carrier (she wasn't happy) and I handed her over to the vet (I wasn't happy). About cracked when I told her I'd be back later to pick her up. I didn't ask about where I could get her cremated if things went south, but the thought was in my head. I returned home and went to work.

The day drug along. I was in constant contact with her mom, an ex-girlfriend of mine who I told in no uncertain terms when we brought Chu home from the adoption agency that I had paid for her, and she was mine, and while she had mom status the girl was staying with me no matter what. The consensus between us was that the longer we hear nothing from the vet the better. An early call would mean she didn't make it through. I didn't want to hear from them until late afternoon when they said I would be hearing from them.

Later that afternoon I did get a call. She had... passed ...

...with flying colors.

I picked her up and she was rough. They cut my girl open from elbow to spine and scooped her out. In addition, the doc found another small tumor on her leg that he didn't like, so he plucked that out as well, gratis. She was rough. And high af. She tried doing her normal routine, but much much slower, and with lots of blank staring at things. Like the litter box.

The days passed and she continued to improve. And not be so high. Although she had this gigantic incision on her back, she left it alone and it healed up. I went from avoiding the area to gently massaging the scar to actively scratching the area, breaking up and removing scabs.

Today is about two months after her surgery. She's better than she has been in months and months, maybe even years. Going up and down the stairs, coming to hang out on my work desk, pestering me for her tuna if I slept in...

I luckily made the right decision, and the vet did his job well. I've got hopefully many more years with my little girl, and her mom won't drive down from NY to murder me in my sleep. And, to the horde, make sure you make sure to pets all the places on your furry ones and feel for those hard, oddly shaped masses forming on your pets.
What a story! And what devotion to your kitty!
* * *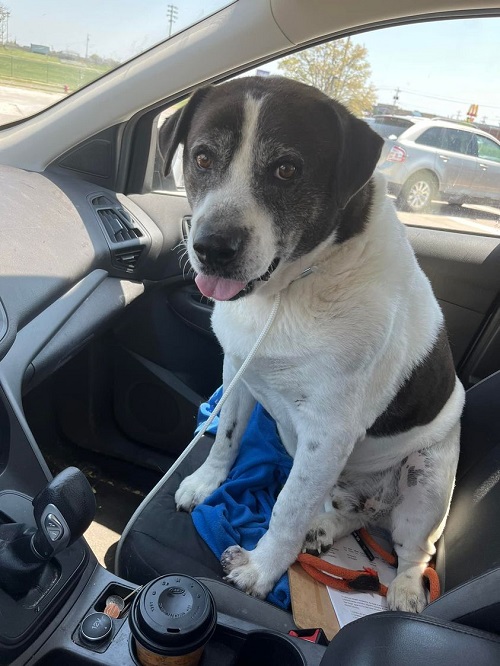 From Jewells:
This is Bacon a 10 year old male pointer mix. He ended up at a shelter because the owners were moving and the apartment complex wouldn't take dogs. As Russell said.. blah blah blah. I think he gets tired of the lame excuses. Bacon is very overweight so no treats. He loves belly rubs and playing with stuffed animals. He's very sweet but his curiosity of the other dogs could be a problem. He won't just sniff a few times and say ok.. we've met. He keeps coming back and annoying any dog we try to introduce him to. So for now.. he's isolated in the back room. We are working with him and hopefully he can be integrated soon.
Bacon looks like a nice guy for the right family. Great work you are doing there at Shep's Place, Jewells!
* * *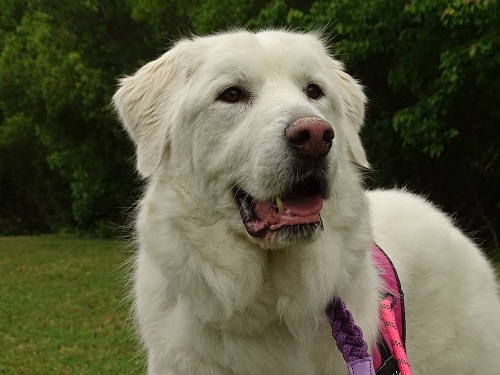 Hi there!

PaddyBeaner here. Most of the time I just lurk, but I love you people and still miss Oregon Muse. Someday I hope to attend a MoMe. Meanwhile, here's "Pearl." She's our 4-year-old Great Pyrenees. She's a rescue dog, and she manages to look svelte even at somewhere between 85 and 90 pounds. She's gentle with almost everybody but will launch into that resonant bark of hers when Amazon or UPS trucks roll a little too slowly down our street. Pearl's a soulful girl who quickly found a place in our hearts. If she likes you, she'll lean into you.
Not sure why I like this dog so much.
* * *

What great PetMorons! Thank you for sharing your pets with us. We have a couple left over for next week, but we will take more.
If you would like to send pet and/or animal stories, links, etc. for the Ace of Spades Pet Thread, the address is:

petmorons at protonmail dot com

Remember to include the nic or name by which you wish to be known at AoSHQ, or let us know if you want to remain a lurker.
Until next Saturday, have a great week!
* * *
If you start feeling nostalgic, here a link to last week's Pet Thread, April 30. The comments are closed now so you won't accidentally ban yourself by trying to comment on a week-old thread, but don't try it anyway.

posted by K.T. at
03:15 PM
|
Access Comments