« The Adults Are Back In Charge: Callow Hyperincompetent Biden "Intelligence" and Military Staff Openly Bragging That They're Helping Ukraine Destroy Russian Ships, Kill Russian Generals, and Shoot Down Russian Planes Carrying Hundreds of Russian Troops
|
Main
|
Is This Something? »
May 06, 2022
Conspiracy Theorists at the FDA Falsely Claim That the J&J Vaccine May Cause Blood Clots Because They Hate Science and Are Dirty MAGAts
I mean, that's the script, right? As with the lab leak theory fact, it's a conspiracy theory until The Regime wants to admit it's the truth?
CBS Mornings @CBSMornings


The FDA announced it is putting strict restrictions on the use of the Johnson & Johnson COVID vaccine, due to the risk of rare but serious blood clots.
The FDA is recommending you take one of the other vaccines unless you have a specific reason for not taking those.
The rate of this clot is about 3 in one million. So it is rare.

Still: This is the sort of thing that The Regime would ban you for talking about until today, huh?

As if to prove that The Regime will not allow you to talk about true things without their prior written consent, The Regime operatives at Twitter slapped a "Misleading" alert on to the account Breaking911's headline about this.
They did not put the alert on the AP's headline about this.
They both ran the exact same headline. Which was the headline from the FDA's press release.
It's as if The Regime favors the establishment corporate media outlets who service The Regime's propaganda needs.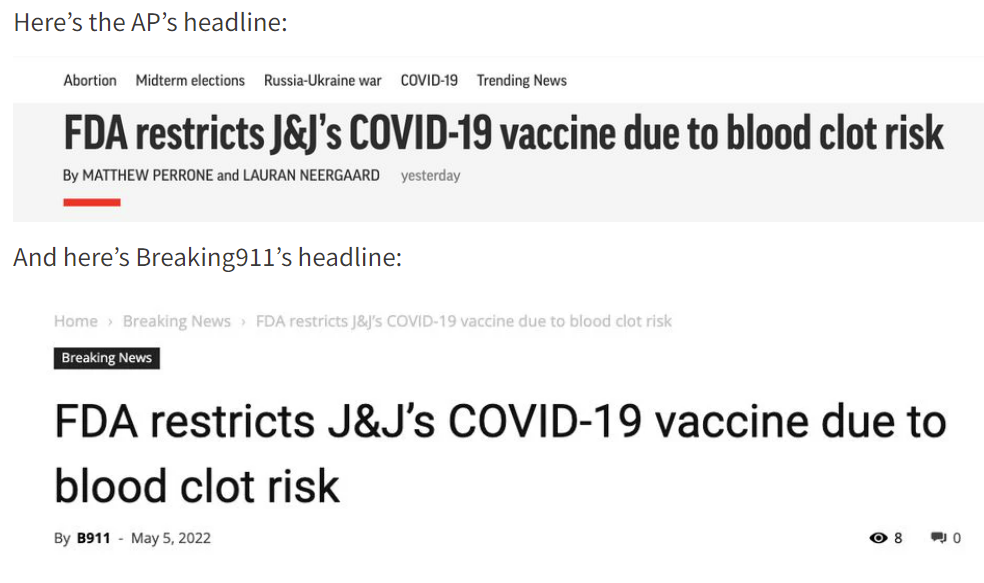 RBe @RBPundit


It's almost like Twitter is flagging the account and not the content of the tweet.
Breaking911 @Breaking911 Replying to @Breaking911


UPDATE: The 'misleading' label has been removed from this Tweet.

You are now able to share a literal press release from the FDA.

posted by Ace at
02:27 PM
|
Access Comments