« As Threats to Kill Supreme Court Justices Increase, an Antifa-Style Group Publishes the Addresses of the Justices;
Jen Psaki and the Biden Administration Refuse to Condemn
|
Main
|
Conspiracy Theorists at the FDA Falsely Claim That the J&J Vaccine May Cause Blood Clots Because They Hate Science and Are Dirty MAGAts »
May 06, 2022
The Adults Are Back In Charge: Callow Hyperincompetent Biden "Intelligence" and Military Staff Openly Bragging That They're Helping Ukraine Destroy Russian Ships, Kill Russian Generals, and Shoot Down Russian Planes Carrying Hundreds of Russian Troops
Same type of sh*t happened under Obama -- these nasty little weaklings who were justifiably bullied all their sad bitchmade lives couldn't wait to run to their media friends and brag about what big men they were now.
But the Adults Are Back in Charge, NeverTrump assures me.
America is Back, baby.
Putin has an "I Win" button he can always press. That button is the use of truly indiscriminate bombing against civilian population centers or even some tactical nuclear bombs.
The NeverTrump-endorsed Biden Administration's bragging about killing Russian generals, Russian sailors, and Russian troops just gave Putin a pretextual justification for pushing that "I Win" button.
But The Adults Are Back in Charge, right?
The United States provided Ukraine with intelligence that helped Kyiv attack and sink the flagship of Russia's Black Sea fleet, the Moskva, in one of the most dramatic battlefield successes of the 71-day old war, according to people familiar with the matter.

The missile strike by Ukrainian forces in April, an extraordinary embarrassment for the Kremlin that deprived Russia of a key vessel in its military campaign, may not have been possible without the U.S. assistance, these people said, underscoring how deeply Washington has become enmeshed in Ukraine's fight against Russia. It is unclear how many Russian sailors died in the attack, but U.S. officials believe there were significant casualties.

Despite providing intelligence on the Moskva, the United States had "no prior awareness" of Ukraine's decision to strike the warship, a U.S. official said. The official noted that the U.S. government shares maritime awareness with Ukraine to help the nation defend against threats. Russian vessels in the Black Sea have been launching missiles at Ukraine -- and could be used to support an amphibious assault on the country, the official said.
Biden officials had previously leaked word that they were helping Ukrainians target Russian generals on the battlefield -- which resulted in several Russian general being killed.
Asked if Russia would take specific measures in reaction to any intelligence-sharing that led to the deaths of Russian generals, Peskov said, "Of course, Russian forces are doing everything necessary in this situation," according to state news agency RIA Novosti.
In addition to putting out the word that we're helping Ukraine kill Russian sailors and Russian generals, the senile Biden Administration, looking to appear "tough," also couldn't help bragging that it was directly responsible for a shoot-down of a Russian troop-carrier that killed hundreds of Russian troops.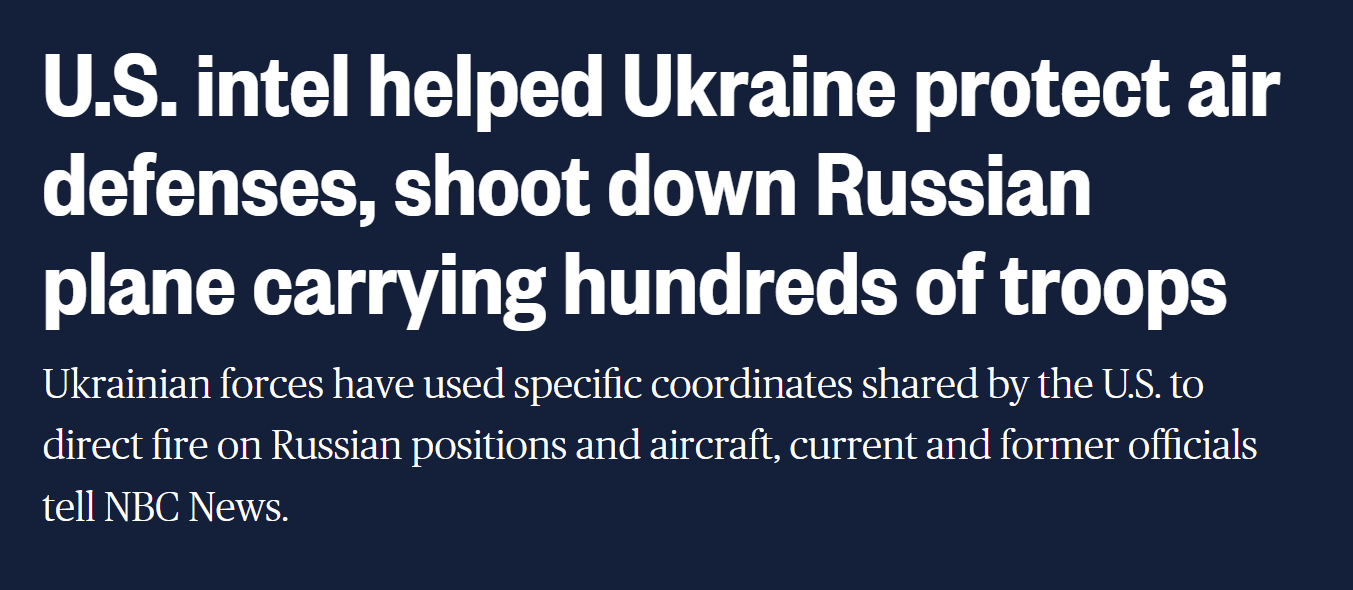 As Russia launched its invasion, the U.S. gave Ukrainian forces detailed intelligence about exactly when and where Russian missiles and bombs were intended to strike, prompting Ukraine to move air defenses and aircraft out of harm's way, current and former U.S. officials told NBC News.

That near real-time intelligence-sharing also paved the way for Ukraine to shoot down a Russian transport plane carrying hundreds of troops in the early days of the war, the officials say, helping repel a Russian assault on a key airport near Kyiv.

It was part of what American officials call a massive and unprecedented intelligence-sharing operation with a non-NATO partner that they say has played a crucial role in Ukraine's success to date against the larger and better-equipped Russian military.
I think everyone, both on the left and the right, both dove and hawk, can agree, that no matter what your opinion is on being this forward-leaning in, for all practical purposes, being an actual belligerent in this war, what you absolutely do not do is openly confirm your status as an undeclared belligerent and, even worse, brag about your status as an undeclared belligerent and all the sweet sweet KILLS you're making as an undeclared belligerent.
Did the Russians suspect we were sharing intel? Of course.
But here we are confirming it, and more than that, bragging about it, humiliating them, baiting them, taunting them, basically daring them, "And you can't do anything about it..."
Can't they?
Can't they?
So, Captain Scranton:
You significantly increased the odds that Russia will use nuclear weapons -- which very significantly increases the odds that this could all spiral into an actual hot nuclear war with Russia -- and you increased the odds that Putin will just start absolutely butchering Ukranians because you're openly flouting your war-making against him and publicly humiliating him -- but hey, you got some positive headlines from NBC and "Fusion Ken" Dilanian, and it's really hard for a leftwing Democrat to get positive headlines from NBC and "Fusion Ken" Dilanian, so... totally worth it, I guess?
The Adults Are Back in Charge, baby!
On the plus side...

NO MEAN TWEETS
Posted by: Cicero (@cicero43)

Question:
Are we now actually at war with Russia -- the very thing that the Smartest People in the Room assured us could never, ever happen?
Have the Smartest People in the Room now declared us to be a declared belligerent? Have they therefore made all NATO countries legal targets as well?
More: He knows not whereof he speaks.

posted by Ace at
01:22 PM
|
Access Comments