« Conspiracy Theorists at the FDA Falsely Claim That the J&J Vaccine May Cause Blood Clots Because They Hate Science and Are Dirty MAGAts
|
Main
|
New York Times Reporter: Studies Show That School Closings Seriously Harmed Children -- And Were Driven By Partisan Democrat Politics »
May 06, 2022
Is This Something?
Is this also something? A crowdfunded pilot for a Mystery, Incorporated (Scooby-Doo) series. Supposedly a "darker" take on Scooby Doo.
Before you rush over to see how Velma looks: She looks like she'd look in real life.
A tribute to Bailey:
For those who say that Disney Marvel isn't pushing any groomer messages: Check out this page of an issue of America from around 2017, which is just a page-long groomer propaganda screed in favor of lesbianism.
No, seriously: Read it. It's a straight girl saying, "Wow, if this is what lesbian relationships are like, I'm really missing out!"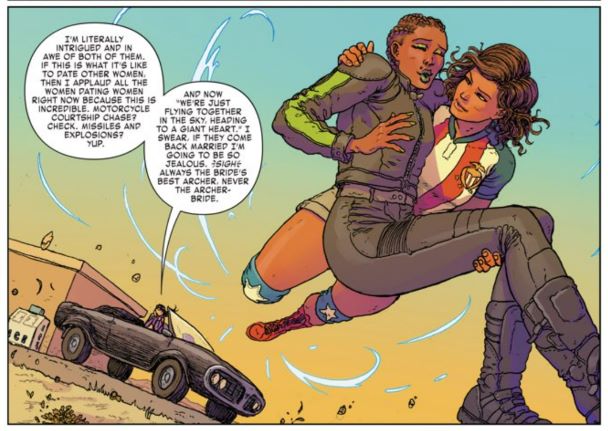 America Chavez is the character being introduced in the Doctor Strange sequel movie opening today, though they're probably downplaying her lesbianism/bisexuality for China. And because she's like 15 or about that age.
Oh, there's a part where America Chavez vows, "On my moms."
She literally has two moms. And they're both her biological moms.
She comes from a lesbian dimension-- the "Utopian Parallel" -- where women can impregnate each other.
This is serious, this is Marvel comics now. "The House of Ideas."
Hey Kids!!! Comics!!!
You can see why Disney Marvel was in a rush to introduce this particular character.
Prime Time #99 weighs in on all this abortion mishegas:

posted by Ace at
03:34 PM
|
Access Comments