« Glenn Greenwald: Has Taylor Lorenz Made Her Own Relatives "Fair Game" For Harassing "Reporting" By Harassing LibsofTikTok's Relatives?
|
Main
|
Biden Tells Obama That He's Running For Reelection In 2024 And Also That He Once Went 15 Rounds With Rocky Graziano And Planted Betty Grable A Big Ol' Smooch Right On The Kisser »
April 19, 2022
Quick Hits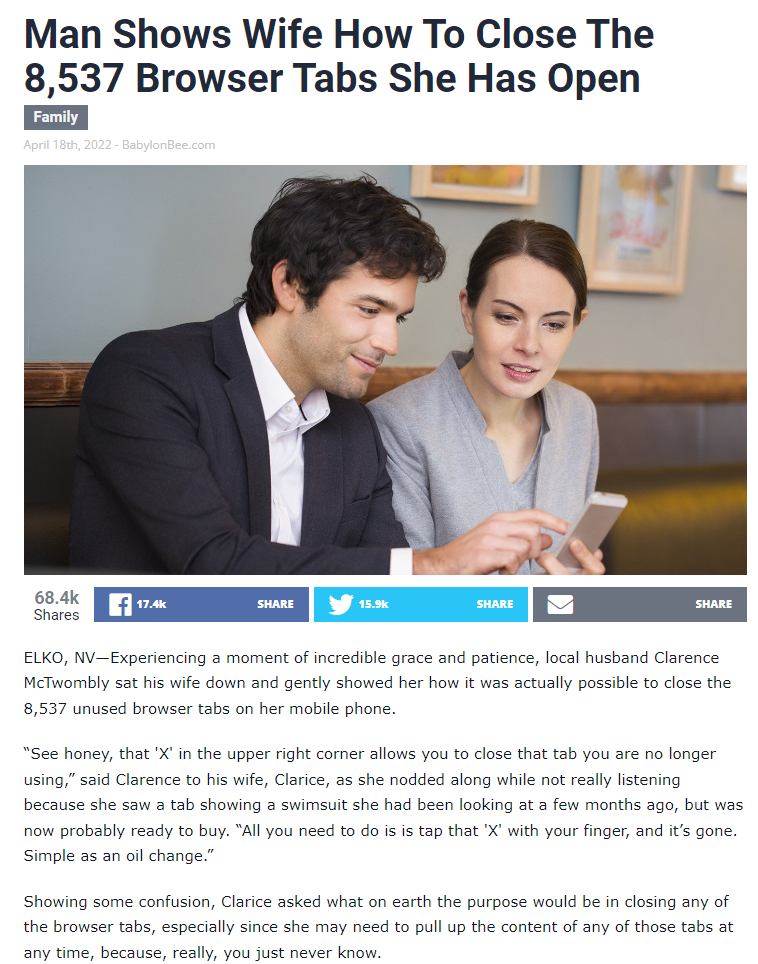 Are they saying that women have a problem with closing tabs? Because I have a problem with closing tabs (on my computer, not my phone), and I'm not a woman.
Or am I?
Am I trans now?
Should I make the appointment? Should I get... bottom surgery?
I mean, I've been a man all my life and I've never thought I was a woman before now but I understand that the Big Gender Reassignment has virtually no standards whatsoever before putting children on a regime of dangerous experimental hormones so... I guess I should just go ahead and get cut, huh?
I do understand there are big, big career upsides for Rapid Onset Gender Dysphoria. Which is why so many people in media are suddenly "discovering" they're "non-binary" or something vague like that at age 49.
Some advanced age, like Taylor Lorenz's advanced (but unknown) age.

Hey, he said it, not me. And note that is Jeremy Handly of The Quartering, doing an "I Am Spartacus" style thing with LibsofTikTok.
She attempts to dress way, way younger than her real age. Here she is trying to get away with wearing Garanamials (TM), which was popular in the early 1970s, when she was (scientists estimate) in her mid-30s: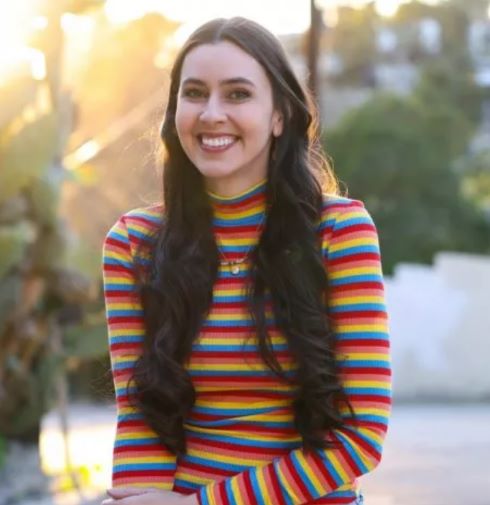 I don't know why Taylor Lorenz's age is such a trending topic.

From Wikipedia:

According to Politico, Lorenz's birthday is October 21.[4] Fortune stated her age as 35 as of September 2020.[5] However, The New York Times -- prior to her employment with the newspaper -- stated that her age was 31 in 2018.[6] CBS News stated in 2016 that she was 30.[7]
Posted by: Darrell Harris
241 maybe she needs to be carbon-dated... Posted by: jim (in Kalifornia) at April 19, 2022 12:39 PM (ynpvh)

Not even carbon will date her.
Posted by: Insomniac - Outlaw. Hoarder. Wrecker. Honker.
That's a great joke. But an old joke. Last time I heard that one, Taylor Lorenz fell off her dinosaur, which bucked because her nasty fartclaim was giving it hives.
I don't know why she lies about her age. I think people in the media should be honest about these things. I'm personally sensitive about my own age, but I've been very upfront with readers that I'm rapidly approaching 29, and I've been upfront about that for quite some time.
Speaking of LibsofTikTok and the Babylon Bee, these two much-cancelled Titans of the Real Right (not the Fake Right) are teaming up.
Seth Dillon
@SethDillon
·
21m
1/ The exposure of @libsoftiktok isn't journalism; it's pure intimidation. They're threatened by her effectiveness, so they hope to silence her by making her too afraid to continue. They want to raise the cost of doing her work so high that she has no choice but to quit.

But I think they'll be surprised by her resolve. She's afraid, as anyone would be in these circumstances, but she's also determined to not be bullied, threatened, or harassed into silence. That takes remarkable courage that few people possess.

I think they'll also be surprised by the support she receives. I want them to know that she won't be canceled from her job because this *is* her job now. I've worked out a deal with her that will turn her heroic, high-risk work into a career.

They may have exposed her, but they'll never stop her.

Long live @libsoftiktok.
I'd love to see her hosted on Babylon Bee. I wanted to offer to host her on Ace of Spades but I can't really offer her Pixy's servers and also I barely know what a "server" is or what hosting one would cost.
Meanwhile -- what the fuck is Conservative, Inc. doing?
As usual: Nothing except lining their own pockets while pretending to Fight For You.
Perfect: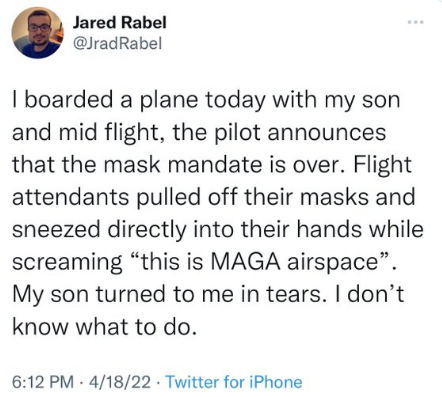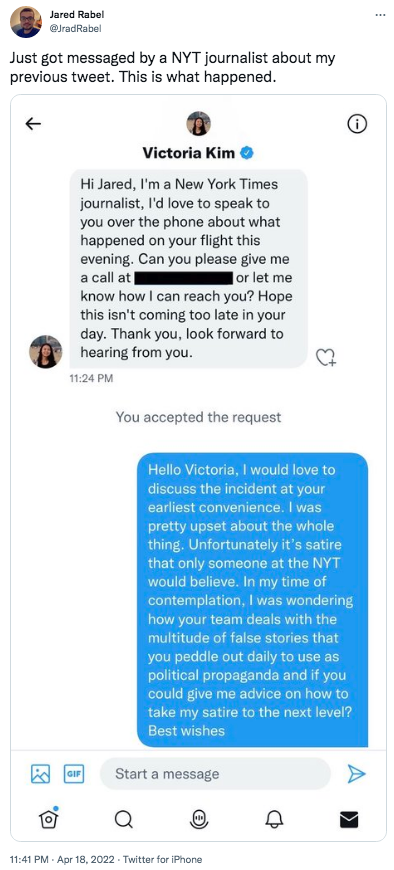 Like Walter Kern said: All today's "journalists" do is read Twitter and occasionally send a DM. This is their idea of "reportage." They believe obvious satire like this are "real stories" because they have to -- what would they "report" otherwise? Why, they'd have to get off their asses and do real work. They'd have to, I don't know, get in more than 400 or 500 steps per day!
You may or may not know who Ethan Klein, "h3h3," is.
He is a popular YouTuber. The appeal has always been lost on me. Although left-leaning, some people on the right liked him because he was allegedly a "skeptic" and was "reasonable" and did not buy into the left's cult dogmas.
For example, he interviewed Jordan Peterson and gave him a fair and respectful interview, treating him like a, get this, normal person.
But that was years and years ago.
A couple of years ago, as SJWism was actually becoming more toxic and less popular, Ethan Klein began to embrace SJWism. He weirdly began to embrace it when it became safer to resist.
Among the steps he took to cultivate the far-left SJW audience he'd previously alienated: denouncing Jordan Peterson, calling him a transphobe, and deleting the old interviews.
Jordan Peterson warned him: the crocodile you are attempting to ride will eat you in turn.
Dr Jordan B Peterson
@jordanbpeterson
·
Jan 14
What are you up to, Ethan? We had a good conversation. I enjoyed meeting you and talking with you. What have I said, precisely, that motivated your actions and your accusations? Deleting our discussion.... An honest question
@h3h3productions

Finally,
@h3h3productions, you might seriously consider providing me with the footage, so I can post it, given that I agreed to appear on your show based on the agreement that there would in fact be a show :)

Also, I should warn you that those who engage in cancel culture generally live to regret it. I'm not going to come after you, except politely, in this Twitter stream. But the chickens will definitely come home to roost.

You will be held to higher and higher and soon impossible to maintain ethical standards by the very mob you currently wish to please. Then you will make a mistake, and they will devour you. With glee. Please take this warning seriously. I liked you.
Well, in the past, Ethan Klein had spurned SJW culture and made jokes that SJWs did not like.
And now... the left has cancelled him for it, and pressured his advertisers to drop him.
Which they have.

Whoops:
Something's not right there. They don't say Musk's name. The ticker and crawler are cut off (the video is zoomed in), so there are no headlines or stock prices to give an indication of when it was taped.

MSNBC did say that, and that is what they meant, but I think it was probably not about Musk but was rather about Trump, and is probably from several years ago. Another big clue on this is that they talk about problems "when the economy worsens" - which they would *never* say during the current administration.
Posted by: Joe Mannix (Not a cop!)
Yes, I think I remember that -- Mika said that Trump is trying to tell people what to think, "and that's our job." Good catch, Joe.
I was snookerated.

posted by Ace at
04:40 PM
|
Access Comments