« Quick Hits
|
Main
|
Dig Dog Cafe »
April 14, 2022
Gangster Government Launches Brazenly Corrupt Intimidation "Investigation" Against Elon Musk At the Very Moment He Threatens The Regime's Governmental-Corporate Censorship-Suppression System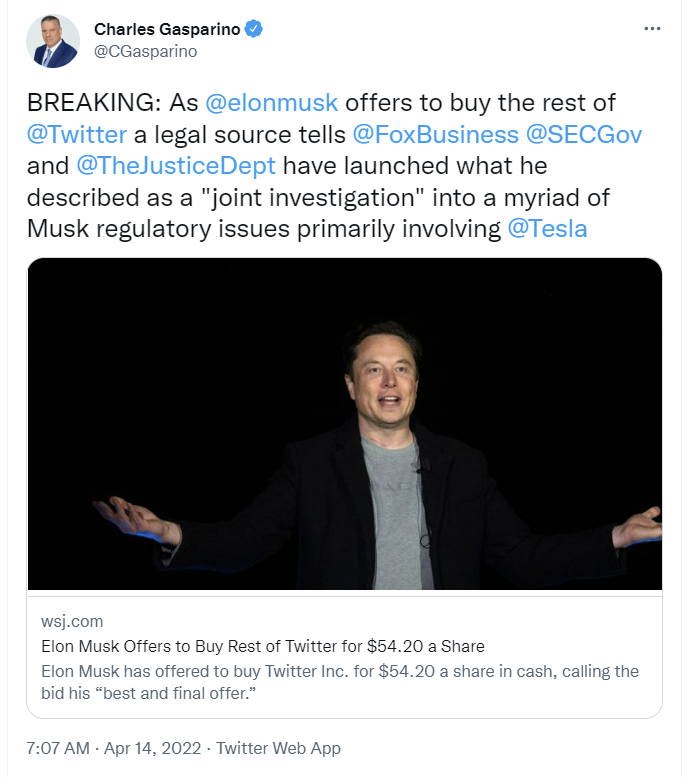 Apparently they're investigating if he filed the wrong form when he passed the 5% ownership threshold of Twitter.
The Securities and Exchange Commission is once again grappling with its least-favorite question: what to do about Elon Musk?

Tesla's billionaire CEO was late in filing notice of his purchase of a sizable share of Twitter's stock and initially submitted the wrong form, according to experts. Those potential securities law violations may seem technical, but they've set up yet another clash between the Wall Street regulator and the world's wealthiest man. They also raise questions about how the SEC might hold Musk accountable.


Among the options available to the SEC and its hard-charging new head, Gary Gensler: force Musk to forfeit gains he made between when he was supposed to inform the public of his moves and when he actually did. Still, the money in question -- about $150 million -- is chump change for a man worth $274 billion.


"I fully expect that the SEC is looking into this," former SEC Chair Jay Clayton, who took on Musk during his 2017-2020 tenure, said in an interview.

An extensive investigation might rankle Musk, who has repeatedly and openly disdained the regulator, which in 2018 accused him of deceiving investors when he tweeted -- inaccurately -- that he had secured funding to take Tesla private. The resulting settlement forced the entrepreneur out as chair of the electric vehicle maker's board but allowed him to stay on as chief executive. ("I want to be clear, I do not respect the SEC," the Tesla CEO told CBS' "60 Minutes" that year.)

Scott Galloway, a professor of marketing at the New York University Stern School of Business who himself considered investments in Twitter, said the SEC's credibility could be at stake if it doesn't find a way to bring Musk to heel.

...

Musk's stake in Twitter, the social media platform he used to run afoul of SEC rules, could further complicate matters. ...

The latest alleged filing violations are themselves not necessarily the type of actions that usually result in highly aggressive action from the SEC.

Still, "there is a real problem with folks filing the wrong files, and if they let Musk get away with this, then others may claim that there's something known as selective enforcement," said Harvey Pitt, who headed the SEC under President George W. Bush.
So this is not the usual thing that actually generates real punishment from the SEC, but the left (and the Establishment) is pushing for the SEC to "bring Musk to heel."
Because he's threatening The Regime. And because he does not respect The Regime.
And because, unlike the rest of us who also do not respect The Regime, he has enough money that his disrespect of The Regime may have serious consequences for The Regime.

They're not even bothered at how obvious it is that they're an illegally-occupying force acting in combination with oligarchs to corruptly use government force to attack political opponents.
And they have their foreign allies supporting them in the hostile takeover of America, as well: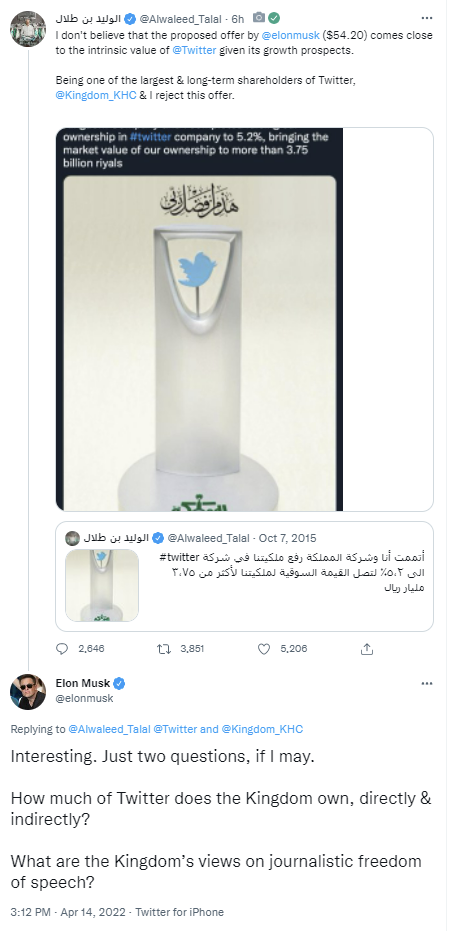 Good thread collecting the unhinged bluechecks shrieking that free speech is actually totalitarian suppression (and that totalitarian suppression is, of course, free speech).
Lunatic tranny "Brianna Wu" -- who opportunistically joined the anti-free-speech movement during GamerGate and has parlayed his notoriety into various Pity Me gigs since then -- says that people on the right need his censorship.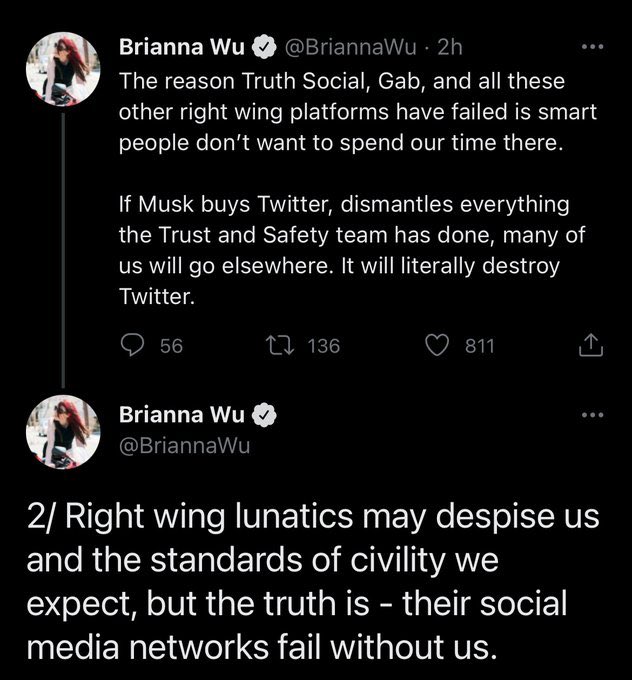 Jeff Bezos, the world's second richest oligarch (after Elon Musk, which must hurt) bought the Washington Post as an ego move, and also to advance his corporate and political interests. He bought the only major newspaper in the nation's capital and it just so happened to turn into a pro-tech-monopolist advocacy rag.
And now his Corporate Newsletter, which still hilariously publishes under the motto "Democracy Dies in Darkness," dares to run this opinion piece screeching that oligarchs must not be allowed to control our channels of communication without ever even noting parenthetically that the world's second-richest monopolist owns the capital city's only major newspaper!
And now David French, who claims to be in favor of free speech, of course argues against free speech:
The Atlantic @TheAtlantic

"It's one thing to change Twitter to make it more fair," @DavidAFrench writes. "It's another thing entirely to change Twitter to make it more toxic."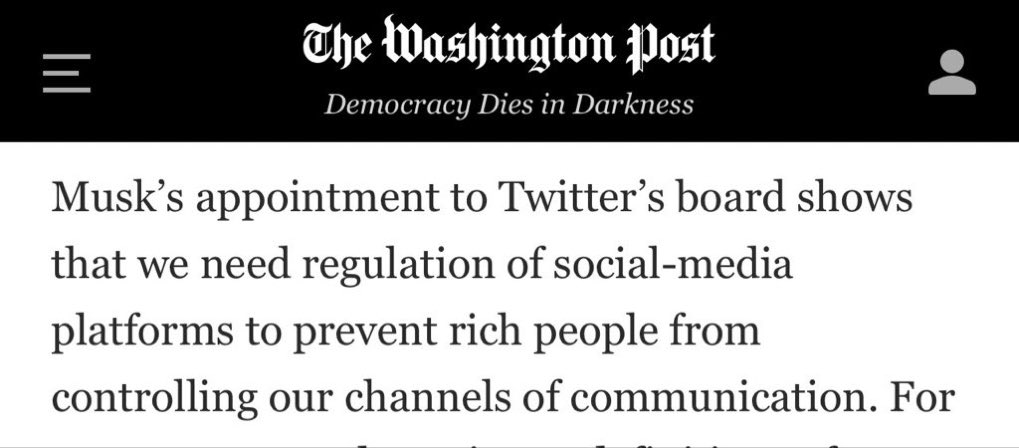 Eric Matheny @EricMMatheny

Bill Gates buying up all the farmland is far more concerning than Elon Musk buying up all of Twitter.

As you know: LibsofTikTok was one of the most effective people in America -- a single-woman operation -- at exposing the true face of corrupt and evil leftism.
So of course The Regime just shut her down.
Remember, the government has issued diktat after diktat that anyone who "harms" "transgender kids" may be in violation of federal law.
And here's Twitter, executing Jen Psaki's personal interpretation of federal civil rights law.

Hey everybody, Russia is bad, the government is corrupt, and the country is controlled by oligarchs who partner up with the evil intelligence and "law enforcement" agencies to harass and brutalize their enemies.
Thank God America is nothing like that, huh? In America the Government Is For the People and corporations aren't allowed to violate citizens' constitutional rights acting as the illegal deputies of government.
Right?
Riiiiiight?
Watch the below videos: Musk gets it.
It's simple, but he gets the critical simple thing: Free speech is when someone you don't like says something you also don't like, and he's allowed to say it, and you don't get to veto that.
There is a Plan B:
I don't know if Plan B would be inviting the public to buy up twitter stocks and then pledge those stocks' voting rights to Elon Musk, as Tucker Carlson suggested a couple of nights ago. Don't worry, you'd still own the stocks. You'd just give him your proxy votes (for whatever period of time you decide) and so he can fire the board and that little foreign fascist weasel Agrawal and put himself or whoever he wants on to the board.
Or maybe he's going to do the Bruce Wayne thing of secretly buying them through a bunch of intermediaries. I don't even know if that's possible or legal. I think he'd probably have to disclose when he hit different thresholds, which would keep escalating the price, making it harder and more expensive.
Or maybe he's thinking of starting a competitor organization.
If he starts a competitor, I'd like to talk to him. These people starting competitor services always get something big wrong right from the jump.