« Stupid Human Tricks Cafe
|
Main
|
Daily Tech News 14 April 2022 »
April 13, 2022
Wednesday Overnight Open Thread (4/13/22)
(Misanthropic Acres)
***
The Quotes of The Day
Quote I

'I look for fresh colors, I smell quality or decay, I taste things to see if they're good.'Theresa Kadish

Not much better than a raccoon.
*
Quote II

"Governor Abbott's unnecessary and redundant inspections of trucks transiting ports of entry between Texas and Mexico are causing significant disruptions to the food and automobile supply chains, delaying manufacturing, impacting jobs, and raising prices for families in Texas and across the country.,"White House Spokesperson Jen Pasaki
A mind is a terrible thing to waste. Dumb box.
*
Quote III

"We see that there's a need for these types of diverse structures in our parks," James Papineau, a project manager
***

She seems nice. But a little light in the checkbook.

A woman is facing an $81,950 fine after she allegedly "spit at, headbutted, bit and tried to kick" flight crew and other passengers while restrained for her unruly behavior aboard a domestic flight last year, the Federal Aviation Administration (FAA) announced Friday. Transportation Secretary Pete Buttigieg spoke about the fine on ABC's The View Friday.

$10.00 says she could kick Mayor Buttplug's ass.
***

Twitter and Face Book can't control Saudi Television. ***SNORT***
***
The surcharge is "subject to change," always up and never down.

Amazon said Wednesday it plans to add a fuel and inflation surcharge of roughly 5% to existing fees it collects from U.S. third-party sellers who use the company's fulfillment services.

The fee will go into effect in about two weeks, and is "subject to change," the company said in a notice to sellers that was viewed by CNBC.

"The surcharge will apply to all product types, such as non-apparel, apparel, dangerous goods, and Small and Light items," the notice stated. "The surcharge will apply to all units shipped from fulfillment centers starting April 28."
***

Language warning: Paul Joseph Watson
***

As my colleague CBD so eleoquently stated in the current CJN podcast, Ukraine is a corrupt cesspool.

Clinton/Soros 'Anti-Corruption' Unit Head In Ukraine Fired – Admitted On Tape Working Against Trump

I met with Artem Sytnyk in 2015 as the new head of the Ukrainian 'National Anti-Corruption Bureau' (NABU) in Kyiv. At the time I was a national security columnist for The Washington Times.

Sytnyk gave me a song and dance about fighting corruption in Ukraine.
***

And the Roman Polanski award goes to....................Game of Thrones actor Joseph Gatt

BEHIND BARS Game of Thrones actor Joseph Gatt, 50, arrested after he's accused of 'sex crimes against minors'

GAME of Thrones actor Joseph Gatt was arrested last week for allegedly having sexually explicit correspondences with a minor online.

He was taken in on April 6 in Los Angeles after cops showed up at his home with a search warrant.
***

The Kung Flu pandemic revealed how many "Karens" there are in the world. Now "Karens" can play informant on the highways.


NEW SPEEDCAM APP LETS ANYONE, ANYWHERE SUBMIT EVIDENCE OF DRIVERS SPEEDING


A new app will allow any member of the public to submit evidence of other drivers speeding to the police.

Using AI to estimate the speed of a passing car, Speedcam Anywhere, has been created by a team of AI scientists with backgrounds in Silicon Valley companies and top UK universities, reports the Guardian.

The hope is it will encourage police to take speeding more seriously while enabling residents, pedestrians and cyclists to document traffic crimes in their area.
Messing around with a wireless device while driving........Hell that's more dangerous than speeding.
***

But will they accept a small town white male and/or female Christian conservative? Why am I wasting my breath?
Illinois State University (ISU) recently announced that it will be spending $4.5 million to create a Faculty Diversity Enhancement Program.

The seven-year program includes fives years dedicated to new faculty recruitment, all supported by "university general revenue funds, funds from the Office of the Provost, and matching funds from departments, schools, and colleges," ISU states on its website.

This effort is aimed at boosting diversity, equity, and inclusion at ISU. Accordingly, the university states that "[f]aculty who are a part of this program will advance teaching, scholarly, and creative productivity" in numerous fields, which include "driving social change" and "diversifying disciplinary fields."
Diversity isn't diverse.
***
I hope you enjoy My Planet My Rules as much as I do. If not skip it and go onto the next link.

Dear I.R.S. : YOU SUCK!
"Congresspersons are too busy raising campaign money to read the tax laws they pass. The laws are written by staff tax nerds who can put pretty much any wording they want in there. I bet that if you actually read the entire vastness of the U.S. Tax Code, you'd find at least one sex scene..." -- Dave Barry

American government is dysfunctional: this is not a secret. Even the most-clueless person will eventually bump up against some stupid, petty federal regulation, usually through no fault of their own, and then find that their "crime" is little more than the bureaucratic result of some poorly-trained, unionized, unmotivated clerk, who misfiled the required paperwork sometime between her 11:45 coffee break and 12:00 lunch hour.

(It is almost always a "her", though far be it from me to misgender a government-issue twit).

The Overlords have had a great deal of experience in dealing with Uncle Sam's moronic minions over the years, primarily because of Mrs. Overlord's physical disability, and I can say with complete and utter confidence that the two WORST-(non)functioning tentacles of the Fed'ral Kraken are, beyond doubt, the Social Security regime (which is hardly social, and apparently, the security part is subjective), and the Granddaddy of Ineffectuality, the Internal Fucking Revenue Fucking Service.

Since I completely agree with his sentiments towards the IRS I guess that makes us co-conspirators.
***

Is it really easier to ask for forgiveness rather than permission?

An English millionaire who notoriously built the "UK's biggest man cave" in his backyard without planning permission, is now trying to prevent it from being torn down by buying up properties around it.

After an eight-year battle, millionaire businessman Graham Wildin was ordered to tear down the enormous man-cave complex on his property in Gloucestershire, but he has failed to do that. The 10,000sq/ft facility, which included a cinema, squash court, small casino and bowling alley, has now become the center of a fortress created by acquiring the properties around it, in an alleged attempt to stop the council from forcefully tearing it down. Although the deadline to level the luxurious man cave passed a month ago, the entire complex still stands.

See Fabulous Mrs. Mis. Hum. my Misanthrope's World isn't so big and opulent after all.
***
The ONT Musical Interlude & Headphones Emporium
Born on this day: April 13, 1945 - Lowell George
American songwriter, multi-instrumentalist, and record producer, Lowell George from Little Feat who had two Top 40 albums during the 70s. Their best-known songs are 'Dixie Chicken' and 'Sailin Shoes'. George was once a member of Frank Zappa's Mothers Of Invention. Lowell died from a heart attack on 29th June 1979. via thisdayinmusic.com
&&&
Born on this day: April 13, 1966 - Marc Ford
Marc Ford, American blues-rock guitarist with The Black Crowes who had the 1991 hit single 'Hard To Handle' and the 1992 US No.1 & UK No.2 album The Southern Harmony And Musical Companion. The band have sold more than 30 million albums. via thisdayinmusic.com
***

Does math equate to seeing double? Genius Award Winner.

Indiana substitute teacher allegedly came to school with blood-alcohol content above 0.1%


A substitute teacher was recently arrested after allegedly coming to school intoxicated.

According to an arrest report from the Marion Police Department, Shawn Spitler was arrested April 7 at approximately 1:43 p.m. An off-duty police officer from the Marion Police Department was reportedly working security at Kendall Elementary School when the principal asked the officer to check on Spitler.

According to a police report cited by WANE-TV, the officer detected a "strong odor of an alcoholic beverage emitting from his breath." He was allegedly visibly intoxicated, and according to the report, Spitler "exhibited other signs of impairment."
***

A gutsy move in today's climate. But the right move. Tonight's Feel Good Story of The Day.

Chilling Video Shows Man Assaulting Teen Girl, Bystander Taking Him Down: 'I Just Did What I Thought Was Right'

Chilling surveillance camera footage captured the scene of a man randomly assaulting an 18-year-old female who was talking on her phone, while alone in downtown Phoenix.
***

Now a Feel Good Video..................
***

Tonight's ONT has been brought to you by OSB Pool Accessories.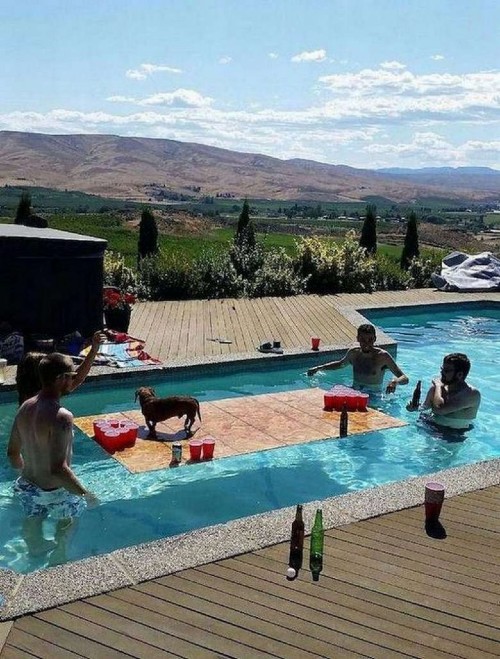 Notice: Posted with permission by the Ace Media Empire, AceCorp, LLC. and Mis. Hum. Enterprises.


posted by Misanthropic Humanitarian at
09:46 PM
|
Access Comments