« Saturday Gardening, Puttering and Adventure Thread, April 16
|
Main
|
Weekend Hobby & Bodging Thread »
April 16, 2022
Ace of Spades Pet Thread, April 16
* * *
Good afternoon and welcome to the thread made almost world famous by Misanthropic Humanitarian and The Horde -- the Ace of Spades Pet Thread.
Thanks for stopping by. Kick back and enjoy the world of animals.
Reminder: For current events and politics, the Thread before the Gardening Thread (a couple of threads below) is almost always an Open Thread.
Above, a cat who knows her place. Below, a dog who knows he may need to take a different approach: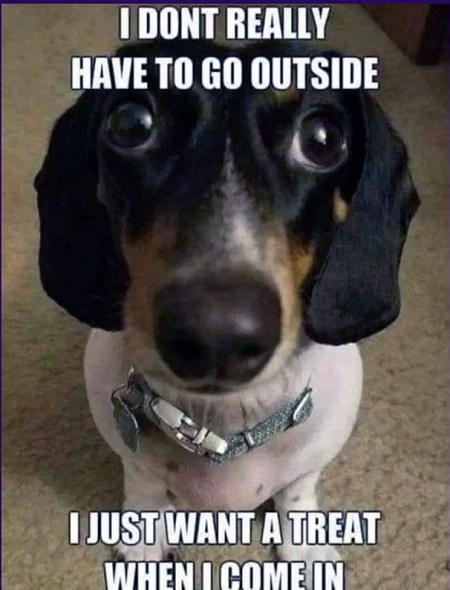 * * *
A Pet Making a Difference
It's one thing for cats and dogs to get along with each other. It's another thing for stray cats to seek out a particular dog. Mark J sent in this remarkable video about a remarkable dog. Her owner was her first rescue . . .
There are other "dogs with jobs" after 9:22 on the video.
* * *
The Almost World Famous AoS Pet Thread
Well, it's a slightly new era with Misanthropic Humanitarian moving to emeritus status as host for the Ace of Spades Pet Thread. He will be missed as the regular host here, but you can still catch his distinctive touch as a host on Saturdays at the Saturday Morning Coffee Break, the Saturday Overnight Thread and now on alternate Saturdays at the Weekend Hobby Thread. He is also a big presence here during the rest of the week. So he's not exactly riding off into the sunset. He's just back to two or three threads on Saturdays. What a busy man! Hard to imagine this site without him. Thanks for the help to other cobloggers, too, MisHum!
If you are surprised to see K.T. hosting this thread, you are not alone. We have pets, but I am not exactly a pet expert. In fact, I came quite late to the dog-owning phase of my life. And most of our dogs have sort of chosen us out of desperation. Sort of like most of our cats. So, like I said, I'm not exactly an expert. Pet questions should be directed to The Horde, not to me.
It occurs to me that the Gardening, Pet and Hobby threads on Saturday all share common themes of:
(1) connecting with nature and its inhabitants - sometimes including even people - and/or
(2) learning to do things.
We have a lot of talented and experienced people in The Horde. I learn some remarkable things here by reading the comments.
One thing you may see from time to time on the Pet Thread going forward is a little whimsical overlap with the Gardening, Puttering and Adventure Thread. For example, we have a Swiss Garden and Adventure Guide Dog for that thread. Her name is Gioia. There is a little story involving her in the Gardening thread below. Here are a couple of personal photos of Gioia after she got through the big tunnel from the German section to the Italian section of Switzerland on her little vacation:
Walking in the lake near Figino: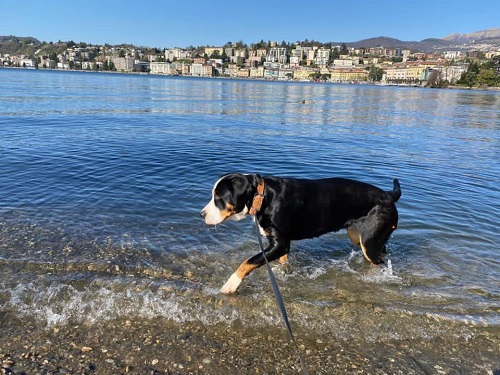 And here, playing with her Italian-Swiss friend Bella. Gioia was not this big when Bella first met her, but they still seem to love each other. Bella sort of reminds me of some of the dogs in ancient Roman art. How about you?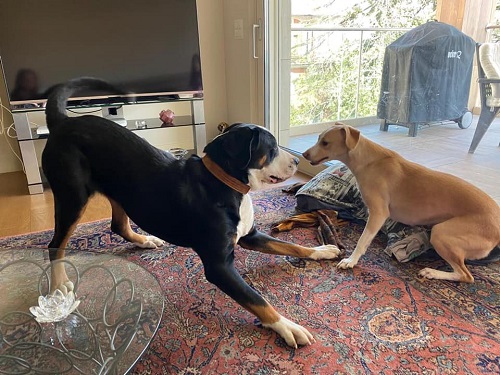 * * *
We do not have a Latin American Gardening and Adventure Guide Dog so far, but we do have a kitty friend in Guatemala. She is an indoor kitty, so she only provides moral support for the adventures taken by her humans (coming up: hiking a 13,000 foot volcano). But she recently slipped out of the house, causing a great deal of anxiety. Her name is Lita. Poster was created by friends: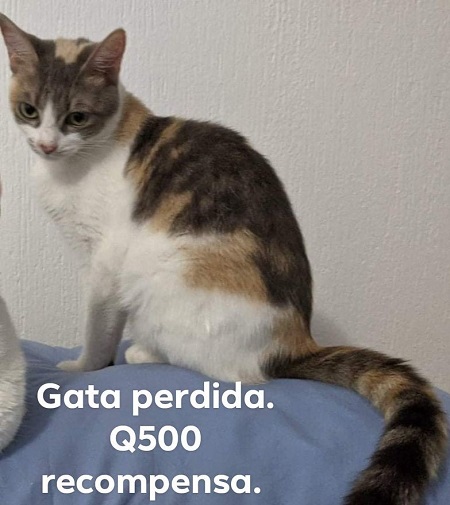 She came back. Those calicos!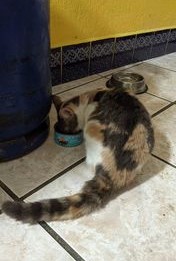 Meet The PetMorons
* * *
Here's a submission with kind of a Passover/Easter feeling regarding the precious nature of life, perfect for this weekend: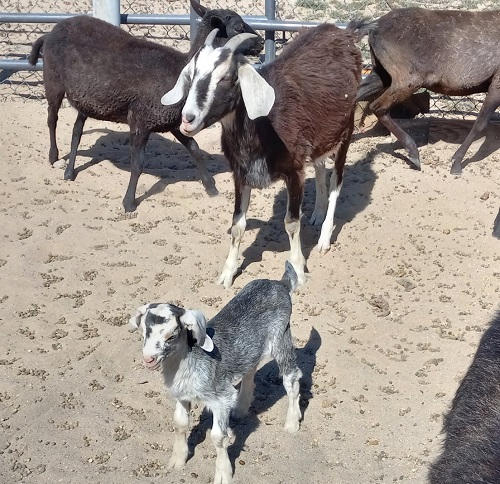 This is "Little Kid", a Nubian goat born on April 1 on a friend's ranch in SoCal. My friend is new to sheep/goat raising and as I just happened to be visiting, I was lucky enough to help when it became obvious a few hours after Little Kid's birth that she was clueless about where and how she was supposed to get started with nursing. She would stand next to her Mom but make no effort to latch on and start drinking. We called another ranch and described the situation and they said Little Kid is probably a preemie and we'd have to bottle feed her until she got the hang of things.

I was terrified for the little one because she seemed so tiny and fragile, but we got to work. We roped the Mom and tied her feet and milked her manually (phrasing!) into 4 baby bottles I bought at the local 7-11. For the next 48 hours, every 6 hours, I would grab Little Kid and hold her and feed her from the bottle while she wailed in that creepy "sounds like a human baby" cry that baby goats do, until she was full, and then I'd pop her back into her pen with Mom.

After two exhausting days, Little Kid finally connected the smell of bottle milk with the smell her Mom was giving off, and she marched right up to Mom and started nursing properly. She is growing nicely now and seems healthy and happy in the pen with all her many goat buddies, but she is still very little and I worry about her a lot.

I've had dogs and cats before as pets but I've never had an experience like this before. It was scary and heartwarming and it reaffirmed for me that God's creation is a miraculous wonder, and that I had a responsibility to help out His amazing critters when I had the chance.

Anyway, that's the story of Little Kid, and how she learned how to drink hearty and often! She's a cute little thing with big floppy Nubian goat ears and big knobby knees! I think she's definitely a Moron.

Sharkman
What a great story! You learned fast how to help in that scary situation. I love the your observations about the experience.
Little Kid is endearing. Glad she made it through that initial crisis! We're pulling for her to continue growing into a happy and healthy goat.
* * *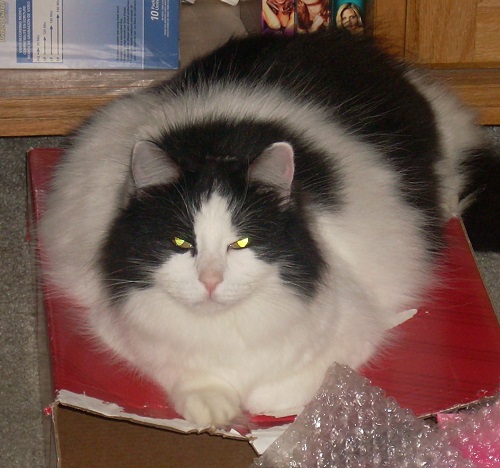 &&&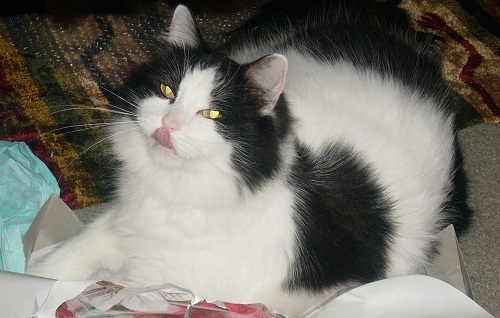 2 pics and a memorial for my late cat Chekov, aka Chekov D. Siberian, Damn Cat, Thug One, and Lampkiller. Over the last 7 months AoS readers have heard about him as Chekov the Ailing Codger Cat. He's no longer ailing or concerned with pain or aging in any way; RIP 3/24/22, age 14.5, 12 of those years with me.

I adopted him when his predecessor and aunt, Tatiana the Wonder Siberian, passed away young of heart issues. At the breeder that day, Chekov and his brown tabby father both came up to me to make friends, and Chekov nipped me gently -- which I hate. But I selected him anyway. For our first year together, he and I were not close. He seemed to be just tolerating me, and I began to wonder if I'd made a mistake. Then I brought in the big black Wolf cat. They made friends in an hour, and suddenly both he and I could relax -- I had a cat who liked my company, Chekov had a buddy of his own species. Soon Chekov was sitting on a cushion on my lap several times a night -- it became Our Routine, even in the morning as I sipped my coffee. Miss Linda adored him, nipping or no nipping, as did I.

Then, after his 14th birthday, we bugged out for Hurricane Ida to Birmingham, and Chekov went into a kind of shock. He hid behind the hotel bed and barely ate. Veterinarians could not find anything wrong. For 6 months he bounced back and forth under palliative treatment, rallying and then slipping into a decline again, unable to walk without effort, unable to jump up at all.

Finally we knew it was time: He was losing weight rapidly and spending most of his time sleeping or torpid. We arranged for a local mobile vet to come and administer the last shot. The whole thing went as easily as I could have hoped. Chekov slid into the Long Sleep: a bushy-tailed baby panda lookalike who proved to be as tough as a Marine drill sergeant.

His brass plate on the box with his ashes reads, "Brother to Wolf, Bringer of Joy." And now my place seems dulled and deadened, like trying to play a piano stuffed with a heavy wool blanket.

I'll miss him.

Wolfus Aurelius
What a beautiful memorial to a truly distinctive cat you put on that brass plate. He really has a presence in those photos. Checkov looks like he had his own ideas about what to do with Christmas wrappings, too.
Many readers here have felt a small portion of your anxiety and grief from Checkov's health issues over the past several months, and from his decline and final days. Hope that sharing your memorial here helps to lift that dull and deadened feeling that still lingers. We will remember him, too.
* * *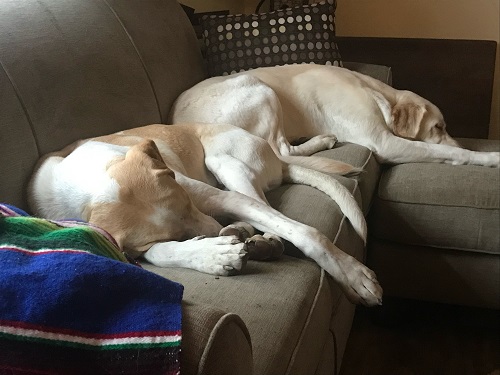 Jack and Winston would like to thank Mom for the new couch, but . . . it's naptime.

John
Jack and Winston are beautiful dogs. They look almost luminous in that photo.
They certainly look like they appreciate the new couch. Maybe they will get around to thanking Mom later.
* * *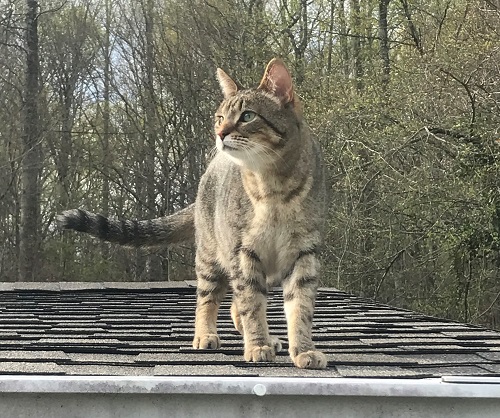 Our cat Frog and her rather annoying habit of surveilling the grounds from the roof.

In addition to the hunting vantage point for birds and rodents, it also affords her protection from the barn cats, who like to smack her around when they have the chance.

The only thing she has to fear now is Rooftop Koreans.

Bitter Clinger
"Frog" is an interesting name for a rooftop cat! But Frog looks ready for anything! Great photo!
* * *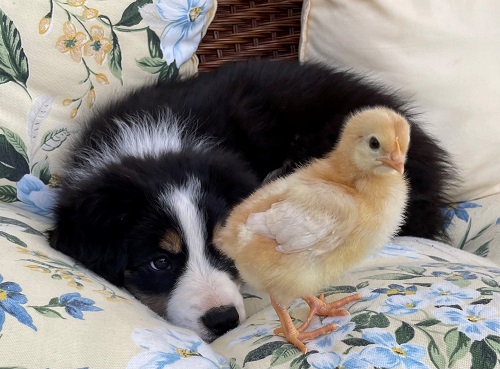 This is The Tepes, so named because he will bite your neck and impale you with a stick. He's an 8-week old Border Collie who has become the terror of Yeti Dog, destructor of socks, and howler of the night. No interest in the chickens, though.

We love him to mush, and we've only had him 24 hours.

Euro, no longer in eu
The Tepes? Well, he must have me entranced, because I did not recognize the danger he poses . . .
Seriously, though, puppy teeth CAN be awfully sharp. I have a fair amount of confidence that he will stop biting your neck before it is too late, however. You might not want to give him any more sticks capable of impaling people as he gets bigger. Here are some non-wooden substitutes that may get you started on your search for alternatives. Yeti Dog might like one, too, dealing with a new puppy and all. Fun photos of dogs with real sticks if you scroll down, before the dog toy test results.
The Tepes is absolutely charming. It is understandable that you would love him to mush. The chick is cute, too.
* * *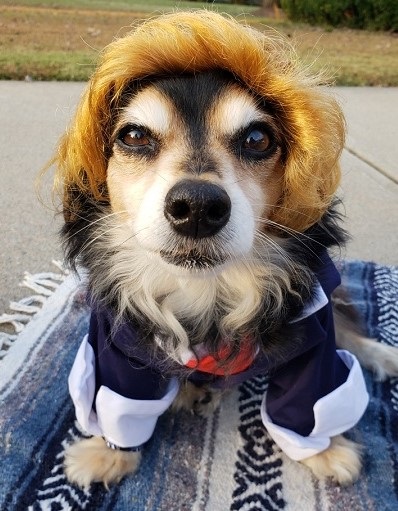 &&&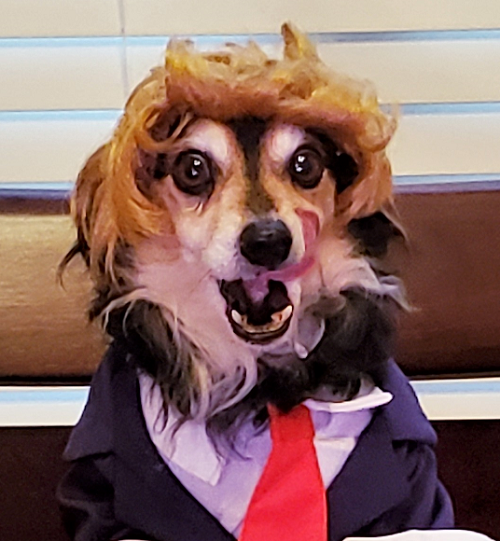 Leonard does a totally wonderful and amazing job portraying 45.

Scott
Totally wonderful and amazing! I have a suspicion that Leonard may be totally wonderful and amazing as a regular dog, too.
* * *

What a heart-warming bunch of PetMorons, past and present, today. Thank you all for sharing your pets with us.
If you would like to send pet and/or animal stories, links, etc. for the Ace of Spades Pet Thread, the address is:

petmorons at protonmail dot com

Remember to include the nic or name by which you wish to be known at AoSHQ, or let us know if you want to remain a lurker.
Until next Saturday, have a great week!

posted by K.T. at
03:00 PM
|
Access Comments