« Ace of Spades Pet Thread, April 16
|
Main
|
The Day I Turned 29 [Pete Bog] »
April 16, 2022
Weekend Hobby & Bodging Thread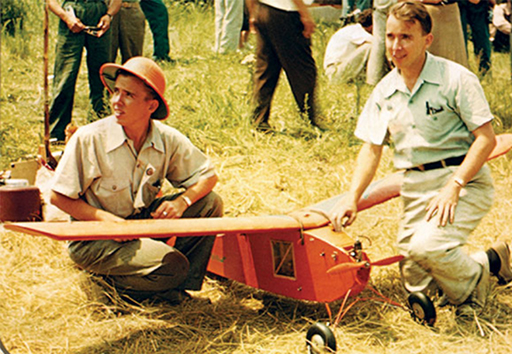 Good afternoon, gang. Time once again to head to the basement, craft room, studio, garage, workshop or wherever it is that you can make a mess and have some fun being creative. Here we go.
Photo: Twin brothers Walt and Bill Good, shown here at the 1940 Nationals with their groundbreaking (sky breaking?) "Big Guff," which three years earlier became the first radio controlled model airplane to successfully fly. And the rest is history!

Happy Passover and Easter Greetings to you all.
Speaking of model airplanes, let's start off with modeler Mark Robinson as he walks you through his techniques for scratch building from plans. This is the second in a two-part series; part 1 was all about choosing and reading the plans.

Next, Adam Savage of the old Mythbusters fame who takes us through the process of creating a papier mache mask. Lots of good tips on sculpting the master, creating a plaster mold and then making and finishing the mask. And his shop is insane!

Ian Roberts is a painter and instructor who, if painting is your thing, is someone whose channel you should bookmark. This video alone will really help you focus on both composition as well as execution in creating IMHO more effective paintings.

How about building a midcentury modern style record cabinet out of plywood? At first I cringed when he put the stain on the plywood but it came out way better than I thought it would. Very talented woodworker. Check out his other projects.

I've featured Norm Charbonneau and his stunning 3-rail O layout before. In this video, he does some upgrades and tune ups to a Lionel Pennsy S1 articulated. The design of the prototype is perhaps the ultimate expression of Art Deco industrial design. This guy must make some serious bucks to have a layout and rolling stock collection like this. If the electronics are out of your league (like me), watching this beauty pull a train at speed is well worth sticking with it.

Well, the music is a bit annoying but this is a very good overview of the steps in building a model ship from scratch. In this instance it's the Black Pearl from Pirates of the Caribbean. Yeah, I know. But ignore that aspect and dig the modeling.
Lastly, for pottery enthusiasts, here's a selection of various ideas and techniques that will fire your imagination.

posted by J.J. Sefton at
05:00 PM
|
Access Comments