« Passover and Easter Saturday! Thread before the Gardening Thread
|
Main
|
Ace of Spades Pet Thread, April 16 »
April 16, 2022
Saturday Gardening, Puttering and Adventure Thread, April 16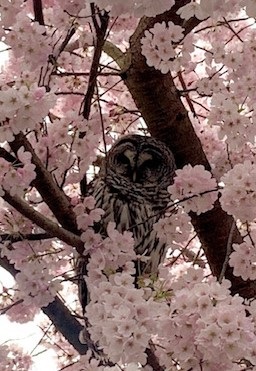 Happy Easter or Passover Weekend, everybody! Things are getting more spring-like in many parts of the world, at least part of the time. We are receiving some interesting photos and ideas in from The Horde, even some ideas for home production of food.
Don't you love the photo above?
Hiya, kt!

So I was off on a walk a couple weekends ago and made a detour off the beach to go see a huge cherry tree in full bloom.

As I was admiring the blossoms, I noticed this friendly fellow looking back at me! Of course I said hello and we had quite a little chat before I was along my merry way. Thank you for the gardening and critter thread!

nurse ratched
That great photo reminded me of this:
Photo Art, Japan
a friend of a friend did the photo art for this poster advertising an event at a gallery in Osaka. Dreamy. They take cherry blossoms seriously in Japan.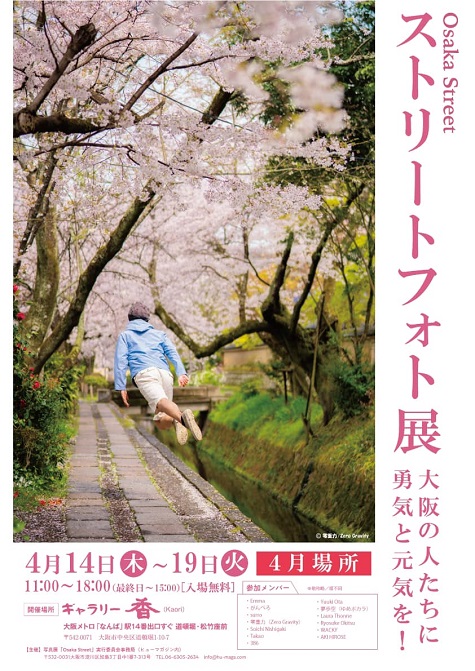 Wildflowers
Kindltot send in some wildflower photos. We only have room for a couple today. More to come later:
Spring means the lilies are blooming in the woods . .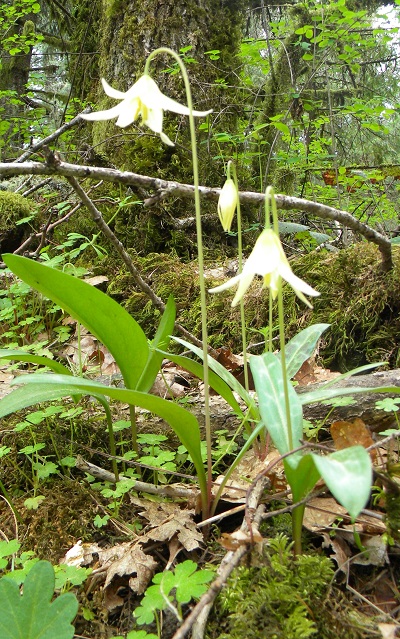 The thing that surprised me was that I found a Calypso orchid blooming too. Oregon has an amazing number of boring orchids. They are generally tiny boring white or green flowers, but the Calypso is the pretty one. It is tiny - the flower stem is about as long as my middle finger.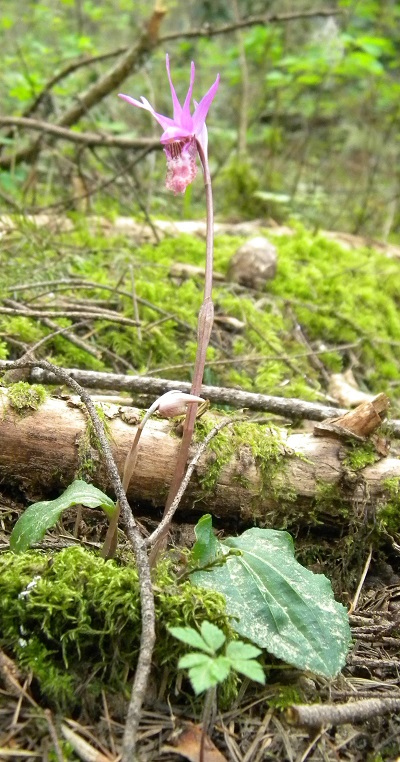 Beautiful flowers, so delicate!
Easter, Eggs, Chickens
Got guests coming?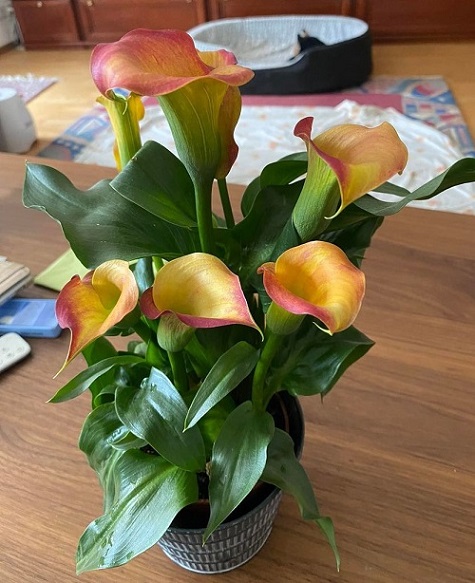 An almost-Easter Lily (Calla lily (Zantedeschia)
Our neighbor across the street gave us some eggs just in time for Easter. Three are gone already. They are better than supermarket eggs. Shown here on our culinary rosemary plant.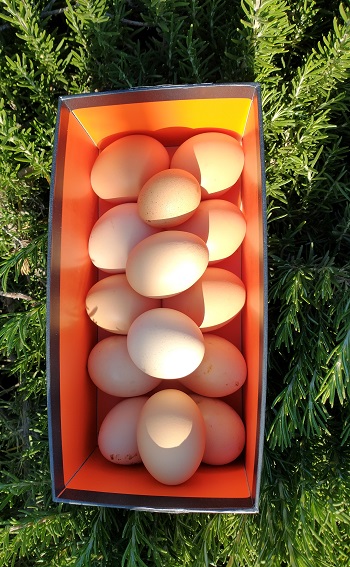 Our neighbor used to keep a rooster or two as well, but not now. His fencing is more secure now, too. His chickens don't visit us anymore. This was the last visit we got from one of his roosters.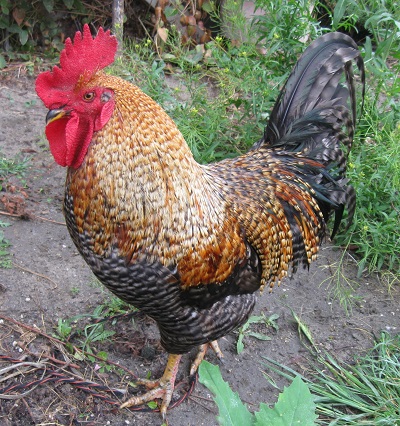 Know anybody who is into fancy chickens? This is Bob Marley, a feisty Polish rooster.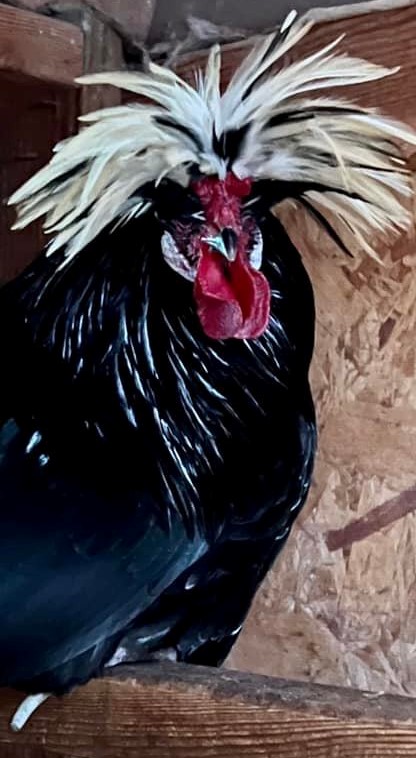 He belongs to the woman who did this video, potato salad with farm-fresh eggs. The video is a little long in a neighborly sort of way, but the recipe seems good. Especially if you have chickens or leftover Easter eggs. Of course, everyone has their own opinion about potato salad ingredients. What's your favorite kind?

Here's an interesting roundup of books on Chicken Portraiture. The antagonistic chickens are really antagonistic. The glamour shots are really glamourous. h/t David Thompson
No farm where you can house chickens? Here's an idea:
UFO chicken spaceship coop directions
If you are more into fresh spring peas and new potatoes for Easter than potato salad with eggs, By-Tor has a couple of ideas for using some of those leftover Easter eggs:
This is one of those things people turn their nose up at but might like if they tried it. I have eaten beet juice pickled eggs all my life but I tried this recipe and it's just as good. And there are a ton of variations. Start with a brine ratio of 1 water 1 vinegar and .5 sugar. Adjust to your liking. So for example 1C water, 1 cup vinegar and 1/2 cup sugar. Add salt if you like. I didnt. You'd be fine if that is all you used but I added pickling spices, garlic and jalepeno. You could do tumeric, curry, no sugar and dill...variations are endless. leave in the fridge for a couple of days then eat. They will last 4 months or so in the fridge but they will be gone long before that. Don't throw out the brine- just add more eggs to the jar.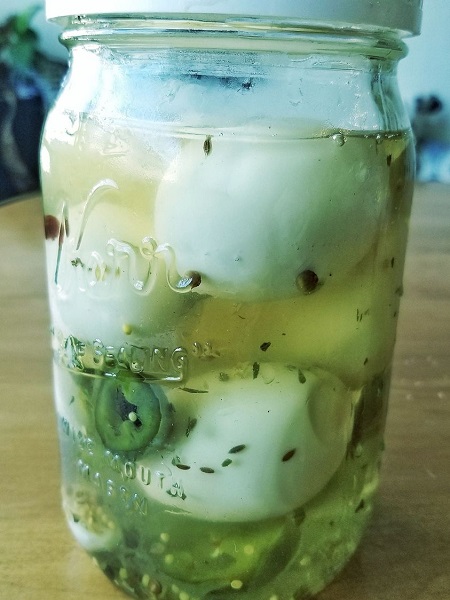 The kind with beet juice might cover up traces of egg dye on leftover Easter eggs.
From a commenter:
Pickling is stupid easy and fun. Add a bunch of jalapeno and habanero peppers to the jar and enjoy those after the eggs are long gone.
And here's an egg salad sandwich with (purchased) designer bread from a friend and homemade fermented dill pickles. More on those later.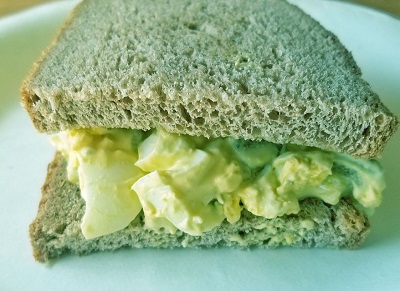 Passover Foods from the Garden
I have been told that romaine lettuce qualifies as one of the "bitter herbs". Especially the roots. Where you gonna get lettuce roots if you don't grown your own? Here is some growing in the bottom halves of supermarket barbecued chicken containers with holes poked in the bottom. The clear tops of the containers, with holes punched in them, were left on until the plants sprouted unless it got really warm during the day.
Some of the plants in front were cut off more than an inch above the soil line to give them a chance to re-grow. So no, those plants were not used for Passover.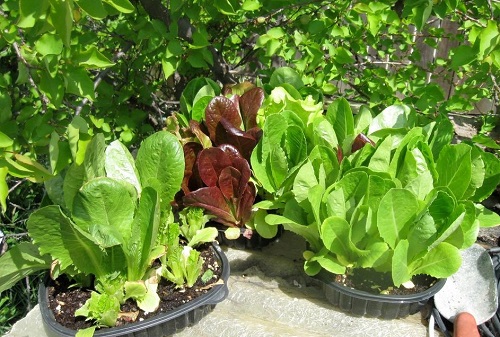 And here's a planter with several edibles, which looked better a week or two before this photo. Winter was over. The escarole and parsley were starting to bolt. I think that Escarole (endive) makes the list of "bitter herbs". And parsley is used elsewhere on the Seder plate. I don't think the violas are traditional.
ESCAROLE 'En Cornet de Bordeaux', DILL 'Bouquet', PARSLEY 'Giant Italian' (Prezzemolo Gigante d'Italia), KALE 'Red Russian', VIOLA 'Sorbet Orange Duet'.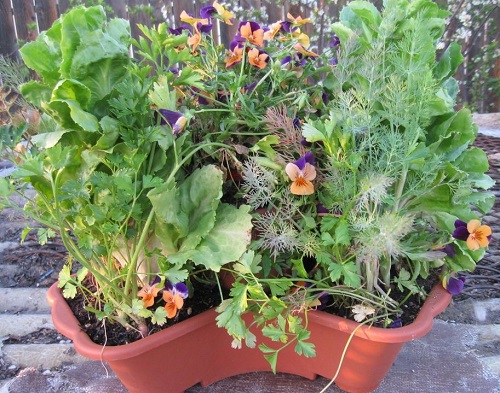 Weather
Things like this seem to be happening in a lot of places.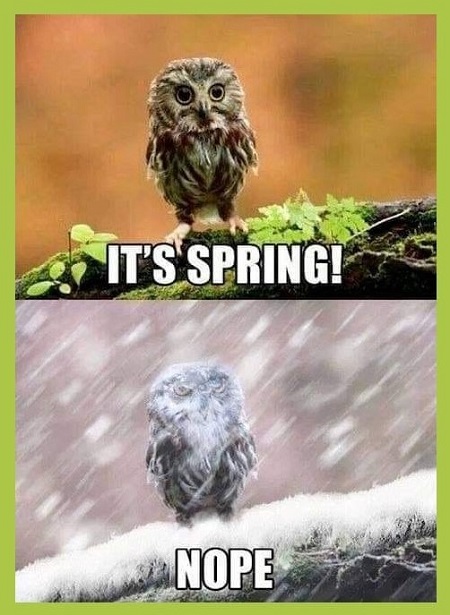 But what about wind?
Tumbleweeds take over neighborhood
Is your weather garden-friendly?
Weather in Switzerland
Early last week, there were signs of spring around Zurich, where our Swiss Gardening and Adventure Guide Dog, Gioia, lives. I'm not sure what this shrub is. It has trumpet-shaped blooms, scalloped at the edges. Got any ideas?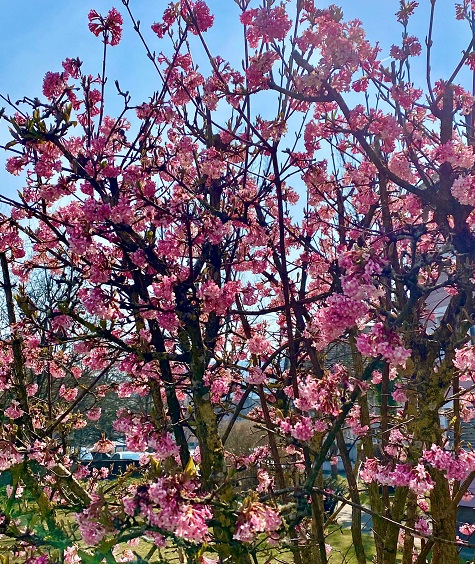 Then winter returned, spoiling lots of blossoms. Drat. Gioia agreed with her humans that it was time to visit Lugano.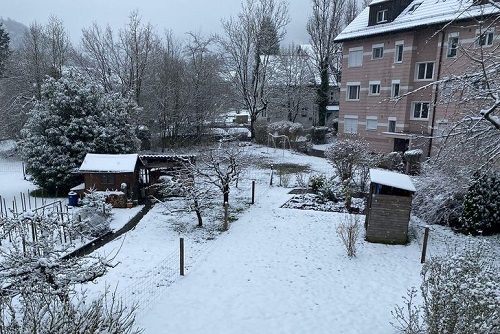 Ahhh, Lugano.
Tulips along the lake in Lugano
But this week, it has warmed up back at home, too. Here is Gioia waiting among the lawn daisies and dandelions for her rhododendrons to open. There are a couple more shots of Gioia on vacation in the Pet Thread, doing dog stuff.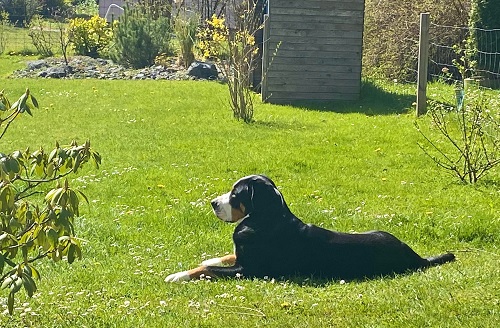 And here are some Bleeding Hearts, already blooming: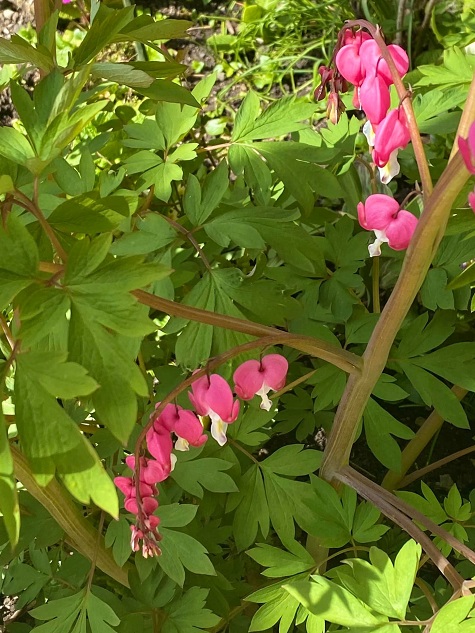 If you would like to send photos, stories, links, etc. for the Saturday Gardening, Puttering and Adventure Thread, the address is:
ktinthegarden at g mail dot com
Remember to include the nic or name by which you wish to be known at AoSHQ, or let us know if you want to remain a lurker.
Oh, and a little reminder from Dr_No about your seed-starting and indoor gardening endeavors: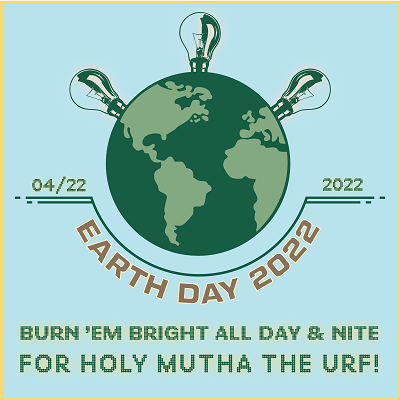 posted by K.T. at
01:16 PM
|
Access Comments