« Saturday Morning Coffee Break & Prayer Revival
|
Main
|
Saturday Gardening, Puttering and Adventure Thread, April 16 »
April 16, 2022
Passover and Easter Saturday! Thread before the Gardening Thread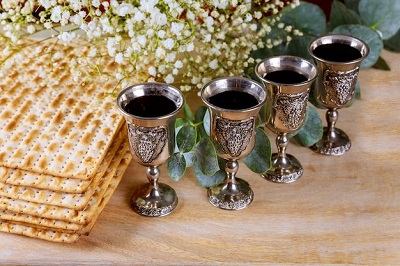 What were our observant Jewish friends doing last night?
I am assuming that all the firstborn among them made it through the night.
Happy Passover or Easter Saturday!
Things are crazy out there. I thought that for a little while, we might try getting away from the immediate with some old stuff - stories, quotes and music that remind us that the current craziness does not represent the total sum of existence. Except for this. The brain trust takes Elon Musk to the movies.
Now, back to more timeless themes. Starting with the Jews and Passover. Here's Dennis Prager, explaining in a short video the meaning of the statement below: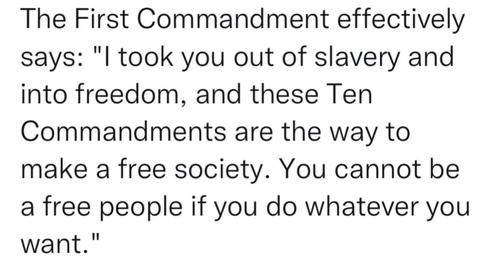 * * * * *
I have had a hard time finding Passover music that I understand. But I get this. Don't give up too soon. I know they're kind of nerd-ish. But they don't need Auto-Tune.
* * * * *

Here's a different thought: Were there Jews who had something in common with Lot's wife? Jews who didn't leave Egypt?
his weekend, millions of people will sit around Seder tables and memorialize the exodus of the Jews from Egypt.

Guided by the Haggadah, or Passover text--one of the most popular Jewish books ever written--Seder participants are led along in a series of prayers, texts, and activities. We talk and talk and talk about the miracle of liberation; we parse the details of its unfolding, enumerating the many miracles involved; we go over whether we are supposed to commemorate the blessing of freedom only in this life or also in the next one; we assert in words and song the gratitude we feel for being the lucky descendants of those who escaped from slavery.

One thing we do not generally discuss, however, are the Jews who didn't leave.
"Now when Pharaoh let the people go, God did not lead them by way of the land of the Philistines, although it was nearer; for God said, 'The people may have a change of heart when they see war, and return to Egypt,'" states Exodus 13:17. But it is in the next sentence that a mystery emerges: "So God led the people round about, by way of the wilderness at the Sea of Reeds. Now the Israelites went up chamushim out of the land of Egypt."

Wait--what? The Jews went out of Egypt how? What does "chamushim" mean? It is generally translated as "armed," but nearly all commentaries note that its definition is, in fact, uncertain.

Into this breach arrives the legendary medieval Torah commentator Rashi, with a startling assertion. After acknowledging the "armed" option, Rashi offers, with casual sangfroid, another idea: That "chamushim" relates to the Hebrew word for five, and the text should be understood to be saying that only one-fifth of the Jewish people chose to leave Egypt. . .

This interpretation did not sit well with some scholars . . .
But Shemot Rabbah finds Rashi's explanation perfectly reasonable, and even adds to it: "There were sinners among the Jews who had Egyptian patrons, and they had wealth and honor there, [so] they didn't want to leave." In other words, they liked the good life in Egypt.

This, of course, flies in the face of what is commonly understood to be the definition of slavery. Jews who stayed behind were not inexplicably choosing a life of torture; they simply did not want to give up on the comforts of the life they knew. In the later words of Rav Yehuda Henkin, they were "disinclined to trade flesh-pots for freedom."

I've been thinking a lot about these Jews lately.

I think about them when people refuse to accept that beloved blue-chip organizations--the ACLU, the ADL, Human Rights Watch, Amnesty International--no longer fight for their own founding values. . . .

Read the whole thing. What do you think?
* * * * *
A Christian Redemption Story for Easter
From Angola Prison. A good storyteller makes a difference.
"The Farm"

The first time I saw the inside of a prison was in 1999; I was 16. I hadn't knocked over a fruit stand or been caught stealing hubcaps, I was just an unsuspecting teenager playing piano for a Louisiana gospel group.

One Wednesday evening in October, my pastor and leader of the band gathered us up after prayer meeting and told us we had been invited to come sing at Angola, the Louisiana State Penitentiary. We were all wide-eyed and slack-jawed."

The Farm," as it was known to most, had a long reputation of being not only the largest, but also the bloodiest prison in America. For those of us who had grown up hearing stories, this was like bein invited to sing in the Roman Colosseum with ribeyes tied around our necks. . .
* * * * *
G.K. Chesterton (1874 - 1936)
An unusual, kind of quirky man who had an impact on how a lot of Christians think. He did radio programs for the BBC. His wife and secretary accompanied him, which likely helped him avoid getting lost on the way to the radio station.
Reminder: Save those physical classic books!
* * * * *
GKC Quotes:
Every great literature has always been allegorical, allegorical of some view of the whole universe. The Iliad is only great because all life is a battle, the Odyssey because all life is a journey, the Book of Job because all life is a riddle.
* * * * *
Modern people, especially urban people, think that anything which has got itself printed has somehow passed an examination and received a diploma; has somehow, in fact, shown itself to be true.
* * * * *
The whole point of the Christian theory is that pain is so real that even God Himself could experience it.
* * * * *
The whole secret of mysticism is this: that man can understand everything by the help of what he does not understand. The morbid logician seeks to make everything lucid, and succeeds in making everything mysterious. The mystic allows one thing to be mysterious, and everything else becomes lucid.
* * * * *
To love anything is to love its boundaries.
* * * * *
So far from it being self-evident to the modern mind that men are created equal, it is not self-evident that men are created, or even that men are men.
* * * * *
The fairy tales said that the prince and princess lived happily ever afterwards: and so they did. They lived happily, although it is very likely that from time to time they threw the furniture at each other.
* * * * *

Repeating some great Easter music
BBC had some music suggestions. Here's one:
Nikolay Rimsky-Korsakov: Russian Easter Festival Overture

This 1888 overture is named for the Svetliy prazdnik or 'Bright holiday', as Easter is known in Russia.

An avowed atheist, Rimsky-Korsakov wrote that he wanted to capture 'the transition from the solemnity and mystery of the evening of Passion Saturday to the unbridled pagan-religious celebrations of Easter Sunday morning'. The piece paints vividly the explosion of light and colour at the end of a long, hard Russian winter.

Religious and pagan themes are entwined at the very heart of the work: Rimsky-Korsakov borrowed themes from the Obikhod, a collection of Orthodox chants that since 1848 had been a mandatory part of the liturgy for every church in Russia.

These austere motifs shine through the wild textures of the orchestra, no more so than at 8'35 when a solo tenor trombone ('a piena voce') evokes the chanting of a priest.
Handel:
More Handel
Do you have a favorite piece of Easter music? Passover music?

Hope you have something nice planned for this weekend.
This is the Thread before the Gardening Thread.
Serving your mid-day open thread needs

posted by K.T. at
11:20 AM
|
Access Comments