« Expert Thinking
|
Main
|
The Ace of Spades Pet Thread »
April 09, 2022
Saturday Gardening, Puttering and Adventure Thread, April 9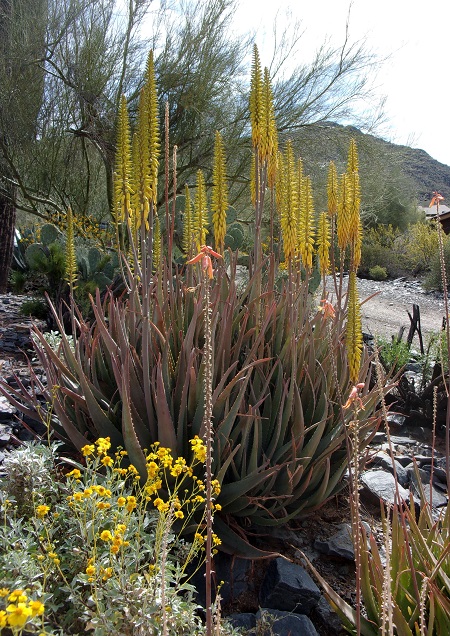 Hi, everybody! How is spring coming along for you? In the Central Valley of California, we are having highs in the high nineties now (temporarily), with a forecasted drop down to the sixties coming up. Day-to-night temperature swings are quite sharp. It's a perilous time for some plants, an exciting time for other plants. From the desert:
The aloe is a beautiful variety that I got from a neighbor, just a single aloe about 15 years ago. It makes yellow flowers and the aloe itself has a bit of a purple tinge to it in the winter. Can't tell you its name but I thought The Horde would appreciate it.

WeeKreekFarmGirl
Also from Wee Kreek Farm Girl:
Thought I would send you a picture of our "Easter" tree. We welded the tree for Christmas last year but I love it so much I decorate it for all the holidays and leave it out year round. Mister WeeKreek made the bunny topper for Easter this year. It makes me smile every time I see it. Here is wishing the Horde a Happy Easter filled with good food, fun and family. And of course, remembering what Easter is about.

WeeKreekFarmGirl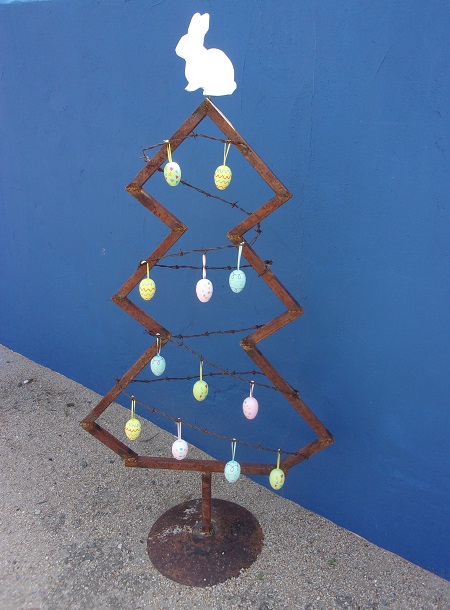 Happy Easter! Time to get ready.
Special Feature - Maple Syrup
Don't tell CBD.
From PointyHairedBoss:
It's that time of year again in the GreatWhiteNorth. The days are longer & sunnier, the birds are returning & its maple syrup time, a great time to be outside.

We collect the sap from about 100 hard maple trees in our bush, about 2/3 of them have a single sap bucket. Where there are groups of trees close together & on a bit of a slope, we tube them together & drain into a single larger bucket. (Photos 1, 2, 3)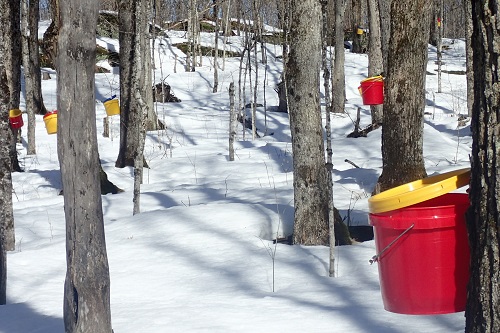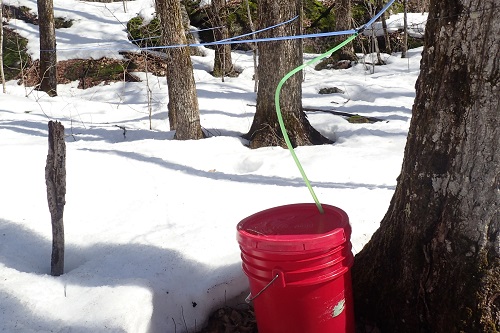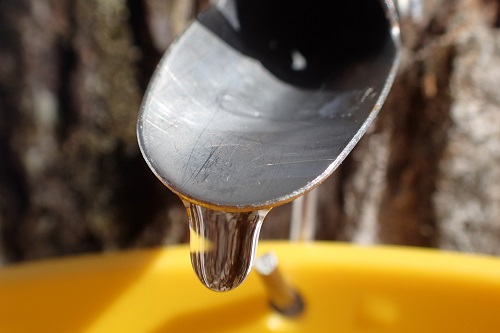 If things freeze up we just wait for a thaw & carry on (Photo 4).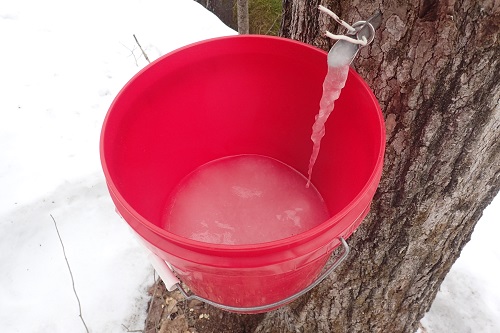 The optimal condition for good sap flow is a few degrees above freezing & sunshine during the day & a few degrees below freezing at night.

We usually collect sap once a day, twice during peak flows then transfer to
storage containers at the boiler (Photos 5, 6).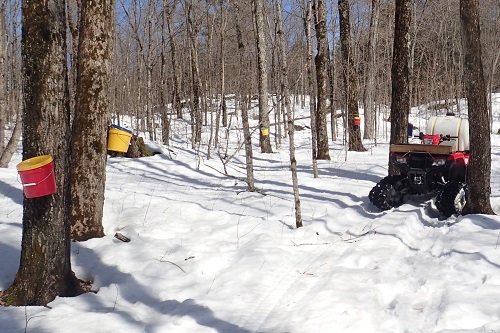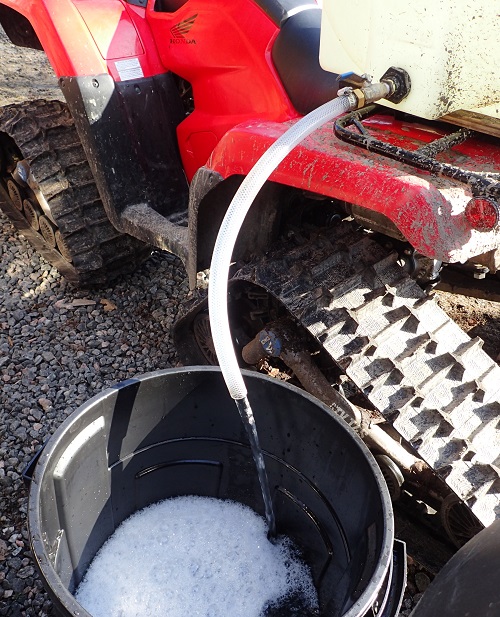 Primary boiling is done in a large stainless steel pan over a wood fire (Photo 7).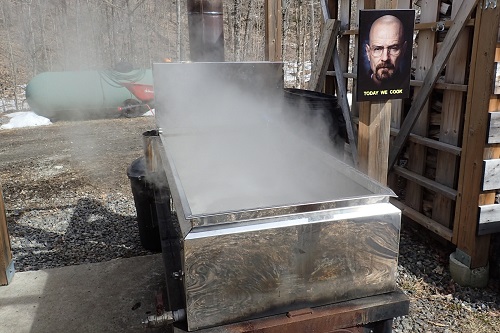 The sugar content of raw sap is approximately 1.5-2% & can vary substantially tree to tree. Maple syrup has a sugar content of about 66 percent (66 brix) so a reduction of about 40:1 is required to turn sap into syrup. As the water is boiled away & sugar concentration increases, the boiling temperature rises, starting at 100C (212F) for pure sap (same as water) increasing to 104C (219.2F) for syrup. It is difficult to control the boiling rate over a wood fire so when most of the water is gone we filter the concentrate then transfer it to an easily controlled propane burner for final boiling (Photo 8 ). When it reaches 104C I'll confirm the sugar content with a refractometer before bottling.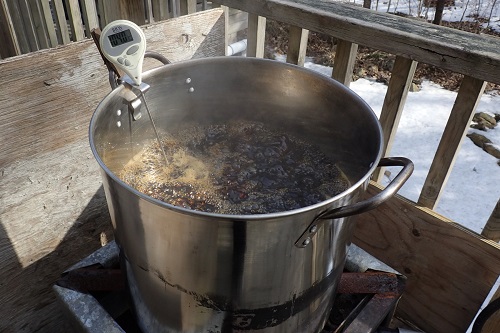 We use a coffee urn for final filtering & dispensing the finished syrup. (Photos 9, 10).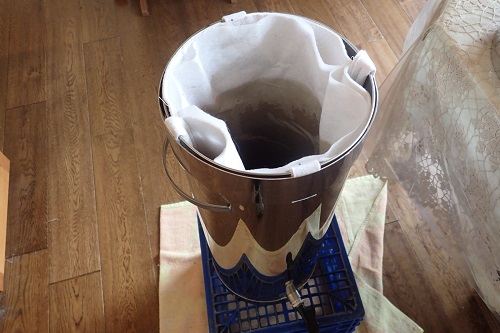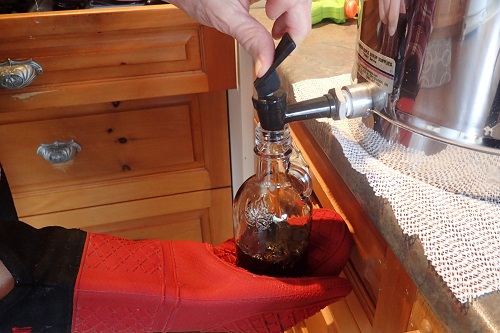 This batch was 32 liters (Photo 11).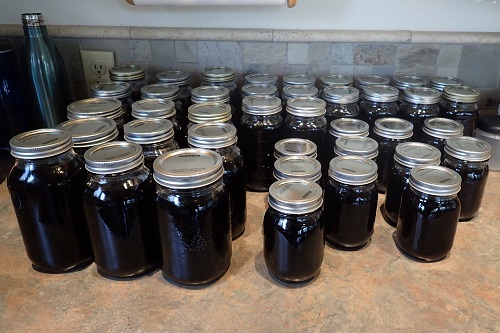 What an adventure! And a great learning experience for us! Thanks.
Edible Gardening
Two weeks ago, WeirdDave sent in a lot of information about his newly-constructed garden. He now has his first harvest. YAY!
I want to know if he's going to eat the leaves, too.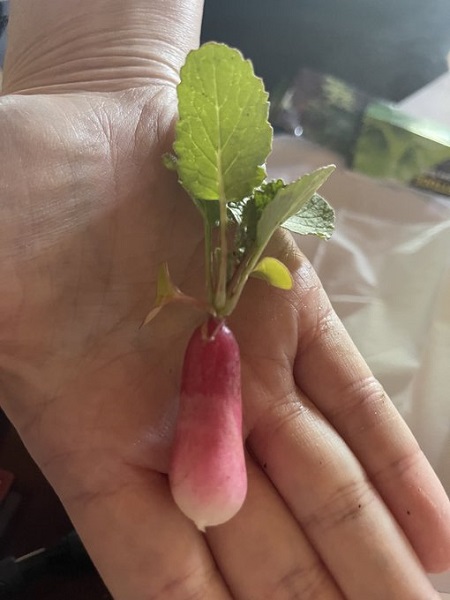 Last week, Gordon had a late comment about history and farming:
I was listening to KT's neighbor Victor Davis Hanson's "A War Like No Other." It is about the Peloponnesian War in about 430 BC. The Spartans thought they would show up around walled Athens and destroy the crops, vineyards and olive groves. It turns out that's a lot more difficult than people realize.

Sawing and chopping hardwoods like olive is really hard. The wood will dull a chainsaw in seconds. Come back a month later and suckers are all over. You can burn a vineyard if the weather is just right, but the vines will come right back. And burning a wheat field, even when the wheat is ripe, just doesn't work either. There's a lot of moisture in the stalk.

Thanks to the robustness of nature, Athens held out for years until the Spartans got enough triremes together to invade from the sea.
Fascinating. War and farming are both really complex. But I have seen grain fields burn. Maybe air humidity makes a difference. Athens is not too far from the sea.
I have not seen a lot of olive wood lumber being sold. Maybe the Spartans should have tried a city surrounded by pine trees instead.
Sounds like a great book by VDH.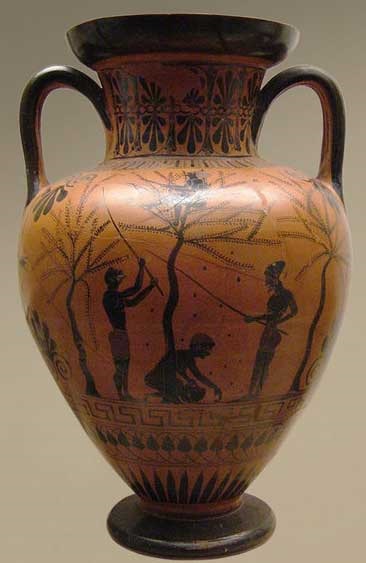 Young people gathering olives
From Wee Kreek Farm Girl:
Yesterday I thinned the peach tree and the apple tree. I have never thinned the fruit on the trees before. I have gotten smaller fruit but a ton of it. I am following the rules this year to see if it makes a difference, bigger fruit but less of it. First picture is the peaches. There were SO very many. Usually the tree is so burdened the limbs go to the ground. Trying to stop that this year. Dutifully thinned to no more than one every two inches. Took out any double fruit as well. The apple tree didn't require as much thinning but I did that as well. Put out the fruit for the wildlife to get, waste not want not.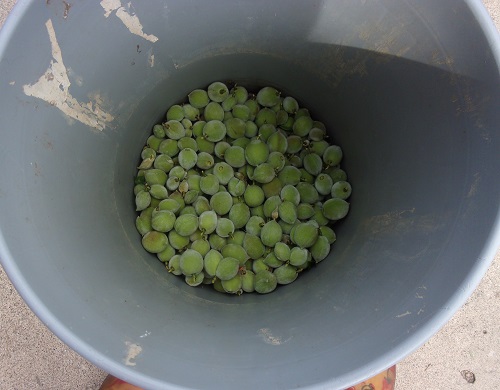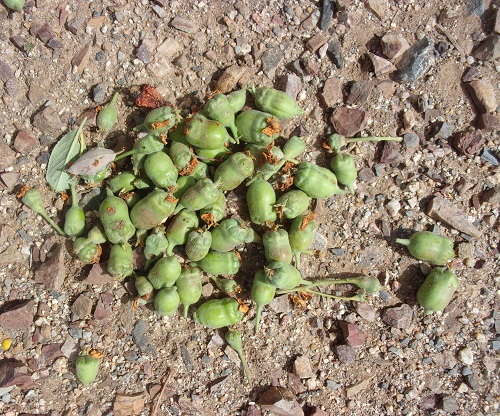 Thinning is a great idea. The earlier, the better.
Answers to Questions from The Horde
Last week, we had a question about shrubs to use in morning sun, in front of the house:
7b, I think, in upstate SC. Clay soil, muggy and hot in the summer.

Evergreen, I think. We'd prefer something that doesn't grow TOO quickly. Hollies and some other things, too. We may bring them around to eventually hide the propane tank on that side from the road. It's unattractive.

I'm going to plant some banana trees. There's a guy down the street we call The Banana Man. His front yard is filled with stands of bananas. He sells them, too.

At some point we have to plant a palmetto, because it's SC.
I suggested that there might be some camellias that would work. A good local nursery, or the extension agency, may have recommendations on locally adapted varieties. I would put them in shallow raised beds filled with loose, acid soil. Some azaleas take similar conditions.
Garden & Gun had a feature on where to see the South's best camellias (by state). For South Carolia, it's:
Magnolia Plantation & Gardens in Charleston

The "winter roses" at Magnolia carry a serious pedigree. Before the Civil War, the estate held the most extensive planting in the country, with the one-time owner Rev. John Grimke-Drayton writing in 1854, "I have discovered that there were a hundred and twenty double varieties there. How many singles, semi-doubles, peony forms and others, I do not pretend to know. I can only describe their number as Legion." Today, 20,000 camellias are on display throughout the winter and spring, with a focus on "ancient" (pre-1900) varieties.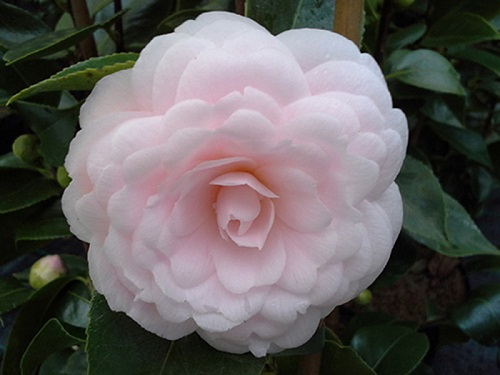 Southern Living has a Complete Guide to Camellias. It includes information on planting, culture, pests, etc. It also includes a little information on the many varieties of camellias, including some hardy hybrids.
Here's a piece on South Carolina shrubs with fragrant blooms. Have any other shrub recommendations for Miley? There are quite a few shrubs that enjoy morning sun. How about something edible?
If you would like to send information and/or photos for the Saturday Gardening Thread, the address is:
ktinthegarden
at that g mail dot com place
Include the nic by which you wish to be known when you comment at AoSHQ,
unless you want to remain a lurker.

posted by K.T. at
01:39 PM
|
Access Comments