« Saturday Gardening, Puttering and Adventure Thread, April 9
|
Main
|
The Weekend Hobby Thread »
April 09, 2022
The Ace of Spades Pet Thread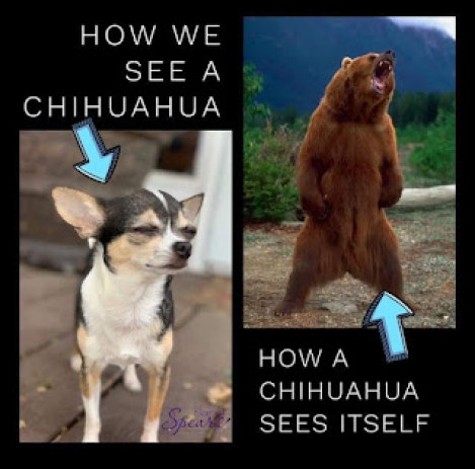 (H/T JT-Hiya)
***
Good afternoon and welcome to the almost world famous Ace of Spades Pet Thread. Thanks for stopping by. Kick back and enjoy the world of animals.
Programming Note: Effective Saturday April 16, KT will be hosting the almost world famous AoS Pet Thread. Effective today, please forward all pet and/or animal stories, links, etc to KT at the following address:

petmorons at protonmail dot com
***

I received the following from Sharon(willow's apprentice).........

This was on JJ's morning report today. I found it very moving. Don't think it applies only to the pet thread but maybe encourages us all to have a little faith on those dark days.
Mushroom, our beloved and unbelievably elderly dog, finally passed away. There was a day when he simply pulled his snout back sharply at the offer of food, and from then on, his decline was rapid.

There was a day when I would come into the house and find him slouched like a little black and white parcel in unusual places such as the corners of the dining room, or else I'd see him oddly trying to stand behind the wood stove. There were days during which he lay in his bed, curled in a furry round circle as usual, but scarcely moving; the concern, practically the breath, of angels, was palpably over him.

Brian, my husband, made broths, and tried to feed him with a spoon. At last the spoon was refused, and we knew we did not have long with him.

We called two vets; both were compassionate, but brisk, and quick to suggest euthanasia. "There's a vet service that comes to your house, very sensitively, to put your dog to sleep," explained one veterinary assistant. "This woman is great — you will love her."
***

I am not certain if this is a miracle. But it's a damn sweet story.

Unwanted Deformed Tabby Cat With One Eye Dropped at Shelter, Gets Adopted by New Loving Family

After a family decided they didn't want their deformed tuxedo tabby cat anymore, they dropped him off at a pet adoption center in Lancaster, Ohio. The cat was born with only one eye and one nostril, making for a permanent wink that made him stand out from the cat crowd.
***

Having a ruff day? These photographs will cheer you up.
***

I received the following from an 'ette.
Caroline Strolic Mon, Apr 4, 10:15 AM (4 days ago) to me

To whom it may concern,

My name is Caroline Strolic, and I am reaching out to the Pet Morons community in the hopes that you would be willing to share a GoFundMe to your page. I know it's a long shot, but I ask that you hear me out first:

My mom has submitted our dogs to you guys for a very long time. I believe you posted about our last Labrador Latte when she passed away and a YouTube video of our youngest Bloodhound Duchess. That very bloodhound, Duchess of Marlborough (yes, that is her legal name), has been diagnosed with an inoperable brain tumor which has given her 6-12 months to live. Fortunately for us, radiation is an option to give her, and us, an opportunity to be together for an extra couple of years. However, that radiation is very costly, and although my parents would never ask for help, I am. I am trying to reach out to as many pet communities as I can in the hopes that people would be willing to donate. We are a very fortunate family, but we have had a lot of bad breaks recently, which is why I am (graciously) begging for you to post this somewhere, anywhere. Even $5 or $10 helps in the long run.

I also completely understand if you cannot. I'm sure so many people ask you to do this very same thing. I am no more special than the next person, but I am desperate so I hope that is enough. I am attaching the link below, as well as the YouTube video to maybe spark some remembrance of that post.

Have a great day,
Caroline

https://gofund.me/b131c926
https://www.youtube.com/watch?v=9Pbj_h1f0Ho
***
Meet The PetMorons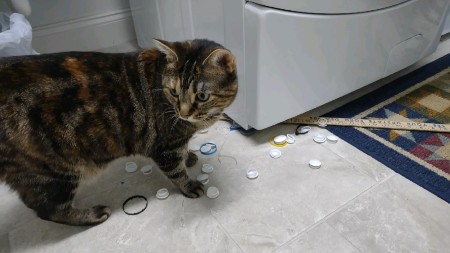 &&&
Dear MH –

You've featured these two characters before. Hope you don't mind posting more of their antics.

Our cat Dini (short for Houdini) loves to hide her toys under furniture and appliances. Pictured here is her loot that was under the washing machine. She isn't a fan of regular cat toys, but loves the rings found on gallon jugs of milk, or the pull off tops on orange juice containers. She is about 2 ½ years old and is 11 pounds of personality.

Our dog Fenway, who is almost 12, has really started to slow down. Two weeks ago Mrs OCiS and I thought a trip to the beach (York Beach in Maine) with her would be in order. Off season dogs are allowed on the beach any time. From mid-April through mid-October dogs are allowed only after 6pm. Here, Fenway decided to jump up on this rock and declared it hers. She will only wade in the water to get her feet wet. I'm sure the water temperature (41 degrees) has a lot to do with that.

I've come to realize that my dog has way more years behind her than in front of her. I also have come to recognize two universal truths about having a canine companion: 1) their time with us is way too short, and 2) we don't deserve them.


Thanks for keeping the AoS Pet thread going. - Our Country is Screwed
Always happy to see repeat entries here at the AoSPT. I couldn't agree with you more regarding the K9 Universal Truths. Thank you for sharing your pets with us.
***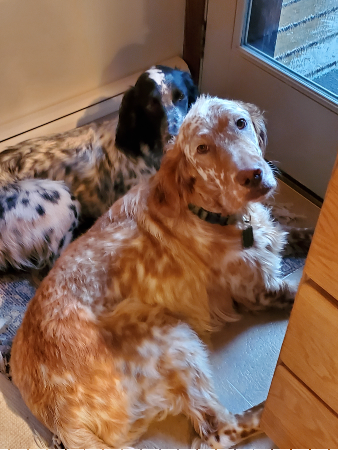 &&&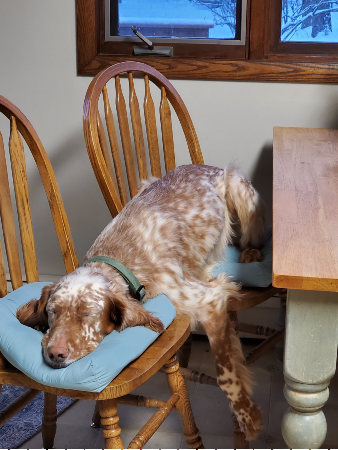 Levon the Large and Tallulah the Terrible

I think he figures that the extra chairs at the kitchen table must be his since there are only the two of us. Little sister Tallulah is growing up but only half his size. They always lurk at one or the other of the glass kitchen doors where they can see most of the back yard. Nose art galore! Look Dad, a squirrel! I am the door man. Goo goo ga joo! - Thomas
Well that is a pose I've never seen my dogs do. However I'm happy to hear that English Setters are nose artists as their Irish Setter counterparts. Good to hear from you again.
***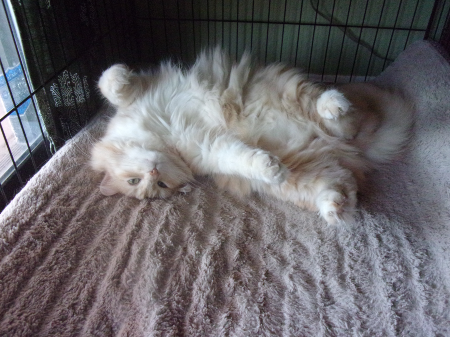 Hi MisHum,
I realized that all of our pets had been in the pet thread except our main girl, Stinky. She is 11 years old and we call her the glue of the family. She makes sure she spends time with everyone in the family, dogs, the other cat, everyone, at least once a day. We got her at the feed store where a local rescue was shilling kittens they had rescued from a kill shelter. She was the runt of the litter and was in the litter box hiding from all the other kittens. When we brought her home we called her Lucy but that got changed to Stinky because she did nothing but eat for the first few months trying to grow big and strong and anytime you touched her she passed gas, hence Stinky. She is part dog, as our other cat at the time would have nothing to do with her so she bonded with our dog Binny. He taught her to beg for lunch meat which she still does today with her new BFF Wiley (Littleman). She has taken over Littleman's crate and made it her own which is where I got this picture. He doesn't use it anymore and she thinks she is a dog so it works out fine. She was all of $10, fixed with all her shots and we always say she was the best ten bucks we ever spent.
WeeKreekFarmGirl
What an excellent investment for $10 bucks. You can't go wrong with a kitteh like her. The begging thing sounds cute. She really is part dog. We appreciate your contribution today.
***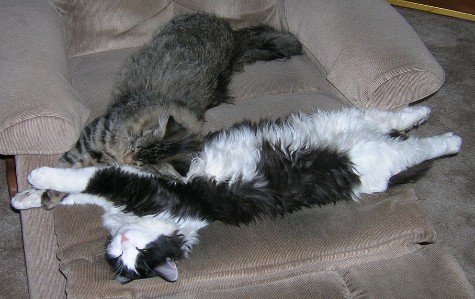 I finally got it together enough after my cat Buddy's passing on 3/24 to put something together for the regular Saturday Pet Thread. Here's the blurb and the images are attached. Thanks for your time and consideration.

"Here are my cats, the brothers Squirt and Buddy. Squirt is the tabby, Bud is the Black and White longhair. Squirt passed in 2010, but Buddy just crossed the Rainbow Bridge this March 24th at age 16 and ½. Their other brother, Bear, lives next door and is owned by my neighbors who owned the mother cat, Allegra. Bud, Squirt, love you guys always, see you on the other side when the day comes.- "Additional Blond Agent"
Those two certainly looked like best buds. Sorry to hear you recently lost Buddy. I bet your home is too quiet at the moment. We hope that sharing your story helps with the passing of your kitteh.
***

What a wonderful collection of pet stories today. Thank you each and everyone for sharing your pets with us.
Programming Note: Effective Saturday April 16, KT will be hosting the almost world famous AoS Pet Thread. Effective today, please forward all pet and/or animal stories, links, etc to KT at the following address:

petmorons at protonmail dot com
Note from KT: Please include your nic or let us know if you are a lurker.
Until next Saturday, have a great week!

posted by Misanthropic Humanitarian at
03:00 PM
|
Access Comments