« The Ace of Spades Pet Thread
|
Main
|
Saturday Evening Movie Thread - 4/9/2022 [TheJamesMadison] »
April 09, 2022
The Weekend Hobby Thread
Happy Saturday Morons. It's that time where we get into our hobbies. So I was wondering how I should start today's thread and I plugged the word Hobby into the search engine and came up with the following:
What is considered as a hobby?

A hobby is considered to be a regular activity that is done for enjoyment, typically during one's leisure time. Hobbies include collecting themed items and objects, engaging in creative and artistic pursuits, playing sports, or pursuing other amusements.

I can't disagree with that definition........
***

Regular commenter and 'ette Teresa in Fort Worth submitted the following regarding her hobby "cross stitch".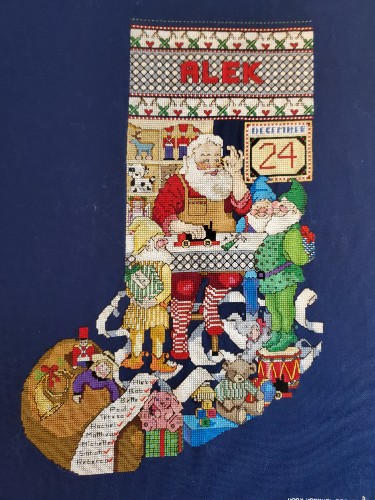 &&&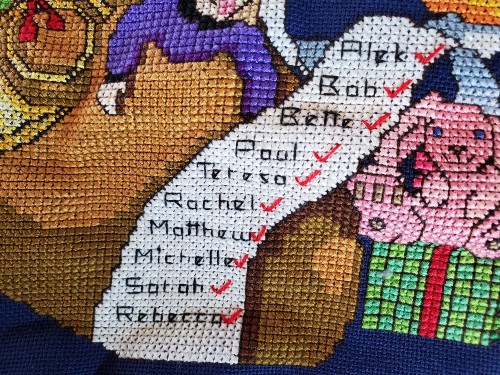 My "skill" is following cross stitch designs by much more talented artists than myself.

My "contribution" lies in my selection of fabrics to use. I also sometimes add my own personal touch, as in this one, where I switched out the names on the original design with names of family members.

This was made for our first grandchild, born in December, 2021.

I have made stockings for everyone in our family over the years. Each design takes a couple of months to complete, then I send them out to be made into actual stockings.

Most of the designs that I used are 25-30 years old. They came from a cross stitching magazine which published a new design once a year back in the 1980s-90s.

Imagine my surprise to find out that a Horde spouse had actually worked for that publishing company back in the day! You never know who you will run across at a Moron MoMe
I must say Teresa beautiful work!!! A couple of months to complete? It seems with that small and fine type of work it would take longer. What wonderful family heirlooms.
I've known several people in my life that cross stitched. All of them were women. No, I'm not sexist, just letting you know my observations.
So imagine my surprise when I came across the following video on YouTube. A guy with an introduction to cross stitch.

So yours truly is starting to learn about this Cross Stitch hobby. And then I hit the search engine for "Cross Stitch Kits". Holy-Moly. There is an incredible amount of kits out there. From novice/rookie beginners to the most advanced hobbyist.
***

The Fabulous Mrs. Mis. Hum's sister did this and sent to us for an anniversary present.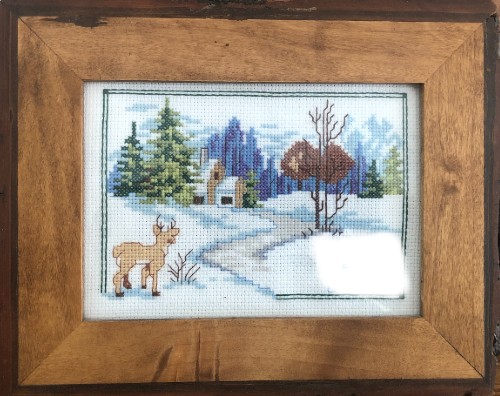 ***

Cross stitch can be framed and here is a beginner's video for it.
***

OK, so you like the Hobby Thread but you're not into cross stitch. Maybe this will help. Why else would a grown man play with trains?
***

There are so many hobbies out there. And there are so many of you Morons. This Hobby Thread is for you folks. So if you have any ideas or any hobbies you would like to share with us, you can reach me at petmorons at gmail dot com.
The talented and gracious JJ Sefton will be here next week for your bodging fix.

posted by Misanthropic Humanitarian at
05:23 PM
|
Access Comments