« Washington Post: What a Scoop, We've Determined That Parts of Hunter Biden' Laptop Are Real
CNN: Gosh, It Looks Like Hunter Biden Might Be Facing Actual Federal Charges For the Crimes We Said Were All "Russian Disinformation"
|
Main
|
Is This Something? »
March 30, 2022
Child Grooming Corporation Disney Will No Longer Use Words "Boys" or "Girls" Within the Park, Because All Children Are Transexual Now Or Something
Or they will be, once The Mouse gets done re-orienting them.
The most magical place on earth is now also the most bizarre. Disneyland and Disney World are removing "gender greetings" from its parks, meaning, those inside the budget-bursting theme parks will no longer be addressed or greeted by the phrases "boys and girls" or "ladies and gentlemen."

Thank goodness. I've never heard something so offensive in my life!

Instead of addressing the biological males and females, park goers will hear "Hello, everyone" or "Hello, friends." Sounds like a prime opportunity for Jim Nantz to score some voice-over work.

If you're wondering if Disney has lost its magic, or its marbles, wonder no more. A recently released online meeting of various Disney execs makes the new policy very clear.

"We trained -- we provided training for all of our cast members in relationship to that. So now they know it's 'Hello, everyone,' or 'Hello, friends,'" Vivian Ware, Disney's diversity and inclusion manager, can be heard saying on a conference call, per Christopher F. Rufo.

Meanwhile, in NJ, teachers show middle schoolers a film about transgender puberty blocker injections for obvious promotional purposes.
As part of a social studies class, a New Jersey public middle school forced students to watch a video about a transgender man's hormone treatment--all without notifying parents.

The video, "Ten Years on Testosterone," details the transition of LGBT activist Aydian Dowling through hormone injections.
I'm sure the film was very balanced on the topic.
Teachers and administrators at Pearl R. Miller Middle School in Kinnelon, N.J., did not notify parents about the lesson, which included slideshows with definitions of different gender ideologies, beforehand.

"You can build up the courage to stand up for yourself in a way that this is what you want to do with your life," Dowling says in the video after injecting testosterone.

...

"I felt as if I was blindsided," Loren Malfitano, whose two sons were shown the video, told the Washington Free Beacon. "They're learning about this ideology of gender before they even have classes on the actual biologies of males and females."

The school superintendent did not respond to a request for comment.
Well, she can take solace from the fact that the real targets of this propaganda are not boys, but girls, who are much more susceptible to viral contagion. The huge numbers of kids now calling themselves "trans" or "LGBT" are inflated by all those nervous, insecure little girls bothered by their developing breasts (or non-developing breasts, as the case may be) being offered an opportunity out of the problems of being a tweenaged girl through the exciting new world of Amputations of Healthy Organs For Kids.

Via the only real news source: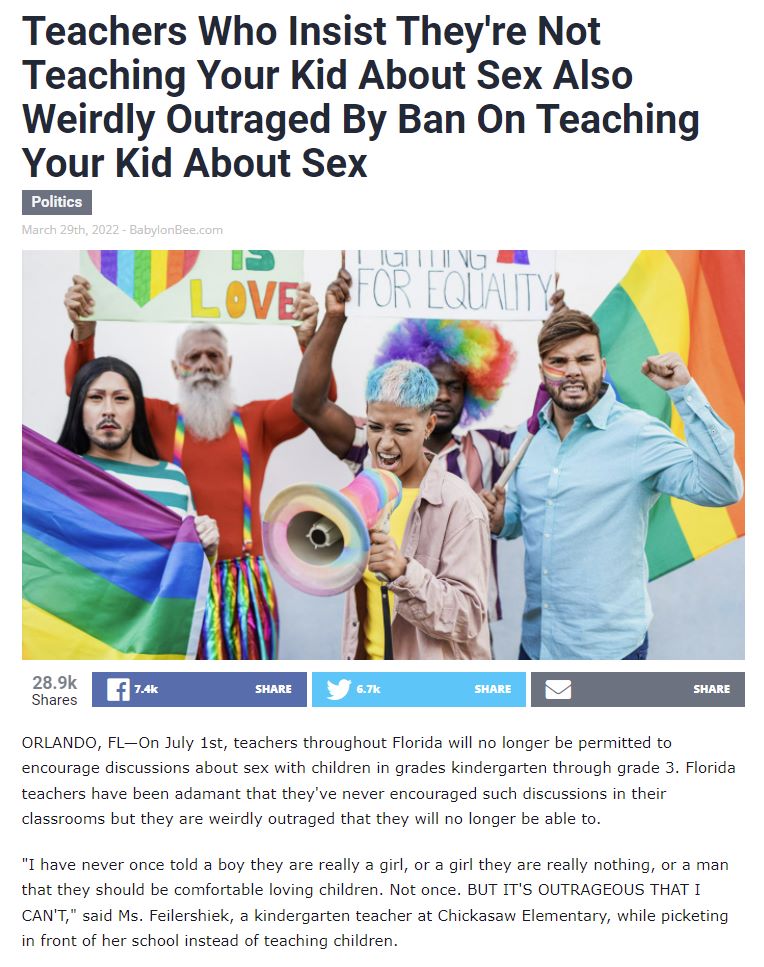 More below.

As I've mentioned, a major part of the Anti-Groomer Law, formerly called the Parental Rights in Education Bill, isn't about what teachers and school officials are allowed to talk to students about, but what they're required to tell parents.
Specifically, the law forbids groomer teachers and officials from gender-transitioning kids and then hiding that from parents, as is being done in California. (And has already provoked one suicide.)
This elementary school teacher says she will continue hiding the results of teacher grooming from parents.
Grooming takes time, after all. You can't let parents come in and collapse the souffle before it has risen.
Ron DeSantis talks about the Child Grooming Corporation Disney:
By the way, Tucker's opening statement was good, and noted that kids are being groomed by "twenty year old girls with an education degree and a nosering."
And he said that without knowing about this latest Nosering Philosopher.
But they're all like that. He ran a montage of clips from Libs of TikTok and half of the "teachers" had noserings and Danger Hair.

posted by Ace at
04:05 PM
|
Access Comments