« It's Time to Invoke the 25th Amendment and Remove the Dangerously Senile Biden From Office
|
Main
|
Florida Gay Kindergarten Teacher: This Law Impacts My Ability To Talk About My Sex Life With Five Year Olds »
March 29, 2022
Broken Cvck Will Smith Apologizes to Chris Rock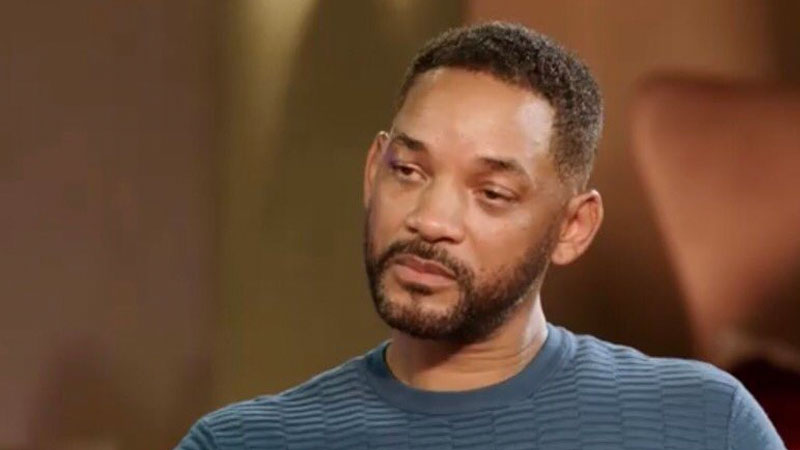 Here's what Will Smith posted on his Insta. ("Insta" is what Young, Hip People such as myself call the app that older, less hip people such as yourselves call Instagram.)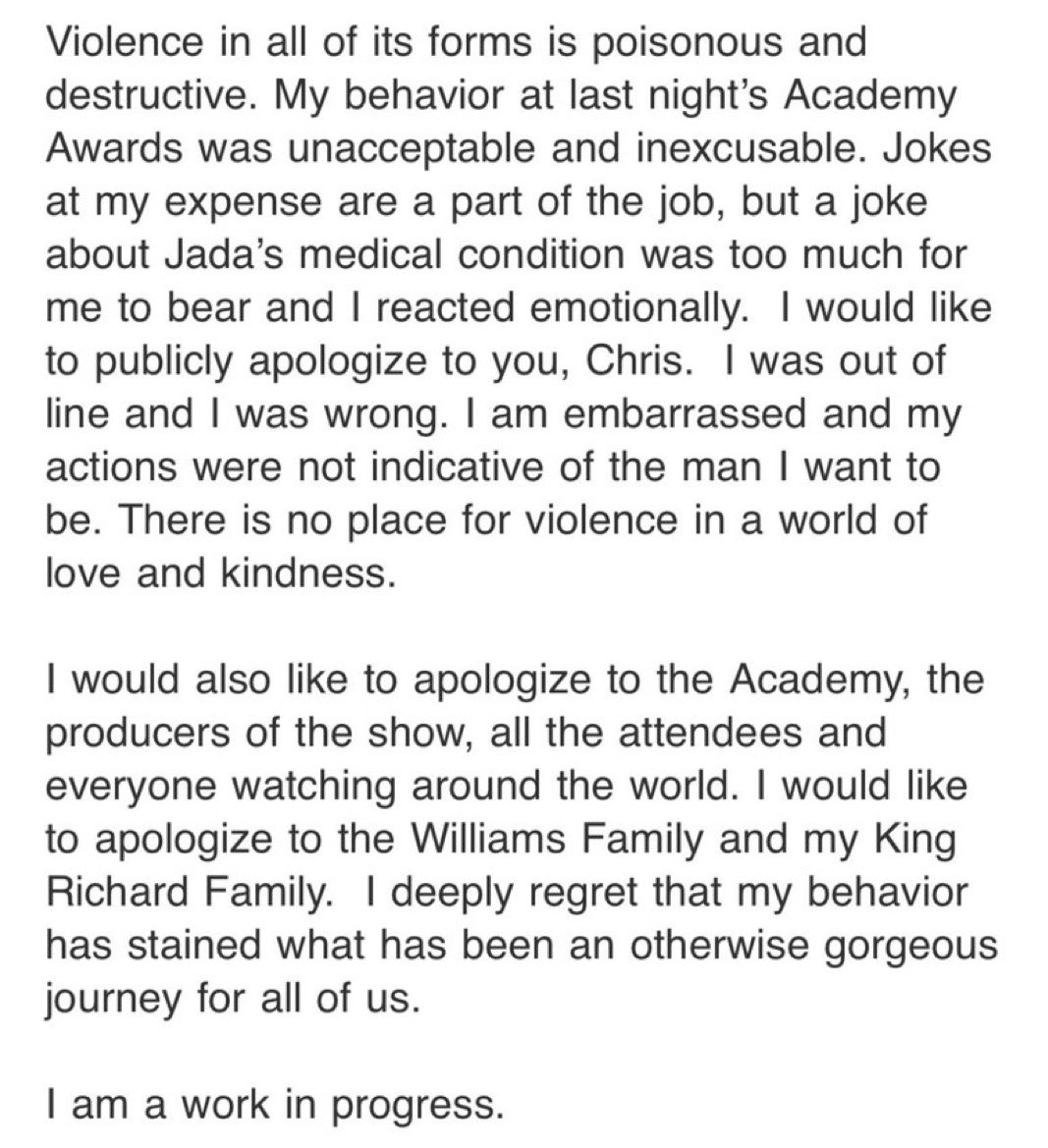 John Nolte writes that Smith did a lot of damage to his career.
As the days pass and the shock wears off, and people come to terms with just how outrageous and ugly Sunday night was, things will get worse for Will Smith, a lot worse.

His obituary will lead with The Slap. Then, future biographies will stop in their tracks to detail The Slap. In the coming days and weeks, the media will root around Will and his family's sordid private lives, looking for answers, for reasons... Soon we'll be reading long-form articles laying out the timeline, psychology, and events leading up to The Slap.

And in the midst of it all, Smith and his wife Jada and his Army of People that have kept Will Inc. going for three decades will secure, schedule, train for, and rehearse The Inevitable Sitdown Interview with Oprah Winfrey.

None of that will alter three facts... 1) Smith melted down, lost control, and sucker-slapped a much smaller man, and this much-smaller man not only took the hit like a man but showed unbelievable poise. Believe me, Chris Rock's stock just went up. His reaction defined professionalism. He exited that confrontation the Alpha Male. 2) The very thing that (I believe) triggered Smith's meltdown -- his wife publicly humiliating him as a cuckold, is about to be talked about and examined more than ever. It's one thing for Jada to have affairs. This is Hollywood, after all. But for her to openly discuss those affairs on a podcast is beyond the beyond. Then she has Will come on the podcast and publicly emasculated him by throwing the affairs in his face. 3) Will Smith believed he could reclaim his manhood in the eyes of his wife and the public by assaulting a much smaller man. Ugly doesn't begin to describe it.
I don't know if I'd go as far as Nolte, but it's hard to shake the image of a very emotional Smith, fighting to stop himself from crying like a nine year old boy.
If you told me that one guy would hit another, defending his wife, and the other guy would just take it, and the guy getting hit would seem like the man and the guy delivering the hit would seem like a woman, I wouldn't have believed it.
And I do think this is mostly on Jada Plinkett-Smith. Carl Benjamin points out that Will Smith is basically fighting his way out of a hole. His wife has repeatedly, literally cvcked him and then forced him to sit at a table and listen to her talk about cvcking him, and agree he should be cvcked.
So he's not the confident, masculine, masterful man he plays in movies. He's a guy on tilt who doesn't know what a confident, masculine, masterful man would do in a tough situation, and was forced to guess.
And he guessed wrong.
Overcompensation is always messy and jerky.
8 "Balled Wife jokes." I think I get it now. Posted by: Cicero
This is hard to watch:
The old rule on affairs, by couples who permitted infidelity, was never embarrass me with it socially, wasn't it?
Meanwhile, CNN+'s Chief Racist Jemele Hill thinks that Will Smith's slap was justified by... Ketanji Brown Jackson being asked about her light sentences for child porn convicts at her Supreme Court hearings.
Hill said, "Not only that, Jake, you have to actually understand this on an even deeper level than that. For black women, we watched confirmation hearings with Judge Ketanji Brown Jackson, right? We saw everything that she went through, saw how she was really lambasted in the public eye. And we saw all the things she had to deal with, and she was often lauded for keeping cool and collected. Sometimes when things happen, people don't feel that way. For black women, in particular, I saw Tiffany Haddish as well, where she felt very encouraged, if you will, by the fact Will Smith, in this very public setting, was standing up for his black wife. That's a protection black women often aren't afforded.["]
Jake Tapper just accepted that like Jada Pinkett Smith accepted August Alinsa's dick.
The media is promoting black women who are in turn badly damaging the standing of black women. The idea that black women must never be questioned or challenged or criticized or corrected... well, if that's true, then you just can't hire black women for any position of greater-than-menial responsibility. People who can never be corrected or criticized must not be allowed responsibility for any job in which poor performance can have bad results.
This is also an argument that black women just can't handle the most routine criticism that others can. We see the same claims made for both blacks of both sexes and for women of all races, but the insistence that Criticism Equals Hate seems to be made with particular vehemence by black women, supposedly on "behalf" of black women.

Kamala Harris owes her entire career to the vehemence with which this particular Special Rights for Special People claim is made. And we all see how that's working out.
And yet this is the message the media is constantly pushing out there to "help" black women, and this is the type of "advocate" -- just about the only type of "advocate" -- the media will allow to speak for "all" black women.
Are you sure you should be making the claim that no one can ever check, for example, a black woman's math?
If that's the case, then it's too dangerous to ever hire a black woman engineer. on a bridge project. People would literally die, and that's too high a price to pay to protect someone's racial and sexual ego.
You realize this, right, Jemele? Or do you not care?
In fairness, the Elderly White Woman Howard Stern was also deranged by Will Smith's slap.
Stern said, "He opened hand with a lot of force, smacks him right in the mouth on TV. Now the first thing I said to myself was, 'What the fuck is going on? Is this a bit?' Because where is security? This is a live television event."

He continued, "Not one person came out because he's Will Smith. This is how Trump gets away with shit. Will Smith and Trump are the same guy. He decided he's going to take matters into his own hands. At a time when the world is at war. Bad timing, man. Calm your fucking ass down."
So Howard Stern is now taking whatever is hot in the news and somehow making an anti-Trump screed out of it...? While also being a deranged Covid Karen...?
Does Howard Stern blog under the name "AllahPundit," by any chance?

posted by Ace at
02:12 PM
|
Access Comments