« Sad! Chuck Todd Looks and Sounds Like a Sad Fat Little Goth Girl Who Cuts Herself When He Reads NBC News' Latest Findings For the Senile Incompetent Joe Biden
|
Main
|
Broken Cvck Will Smith Apologizes to Chris Rock »
March 29, 2022
It's Time to Invoke the 25th Amendment and Remove the Dangerously Senile Biden From Office
Rand Paul states that Joe Biden's senility is a national security threat to America.
[Rand] Paul said, "Well, you know, a lot of times when you're around somebody who's in cognitive decline, you find yourself trying to help them with a sentence, trying to help them complete it, and say, oh no, that's not what you really mean. Let me help you complete the sentence. But we shouldn't have to do that for the commander-in-chief. And it is actually a national security risk. Because he's sending signals that no one in their right mind would want to send to Russia at this point. We aren't trying to replace Putin in Russia, we aren't trying to have regime change, we're not sending troops into Ukraine, and we're not going to respond in kind with chemical weapons. So, none of those things are true."

Paul continued, "But, you know, he lives in an alternate universe where he just says they're not true and he didn't say them. So, I guess you're supposed to look the other way. But even the left-wing media is noticing these gaffes. So, I do think that it is a real problem. And there's a humorous angle to this, but it's really not funny. I mean, because we're worried about what he's saying precipitating or escalating the conflict in Ukraine into a world war. That's very serious."
Tucker Carlson points out that Biden's frequent outbursts of uncontrolled anger -- his increasing inability to regulate his emotions -- are a telltale symptom of senility.
Which puts Americans' lives in danger.
Don't worry, says Clintonoid Leon Panetta.
Biden's not senile.
Biden's just... Irish.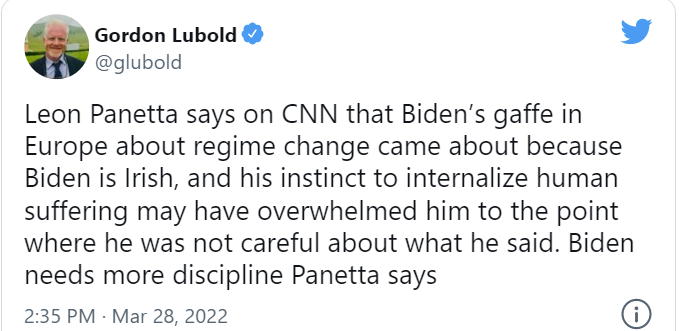 I am getting very, very sick of the supposedly anti-racist left excusing away every intellectual, emotional, and character deficiency of Biden's on the claim that "All Irish people are like that."
No we are fucking not. We are not emotionally incontinent imbeciles, and fuck you for repeatedly claiming we are just to make excuses for an obviously-demented fool.
I don't remember anyone trotting out this excuse for Obama's serial failures and incompetencies -- well, you know, he's just black, so...
Or should I say that about the always-unprepared Kamala Harris? I mean, you know: Women of color and all...

posted by Ace at
01:11 PM
|
Access Comments