« THE MORNING RANT: Electric Vehicle Start-up Companies - Modern Day Successors To "The Dale"
|
Main
|
The Media Which Claims to Be Experts In All Matters Confesses Perfect Bafflement at What the Word "Woman" Could Possibly Mean »
March 25, 2022
Biden: Gird Your Loins, The World Is About To Experience Food Shortages And Unrest
That's our Biden.
When the covid panic hoarding first hit, Biden rushed out to claim it was Trump's fault.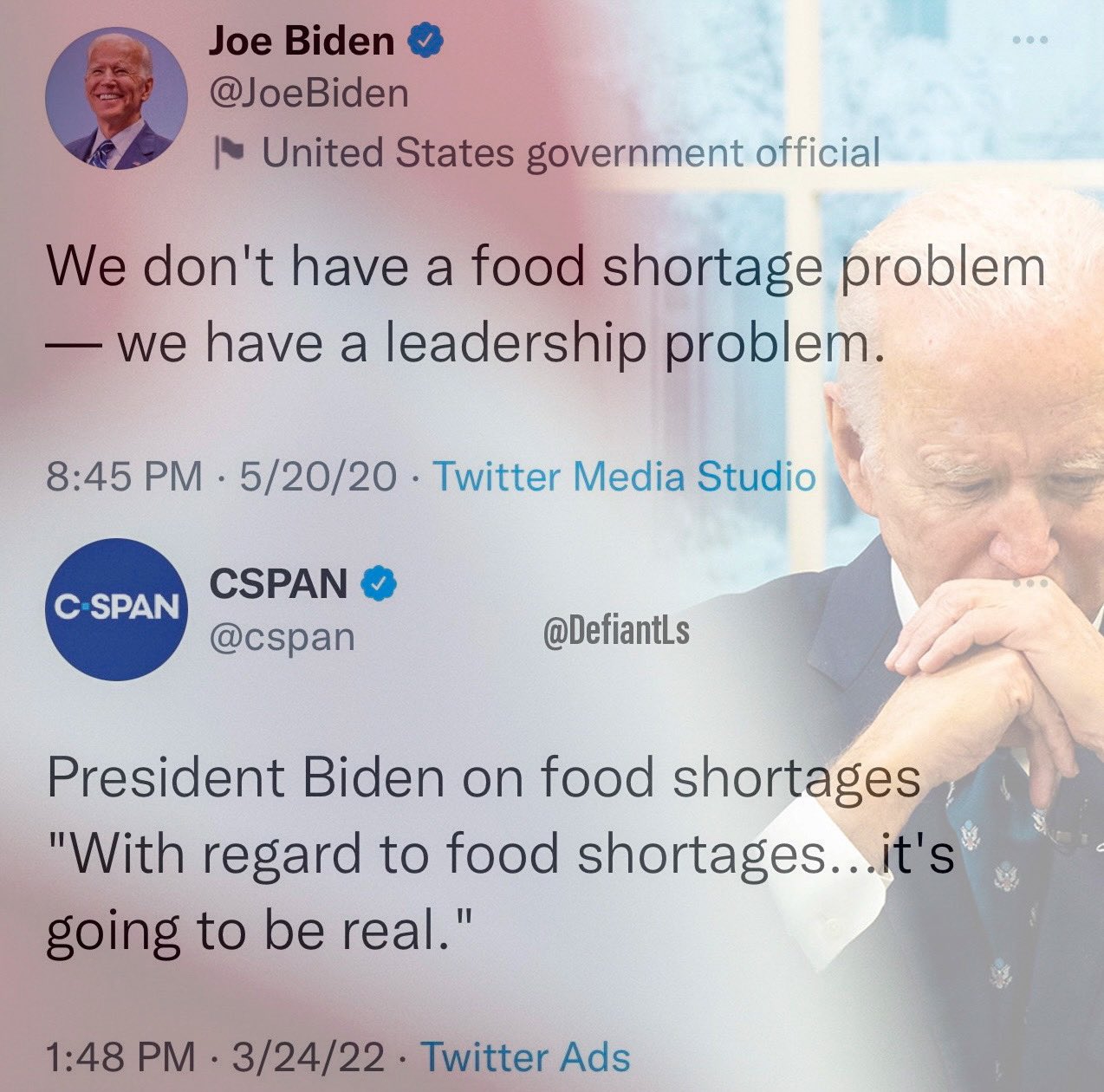 What do you think the chances are that he says the current and future food shortages are a "leadership problem"?
Oh wait, he'll say Putin is a leader.
But then, maybe if he and the Foreign Policy Blob hadn't encouraged Ukraine to act as if it were already a NATO country, maybe if he hadn't then invited Putin to mount a "minor incursion" (adding that he didn't want to get into a debate about what "minor incursion " might mean!), then we wouldn't be faced with the situation of an area which produces one third of the world's wheat being at war.
Ukraine is not going to be able to plant much wheat. Russia will be able to plant wheat, but... a large part of the world has banned the purchase of Russian products.
I was speaking with Kyle Shideler a few weeks ago, who predicted that this would be very disruptive around the world. He said something like, "The price of wheat going up 25% doesn't just create hunger. It creates revolutions."
Governments around the world will be falling, violently, as the populace goes hungry.
Western countries will just see hunger, stress, diminishment of the standard of living, and misery.
But developing countries will see unrest, rioting, and coups.
Brandon the Mastermind imposed on us by a corrupt leftwing media-tech junta finally got around to warning people of the further disasters the world would soon see.
Biden warns food shortages are 'going to be real' across the globe because of Putin invading the world's 'breadbasket' Ukraine

President Joe Biden said there will be food shortages around the globe because of Vladimir Putin's invasion of Ukraine

'It's going to be real,' he said. 'Because both Russia and Ukraine have been the breadbasket of Europe in terms of wheat, for example'

The United States, through the Feed the Future initiative, will provide over $11 billion over the next five years to address food security threat

Russia and Ukraine jointly account for around 25% of world wheat exports and 16% of world corn exports, leading to surging prices for the grains

...

A senior administration told reporters in a briefing on Thursday that Russia's invasion 'jeopardizes global food security, particularly for vulnerable populations in the Middle East and Africa' as farms are being destroyed.

....

The United Nations International Fund for Agricultural Development (IFAD) warned on Thursday the war in Ukraine is already resulting in rising food prices and a shortage of staple crops in parts of central Asia, the Middle East and north Africa.

This is potentially a huge disaster all its own:
Russia is also one of the world's largest suppliers of fertiliser - prices of which had already spiked last year, contributing to a 30% increase in world food prices and a related increase in global hunger levels.
Isn't globalization great? Isn't it wonderful that we're now all interconnected in one big "Global Community"?
Meanwhile, the Biden Administration said this about Ukranian refugees:
Efforts will also focus on especially vulnerable populations such as women, children, lesbian, gay, bisexual, transgender and intersex (LGBTQI+) persons, and persons with disabilities, the administration said.
Of course! The Democrat voters. Get them all over here.
And apparently the solution to this world chaos will be the US spending more billions and trillions.
The CEO of Agco agrees: Brandon's coming disaster is a "really big deal."
Diminished food supply resulting from Russia's invasion of Ukraine has potential consequences beyond empty stomachs, Agco chief executive Eric Hansotia told CNBC's Jim Cramer on Thursday.

"This is a really big deal, because when that volume of calories comes out of the food chain, it triggers other things. Not only hunger, but unrest," Hansotia said.

Yeah I already heard that from Kyle. What else ya got?
y. According to Hansotia, about "13% of the global calories came out of production" when Russian and Ukrainian borders shut down.

"This is a really big deal, because when that volume of calories comes out of the food chain, it triggers other things. Not only hunger, but unrest. The last time we had this kind of disruption, it was one of the major triggers for the Arab Spring," he said in an interview on "Mad Money," referring to the pro-democracy protests that took place in the Middle East and North Africa in the early 2010s.

Over one eighth of the world's total calories come from this region?!
That's a dramatic way to imagine the sudden food shortage the world is about to experience.
Also keep in mind that we feed cows and pigs and chickens these agricultural products, so their prices are going up, too.
And this is on top of the Bidenflation, which is now forecasted to last... three years.
Think of how much everyone's savings will diminish after three years of 10% inflation.
Fed Chairman Jerome Powell says: Gird your loins.
His declaration that he expects it will take three years to bring inflation, currently at 7.9% annually, its highest rate in four decades, back to a normal level. "The inflation outlook has deteriorated significantly this year, even before Russia's invasion of Ukraine," Powell told the National Association for Business Economics. "The rise in inflation has been much greater and more persistent than forecasters generally expected."

Powell then recounted how the experts at the Federal Reserve consistently underestimated the increase in inflation. When the Fed met last June, he said, all the participants predicted that 2021 inflation would be significantly lower than it ultimately turned out to be. And then, when they met in December, they did it again.

"Why have forecasts been so far off?" Powell asked. He attributed much of the current problem to the complex path of the COVID-19 pandemic, and especially to the fact that it has never gone completely away, despite the development of vaccines. The pandemic disrupted the balance of supply and demand in a way that has still not been fixed.

...

Three years. That would be until early 2025. In between, we will have the 2022 midterm elections and the 2024 presidential election. And that is the political consequence of Powell's speech.


posted by Ace at
11:57 AM
|
Access Comments