« Mid-Morning Art Thread
|
Main
|
Biden: Gird Your Loins, The World Is About To Experience Food Shortages And Unrest »
March 25, 2022
THE MORNING RANT: Electric Vehicle Start-up Companies - Modern Day Successors To "The Dale"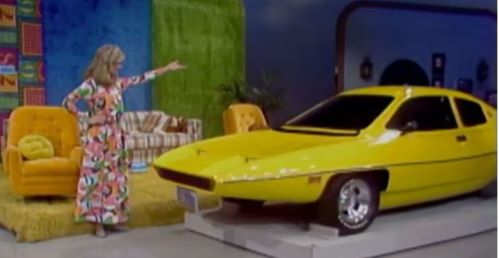 Start-up companies promising to manufacture and mass-market electric vehicles ("EVs") are sucking up enormous amounts of cash from a whole lot of suckers investors. P.T. Barnum smiles.
I can't help but think about "The Dale," a 3-wheeled, fuel-efficient, economy car whose promoter was a before-his/her-time transsexual. (For real.) The Dale received a lot of media-hype and raised a lot of money from investors in the 1970s, only to collapse without ever selling a single unit.
The Dale was actually featured on a Price Is Right showcase. I recall the story of The Dale because a boy who rode my elementary school bus kept talking about how his parents were going to get rich from their investment in the company. He even showed us pictures from his parents' investment brochure.
Nowadays, new car manufacturing start-ups just go straight to Wall Street. Without having built a single vehicle, they can issue stock that (temporarily) gives them a market capitalization that in some cases has exceeded Ford and GM…until they have to start producing cars, at which time the stock plunges.
Let's take a look at some of these startups.
First off, Fisker. No, not Fisker Automotive. That Fisker failed. There is now a new Fisker! And it raised a billion dollars in a late 2020 initial public offering.
"Fisker Inc., which rose from the ashes of the Karma-producing Fisker Automotive, has revealed one vehicle to date: the Fisker Ocean." [Car and Driver – 02/15/2022]
So how is the new Fisker doing? Well so far it has produced a total of zero cars. The first Fisker Ocean is scheduled to be assembled in November 2022. But, there's already a follow-up car planned, and you can go ahead and give them some of your money right now to reserve one!
Fisker Is Taking Reservations For An EV No One Has Seen [Inhabitat – 3/21/2022]
If you have $250 you want to put down on an interesting bet, Fisker is taking reservations for its new PEAR EV. The problem? No one has ever seen the PEAR or knows what it looks like. There aren't even photos on the website.
Then there is Lucid. Lucid got investors so excited that its market capitalization surged ahead of Ford and GM in late 2021.
Yes, Lucid was valued by investors as being worth more than Ford or GM, with a valuation exceeding $92 Billion. Briefly. Until it was time to start actually delivering their $169,000 electric cars.
EV start-up Lucid slashes 2022 vehicle production forecast, causing shares to plummet [CNBC – 02/28/2022]
The company on Monday cited supply chain constraints and parts quality issues for slashing production to between 12,000 and 14,000 vehicles, down from initial expectations of 20,000.
It has one product, the Lucid Air Dream, which costs $169,000. How many Air Dreams has it delivered so far? A couple hundred.
Since beginning retail production in the fall, the company has produced more than 400 of the vehicles at a new factory in Arizona. It has delivered more than 300 of those units to customers, including 125 units during the fourth quarter, the company said Monday.
But don't get discouraged by the slow production of the current Lucids, focus instead on upcoming products. There's a Lucid SUV coming out in 2024! Be the first to get your deposit in!!
Rawlinson said Lucid also will delay its second vehicle, an electric SUV called Gravity, to the first half of 2024. It was initially expected in 2023. He said the delay is to refine the product and give more time to impose best practices from launching the Air.
"Refine the product" and "impose best practices." Heh. Don't worry, investors. Not launching promised products just means they're eventually, someday, going to be even better than you originally hoped.
Meanwhile, the credulous executives at General Motors went through the whole EV-startup investment life cycle with Nikola in three short months.
Investors cheer as GM, Nikola join forces to build electric trucks [Reuters – 9/08/2020]
GM Has Yet To Close Nikola Deal After Fraud Allegations Against Startup's Founder [Forbes – 09/29/2020]
GM backs out of stake in Nikola, canceling plans for Badger electric pickup [Detroit Free Press – 11/30/2020]
Perhaps the most hyped of the new EV manufacturers is a company named Rivian. It stands out from the other EV startups because it isn't just seducing gullible investors, it's seducing gullible politicians too. Governor Brian Kemp of Georgia is aggressively throwing taxpayer money at the company.
Georgia's incentive package for $5B Rivian plant likely largest-ever [AJC – 12/23/2021]
Ford and Amazon are also prominent investors in Rivian. So how's it doing?
Rivian Stock Tumbles On Earnings Miss As EV Maker Faces Production Woes, Rising Costs [IBD – 3/11/2022]
Electric-vehicle maker Rivian (RIVN) missed Q4 earnings expectations, amid production woes and a price-hike fiasco that rankled customers. Rivian stock fell to fresh all-time lows Friday.

RIVN stock crashed nearly 20% this week after plunging 25% in the prior week. Rivian stock is trading well below its $78 IPO price.
But is it selling any cars?
As of March 8, Rivian has produced 1,410 vehicles in 2022, and 2,425 vehicles since the start of production.
By contrast, Ford sold over 1.9 million cars in 2021. Yet investors at one point placed a higher valuation on Rivian than on Ford, based on hope and a fantasy.
There are still more of these companies. Such as Canoo. Oh wait, breaking news:
Canoo: A Sinking EV Maker, Investors Should Don Lifejackets [Seeking Alpha – 3/22/2022]
Or how about Lordstown Motors? Wait. Never mind.
Why Lordstown Motors Stock Crashed Today [Motley Fool – 02/28/2022]
Despite all these EV debacles, investors are infinitely gullible about the future of EVs. If someone were to propose a 3-wheeled vehicle powered by electricity, it could…uh…um. Hang on. Has nobody tried that gimmick yet?? Oh YEAH!!
Someone get Caitlyn Jenner and BlackRock on the line for me. Call the hedge fund hotshots in Connecticut. We're bringing back The Dale! This is the moment for The Dale-EV.
(buck.throckmorton at protonmail dot com)

posted by Buck Throckmorton at
11:00 AM
|
Access Comments