« Biden: Gird Your Loins, The World Is About To Experience Food Shortages And Unrest
|
Main
|
Soros Los Angeles DA George Gascon Isn't Going to Crack Down on Crime, So Instead He's Offering Citizens Tips on How to Avoid Being Attacked by the Criminals He Frees »
March 25, 2022
The Media Which Claims to Be Experts In All Matters Confesses Perfect Bafflement at What the Word "Woman" Could Possibly Mean
The media, which claims to be highly-educated experts in all matters (despite having one of the least rigorous and easiest degrees the academy offers) says that despite their huge intellects and literally months of post-graduate study, they just can't say what a "woman" is.
This time it's noted idiot newspaper USAToday which finds itself perplexed.
Marsha Blackburn asked Ketanji Brown Jackson to define 'woman.' Science says there's no simple answer.


Alia E. Dastagir
Actually science says that a "woman" is an adult human with two X chromosomes.
Oh, and a vagina and breasts, if you don't have a chromosome test kit available.
Seems pretty simple.

When Marsha Blackburn asked Ketanji Brown Jackson to define "woman," she said "I'm not a biologist."

Blackburn was displeased, but experts say Jackson's answer was scientifically sound.
"Experts" -- in other words, the same eight "gender theorists" we always contact for these stories.
...

Scientists, gender law scholars and philosophers of biology said Jackson's response was commendable, though perhaps misleading.
First you said "science" can't answer this question, but now it turns out you're not asking scientists, you're asking "gender law scholars" and "philosophers of biology."
Who are not scientists.
It's useful, they say, that Jackson suggested science could help answer Blackburn's question, but they note that a competent biologist would not be able to offer a definitive answer either. Scientists agree there is no sufficient way to clearly define what makes someone a woman, and with billions of women on the planet, there is much variation.
Not in their chromosomes. Except in the rare case of true hermaphrodites, those billions of women all have XX chromosomes, and all billions of males have one X chromosome and one Y chromosome.
Also Will Thomas' visible penis should help most "scientists" make this determination.
Ketanji Brown Jackson is asked to define "woman" by Sen. Blackburn "I don't want to see this question punted to biology as if science can offer a simple, definitive answer," said Rebecca Jordan-Young, a scientist and gender studies scholar at Barnard College whose work explores the relationships between science and the social hierarchies of gender and sexuality.
That's your scientist?

Oh, a "scientist and a gender studies scholar."
Her bio says she's a "feminist scientist." You know -- the famous scientific field of Feminism.
I wonder which branch of Feminism Science she works in -- Theoretical Feminism? Applied Feminism? Experimental Feminism?
I am an interdisciplinary feminist scientist and science studies scholar whose work explores the reciprocal relations between science and the social hierarchies of gender, sexuality, class, and race.
"Interdisciplinary" means you mix fields, and you're saying you're a "feminist scientist," which is already Not a Scientist, and you mix that with "gender studies scholar[ship]," making you even more Not a Scientist.
Her degree which she claims makes her a "feminist scientist" is in Noted Scientific Field "Sociomedical Sciences." Um, again, adding in "social" into the mix.
Not a Scientist.
And she's attached, of course, to the Women's and Gender Studies Department -- not to any scientific department. Not to the "Sociomedical Science" department, which of course does not exist because it's not a real thing.
So no, she's not a "scientist." She brands herself that way so she can make her gender studies claims sound "scientific" to idiots, such as those who populate the media.
You're not a "scientist" just because you "feel science-y." You're a scientist if you do the work of an actual scientist. She does not. She's just another idiot Gender Studies Marxist.
...

But Jordan-Young said she sees Jackson's answer, particularly the second half of it, reflecting the necessity of nuance. While traditional notions of sex and gender suggest a simple binary -- if you are born with a penis, you are male and identify as a man and if you are born with a vagina, you are female and identify as a woman -- the reality, gender experts say, is more complex.

"There isn't one single 'biological' answer to the definition of a woman. There's not even a singular biological answer to the question of 'what is a female,'" Jordan-Young said.
We're still quoting this single non-scientist as the "scientists -- note the plural -- this propagandist said she'd consulted?
And now we're off of the "scientists" completely, and on to the "philosopher of biology."
...

Sarah Richardson, a Harvard scholar, historian and philosopher of biology who focuses on the sciences of sex and gender and their policy dimensions, said Jackson's answer accurately reflects legal practice. While U.S. law remains an unsettled arena for the conceptualization and definition of sex, it frequently grounds sex categorization in biological evidence and reasoning.

But like Jordan-Young, Richardson emphasized that biology does not offer a simple or singular answer to the question of what defines a woman.

"As is so often the case, science cannot settle what are really social questions," she said. "In any particular case of sex categorization, whether in law or in science, it is necessary to build a definition of sex particular to context."
Scientists -- real ones -- do not think that scientific questions are subject to "social determination." We do not put actual scientist to a vote.
On to the next one-- not a scientist.
Juliet Williams, a professor of gender studies at UCLA who specializes in gender and the law, said it's important to note this isn't an entirely new debate.

The category of woman has long been politically contested. Black women, she said, were not always welcomed in the category. For example, while the 19th Amendment granted women the right to vote, for decades many Black women were excluded from exercising it.
That has nothing to do with the "science" of what a woman is. That is a legal/political/social question.
No one ever said "black women aren't women." Some people wrongly said, "Black women shouldn't be allowed to vote."
I'm not making this up -- this is literally your Intellectually Superior Media firing on all two cylinders here!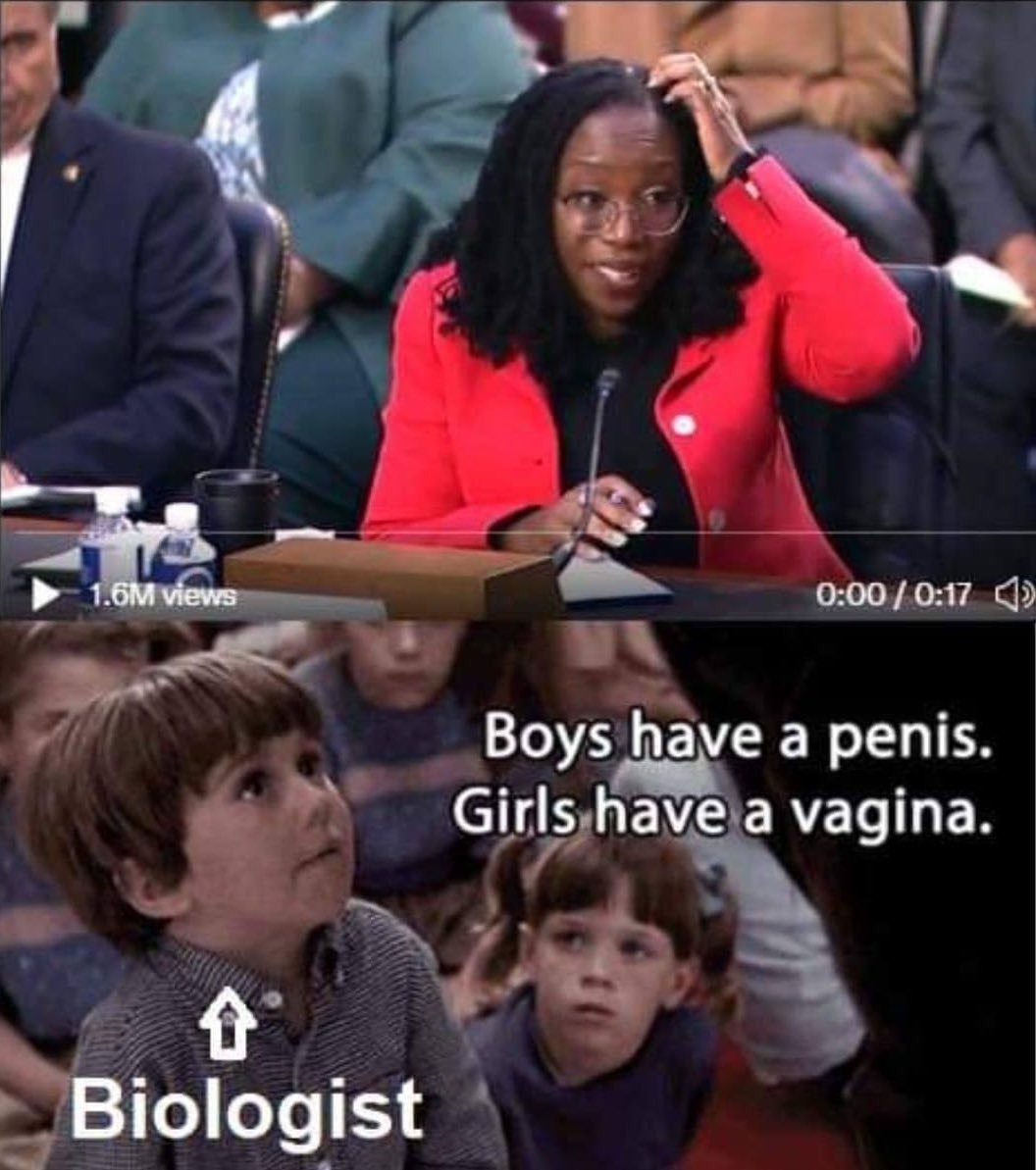 What is a woman? It's simple: It's any man who commits brutal crimes against women and then, post-arrest, says that he's a woman so that he can be incarcerated with his preferred victims.
For a solid five minutes this week, I believed that an elderly woman in New York City had killed and decapitated another elderly woman. I believed it because it was in the papers.
New York City again.
It was there in black and white. In the apartment of this '83-year-old Brooklyn woman', the New York Times reported, cops found the decapitated head of Susan Leyden, a 68-year-old lady who had gone missing. Police became suspicious of the 83-year-old woman and so they 'searched her apartment', the BBC said, wherein they found 'a human head'. A few days later, not far from this seemingly evil woman's apartment, they also found Ms Leyden's leg and torso. Grim. And surely unprecedented. When was the last time a very old woman was alleged to have killed and then gruesomely dismembered another woman?

Then it hit me. I got to the very final line of the BBC report and saw these words -- this 83-year-old 'now identifies as a transgender woman'. I got further into the NYT piece, too. Its headline may have said 'She Killed Two Women. At 83, She Is Charged With Dismembering a Third', but then came this killer line: '[she] was listed as male in earlier court records but now identifies as a woman.'

So it wasn't a woman. It wasn't an 83-year-old lady who somehow summoned up the wickedness and the power to allegedly kill and horrifically mutilate a 68-year-old woman. It was a man. The NYT's headline was a flagrant lie. So was the BBC's entire account of this 'woman', she, allegedly killing Ms Leyden and then brutalising her corpse. I had been told, in no uncertain terms, that a woman killed a woman, and it was completely untrue.
It's very complicated, dude. Not even gender theorists and "philosophers of biology" (and also gender theorists!) can answer what a woman is.
By the way: The Washington Post has a fresh entrant in the field.
They claim that people who don't want their children to be taught about transgender ideology and mental illness are... advancing white supremacy.
They also claim that childhood innocence is an outdated concept and it's time to confront children with sexuality when very young.
Remember: Obergefell isn't going to change how you live your life at all. Only a bigot would therefore oppose it!
My forthcoming research finds that proponents of these bills tap into a general lack of knowledge about transgender people to portray them as threats to girls and women, and use that to advance agendas that secure racialized gender norms promoting White families headed by one man and one woman.

...

Instead of protecting youths, proponents of these bills aim to exploit what political scientists find to be a general lack of knowledge about transgender people to provoke fears of a threat to the prevailing gendered social order. They accomplish this by claiming that they are protecting vulnerable women and girls and, in turn, preserving "traditional family values" as well as the heterosexually led nuclear family unit.
So they want to displace heterosexuality as the norm.
Remember, Obergefell isn't going to change your lives at all, bigots.
Feminist scholars and queer theorists like M. Jacqui Alexander argue that political actors criminalize and stigmatize nonnormative sexuality and gender to build a nation that promotes White reproductive citizens at the expense of all others. These sexual and gender norms consequently prop up white supremacy. For example, defining White femininity as weak, nurturing and in need of protection by White men can imply that White, heterosexual, able men are the ones who most deserve rights.


...

As with the "bathroom bills" that came earlier, those who promote this wave of bans are portraying White girls and women as uniquely vulnerable and in need of protection. These are familiar tactics. Historian Robin Bernstein's 2011 book, "Racial Innocence," traced how political figures have used White to represent childhood innocence and vulnerability that has to be protected from various threats. In this way, they can promote political agendas as self-evident and natural, such as keeping transgender youths out of social and athletic spaces.

These constructions of childhood innocence as implicitly White and female are propped up by contrasting myths about Black boys as inherently violent....

If White girls are innocent, uniquely vulnerable and in need of protection from implicitly and explicitly racialized threats embodied by Black boys, then they are especially in need of protection from -- in the newest version -- Black trans girls.
If they're innocent.
But of course they're not.
"Childhood innocence" is just a construct of white supremacy so there's no problem violating the childhood innocence of young girls to give them a face-full of dick in the bathrooms.
Via James Lindsey, who predicted the left would start attacking the concept of childhood innocence to justify violating it last year:
James Lindsay, fun @ConceptualJames


Hey look! WaPo doing what I told you about over a year ago regarding childhood innocence!

Woke Marxists believe childhood innocence (sexual, racial, etc.) is an ideological narrative privileged people use to transmit privilege to (just) their kids.

posted by Ace at
01:39 PM
|
Access Comments