« NBC "News:" Narrow-Minded Misogynists Have Always "Policed" the Gender of Female Athletes, So It's No Surprised Misogynists Are Policing the Gender of a Man Named Will "Lia" Thomas
|
Main
|
Florida's Anti-Grooming Bill, the So-Called "Parental Rights in Education" Bill, Has Only a Bare Majority of Support*


* Among Democrat Primary Voters »
March 24, 2022
Trump Sues Hillary Clinton for RussiaGate Defamation -- and Racketeering
redridinghood tipped this a little while ago.

Former President Donald Trump is suing 2016 Democratic Presidential nominee Hillary Clinton in a sprawling case that accuses her of conspiring with dozens of other actors -- frequent targets of Trump's conspiracy theories and rage -- to topple his presidency.
Oh, it's Donald Trump peddling conspiracy theories, not Hillary Clinton and the RussiaGate conspiracy theorists.
I see, Politico.
The new lawsuit, filed Thursday in federal court in Fort Pierce, Fla., accuses Clinton, her campaign, various campaign aides, former FBI Director James Comey, the Democratic National Committee and others of racketeering conspiracy for allegedly joining in "an unthinkable plot" to falsely accuse him of colluding with Russia in the 2016 presidential election.

"In the run-up to the 2016 Presidential Election, Hillary Clinton and her cohorts orchestrated an unthinkable plot -- one that shocks the conscience and is an affront to this nation's democracy," the complaint says. "Acting in concert, the Defendants maliciously conspired to weave a false narrative that their Republican opponent, Donald J. Trump, was colluding with a hostile foreign sovereignty."

The suit accused the defendants of obstruction of justice and theft of trade secrets, as well as unlawful hacking into Trump's private communications.
Joffe did, in fact, spy on Trump's communications.
See Durham's indictment: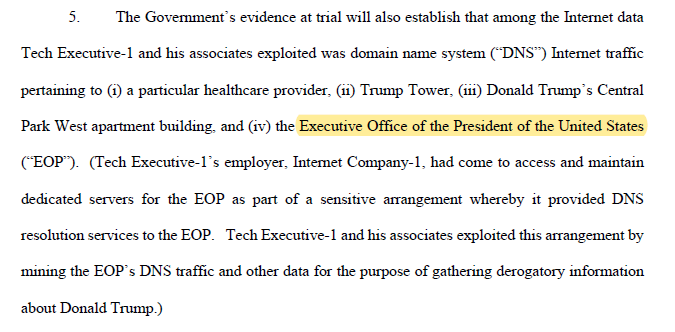 "The actions taken in furtherance of their scheme--falsifying evidence, deceiving law enforcement, and exploiting access to highly-sensitive data sources--are so outrageous, subversive and incendiary that even the events of Watergate pale in comparison," the complaint adds.

The sprawling, 108-page complaint reads like a greatest-hits of Trump's long-held grievances against the public figures most closely associated with the investigation of his campaign's ties to Russia in 2016. It stitches together disparate details unearthed in the ongoing investigation by special counsel John Durham, as well as long-known details about the FBI's Russia probe and special counsel Robert Mueller's subsequent investigation.

The suit appears to seek more than $72 million in damages, which the complaint says is the tally of legal fees and other costs of defending against the alleged untruths. In another court filing in the case, Trump's attorneys asked for only $21 million.
Public figures can't generally win in defamation because of the Supreme Court invented rule -- which Clarence Thomas (prayers up) says should be examined -- that no public figure can be defamed unless it is done with malice or reckless indifference for the truth.
Does Trump have any evidence that this defamatory conspiracy theory was in fact pushed with full knowledge it was false?
In fact, there is. Durham's indictment of Michael Sussman says the progenitors of the conspiracy theory disbelieved it, and also suggested that they could create evidence that it was true.
The charge was narrow: John H. Durham, the special counsel appointed by the Trump administration to scour the Russia investigation, indicted a cybersecurity lawyer this month on a single count of lying to the F.B.I.

But Mr. Durham used a 27-page indictment to lay out a far more expansive tale, one in which four computer scientists who were not charged in the case "exploited" their access to internet data to develop an explosive theory about cyberconnections in 2016 between Donald J. Trump's company and a Kremlin-linked bank -- a theory, he insinuated, they did not really believe.

Mr. Durham's version of events set off reverberations beyond the courtroom. Trump supporters seized on the indictment, saying it shows that suspicions about possible covert communications between Russia's Alfa Bank and Mr. Trump's company were a deliberate hoax by supporters of Hillary Clinton and portraying it as evidence that the entire Russia investigation was unwarranted.

...

Mr. Durham's indictment provided evidence that two participants in the matter -- Mr. Joffe and Michael Sussmann, the cybersecurity lawyer accused of falsely saying he had no client when he brought the findings of the researchers to the F.B.I. -- interacted with the Clinton campaign as they worked to bring their suspicions to journalists and federal agents.

...

Mr. Durham also found that Mr. Joffe had met with one of Mr. Sussmann's law firm partners, Marc Elias, who was then the Clinton campaign's general counsel, and researchers from Fusion GPS, an investigative firm Mr. Elias had commissioned to scrutinize Mr. Trump's purported ties to Russia. Fusion GPS drafted a paper on Alfa Bank's ties to the Kremlin that Mr. Sussmann also provided to the F.B.I.
That establishes that FusionGPS, Marc Elias, and Hillary Clinton and her staff (including Jake Sullivan, Biden's current National Security Adviser) were all in on the hoax.
It doesn't prove they knew this was fake, but that should be enough to defeat attempts to dismiss the lawsuit.
In the heat of the presidential race, Democrats quickly sought to capitalize on the research. On Sept. 15, four days before Mr. Sussmann met with the F.B.I. about the findings, Mr. Elias sent an email to the Clinton campaign manager, Robbie Mook, its communications director, Jennifer Palmieri, and its national security adviser, Jake Sullivan, whose subject line referred to an Alfa Bank article, the indictment said.

Six weeks later, after Slate ran a lengthy article about the Alfa Bank suspicions, the Clinton campaign pounced. Mrs. Clinton's Twitter feed linked to the article and ran an image stating the suspicions as fact, declaring, "It's time for Trump to answer serious questions about his ties to Russia."

Whatever caused the odd data, at issue in the wake of the indictment is whether Mr. Joffe and the other three computer scientists considered their own theory dubious and yet cynically went forward anyway, as Mr. Durham suggests, or whether they truly believed the data was alarming and put forward their hypothesis in good faith.

...


...

The indictment says Mr. Joffe sent an email on Aug. 21 urging more research about Mr. Trump, which he stated could "give the base of a very useful narrative," while also expressing a belief that the Trump server at issue was "a red herring" and they should ignore it because it had been used by the mass-marketing company.

...

He wrote: "If we can show possible email communication between" any Trump server and an Alfa Bank server "that has occurred in the last few weeks, we have the beginning of a narrative," adding that such communications with any "Russian or Ukrainian financial institutions would give the base of a very useful narrative."
A false narrative, a "red herring," but still: "a very useful narrative."
Defamatory but useful.
That should get the defamation part of the lawsuit past a dismissal for lack of evidence of malice.
Given that leftwing courts insist that their leftwing allies cannot commit defamation, and will always find some excuse to dismiss defamation cases against leftwing politicians, I don't think Trump can win the suit.
The court system is, in fact, #Rigged. And if it can't be #rigged, sometimes key witnesses have been known to have not killed themselves.
But he should be able to proceed with the lawsuit through discovery and trial.
As far as the racketeering aspect of the lawsuit, I really have no idea if that has legal merit or will survive dismissal.
This article by an intelligence professional (he claims) also suggests that no "expert" would ever have taken this conspiracy theory seriously, casting doubt on any defense based on the claim that while they were pushing a red herring obviously false "useful narrative," they didn't do so with reckless disregard for the truth.

posted by Ace at
03:19 PM
|
Access Comments