« Texas' AG Writes Letter to Austin School District Telling Them That Their Elementary School Gay Pride Marches and Gender Theory Indoctrination Is Against the Law
|
Main
|
Quick Hits »
March 23, 2022
Ketanji Brown Jackson: I Can't Say What a "Woman" Is. I'm Not a Biologist.
A transparent dodge and a lie.

Everyone knows what a "woman" is. And everyone knows what the left demands you say a woman is.
She could have given the true answer of the answer she's been forced to adopt.
Instead, she pretended she'd never even considered the question before.
Harmeet K. Dhillon calls this disqualifying --the definition of "woman" is central to court cases about Title IX, for example.
Harmeet K. Dhillon @pnjaban

How do you adjudicate Title VII claims without being able to to answer this question? Title IX?


I mean, as we now know, biology has nothing to do with being a "woman," so even from a Marxist/nihilist perspective, this is the wrong answer.

3/ Sadly, Republican senators are more afraid of being called names by elderly white bigots (Sheldon Whiteclub, anyone?) than of putting someone on the high court who mocks them with such answers, ignores the law as written, falsely denies CRT influencing her judging... smh.

4/Judge Jackson is obviously academically qualified to be on the court, but that's a box-checking exercise. Today's answers demonstrate a calculating willingness to say whatever she thinks will get her votes or keep her from losing votes. Who is this person really? She won't say.
I don't know if she's "obviously academically qualified."
Video below.

Testilying.
Great point. Joe Mannix notes that Biden only had two requirements for his SC pick" "Woman" and "of color."
And his nominee is claiming she doesn't know what the first requirement means.
Per Biden, his SCOTUS pick requirements match his VP pick requirements. The requirements are: 1. Woman 2. Of color

Half of the mandatory requirements involve a question that the SCOTUS pick cannot answer and it is appalling - and indicative - that not one Republican called her on it. The gating mechanism for the pick was "woman of color." If she can't define what "woman" means, then how does she know if she is one? Does she match the entry criteria? If she thinks she does, how can she demonstrate that given her admission of ignorance regarding the topic?

None of this matters, of course, and it will change nothing. It would be a public humiliation, though, and make for some great soundbites. But Republicans are uncreative and cowardly.
Posted by: Joe Mannix (Not a cop!)
John Hayward makes a great point: Her "I'm not a biologist" dodge is utterly inapposite*, because her political tribe claims that biology has nothing at all to do with what a woman is!
Because, per biology: It's very easy to say what a "woman" is.
It's only through ideology and mental-illness-redefined-as-personal-"identity" that the issue can be pretended to be muddled.
John Hayward
@Doc_0
The funniest thing about Jackson's "I'm not a biologist" dodge is that under current Democrat Party ideology, biologists are the absolute last people on Earth who have anything to say about the definition of womanhood.

Biology and science left the room a LONG time ago in the politicized discussion of human sexuality, and they won't be invited back into the room any time soon. The entire point of transsexual ideology is the triumph of individual will and collectivist politics over biology.

This is highly relevant to Supreme Court confirmations, because militant transsexualism is all about using coercive force to make EVERYONE ignore biology. Trans fascism is quite literally about punishing anyone who brings biological science into the conversation.

There will be legal fights over trans fascism in the years to come, and when they reach the Supreme Court, radicals and their enablers have no business being there. KBJ was caught lying far too many times yesterday for anyone who knows what time it is to vote for confirmation.

These were not little lies she told, either. She lied about issues of great relevance to the American people, like critical race theory, pedophilia, and the 1619 Project garbage:

Pollak: Five Key Points from Ketanji Brown Jackson's Tough Day in the Senate


Supreme Court nominee Judge Ketanji Brown Jackson had a tough day Tuesday facing the first serious questions about her record and philosophy.

It's illuminating that even at this late date, Democrats feel obliged to back away from the madness they gleefully impose on America's children behind closed doors. They still can't be loud and proud about their indoctrination programs. That's a hopeful sign for the country.

I don't know if I take solace in that: the Democrats have an answer for any issue for which they cannot win popular support: they will simply deplatform, censor, and even criminalize the opposition.
They no longer feel themselves bound to public opinion. If public opinion opposes them, they merely demand their Social Media Monopoly partners to censor the opposition, and call upon their financial/corporate partners to debank and de-employ their opponents.
But Trump said "pussy," so. He's the Real Authoritarian Here.
But it matters a great deal that KBJ looks like another in the long line of Democrats who conceal their radicalism until they have the power to impose it on the rest of us. Our government is riddled with people like that, and it's killing us. We need no more stealth radicals.

The story of the Left over the past half-century has been talking one way to the normies, when it's time to cadge their votes or slip a nominee through confirmation hearings, but acting very differently when there's no scrutiny. That's why they fight so hard against scrutiny.

Supreme Court hearings are just partisan shouting matches and exercises of raw power these days, but if this were any kind of real deliberation or reasoned debate, KBJ would have disqualified herself yesterday. The GOP probably can't stop this, but they should damn well try. /end

Here's how Jackson described the extremist, anti-semitic Black Hebrew Israelites: as vegans concerned with healthy eating:
The Black Hebrew Israelite are a toxically insane hate group which despises Jews because, they claim, Jews are Imposters, who have "usurped" the history and identity of the Black Hebrew Israelites, who are "the Real Jews."

The Jersey City Gunman was of course a Black Hebrew Israelite.
The two suspects in a deadly shooting at a cemetery and kosher supermarket in Jersey City held anti-Semitic views and had expressed interest in the Black Hebrew Israelite group, New Jersey Attorney General Gurbir Grewal said at a press conference Thursday.

Two of the four people killed Tuesday by the shooters were members of the Orthodox Jewish faith. Thousands mourned the two at funeral services Wednesday evening.

"Based on what we have collected so far ... we believe that the suspects held views that reflected hatred of the Jewish people, as well as a hatred of law enforcement," Grewal said.

Both shooters had expressed interest in the Black Hebrew Israelites -- a group with factions that have been designated as "hate groups" -- but appeared to have acted alone in what was being investigated as a domestic terrorism incident with a hate crime bent, Grewal said.

Even the leftwing extremist organization the SPLC had to blow the whistle on one of its political allies: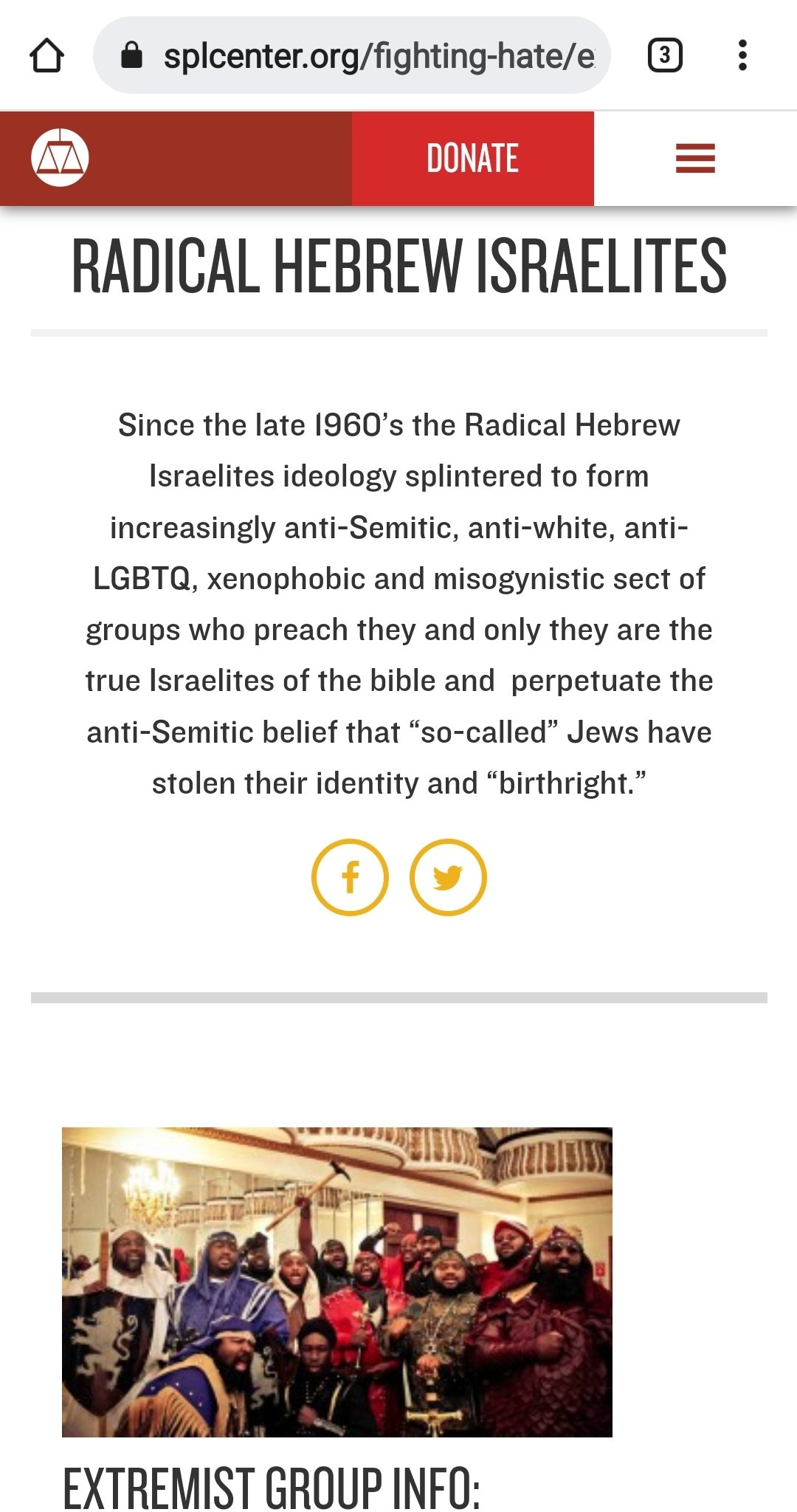 Kyle Shideler @ShidelerK

One man's* extremist sect is another man's cultural community around healthy living.

*or woman's for you biologists.
In fairness -- and I don't know why I should be fair; they claim Republican nominees are rapists with no evidence and a substantial pile of evidence against the allegation -- the case she's talking about involved a Black Hebrew Israelite vegan restaurant and some corporate dispute about it. So that's why she mentioned that.
But it still seems very, very strange to overlook the main mission of the Black Hebrew Israelites. Pretty sure that if the case concerned a barbecue sauce company owned by the KKK, she would describe the KKK as something more than "a local community organization with a passion for getting the sweetness/tang balance just right."
"No enemies to the left," as the Marxists say.
They also say: Snitches get Ditches.

* Little SAT Builder word for y'all's.
inapposite adjective


in-ap-po-site

Definition of inapposite

: not apposite
Well that sure is helpful.
not apt or pertinent
Okay that's better.
Might as well look up the etymology of "apposite:"
1620s, "well-put or applied, appropriate," from Latin appositus, adpositus "contiguous, neighboring;" figuratively "fit, proper, suitable," past participle of apponere "lay beside, set near," especially "serve, set before," also "put upon, apply," from ad "to, toward" (see ad-) + ponere "to place" (past participle positus; see position (n.)).

posted by Ace at
04:43 PM
|
Access Comments